OnePlus X vs HTC One A9 vs Motorola DROID MAXX 2: specs comparison
4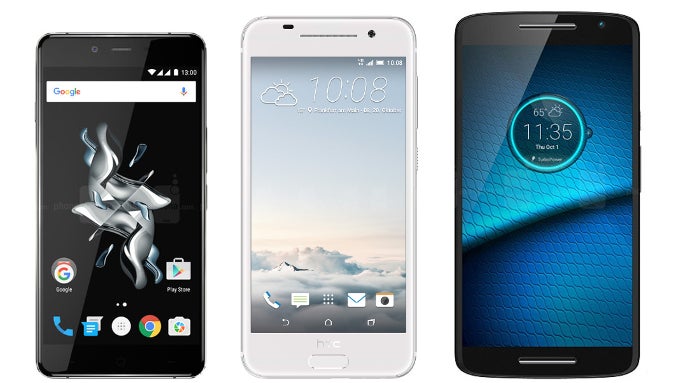 The
OnePlus X
has just been announced, bearing a balance between premium looks, yesteryear hardware, and a pretty alluring price-tag. It's interesting to see how, in the second half of 2015, many manufacturers have taken the "value for money" model, instead of looking to pack as much expensive tech in a smartphone as possible.
The most recent examples of such smartphones are HTC's
One A9
and Motorola's
DROID MAXX 2
. Granted, the One A9 is supposed to be viewed as a flagship device in the US, and it will get its price increased to $500 soon – something that's viewed as a pretty huge asking price for what the A9 is. Still, both of these phones pack midrange processors, and aim to offer users a more affordable high-tier smartphone experience.
The OnePlus X's philosophy is slightly different. Instead of settling for a midrange SoC, OnePlus chose to build the handset with a flagship processor – only it's a flagship from last year. The downside is that the phone will be stuck in the 32-bit era, if this can even be considered a minus so early on in the 64-bit age. On the flipside – a 1-year old flagship SoC is very probable to outclass a brand-new midrange chip.
Scratch-resistant glass, Ambient light sensor, Proximity sensor
Scratch-resistant glass, Ambient light sensor, Proximity sensor
Scratch-resistant glass, Ambient light sensor, Proximity sensor
Qualcomm Snapdragon 617 8952
Qualcomm Snapdragon 615 8939
Qualcomm Snapdragon 801
Octa-core, 1500 MHz, ARM Cortex-A53, 64-bit
Octa-core, 1700 MHz, ARM Cortex-A53, 64-bit
Quad-core, 2300 MHz, Krait 400
Adreno 405
Adreno 405
Adreno 330
Android (7.0 Nougat, 6.0 Marshmallow), HTC Sense UI
Android (7.0 Nougat, 6.0 Marshmallow, 5.1 Lollipop)
Android (6.0 Marshmallow, 5.1 Lollipop), OnePlus OxygenOS UI
Qualcomm Quick Charge 3.0
Qualcomm Quick Charge 2.0
16.00 hours
the

average

is 0 h (0 min)
18.0 days (432 hours)
the

average

is 0 days (0 h)
Single camera
Single camera
Single camera
13 MP (Sapphire crystal lens cover, OIS, Autofocus, BSI sensor)
13 MP (CMOS image sensor, PDAF)
Aperture size: F2.0
Aperture size: F2.0
Aperture size: F2.2
1920x1080 (Full HD) (30 fps)
1920x1080 (Full HD) (30 fps)
1920x1080 (Full HD), 1280x720 (HD) (120 fps)
Hyperlapse, Video calling, Video sharing
EIS, Video calling, Video sharing
Time-lapse video, Video calling, Video sharing
5.74 x 2.79 x 0.29 inches (145.75 x 70.8 x 7.26 mm)
5.83 x 2.95 x 0.43 inches (148 x 75 x 10.9)
5.51 x 2.72 x 0.27 inches (140 x 69 x 6.9 mm)
5.04 oz (143.0 g)
the

average

is 6 oz (172 g)
5.96 oz (169.0 g)
the

average

is 6 oz (172 g)
4.87 oz (138.0 g)
the

average

is 6 oz (172 g)
Back: Metal
Back: Glass; Frame: Metal