Nook Color Hands-on
1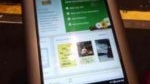 There is no stopping the inevitable, but consumer demand for tablets is alarmingly becoming more competitive as we continue to see many more manufacturers coming on board in this hot market space. However, not everyone is so keen on jumping with the trend as tablets still sport a premium price with their ownership. That's where the
Nook Color
comes to mind as we got the opportunity of checking out this e-reader first device which boasts some features that gives other dedicated tablets a run for their money. Priced at $250, which is far more forgiving than the $500 and up tablets out on the market right now, the Nook Color can sensibly become a
reasonable tablet replacement
for some people.
Upon holding the e-reader, the first thing to capture the glint in our eyes is its
stunning color 7" IPS display
which establishes itself as a sizable tablet alternative with its
1,024 x 600 pixels resolution
. Secondly, we're fascinated by its
tough looking industrial design
which employs some high quality materials to its construction – like its all encompassing soft touch coating. Finally, its relatively manageable size (0.48" thickness) particularly makes it a polarizing figure when compared directly to other competing 7" tablets in the market right now. Even more, it seems
casually lightweight
at only a single pound to make it an appropriate traveling companion that won't bog you down. Some of the hardware specs include an 800 MHz TI OMAP 3621 processor, 3.5mm headset jack, 8GB of internal storage, 802.11 b/g/n Wi-Fi, microUSB port, microSD card slot, and a battery that puts out 8 hours of usage.
Unlike some of its e-reader brethren, the Nook Color feels more at place between that and full blown tablets as it features a
customized interface running on top of Android 2.1
. In all honestly, the Nook Color does a great job of masking the Android experience – but still offers some rich features underneath it all. Specifically, it has a media player that'll enable you to listen to MP3 or AAC files for your enjoyment, support for MP4 videos, personalized wallpapers, web browser, and extras like Pandora internet radio and Crossword Puzzles. Apart from its worthy tablet-like features, the Nook Color is capable of impressing consumers as a venerable e-reader that makes reading books justifiable. And even though it
doesn't boast the Android Market
, we're told that there will be some kind of app store to bring a few noteworthy apps onto the device.
Naturally,
$250 is undoubtedly more acceptable
than the $500 and up costs associated to some tablets out there, but the Nook Color can suffice as being a halfway device that won't be too much of a burden in terms of price. Additionally, the onset of some sort of app store for the device will increase its capacity to branch out further from being simply an e-reader, but a worthy device that will make its mark this holiday season.
Recommended Stories