Mobile venture capital investments grow to reach pre-crisis levels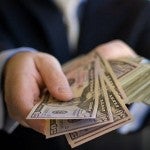 Mobile venture capital investment tooka sharp turn upwards last year reaching $6.1 billion, almostas much as the 2006 high of $6.4 billion. The mobile industry nowaccounts for 34 per cent of all the venture capital in tech asCapitalIQ research showed.
The growth is mostly due to a growingaverage value of deals. It was estimated that there were 416 dealsmade last year, while in 2009 and 2008 the number of deals stood at269 and 284, respectively. The biggest deals – of course – camefrom the carriers and last year they made for a third of all thefinancings with a total value of $2.3 billion.
Consumer mobile applicationsaccounted for 9.8 per cent of the mobile deals with a value of $601.6million. Interestingly, Intel Capital had the largest numberof deals with 20 financings. Intel's Atom series of chipsets lack inmarketshare in comparison to ARM, but the company made an attempt toregain its positions by striking a deal with Nokia for jointdevelopment of the MeeGo mobile OS. When it comes to mergers andacquisitions Google was the most active company followed by Ericsson,RIM and Apple.
source: mocoNews