Meet the most impressive smartphones we have reviewed in 2014 so far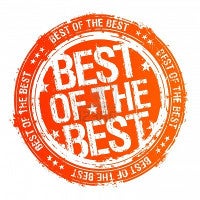 Boy, does time fly! It feels like it has been ages since we reviewed the amazing Sony Xperia Z1 Compact, all the way back in January. A ton of other devices have gone through our hands since then, and we thought it's time we gave the best ones yet another nod of approval, in case you somehow missed them.
15. Apple iPhone 6 Plus
Unfortunately, the iPhone 6 Plus is not flawless – Apple didn't spend much time optimizing iOS for phablet use, and we can't say that battery life is particularly impressive. That's not all, of course, so you should take a look through the review.
14. Apple iPhone 6
While battery life disappoints with the iPhone 6, and we often catch ourselves venting about the sticking camera lens at the rear, we still have to admit that, on the whole, Apple didn't let us down with this year's offerings.
Most notable of the changes is the switch, as mentioned, to a larger form factor – we're now looking at a more rational, 4.7-inch display. The unit is color-correct on the whole and delivers strong brightness, allowing us to use it even in the sunlit street. If that wasn't enough, the camera has also received an update, and is now better than ever at low light photography, not to mention that i can now shoot clips at the amazing 240 frames per second – an industry first.
13. Huawei Ascend Mate7
Those of you who haven't had time to switch gears and adjust to the idea that non-mainstream contenders like Huawei can produce quality handsets, better take a look at the Ascend Mate7 – an all-aluminum device with an industry-leading fingerprint scanner implementation, snappy processor, an optically-stabilized camera, and great battery life. Where Huawei could have done better is the image department – while worthy of calling itself a flagship snapper, the 13-megapixel rear cam could nevertheless use some work.
12. Sony Xperia Z1 Compact
Until just days ago, Sony's Xperia Z1 Compact was basically unrivaled in its niche -- a compact handset with very powerful hardware packed into it. Now that Samsung has outed the Galaxy Alpha, the Z1 Compact will feel the heat, but that's a different topic altogether. We tested the Z1 Compact, and just loved it. Indeed, with some minor hiccups here and there, the 'mini' version of the Xperia Z1 proved to be a very desirable piece of tech if you are looking for something pocket-friendly.
11. Sony Xperia Z3 Compact
If you were expecting Sony to plug a compact device within the Z2 slot, you were likely somewhat surprised to see the company jump from a Z1 Compact straight to a Z3 Compact. Thankfully, the device was well-worth it, as it's an improvement over its predecessor in practically every way – a more premium and thinner build with smaller bezels that allowed Sony to fit in a larger, 4.6-inch screen, a snappy Snapdragon 801 processor, and battery life to-die-for. Considering that the handset also costs a third of what you're charged for your typical flagship, it should be no surprise to see the Z3 Compact end up as one of the most impressive devices of 2014.
10. Oppo Find 7a
We found that the Oppo Find 7a, especially considering the discount in asking price when compared with mainstream flagships, is one heck of a proposition from a company whose products we tend to respect, even though we don't necessarily see them in the West often. In any case, the Find 7a is well-rounded package -- not without its weaknesses, yet the pros definitely outweigh the few annoyances (come on Oppo, either crank the brightness, or use a less reflective glass for the display!)
9. LG G Pro 2
With its (relatively) compact and lightweight body, the G Pro 2 is one awesome device for the phablet lovers out there. Sure, its biggest competitor -- the Samsung Galaxy Note 3 -- is an equally sound buy, but we we were really impressed with the G Pro 2 nevertheless. The device is well-built and sturdy, and honestly leaves very little to desire.
8. Samsung Galaxy Note Edge
We rated the Note Edge less-favorably than its brethren, the Note 4, and that has a lot to do with the fact that Samsung is asking for quite some dough to get one in comparison, and for what? In our experience, the Edge screen served little purpose.
But that's not to say that the Note Edge isn't an overall amazing device – it pretty much has to be, seeing as it's based on the Note 4. We definitely dig the color-correct "Basic" screen mode, the Edge screen draws a lot of "oooh's" and "wooow's", and the camera produces as impressive stills and video. This device will feel right at home in the hands of the more adventurous of you, especially if you don't see $100 more as a big deal.
7. Samsung Galaxy S5 Active
6. Google Nexus 6
Google can be proud of the Nexus 6 – the first Nexus phablet, made by Motorola, is quite the beast, though it's not without its weaknesses. So, while we appreciate the sturdier, more noble construction in comparison with previous Nexus devices, and definitely can't complain about the optically-stabilized camera or its stereo front-facing speakers, we do wish the Motorola/Google duo spent some time developing phablet-centric features for the Nexus 6.
5. Samsung Galaxy S5
Sure, devices like the Galaxy S5 Active have their own, tight following, but for the rest of the world -- the standard Galaxy S5 will do. And do it does! Among the big releases this year, the S5 is one of the most impressive, all-around bundles that Samsung, or anybody, has managed to put together. True, the TouchWiz software still is something of an acquired taste, but the good definitely outweighs the bad.
4. LG G3
3. Sony Xperia Z2
Yep, that's right -- the Sony Xperia Z2 shares the crown with the LG G3, and it deserved every bit of the accolades it accumulated. The water-proof, glass-and-metal Z2 retains Sony's signature OmniBalance design, and packs some serious hardware muscle underneath the exterior. Perhaps the most unpleasant part of the Z2 is its size -- it's a pretty bulky device for its display diagonal, but considering what you get in return, we'd say that's a deal worth taking.
2. Motorola DROID Turbo
As far as the flagship league is concerned, Motorola's DROID Turbo is the first device to have us staring in awe. Sure, it landed second on our list of best devices of 2014, but it sure is one hell of a pick if you're looking for a relatively manageable flagship. Considering the bleeding-edge hardware packed within and its record-setting battery life, the only real complaint we have here is Motorola's unfortunate choice to release the Turbo as a Verizon exclusive.
1. Samsung Galaxy Note 4