Here's how to get rid of the S Pen pop-up window on the Galaxy Note 4
5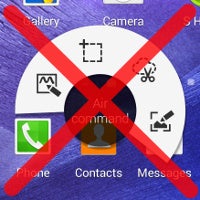 One of the highlights of the
Galaxy Note 4
is, undoubtedly, the S Pen stylus that is enriching the interface functionality to great extents. Without it, the hot metal-frame smartphone would have been just another big Samsung device to the uninitiated eye. That's why when one thinks of the Note 4, the S Pen immediately pops into mind as well – the both go hand-in-hand and separating them will cause a lot of frustration (and vibration, too). Then again, while not every owner of the Note 4 makes full use of the S Pen on a constant basis, the stylus is a useful addition to the overall user experience that shouldn't be overlooked.
The whole interface philosophy behind the S Pen has not changed much since the original
Galaxy Note arrived in late 2011
. You take it out, the device vibrates, and the S Pen pop-up window quickly appears on the screen, allowing you to easily access some of the predefined functionalities of the stylus. Dubbed Air Command, it provides you with some essential tools – Action Memo, Smart Select, Image Clip, and Screen Write - that will make your S Pen experience hassle-free and productive. Well, this is as good as it gets, but what if some inexperienced Note 4 adopter is secretly despising that useful pop-up menu and is searching high and low for a way to get rid of it?
We'll show you how to do so.
Done yet? Make sure you check out some additional tutorials and guides about Samsung's newest phablet powerhouse: