30 tips & tricks for the Samsung Galaxy Note 4 - S-Pen goods, motion controls and baby crying monitors galore!
11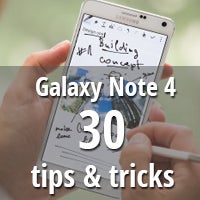 The Samsung Galaxy Note 4 continues the tradition of presenting a vast amount of features. This time, the overwhelming effect of its functionality is alleviated with a thoroughly cleaned-up TouchWiz interface that makes getting around the phablet and its many menus more straightforward and easy. Thus, many previously obscured features are now immediately obvious even to first-time Galaxy Note users. But there is a fair amount of stuff you'll never know your new phablet can do until you take a good look inside its menus, which is more fun to do when you have a guide.
So, here's ours – it has 30 Tips & Tricks for your Galaxy Note 4. Baby alarms, fingerprint sensor fun, gesture and motion control options, unorthodox selfie modes, downloadable goodies and more features to unleash the phablet's full potential is waiting for you.