Here's how to use the Galaxy Note 4 and the Xperia Z3 with gloves on by increasing the display's touch sensitivity
25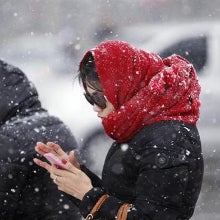 As you probably know, the capacitive displays that 99% of nowadays' smartphones flaunt need to detect your body's natural capacitance in order to function as intended. Strap an insulative layer of clothing (such as gloves) over your fingers, however, and the ability to control your device begins to gravitate around zero. At this point, you have no more than two options: either opt for fingerless gloves and subsequently suffer from frostbite or get an old-school, non-touchscreen device from the previous decade.
Well, it seems that neither of these is a viable option for the average smartphone enthusiast. Luckily, if you are flaunting one of the more recent Samsung or Xperia smartphones, you can enable a nifty option and increase the capacitive sensitivity of the touchscreen display, thus making it somewhat easier to operate while wearing gloves or whatnot on your hands.
This handy feature can be found on most of the recent top-end troopers of both manufacturers, namely the
Samsung Galaxy Note 4
,
Galaxy S5
,
Galaxy Note 3
,
Galaxy S4
, the
Sony Xperia Z3
,
Xperia Z2
, and many, many others. We'll show you how to enable it on the two of the hottest troopers by Samsung and Sony, the power-laden Galaxy Note 4 phablet and the Sony Xperia Z3 battery champ.
You should have a few things in mind while using your Galaxy Note 4 or Xperia Z3 with gloves on. First of all, both manufacturers say that the best results can be accomplished if the user is wearing leather gloves on, while other insulative materials, such as cotton, wool, rubber, latex, or neoprene
might
not provide acceptable results. Also, if the touchscreen initially fails to recognize your touch, try again, but this time more firmly. That should do the trick.