Google Express offers first time customers 20% off on orders up to $100
1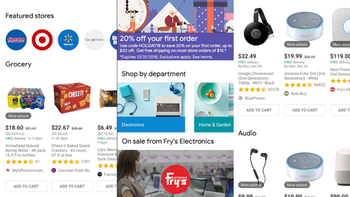 Google is juggling a lot of balls right now, and many consumers might be unfamiliar with Google Express. This is an online shopping and delivery service that allows users to shop online from various stores like Costco, Target, Walmart, the Google Store, Best Buy, Fry's and more. Orders can be placed on the
iOS
or
Android
app, or through the Google Express website.
Right now through the end of the year, when you place your very first order through Google Express, you can save 20% on your order up to $20
according to Android Police
. In other words, you will receive 20% off all orders valued at up to $100. To take advantage of this deal, enter the coupon code HOLIDAY18 when you are checking out and paying for your purchase on Google Express. There are some caveats. The coupon cannot be used for purchases from the Google Store or Moosejaw. It cannot be used to buy Gift cards, stamps, or a Costco membership card.
Keep in mind that Google Express is not a same-day shopping and delivery service like Shipt or Instacart. Items purchased through Google Express take one to three days to arrive.
Recommended Stories