Drone-shot video shows venue of Apple's September 12th event, the Steve Jobs Theater
15
The tenth anniversary edition of the Apple iPhone is being unveiled
on September 12th. As you might know, the event is being held at the new Steve Jobs Theater. This would seem to be the perfect venue for the introduction of the Apple iPhone X. After all,
Jobs' first unveiling of the Apple iPhone on January 9th, 2007
was one of his most masterful and remembered public appearances. The CEO had everything working for him that day, including his sense of humor.
It's only fitting that Jobs be some how involved in the unveiling of the tenth anniversary edition. The event taking place next Tuesday will be the first time that the theater carrying his name has been used. It features a 20-foot tall glass cylinder and the underground auditorium seats 1,000 crazed journalists. The theater sits on 120,000 square feet of land and sports the world's largest freestanding carbon fiber roof.
A drone piloted by Duncan Sinfield captured video that shows us the finishing touches being applied to Apple Park. It also gives us an aerial look at the Steve Jobs Theater. If you want to get a sense of where the whole world's eyes will be staring on September 12th, simply click at the video on the top of this story.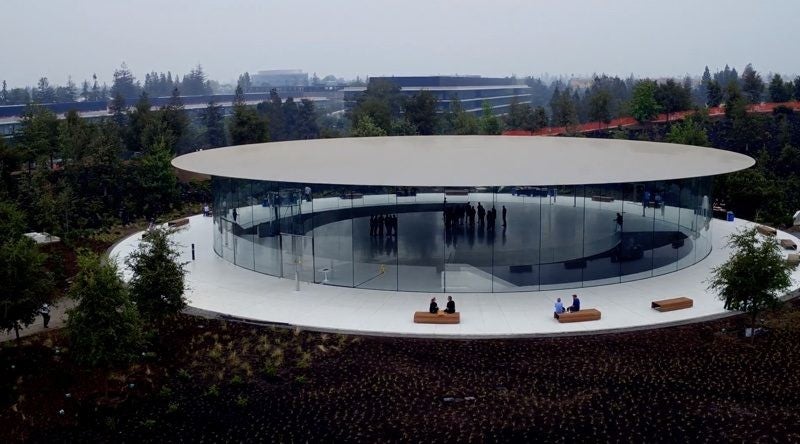 The Steve Jobs Theater where Apple will introduce the new 2017 iPhone handsets, including the tenth anniversary model, on September 12th
source:
DuncanSinfield
via
MacRumors