Best smartphone cameras compared: Samsung Galaxy S8+ vs iPhone 7 Plus, Galaxy S7 edge, LG G6
64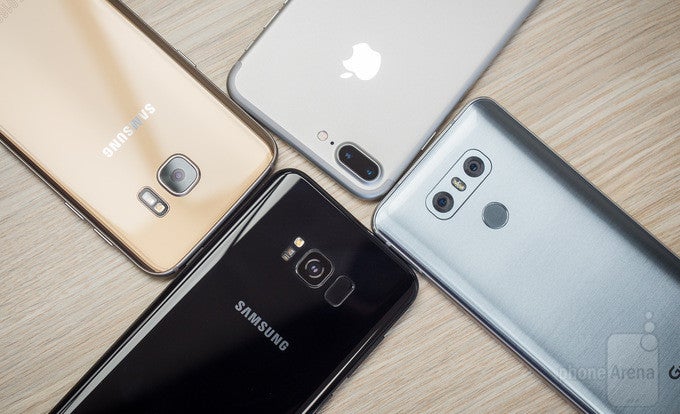 What do you call a turtle that's taking up photography classes? A snapping turtle!
Yeah, coming up with great puns may not be my strongest skill, but that's fine. I'm pretty sure you're not here for the comedy. So let's get to the point, then. That Samsung
Galaxy S8+
– is its camera any good?
Of course it is. Samsung knows how to make a good smartphone camera. But so do Apple and LG. A question much more difficult to unknot is which of these three companies is best at the camera game. In search of an answer, we took a bunch of photos with the Galaxy S8+,
iPhone 7 Plus
, and the LG G6 for a little side-by-side comparison. We're also throwing in the
Galaxy S7 edge
from last year to see if Samsung's latest Galaxy S flagship is any better at taking photos (and it better be). Here's a quick look at these four phones' camera specs:
Camera Specs
Galaxy S8+
iPhone 7
Plus
LG G6
Galaxy
S7 edge
Resolution,
aspect ratio
12MP@4:3
4032x3024px
12MP@4:3
4032x3024px
13MP@4:3
4160x3120px
12MP@4:3
4032x3024px
Sensor and
pixel size
1/2.55"
1.4μm
1/3"
1.22μm
1/3"
1.12μm
1/2.55"
1.4μm
Aperture
F1.7
F1.8
F1.8
F1.7
Focus and
stabilization
Dual-pixel AF
OIS
PDAF
OIS
PDAF
OIS
Dual-pixel AF
OIS
One curious bit of information we can extract from the table above is that the cameras on the Galaxy S8+ and
Galaxy S7
are identical when it comes to specs. The two cams have the same number of megapixels, as well the same sensor size with equally large pixels. Aperture is also a 1:1 match. However, what's new in the Galaxy S8 series is that the camera snaps three photos each time you press the shutter and blends them together to produce a superior, blur-free image.
From a technical perspective, the iPhone and the LG G6 appear to be a step behind. Compared to both Galaxy phones, they have smaller sensors with smaller pixels and narrower apertures. In plain words, this means that the cameras on the iPhone and the G6 might perform worse in low-light scenarios, as they're both less sensitive to light and potentially more susceptible to digital noise.
And that's what theory looks like. Now let's examine some actual photos.
Note: the images in the galleries have been scaled down from their original resolution to make them load faster. Full-resolution versions of all images are available at page 3, at the very end of this article.
Scene 1: By the river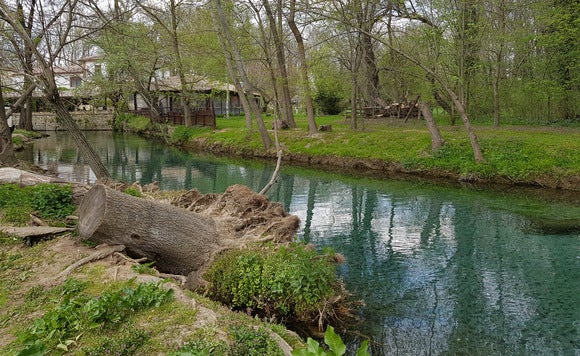 And the Galaxy S8+ is off to a good start. The image it presents us with here is vivid, detailed, and overall pleasant to look at. Same can be said about the photo out of the Galaxy S7 edge. The LG G6 has also done a good job, although the trees look pale in comparison. And the iPhone, well, it seems to have gone overboard with the contrast dial. The image looks fine, but also has an overly processed look to it.
Scene 1: score
Galaxy S8+
8.5
Galaxy S7 edge
8.5
LG G6
8.0
iPhone 7 Plus
7.0
Scene 2: Cliffhanger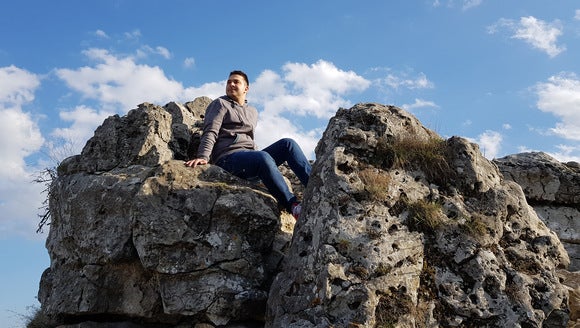 Wow, look at that fearless gentleman on top of that giant boulder! Charming, isn't he? Anyway, all of the images here look mighty impressive, although it is easy to spot some differences between the four. The sky, for example, looks nice and pretty in the photos out of the two Galaxies. It looks bland and gray-ish in the iPhone's photo, while the LG G6 has given it a bit too much of a saturation boost. Overall, it's another win for Samsung, but the competition isn't far behind in this race.
Scene 2: score
Galaxy S8+
8.0
Galaxy S7 edge
8.0
LG G6
7.0
iPhone 7 Plus
7.0
Scene 3: She rocks!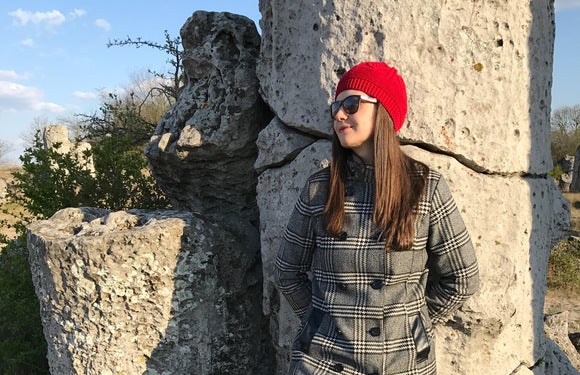 This one goes to the iPhone and the LG G6. I took this set of photos about an hour before sunset, and only these two managed to capture the warm, soothing sunlight in its beauty. Don't get me wrong – the photos from the Galaxy S8+ and S7 edge also look great. But if I had to pick a favorite, my vote would go for the iPhone and/or the G6. As an added bonus, in the gallery below I've also included a 2X zoom photo from the iPhone and a wide-angle shot from the G6. Without a doubt, their secondary lenses are a valuable asset in the right situation.
Scene 3: score
LG G6
8.0
iPhone 7 Plus
8.0
Galaxy S8+
7.0
Galaxy S7 edge
7.0