Apple iPad Air (2020) Review
6
We may earn a commission if you make a purchase from the links on this page.
The
2020 iPad Air
has the design and power of the iPad Pro, combined with its support for all the best iPad accessories, while keeping the cost lower by removing bells and whistles most users don't need. And with its stereo speakers, large display and USB Type-C port, both professionals and casual users may find that this is the most well-rounded tablet to buy in 2020.
Design and display
When first picked up, the new iPad Air impresses with its highly premium, flat design and lightness. It's thin, at 0.24 inches, with just enough bezel around the display for it to be held comfortably, without accidental screen touches.
Now let's look at some numbers. The 2020 iPad Air's display is arguably the most perfect size – 10.9 inches – not too small, yet not unwieldy. It's also quite a wide display, or tall in landscape, which is great for productivity, such as writing documents or desktop web browsing.
It's an IPS screen, with a pixel resolution of 2360 x 1640, 264 pixels per inch. It's also a P3 wide color display that has True Tone support, the latter being a feature that makes the screen adjust to your surroundings' lighting for a more natural look. Of course, this can be disabled, though there's no reason for most users to do so. Artists who work with colors may want to turn it off, but everyone else will probably find that True Tone makes the display easier on the eyes.
The iPad Air's display is also laminated, unlike the one on the budget 2020 iPad. This means that here we don't see a gap between the glass covering the display and the display itself, which adds to a more pleasant and natural Apple Pencil drawing experience. The screen also sports a fingerprint-resistant oleophobic coating, along with an antireflective coating, which are highly important features to have when using your tablet in sunlight or even just a well-lit room.
We don't have the super smooth 120Hz refresh rate of the iPad Pro here. The Air 4 rocks a 60Hz display instead, which is still smooth enough for most users. Also, 60Hz is more efficient in terms of battery life, so it can be considered a good thing from that perspective.
Another thing the Air is lacking over the iPad Pro is Face ID. On this new iPad Air, we have Touch ID instead, embedded into its power button. It works fast and reliably, and some may actually prefer its traditional convenience over Face ID.
Camera and speakers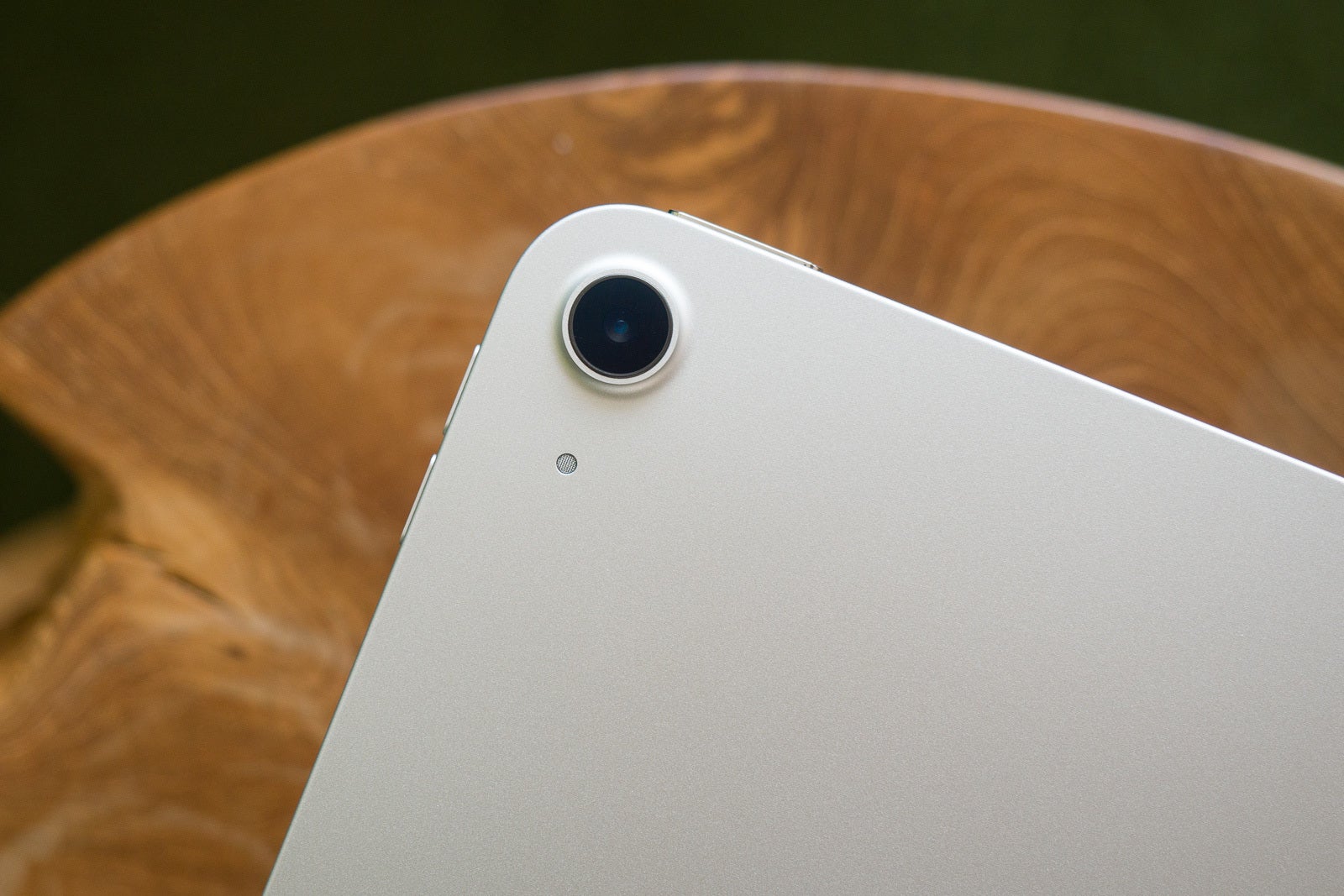 The iPad Air's single main camera, next to which is a microphone
Before jumping to megapixels and other numbers, realistically, the main camera on the iPad Air is great for most tablet use cases. Photos and videos won't be the sharpest, but with good lighting, the results are satisfactory.
The iPad Air has a single 12-megapixel camera on the back, which can shoot video at up to 4K resolution and 60 frames-per-second (FPS). It can also film slow motion video at 1080p, 240 FPS. Its notable features additionally include continuous autofocus and video stabilization, although the latter is only available for 1080p and 720p video recordings. Next to the main camera is just a microphone. There's no flash, additional back cameras or a LiDAR sensor, like there are on the iPad Pro. But to be fair, for most users those are just additional price hikes to the tablet that they'll never use, so it makes sense that
Apple
removed them from the iPad Air.
The selfie camera we have on board is a 7-megapixel one. It can record 1080p HD video at 60 FPS. It's a more than adequate camera for the likes of Zoom calls and FaceTiming. You'll want to use your smartphone for taking selfies though, because selfies from the iPad Air only ever come out decent in strong, natural lighting conditions.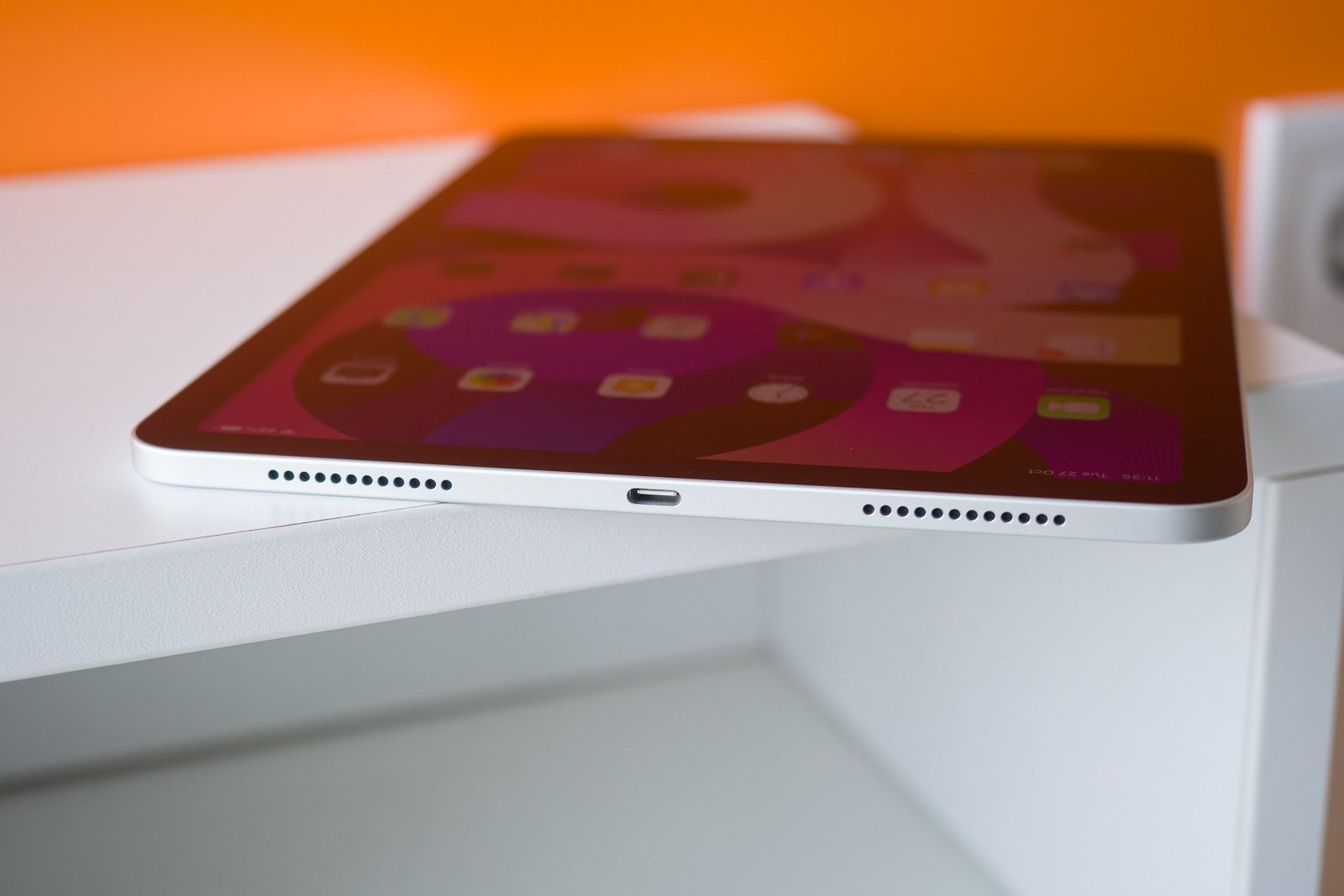 Although it has four speaker grills, two on each side, the iPad Air seems to actually pack two speakers
As for the speakers, Apple didn't quite make it clear whether those are quad speakers or dual speakers. There are four grills, two on each side of the iPad Air, which was apparently enough to trick most reviewers into claiming that the tablet has four speakers, but it very likely has two. Covering the top grills seems to have no effect, so the speakers appear to be behind the bottom grills. When holding the tablet, you may actually cover those bottom grills, so the top ones have their use – helping the sound reach you anyways.
In any case, the iPad Air 4's speakers sound insanely good, especially for such a thin tablet. Music is loud and clear, kicks are super punchy, and there's even a good presence of bass. The stereo separation you can expect from having speakers on the opposite sides of a tablet is also great.
Watching videos and gaming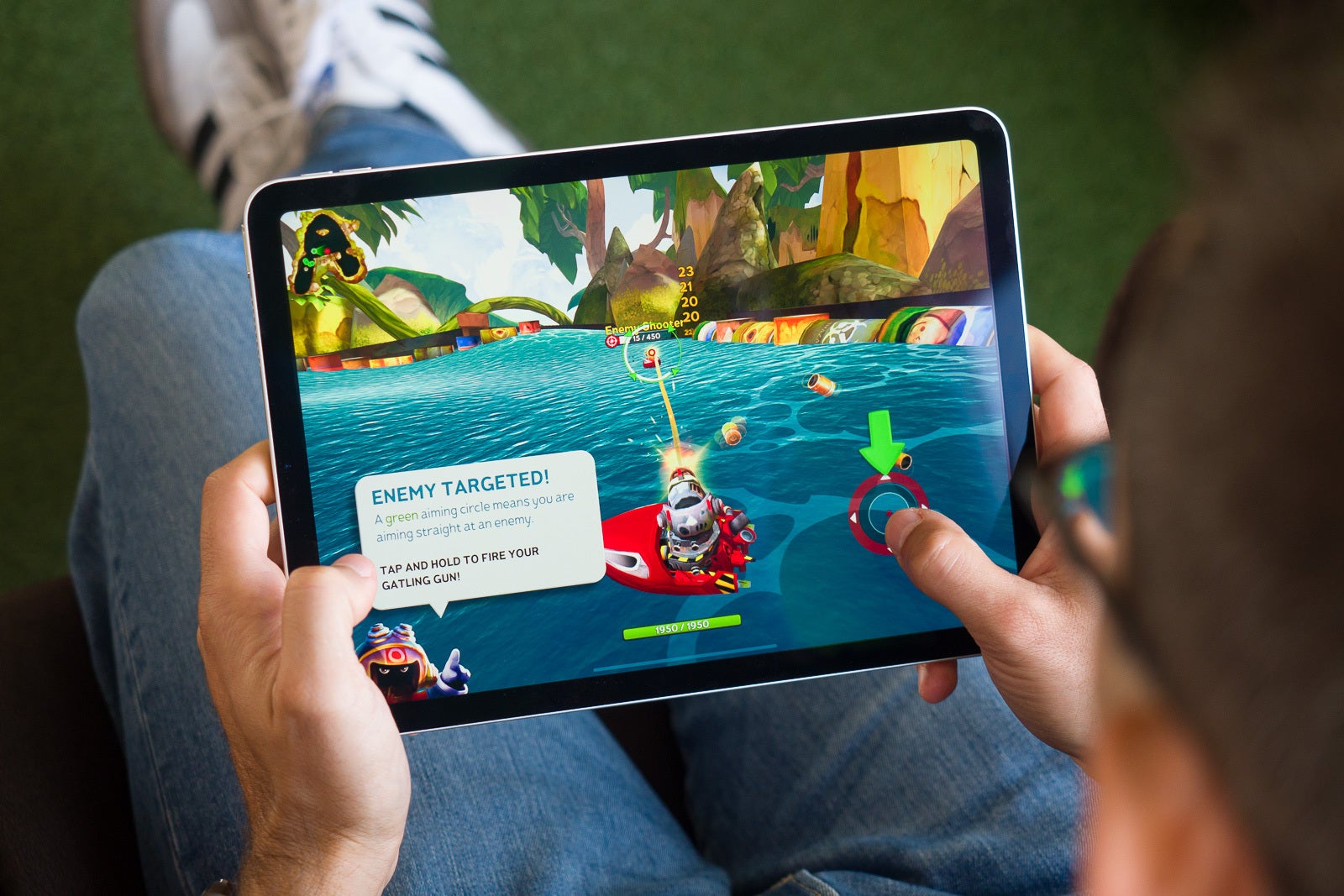 While I consider this a productivity-first tablet, as it has a screen aspect ratio more suited for work than watching videos, it definitely excels in both use case scenarios. You'll get black borders above and below the videos or movies you're watching, but those won't be too large. That aside, high-resolution content looks great here, as the screen is decently sharp, with good contrast and realistic colors. And considering the powerful stereo speakers this iPad Air is packing, movie watching can be a literal blast.
Although the base iPad Air 4 comes with only 64GB of storage, which isn't super generous, it's more than enough to fit a whole lot of large, graphically intensive games. And those games will run flawlessly here, with noticeably faster loading times than on the budget iPad, and of course, you'll be enjoying them in true stereo sound.
Productivity and accessories
Now that the 2020 iPad Air supports the glorious Magic Keyboard (which also sports a trackpad) and the second-gen Apple Pencil, it is definitely the better choice to get over the iPad Pro, for most people at least. Not only is the new Air well powerful enough for all the productivity, but indeed, it has support for what were once iPad Pro accessories. The Apple Pencil even snaps to the top of the 2020 iPad Air to charge, just like it does on the iPad Pro.
And considering that even the budget iPad is good enough for the likes of video editing, drawing, desktop web browsing and other work, there's no worries that the iPad Air 4 will struggle with anything. It's powered by Apple's new A14 Bionic chip and 4GB of RAM. The latter would normally be considered a small number, if we were talking about an Android tablet or a laptop, but iPadOS' RAM management is top notch, and 4GB seems to be more than enough for the iPad Air.
The only notable productivity limitations I've noticed between the different iPads is that, for example, editing videos or photos on the budget iPad may be limited to less layers at a time than the Air here, and in turn, the iPad Air may support slightly less layers at a time than the Pro models. But those will still be a massive number of layers, especially with image editing, so it's nothing significant to worry about.
Working on this iPad is actually fun, by the way, which I've never said about working on laptops. And I've done anything anyone may want to do on this tablet – from music production, video editing and drawing, to handling documents. It can handle it all, effortlessly. And once again, especially now that this iPad Air exists, I'll bring back the argument that you may be better off
buying an iPad over a laptop
at this price range.
Now sure, $600 isn't a small price to pay, but if you consider the fact that you'll be able to work reliably on this iPad Air 4 for many years to come, and then resell it for a good price once it starts aging, it's a pretty fair deal.
I would be remiss, however, if I didn't mention that in my opinion, drawing is a better experience on a Samsung Galaxy Tab, with the S Pen. Even the "budget" Galaxy Tab S6 Lite I've been using, which came with a free S Pen, feels like it delivers a better drawing experience, mostly because the S Pen has a soft tip. The Apple Pencil, though it may feel more premium, has a hard plastic tip instead, which doesn't feel quite so good when pressed against a glass screen. So if you're considering the 2020 iPad Air for mostly doing artwork, you may want to take a look at the current Galaxy Tab S line first. Sure, those tables aren't as powerful, and Android lacks the professional apps that are available on iPad, but if you look around, you will still find great drawing apps such as Clip Studio, which is available on the Samsung app store.
Battery life
Apple claims that the iPad Air 4 can last up to 10 hours of watching videos or surfing the web on a single charge, and as always, those claims hold true. Basically, if you're using it for work or school, the 2020 iPad Air will last you well over a work or school day, with plenty of battery life to spare for watching a movie afterwards. And light users can easily expect up to two days of usage before needing to change it, if not more, which is just great.
Out of the box, this iPad Air comes with a meter-long USB Type‑C charging cable and a 20W charger, which means it should charge noticeably faster than not only the budget iPad, but even the iPad Pro, which currently comes with a lesser 18W charger.