iPadOS 15 hands-on – all new features and changes
17
We may earn a commission if you make a purchase from the links on this page.
The highly anticipated iPadOS 15 was made official during Apple's
WWDC event
and as of September 20 is finally available.
So was it worth the wait, and what exactly is iPadOS 15 bringing to your iPad? Below we have for you the biggest new features
Apple
brought to the iPad with iPadOS 15. We've been able to test them before the final release, so in addition – we'll let you know how useful those new features and changes are!
You may also find interesting:
iPad Pro 2021 (11-inch) Review: M1 power, iPadOS drawbacks
The Translate app comes to iPad
An alternative to Google Translate, Apple's Translate app is coming to the iPad with iPadOS 15. It can translate text or live speech on the fly, allowing for easy communication between people who speak different languages.
International travelers will particularly find this new iPad addition useful. I used it to translate between English and Japanese speech, but most of the more widely spoken languages are already supported. You simply press a microphone button, speak, then the app can both display what you said in translated text, and say it out loud (to Japanese, in my case). It works very fast and smoothly.
Of course, as you can see in the screenshot above, there's a dedicated "Conversation" mode too, which will listen for both English and Japanese speech at the same time (or whichever languages you choose) and will translate both simultaneously, in both text and speech.
Improved iPad multitasking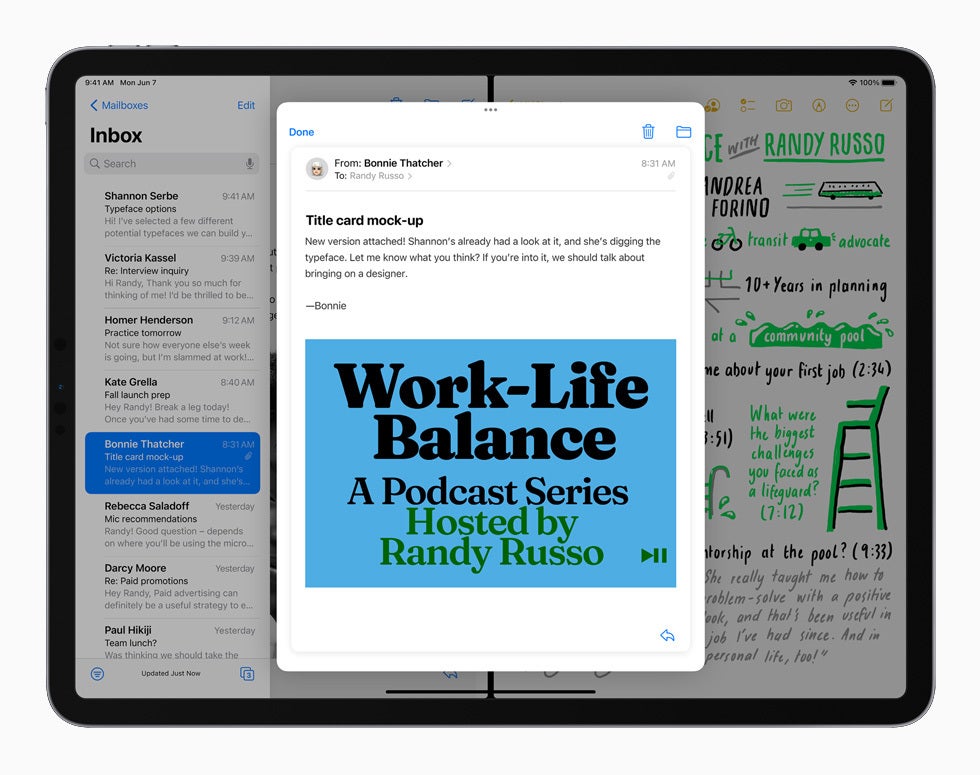 iPadOS 15 introduces a new multitasking menu, which makes the process of entering Split View and enabling Slide Over a bit easier, although the old methods of using gestures still work too. In addition, we can now select apps from the home screen to add to Split View or Slide Over, instead of just from the dock. Plus, Split View can also now also easily be enabled by dragging one app into another right from the App Switcher, something many of us already tried to do in iPadOS 14 in vein.

Generally, Split View and Slide Over on their own remain essentially the same in iPadOS 15, but an additional temporary windows can be opened from one app over the rest. As an example, Apple demonstrated opening a link in the Mail app which loaded a landing webpage over the two open Split View iPad apps (similar in concept to the image below). If supported by all apps, this should add for quicker and easier multitasking with less switching between apps or screens.

The Shelf is another new multitasking feature which lets you see and switch between all of your already-open app instances, even if some are in Split View. For example, if you've opened two or more instances of Safari, every time you go back to the app (or press the new multitasking menu) The Shelf will pop up at the bottom of the screen to show you those open instances. You can see how The Shelf looks in the screenshot below.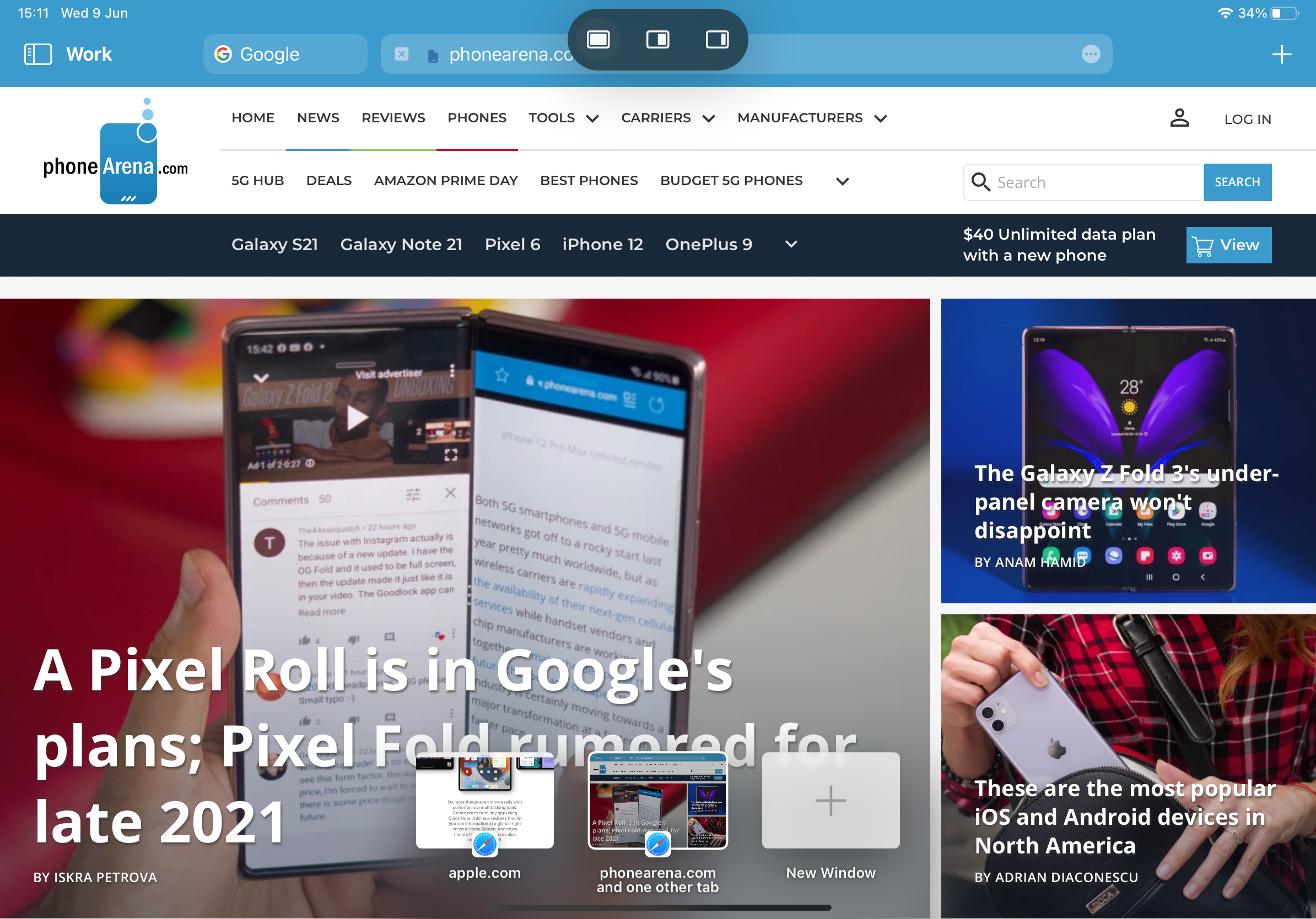 The new multitasking menu (top center) and The Shelf (bottom center)
It's a bit convoluted, and I have to be honest – I haven't found it too useful yet, but it might be part of something bigger planned for later.
Notes updates and Quick Note for Apple Pencil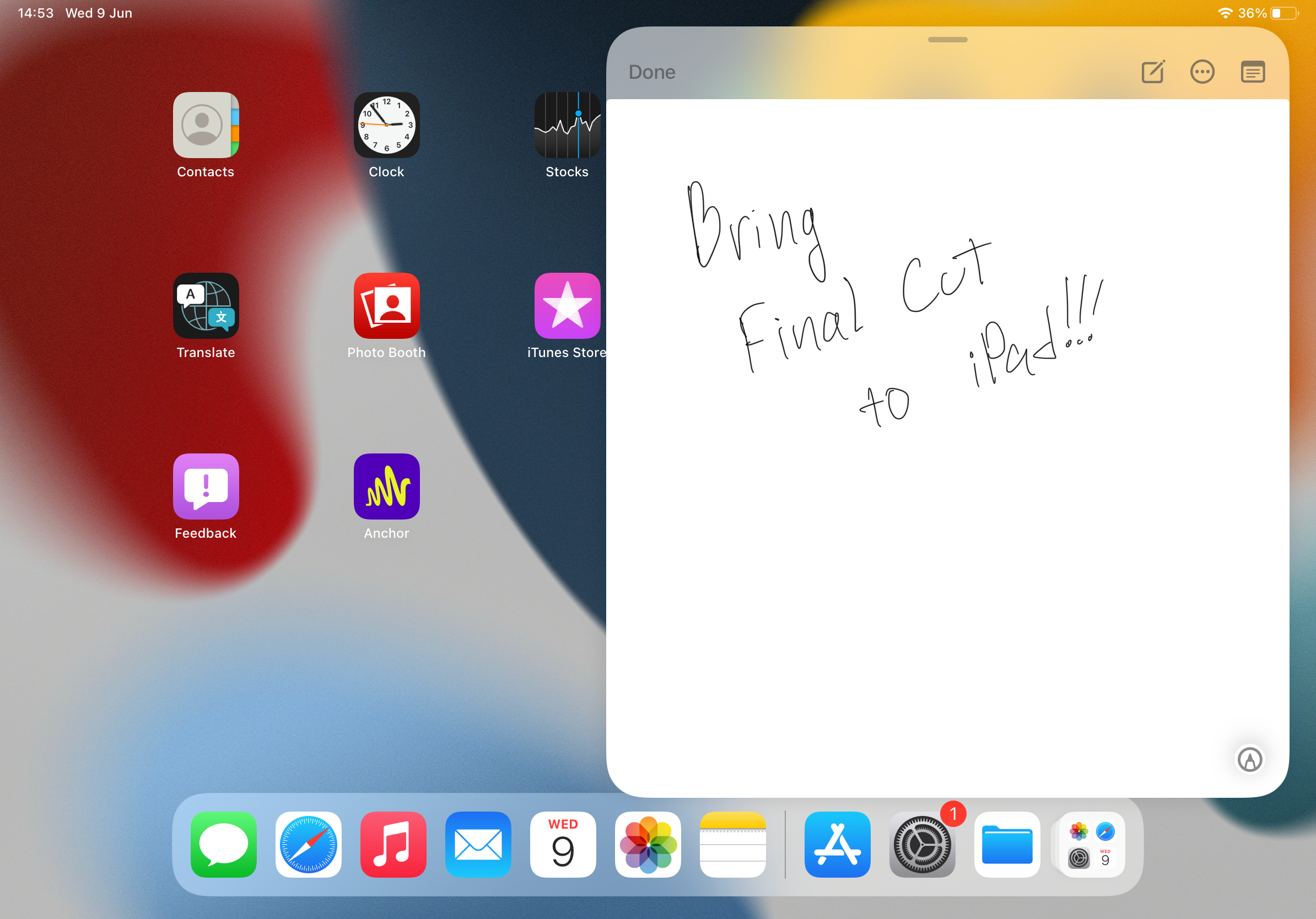 Opening a Quick Note can be done over the home screen or any app
In iPadOS 15, the Notes app has been updated to support mentions. In addition, a new feature called Quick Note can now be enabled by simply dragging with an Apple Pencil or your finger from the lower-right corner of the iPad screen. It immediately opens a Quick Note in a popup window for jotting down anything, anytime.
Quick Note is quite fun and useful, professionals and students will particularly enjoy how accessible it is and how it integrates with other apps like Safari. If you open a Quick Note while you're in Safari, you'll get a suggestion to add the page you're in to the note, for example. You can also select and move text from a website right onto the Quick Note quick and easy, say, if you're doing research.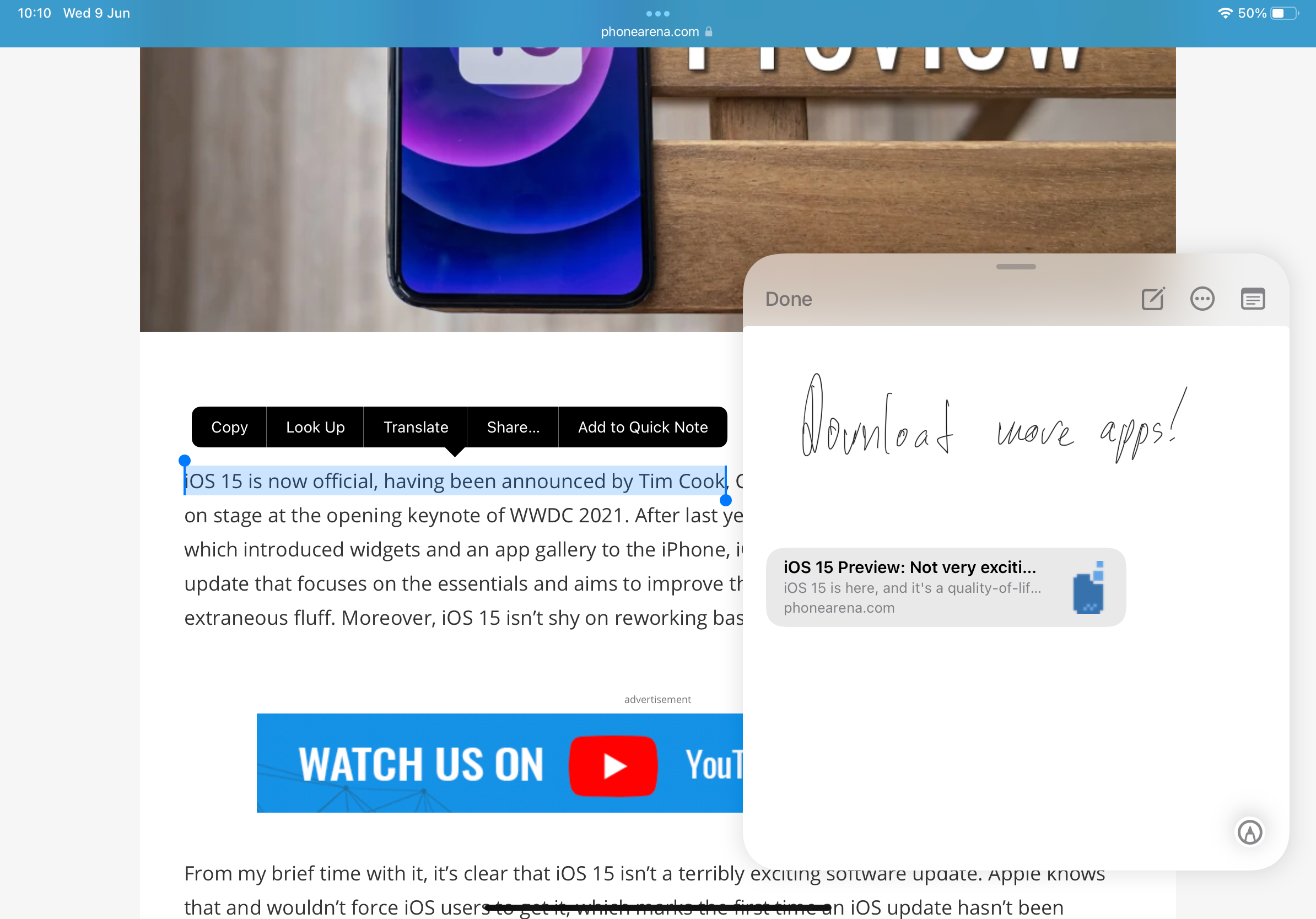 Home screen widgets (no longer bound to Today View)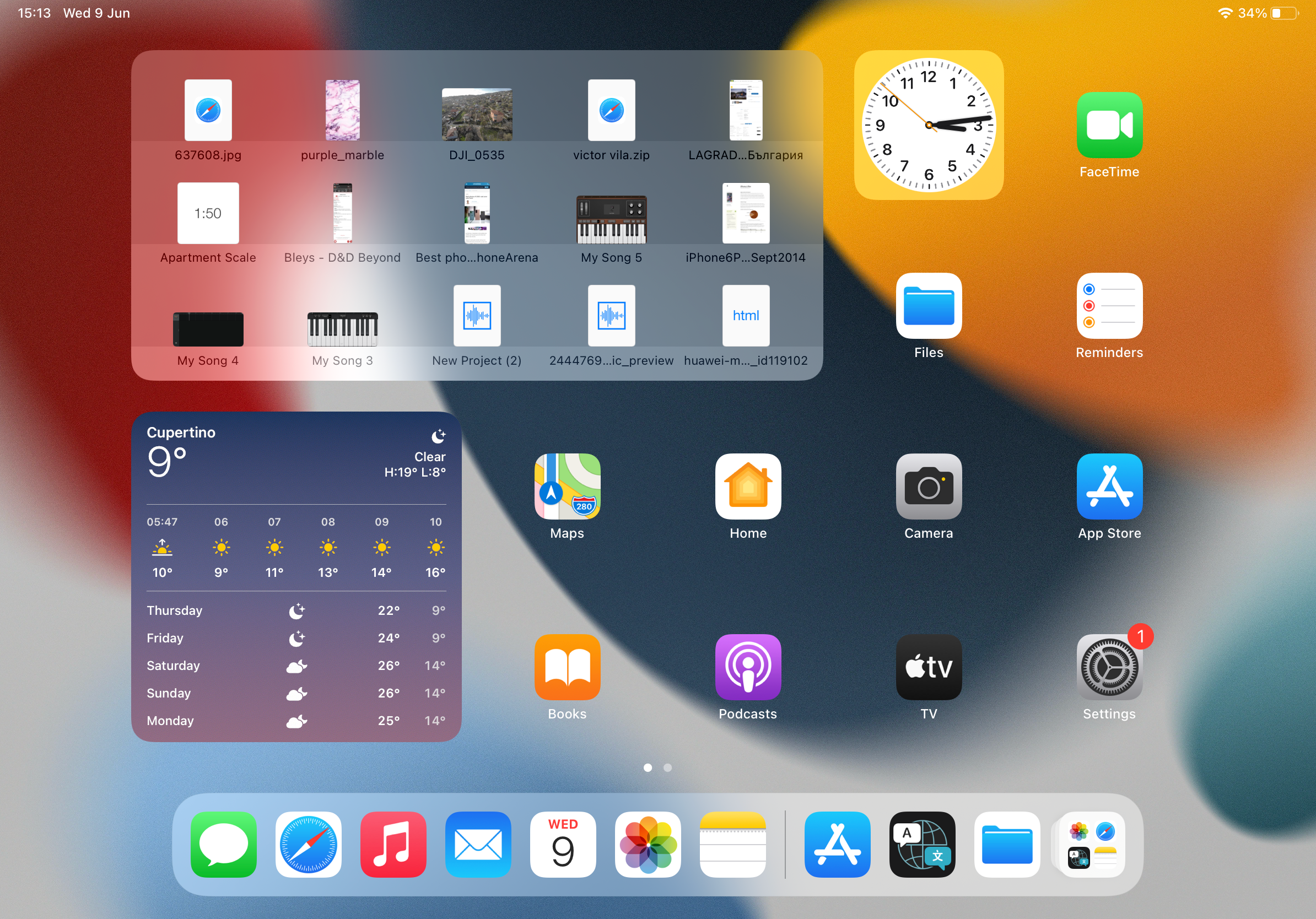 iPad widgets can now be placed anywhere on the home screen, can be larger, and we even get a Files widget (top left)
As was highly expected, iPadOS 15 allows you to place widgets on your home screen, in between your apps. Before, widgets could only be stored in Today View, which was an optional section fixed to the left of the home screen icons. Today View is still available via swiping to the right on the home screen, though, it's not gone.
Being able to move widgets around and having the option for larger ones sure makes quite a difference on how your iPad home screen looks. And there's a chance that widgets will become more interactive later on, instead of only registering a single tap and leading you to an app, as they do right now.
The widgets picker has also been improved and is now much wider, as shown in the screenshots below. It also makes choosing widgets from different apps, and choosing widget sizes a bit more intuitive and easier to do.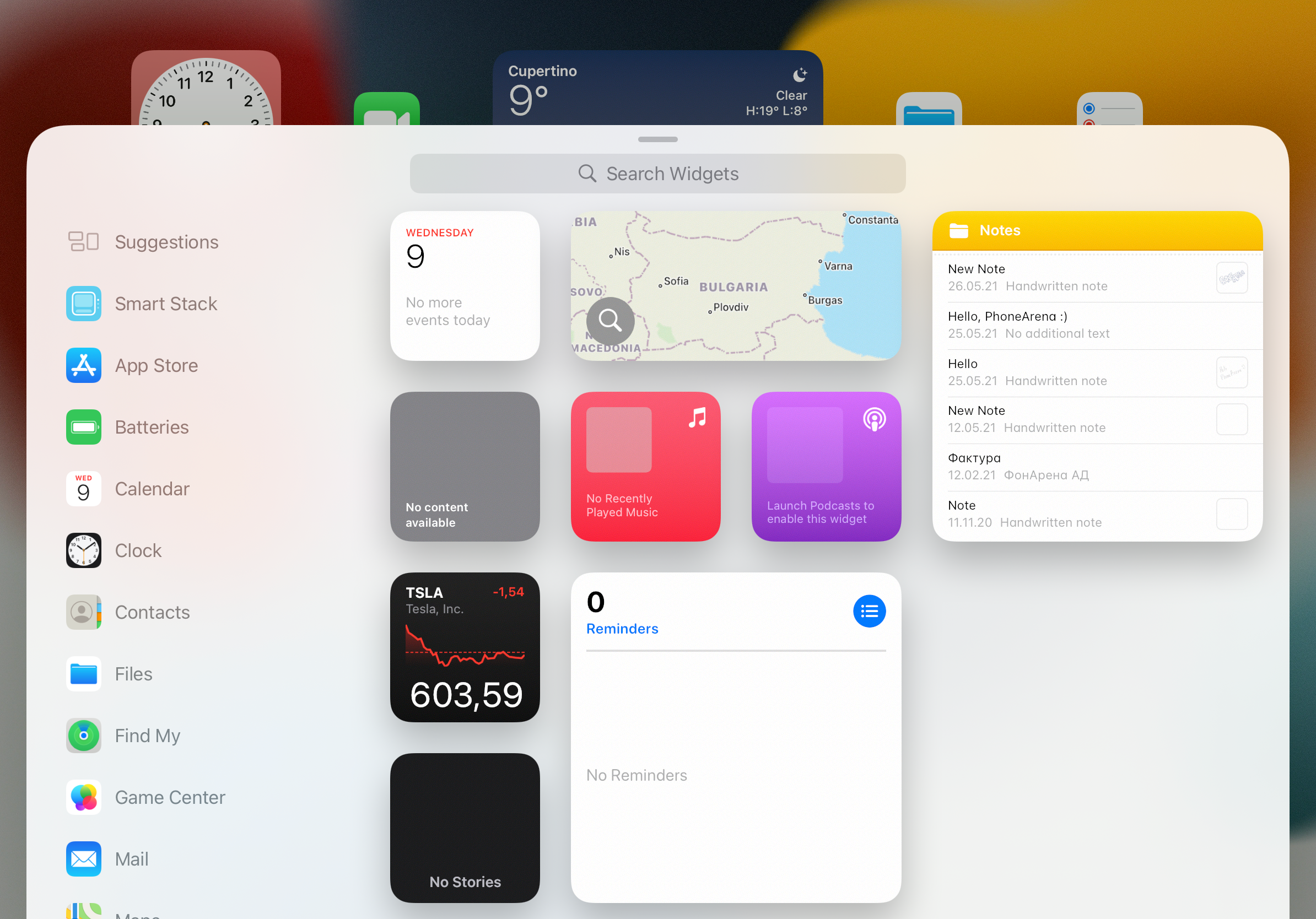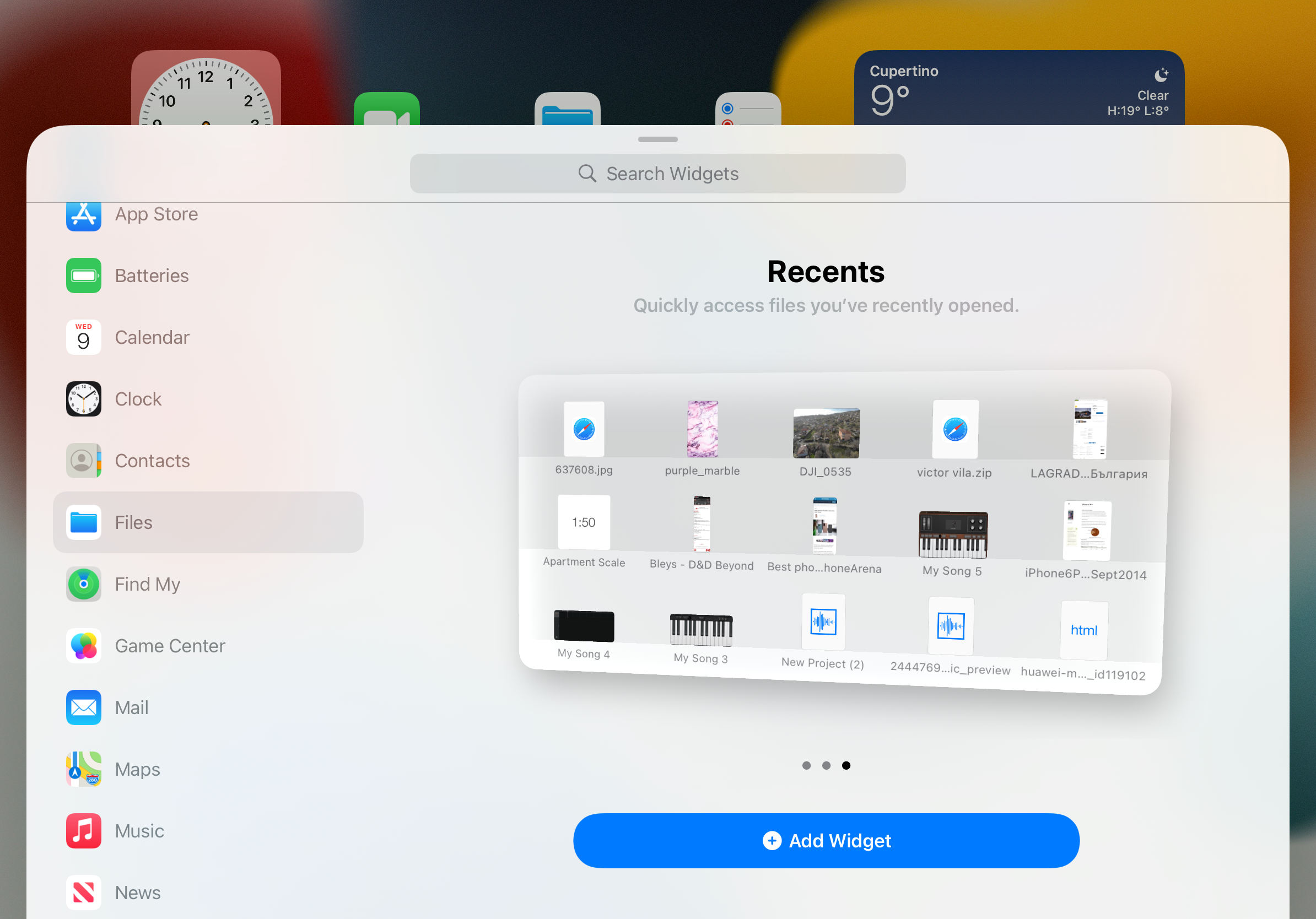 As mentioned earlier, widgets now do have a larger size option, to make better use of the iPad's large display. But the previous smaller sizes remain available too.
In addition, we finally get a Files widget, which can show your folders and files right on your iPad home screen. Of course, it lets you select which folder you wish to have on your home screen, and is also available in several sizes.
The iPhone App Library feature is now on iPad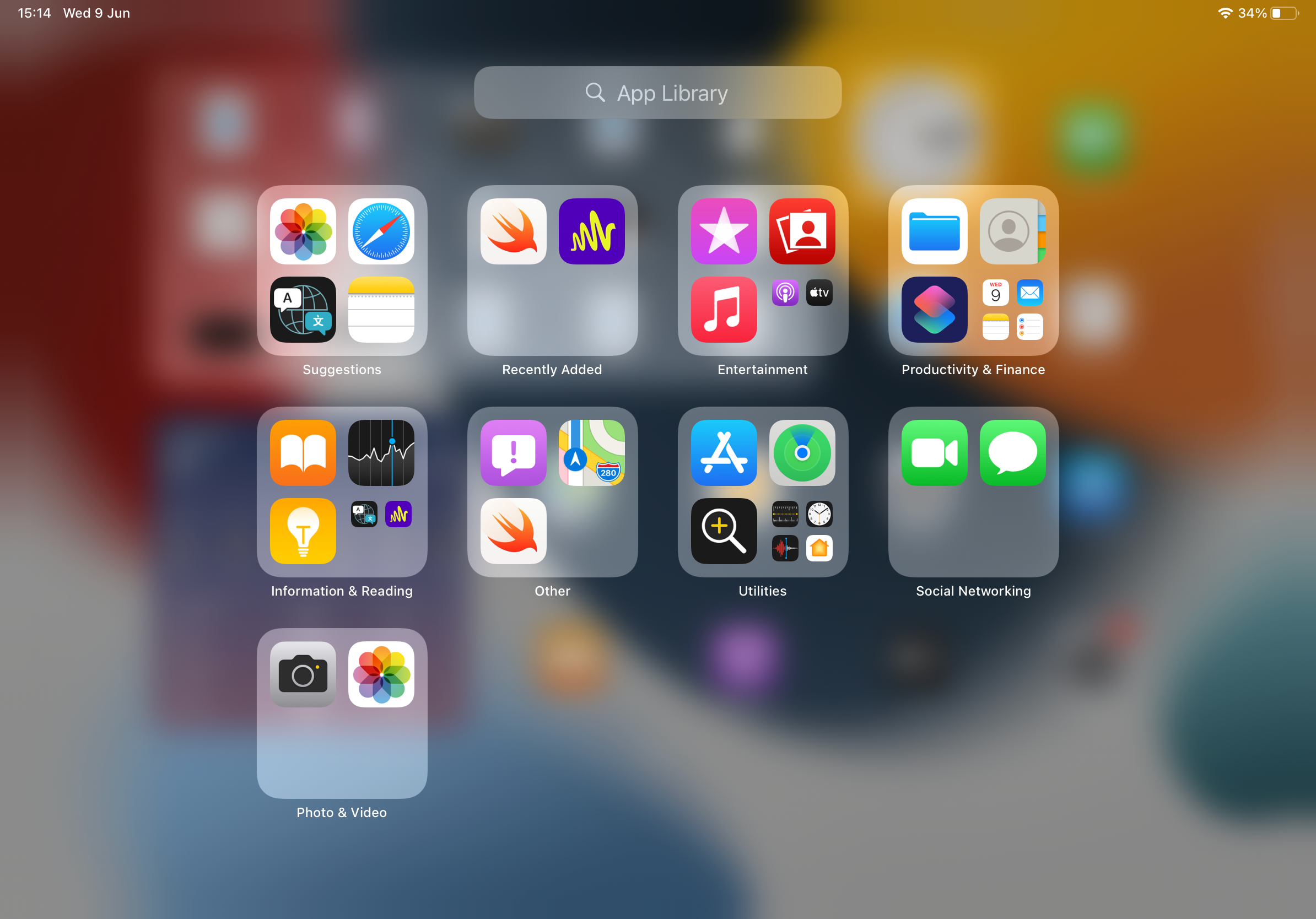 With iPadOS 15, iPad gets the App Library feature we've had on iPhones for a while. It simply shows all of your installed apps at once, and can be accessed from the dock, as it's essentially another dock icon.
Apps from the App Library can be dragged and dropped onto the home screen at will. I found this feature somewhat useful for multitasking, as you can easily and quickly find any app you wish to enter Split View with or open in Slide Over, over your current app. Other than that, it's nothing too major or useful, nor is this feature a surprising new addition to the iPad.
Live Text in Photos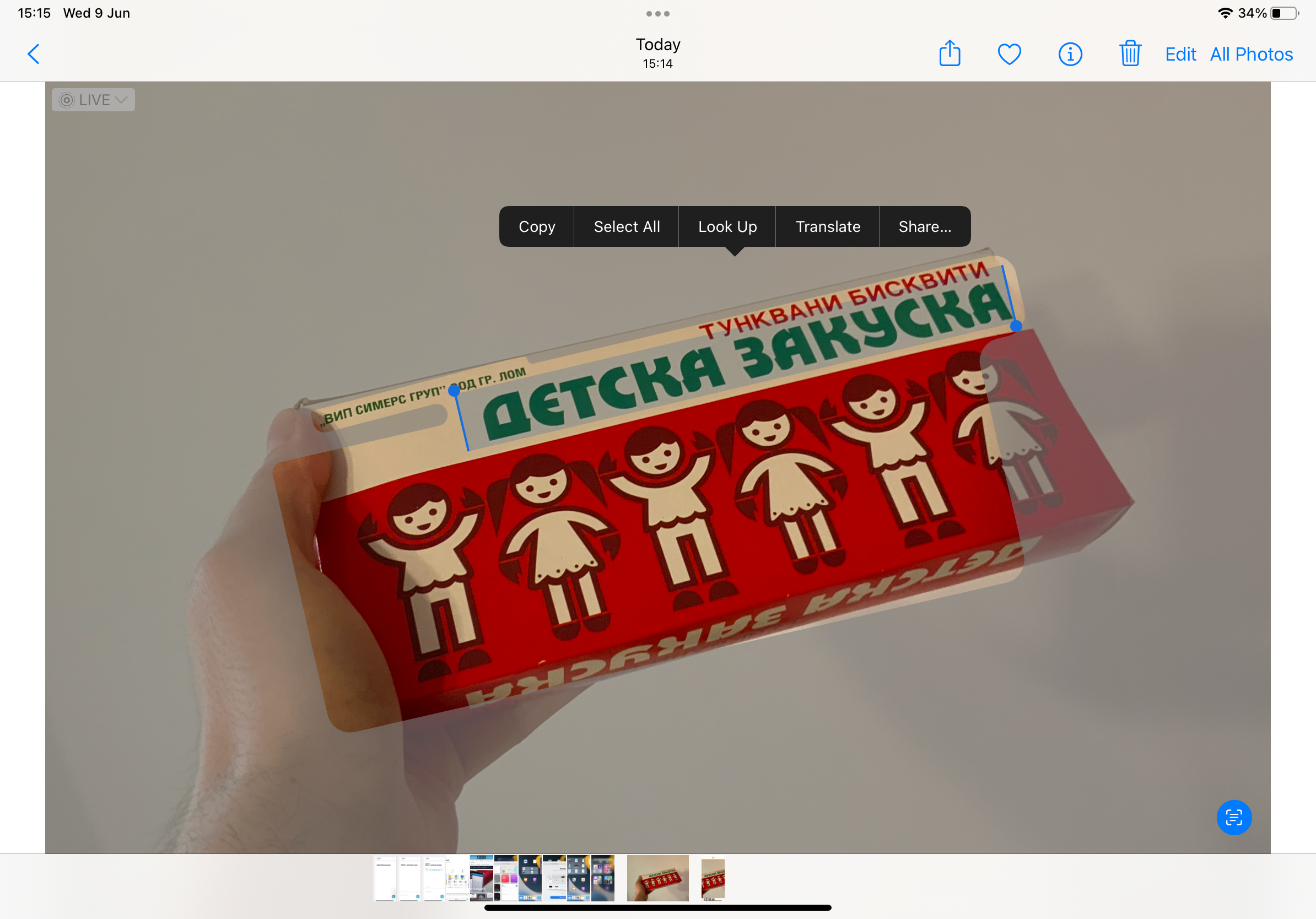 This new Photos feature is able to recognize text in your photos, regardless if you just took them yourself or downloaded them from the internet.
It intelligently detects any text and lets you select it, copy it or even translate it from and to several different languages via the aforementioned new Translate app. Also, if there's a phone number in the photo, you're able to quickly call it or send it a message. Like the Translate app, this new feature works extremely fast and well.


Universal Control (for MacOS Monterey)
This new MacOS feature allows you to share one mouse / trackpad and keyboard between both your MacBook and iPad. Essentially, you can move your cursor from your MacBook screen onto the iPad screen seamlessly. In addition, you can drag and drop files between the two devices via the same Universal Control feature, which will be available in the new MacOS Monterey.
But as cool as this feature is, it somewhat reconfirms the fact that Apple really wants us to use the iPad as a MacBook accessory, as opposed to a standalone computer.


Safari updates: Web Extensions, redesigned tabs and Tab Groups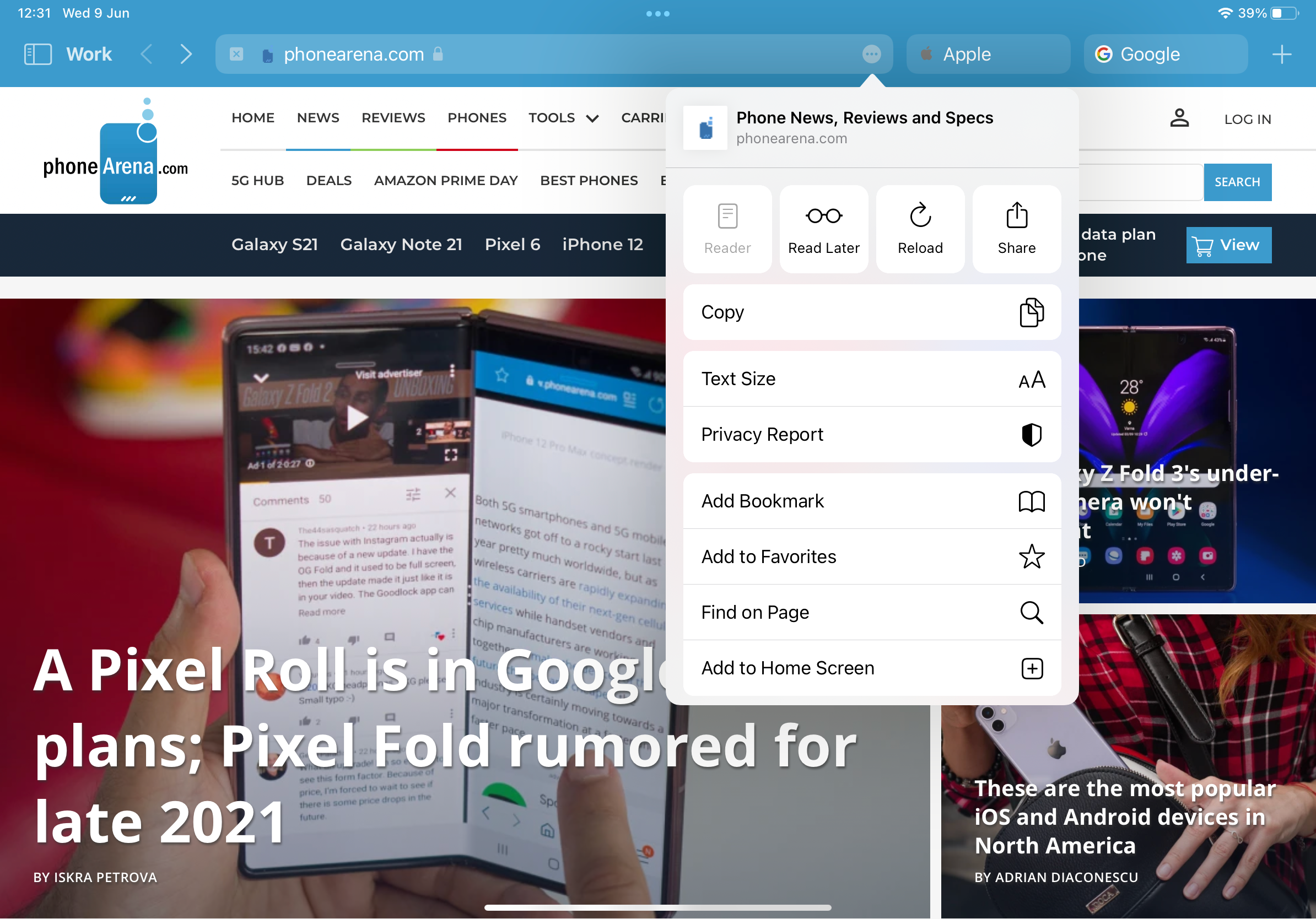 A new Safari extensions tab can now be found in the App Store on iPadOS 15, with extensions such as Grammarly, Honey and others either already available to download or coming soon.
Additionally, the iPad Safari tabs have been updated with a new, more rounded look. And in order to save up on vertical space and free up more screen estate for the actual websites, the search bar has been fused with the tabs themselves. Generally, Safari on iPad now looks even cleaner than before. To access the now "invisible" search bar, all you have to do is tap on your currently open tab.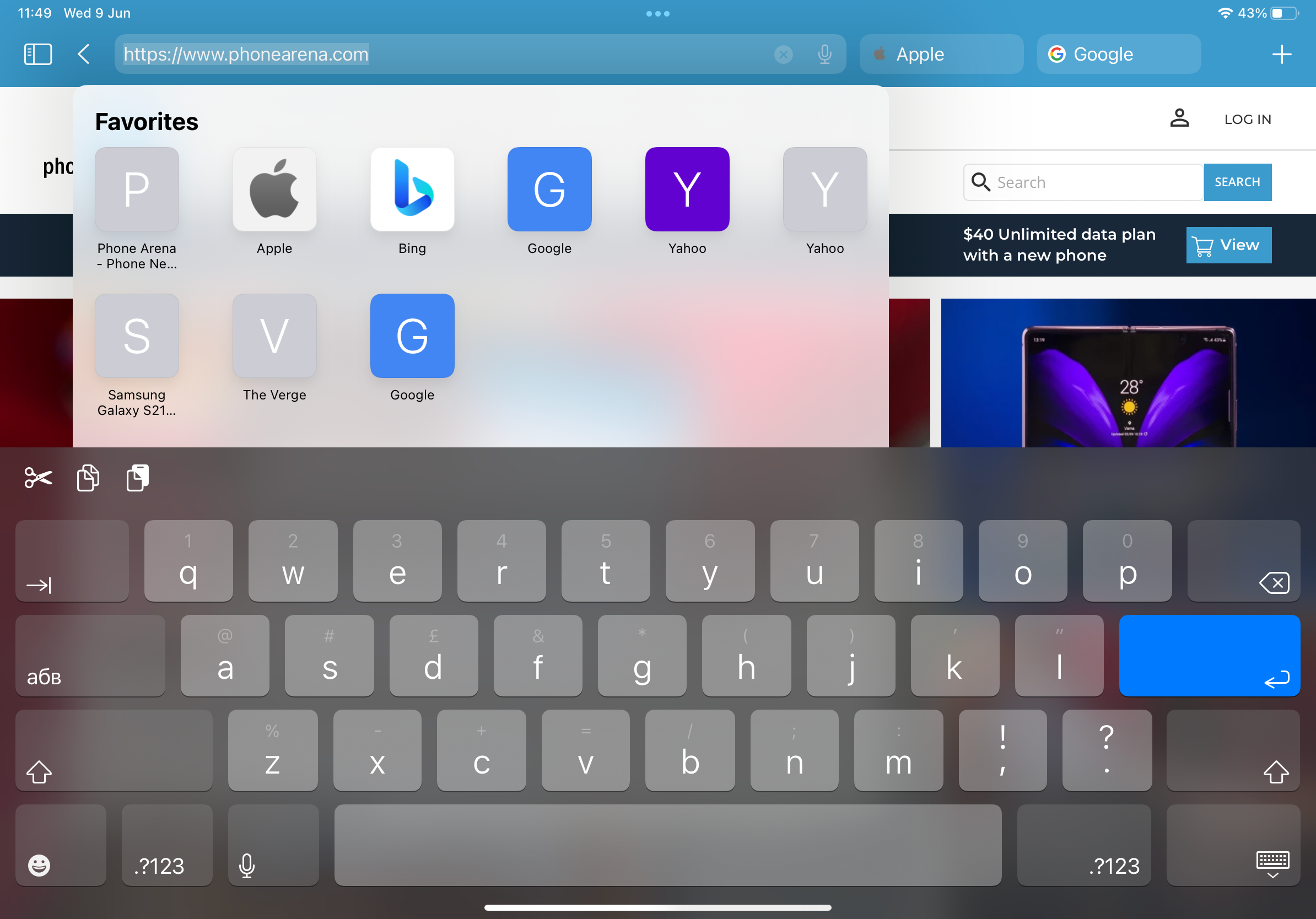 Also, Safari on iPad gets a new Tab Groups feature, which provides "a new way to easily save and manage tabs" in Safari. It essentially allows you to group a bunch of tabs, and lets you access them simultaneously at any time from your Reading List. And conveniently, your Tab Groups are synced between your iPad, iPhone and MacBook.
Focus (iPad notifications feature)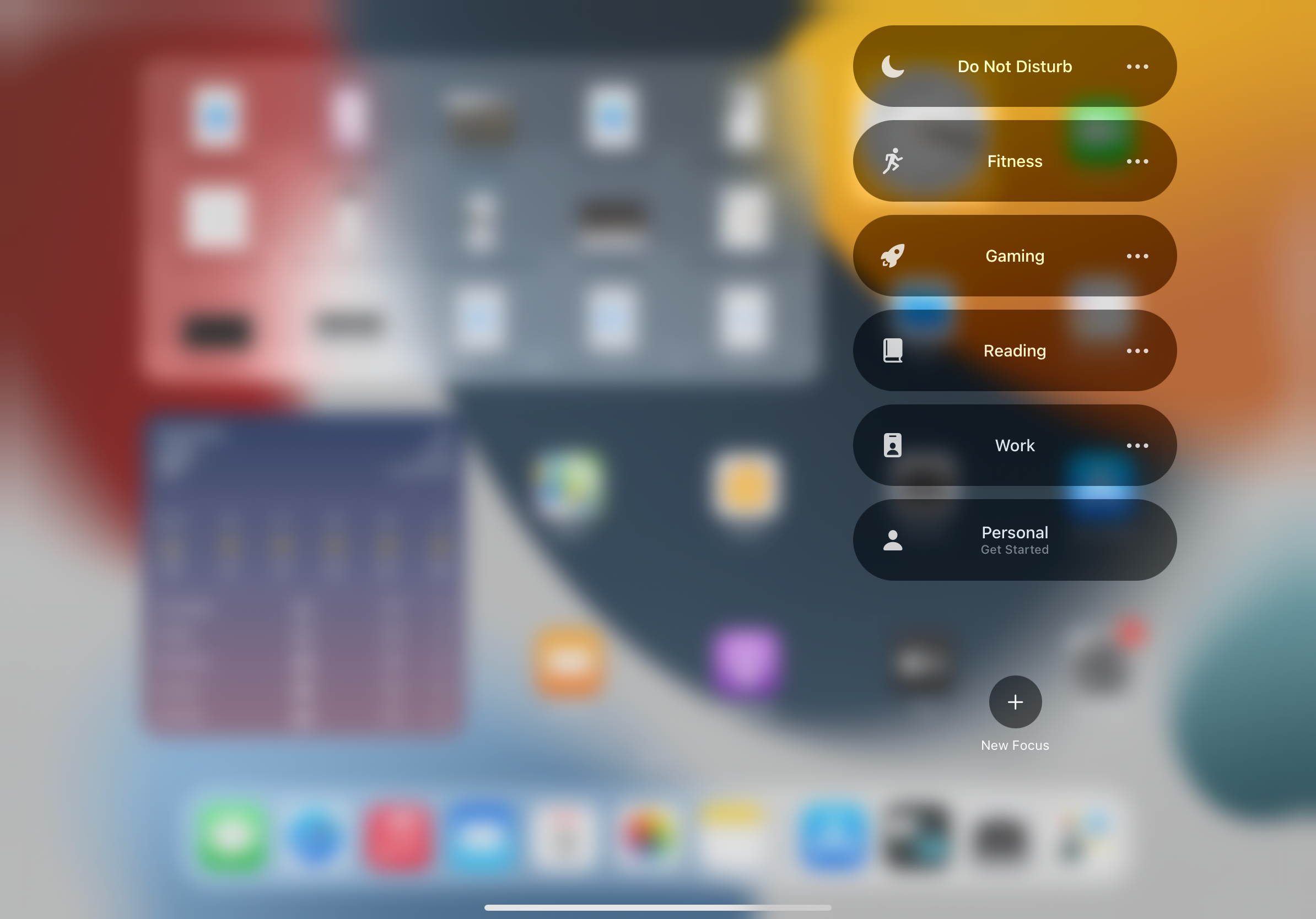 A new Focus feature can filter notifications "based on what a user is doing." Basically, you can create custom Focus modes for when you're working, trying to relax, sleeping and so on. Based on how you set up those Focus modes, you can silence certain notifications so they won't bother you during work or relaxing. Less-important notifications can be saved for later and shown to you when you want them to, instead of immediately.
Creating a personalized Focus mode is quite a fun and straightforward process. We have step-by-step screenshots of doing so below, if you're interested to see how it goes.
In a new Focus menu in Settings, you can always edit your created Focus modes. Make notifications time-sensitive, choose which apps you wish to receive notifications from or not, and which contacts... It's all customizable. Combined with the Screen Time feature, Focus could definitely be used to positively impact your daily focus and help you (a cliché line incoming) live in the moment.
Updated Swift Playgrounds productivity app (with Xcode support)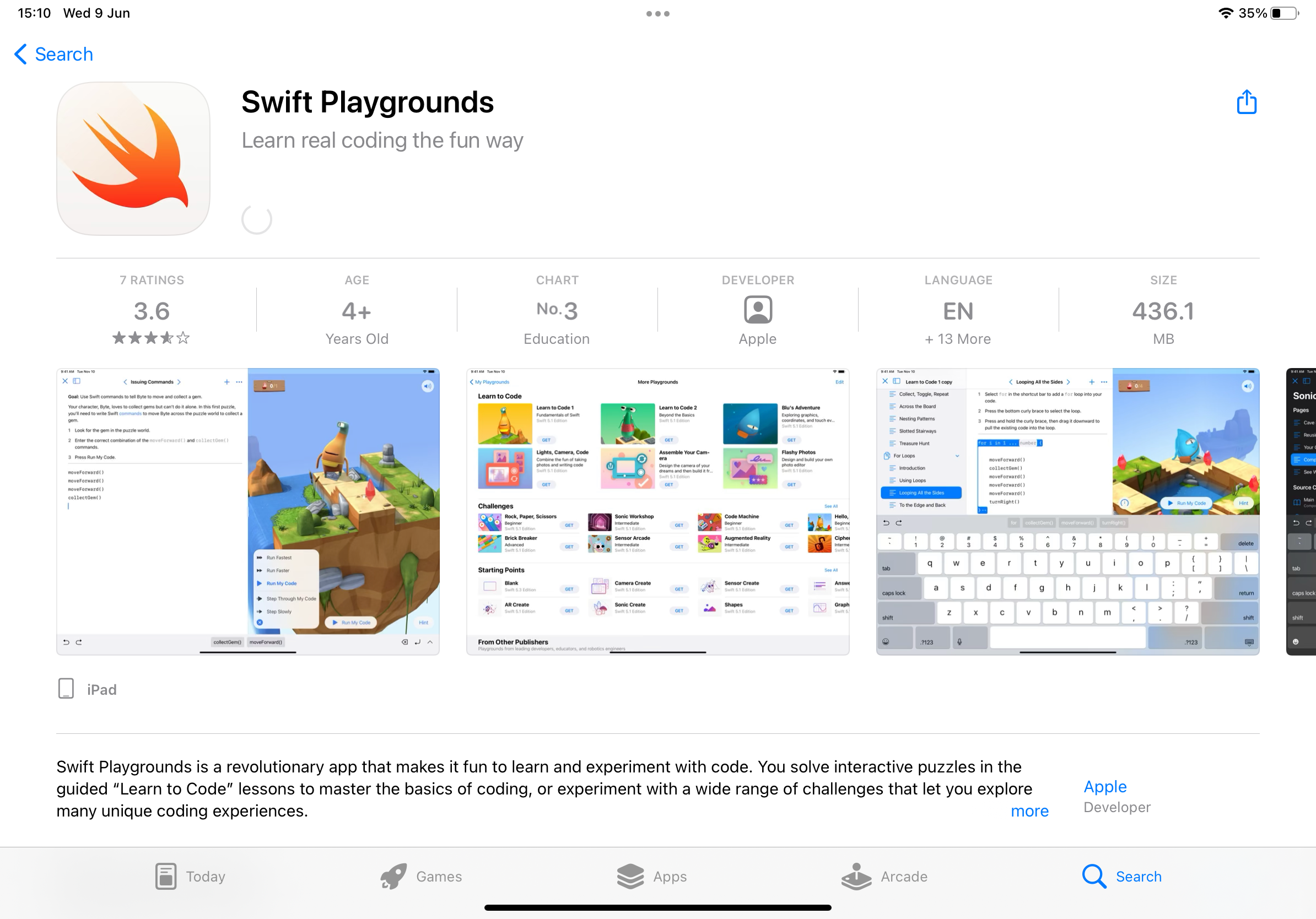 Swift Playgrounds is an app aiming to teach users to code and build apps right on their iPad. It's not exactly the Xcode for iPad we expected, but Apple noted that Swift Playgrounds does have Xcode support nonetheless. It's a similar app to Swift, which is available on MacOS, but made specifically for iPad.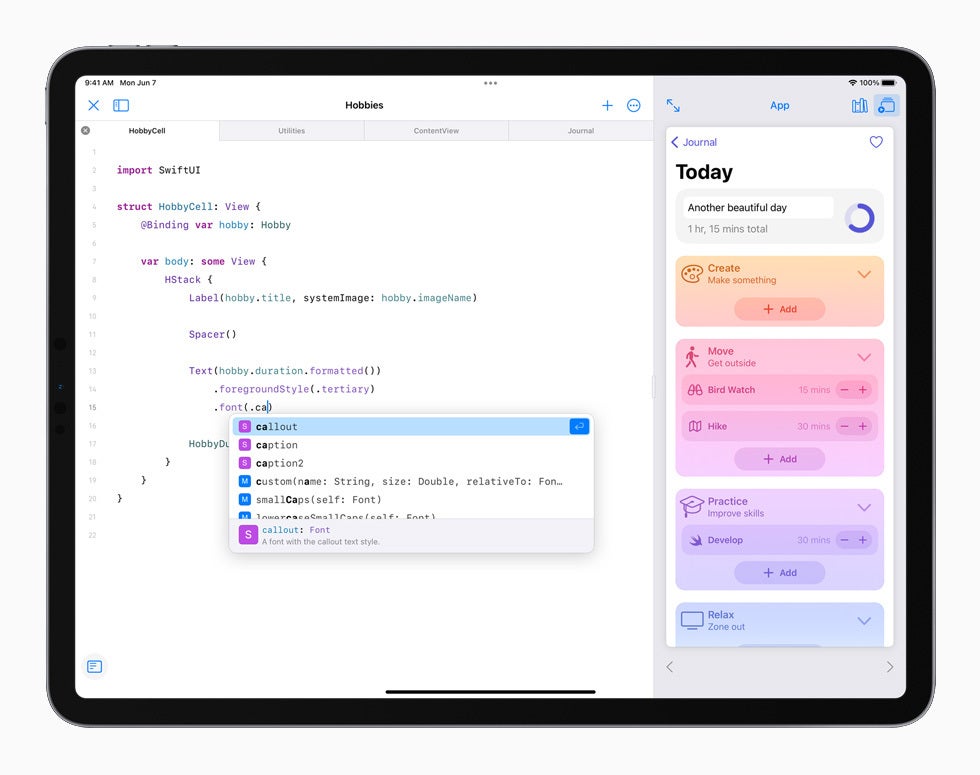 Impressively, Apple noted that apps developed with Swift Playgrounds can be tested and even submitted to the App Store right from the iPad. This is great news for mobile developers who have been asking to be able to develop on their iPad without the need of a MacBook.
FaceTime updates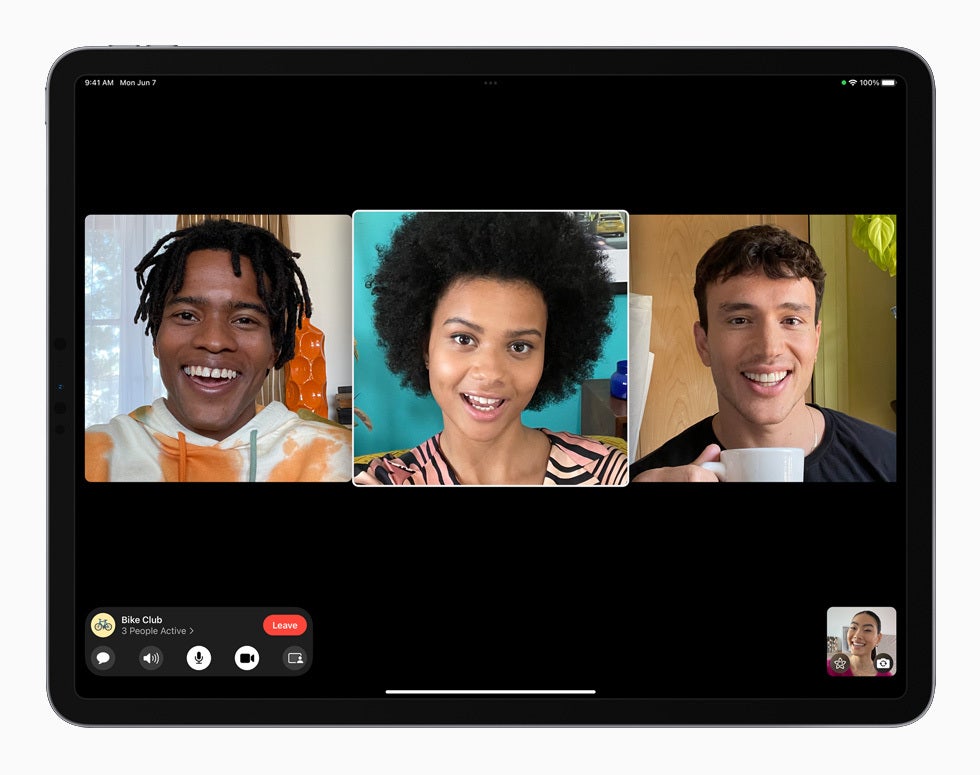 The FaceTime app on both
iOS 15
and iPadOS 15 is to be updated with Spatial Audio, which should improve group voice calls by making them feel more natural. Each person's voice will appear to come from a slightly different direction, relative to where their window is positioned on your screen.
Also, the FaceTime app was showcased to have improved noise isolation, focusing better on the speaker's voice and being able to block background sounds.
Grid View is a new way to view FaceTime calls, clearly displaying who's speaking, but also showing everyone else at the same time and in same-size windows. You can check out how Grid View looks in the image above.
Portrait Mode is coming to FaceTime too, blurring your background when enabled during video calls. It's similar to what we've already had for a while in other video calling apps like Skype and Zoom.
FaceTime Links is a new way of easily arranging meetings with friends and family. As FaceTime Links can be added to the calendars of everyone who is invited to a meeting, it should make upcoming FaceTime gatherings easier to keep track of.
SharePlay is yet another new FaceTime feature which lets everyone in a call listen to the same music (plus everyone can add songs) or watch movies together. It will even support direct screen sharing. Thus, even when friends and family members are apart from each other, they'll be able to connect and share much bigger moments together, than before.
Smaller new iPadOS 15 features
There are additional iPadOS 15 features that are worth mentioning, most notably:
You can now use your hardware keyboard's arrow keys to navigate the home screen and the dock
On iPadOS 15, Instagram and other apps that are unsupported on the iPad can finally open in landscape orientation
When is the iPadOS 15 release date?
Now that the public version of iPadOS 15 is out, see how you can install it on your iPad below.
How to download and install iPadOS 15?
Open the

Settings

app on your iPad
Tap

General

Tap

Software Update

Tap

Download and Install

Follow the instructions
Your iPad will update and restart, after which you'll be running iPadOS 15.
Note that you may be asked to free up about 6 gigabytes of storage for this update first, if you're short on free space. You may also be asked to plug your iPad to charge if its battery life is under 50%, in order to start this update.
Are you not seeing the option to download and install iPadOS 15? To make sure your iPad model is supported, see below.
iPadOS 15 supported devices
If your iPad is running iPadOS 14 you're in luck – it will also get iPadOS 15. More specifically, iPadOS 15 comes to the following iPad models:
iPad Pro 12.9-inch (5th generation)
iPad Pro 11-inch (3rd generation)
iPad Pro 12.9-inch (4th generation)
iPad Pro 11-inch (2nd generation)
iPad Pro 12.9-inch (3rd generation)
iPad Pro 11-inch (1st generation)
iPad Pro 12.9-inch (2nd generation)
iPad Pro 12.9-inch (1st generation)
iPad Pro 10.5-inch
iPad Pro 9.7-inch
iPad (8th generation)
iPad (7th generation)
iPad (6th generation)
iPad (5th generation)
iPad mini (5th generation)
iPad mini 4
iPad Air (4th generation)
iPad Air (3rd generation)
iPad Air 2
Notable iPadOS 15 features we were hoping for that didn't make it
The full Xcode app, better external display support and desktop MacOS apps ported to the iPad were among the most anticipated iPadOS 15 features that notably weren't mentioned at Apple's WWDC event. Does this suggest that the iPad is doomed to remain a Mac accessory or a secondary computer at best, as opposed to a professional's one and only computer? Or should we be patient and keep hoping for more later on?
Let us know what you think about iPadOS 15 in the comments below!