Apple foldable iPhone: news, rumors, expectations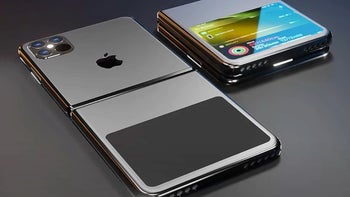 Apple
is known to have been
working on a foldable iPhone
back in 2021, following the folding phone trend of recent years, which was notably pushed to the mainstream by the likes of Samsung's
Galaxy Z Fold
and
Z Flip
series.
However, whether the Cupertino company actually releases a folding iPhone or not is still up for debate and speculation. As of right now, the intel we have about a potential iPhone Fold (or iPhone Flip, among other possible names) is sparse, and to be taken with a grain of salt.
Jump to:
Latest foldable iPhone leaks:
Foldable iPhone name speculations
The name Apple would choose for its folding iPhone is currently up for speculation. Like Samsung's Galaxy Z Fold and Galaxy Z Flip, it could similarly be named iPhone Fold or iPhone Flip. However, it's also reasonable to expect Apple to come up with a more unique name, like iPad Phone.
Rumored foldable iPhone release date
Currently, as of 2023, we've gradually stopped seeing leaks and rumors regarding a folding iPhone. Previously Bloomberg had suggested that such a device could be years away, while analyst Ming-Chi Kuo expected an
8-inch foldable iPhone to launch in 2023
. So whether we will see it unveiled in 2023, or not at all, is still pretty much anyone's guess.
Back in September of 2021, the reliable analyst reported that a foldable iPhone had been delayed with a year, suggesting that Apple may have had plans for releasing it, but by now we speculate that this may not be the case anymore. At least not anytime soon.
Foldable iPhone design speculations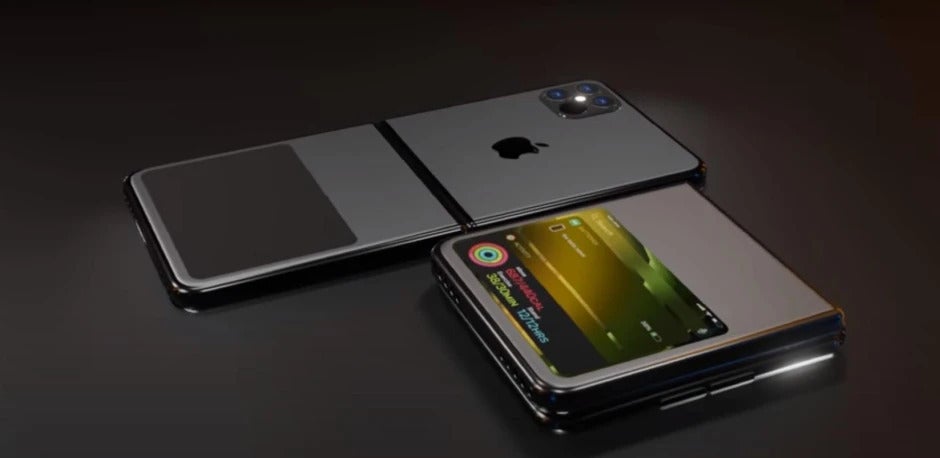 A potential foldable iPhone design, similar to the Galaxy Z Flip (concept by iOS Beta News)
While the idea of an iPhone that can unfold into an iPad sounds exciting for productivity on the go, a
Bloomberg report
suggests that Apple might actually go with something more akin to an old school flip phone. Analyst Ming-Chi Kuo has suggested that Apple went with a clamshell form factor over a larger one like on the Galaxy Z Fold in order to avoid cannibzlising iPad sales.
Thus, like the
Galaxy Z Flip
, the iPhone Flip will likely be a normal size iPhone when unfolded, that can fold inwards when it's not being used. In turn, this would make it a highly pocketable smartphone. For reference, below is the Galaxy Z Flip when unfolded and folded.

If following a highly portable design like that, Apple could take the opportunity to make the iPhone Fold Apple's thinnest iPhone since the iPhone 6.
Of course, it's still possible that Apple could alternatively choose a more
Galaxy Z Fold
-like design with a large folding display, or even a Microsoft Surface Duo one, where two separate displays are connected with a hinge. Both of those designs have the potential to offer a pocketable iPad experience.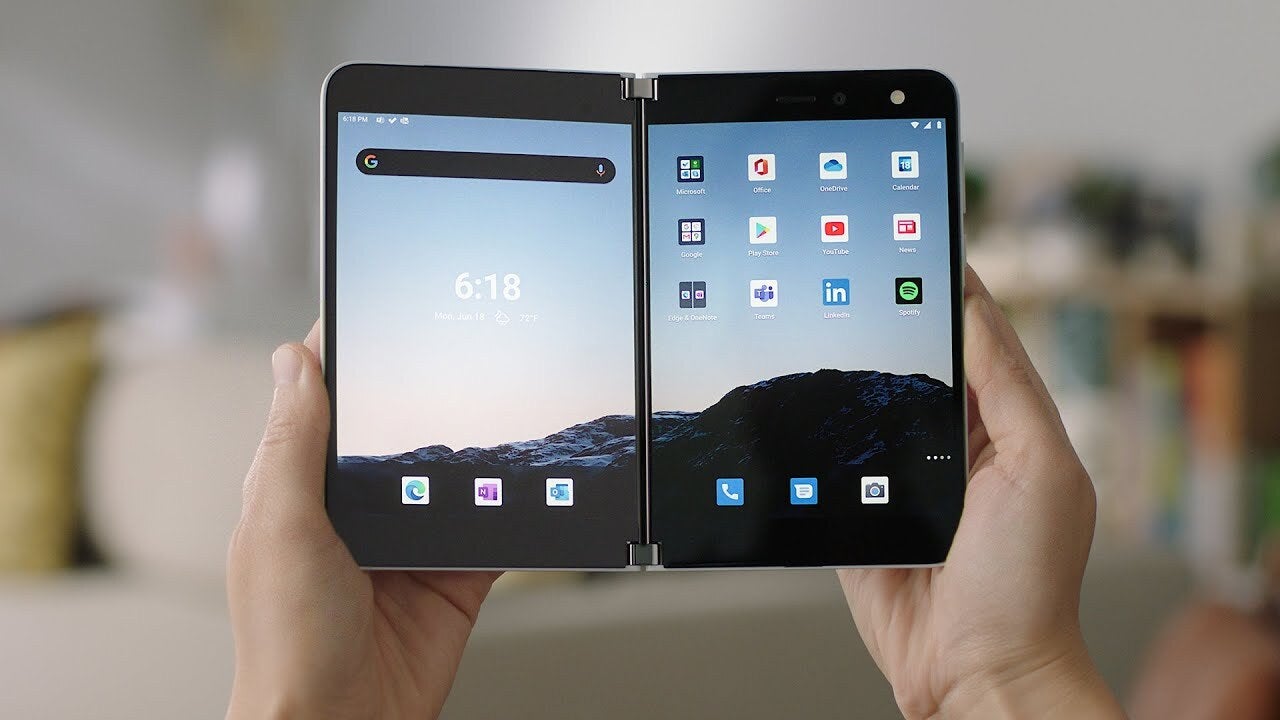 Microsoft's Surface Duo phone uses two separate displays connected by a hinge
Foldable iPhone display speculations
In mid-January, Bloomberg reported that Apple has
developed prototype foldable iPhone displays
for internal testing purposes. The Cupertino company was reportedly considering various sizes and designs for the phone, leaning towards a Galaxy Z Flip-like experience.
If that's Apple's final choice, we can expect a tall folding screen (possibly about 6.7-inches) that can fold inwards in a similar fashion to an old school flip phone. On the outside of the foldable iPhone will likely be a secondary screen, like we've seen on the Z Flip and
Moto Razr (2020)
.
If a secondary screen is indeed employed, it will be used to display basic information to the user when the phone's main display is folded, such as time, date, notifications and caller information.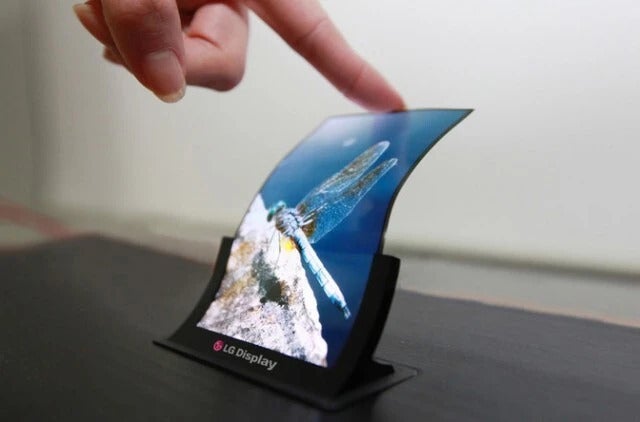 LG Display could be Apple's manufacturer of choice for its folding iPhone display
In mid-February, alleged sources inside Apple said that the company is
working with LG on a foldable panel
, while late last year leaker Ice Universe said that a different manufacturer –
Samsung has been asked to present folding screen samples
by Apple. We're yet to know which foldable display supplier Apple will choose for its folding iPhone, with LG being the likely one at the moment.
In early March, analyst Ming-Chi Kuo suggested that the
foldable iPhone will offer a 7.5 to 8-inch display
, in which case the phone will likely rival the
Galaxy Z Fold 2
in design, rather than the
Galaxy Z Flip
.


Foldable iPhone Apple Pencil support expectations
It's plausible that if Apple chooses to make its folding iPhone unfold into an iPad, it will have Apple Pencil support. An Apple Pencil would be sold separately and allow foldable iPhone users to write notes, draw and generally interact with their phone as they would on an iPad.
Of course, Apple Pencil support would require a solid build flexible display that can sustain pressure from the plastic-tipped Apple Pencil, without getting scratches or any damage. If Apple's folding iPhone instead uses dual screens like the
Surface Duo
, as opposed to a single folding screen, then there would be no issue covering the screens with rigid, durable glass. In which case, adding Apple Pencil support to the foldable iPhone shouldn't be difficult.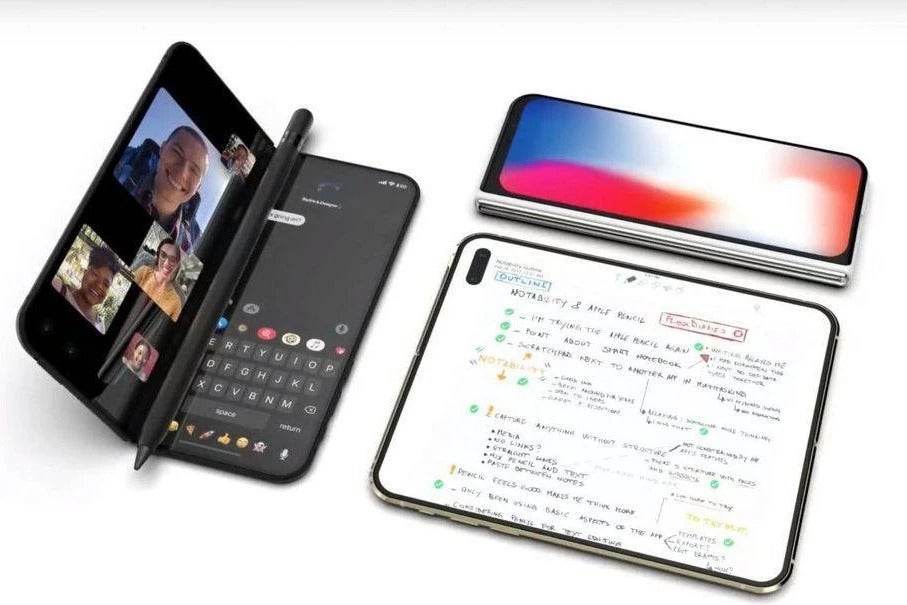 Foldable iPhone with Apple Pencil support (concept by Ben Geskin)
Foldable iPhone camera speculations
While we speculate that a folding iPhone is at a very early stage (or not in development at all), and there's no information about the cameras Apple is planning for it, we can reasonably expect it to have ultra-wide and telephoto cameras, alongside a main one. And of course, a front-facing selfie camera, possibly inside a notch or using under-display technology, which should have matured enough by 2022.
Foldable iPhone software expectations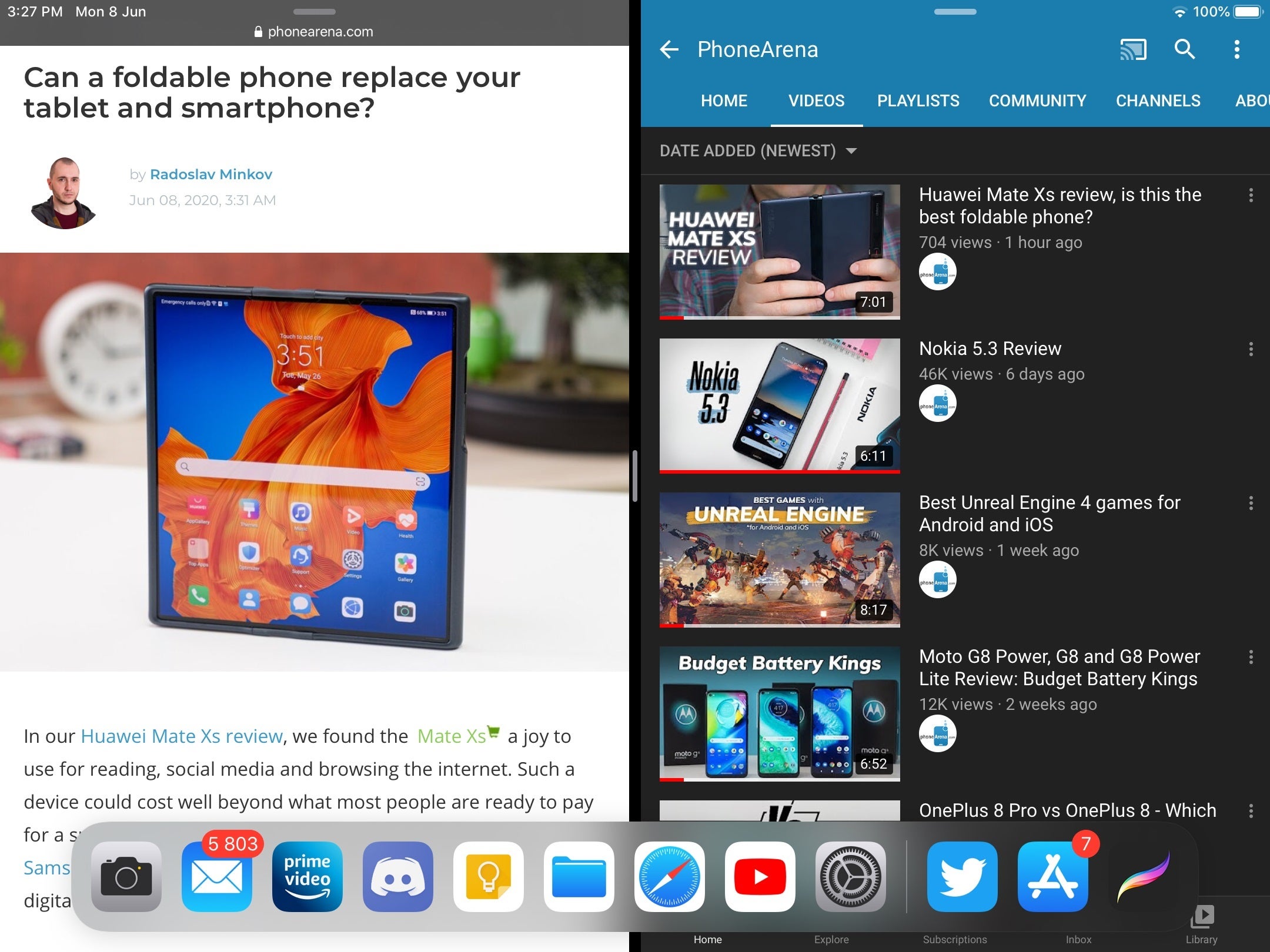 The iPadOS multitasking options and dock could make it into a Galaxy Z Fold-like foldable iPhone
If Apple designs a foldable iPhone akin to the Galaxy Z Flip or Moto Razr (2020), then its iOS software won't need to be too different from that on the average iPhone. The only notable addition would be a new notification screen for the phone's potential secondary display.
However, if the foldable iPhone is like the Galaxy Z Fold 2 or Surface Duo, meaning that it will unfold into a tablet, there's the potential for iOS to switch to iPadOS on the fly when the user unfolds the iPhone. Not that iPadOS is notably different from iOS, but its interface is better optimized for larger displays, and it offers split-screen multitasking.
And as is to be expected, a folding iPhone will have access to all of the great apps and games iPad and iPhone users have access to, potentially making it a fantastic portable workstation or mobile gaming console.