Apple Watch Ultra review: Blazing a trail
35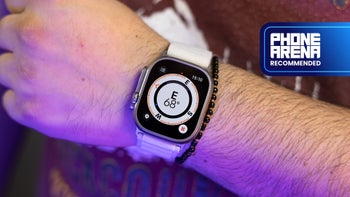 The Apple Watch Ultra is undoubtedly the
best smartwatch Apple
has come up with, bar none. Its overall feature set is truly impressive, and despite being geared towards active people that would take it to the bottom of the bay or hike up the mountains with it, I could very well see it gracing the wrists of regular everyday people that scoff at the thought of muddying up their shoes. Arguably, it's the
best smartwatch
that will both track your dive in the reef and let you pay for your margaritas afterwards.
It comes with a posh rugged design that not only looks snazzy but also makes sure the watch will survive a close encounter with Mother Nature and come on top unscathed. It also dials things up to 11 with the new customizable Action button and a better battery life than regular Apple Watches. Finally, there are some rather unique features that put it on the map for those extreme users who have a very specific and demanding set of requirements.
However, even for regular smartwatch users like myself, the Apple Watch Ultra is a perfect fit that shines with its battery life and sturdiness on top of all the software goodies. It's easily the
best smartwatch
I've used, and unlike some competitors, like the
Galaxy Watch 5 Pro
, feels like a finished product.
That said, at $799, the
Apple
Watch Ultra is definitely on the expensive side. Are its exclusive features over the Apple Watch Series 8 worth the few hundred bucks extra? I'm not exactly convinced. I generally feel that this is by far the best wearable Apple has come up with so far, but it surely lacks enough differentiating features over the Apple Watch Series 8 and even 7 to warrant an upgrade.
What's new about the device
Large 49mm size case
Titanium case and sapphire glass
Customizable Action button
Larger Digital Crown
Larger battery
2000-nit display
Dive computer with pressure and water temperature monitoring
Emergency 86db siren
Crash detection
Dual-frequency GPS
Dual speakers and three-microphone array
100m water resistance
New Alpine Loop, Trail Loop, and Ocean band straps


Apple Watch Ultra Unboxing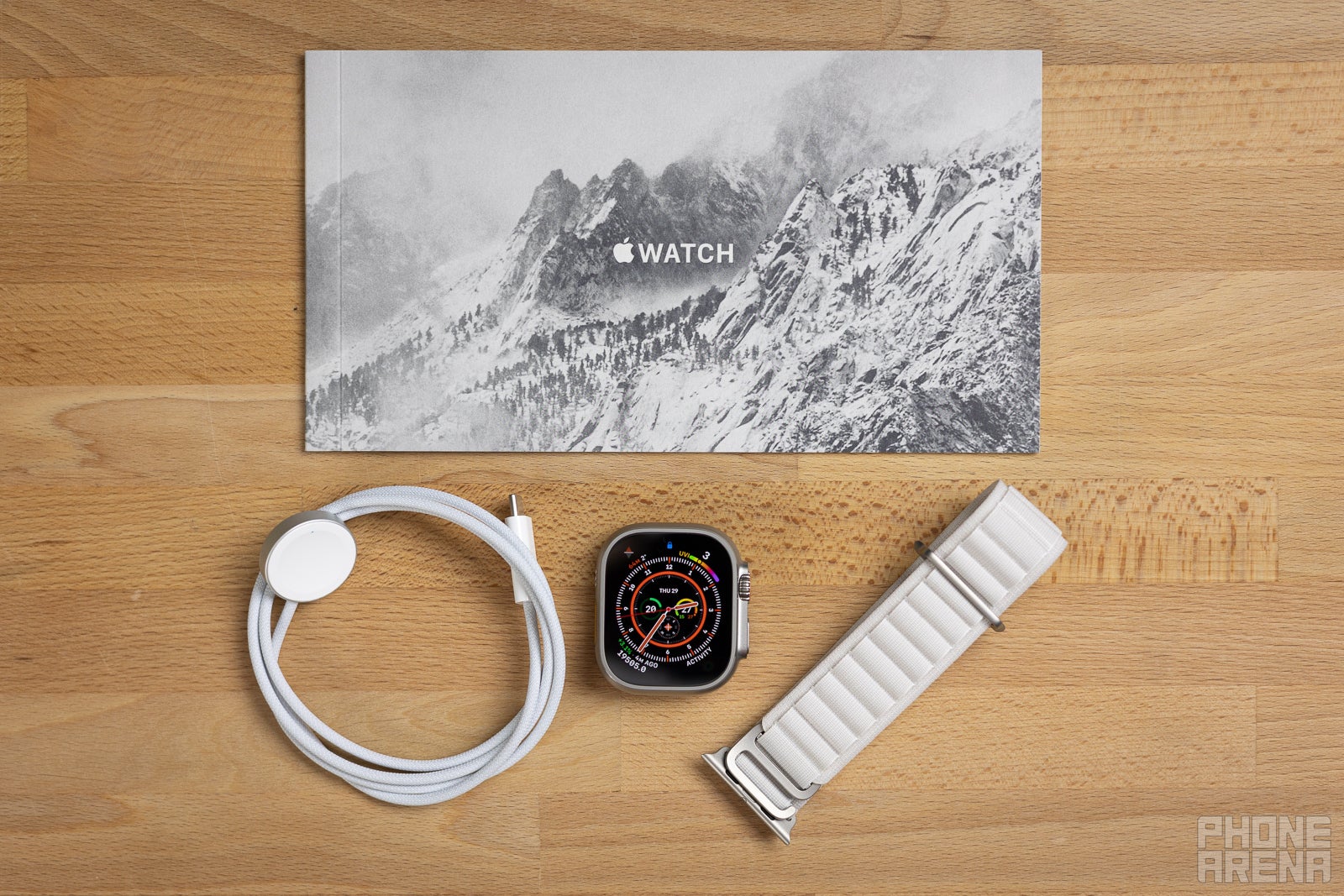 The Apple Watch Ultra comes in a packaging that's slightly different from your regular Apple Watch. The box is wider and shorter than regular, with some additional booklets inside that hint at the Apple Watch Ultra's rugged nature. Aside from the packaging, which is also made of recycled materials, the wearable comes with just a USB-C charging puck and the watch band of your choice. The charging cable is a braided one, a nice touch that complements the Watch Ultra rather well.
Apple Watch Ultra Specs
Specs aren't vital when dealing with wearables, but in any case, we've got to explore the nitty-gritty of what makes the Apple Watch Ultra click and tick. Here is the gist of the
Apple Watch Ultra specs
:
Specs
Apple Watch Ultra
Models (Size, Weight, Prices)
49mm only, GPS+Cellular
Processor, RAM, Storage
Apple S8 SiP, dual-core 64-bit 7nm, 32GB of on-board storage
Software
watchOS 9
Battery and Charging
542mAh, fast wireless charging
Sensors
HR, blood oxygen, altimeter, ECG, skin temperature sensor, HDR G-sensor, always-on altimeter, ambient light sensor, depth gauge
New features
Large 49mm size case
Titanium case and sapphire glass
Customizable Action button
Larger Digital Crown
Larger battery
2000-nit display
Dive computer with pressure and water temperature monitoring
Emergency 86db siren
Crash detection
Dual-frequency GPS
Dual speakers and three-microphone array
100m water resistance
New Alpine Loop, Trail Loop, and Ocean band straps
Apple Watch Ultra Design, Models & Sizes
The manliest Apple Watch ever
Designed with ruggedness in mind, the Apple Watch Ultra is easily Apple's manliest smartwatch so far. Sorry, ladies—this one puts the "M" back in masculinity. With its tall and large 49mm titanium case, the Apple Watch Ultra is certainly aimed with folks with thicker wrists, and even then it sticks out and could certainly be a conversation starter during your next office Christmas party.
The Apple Watch Ultra is designed quite differently from the rest of the cookie-cutter Apple Watch models. For example, the Digital Crown is larger and has deeper, more pronounced grooves in comparison with, say, the
Apple Watch Series 8
or
Watch SE 2nd Gen
. Both the crown and the side button are enclosed in a raised side bezel, in a move which aims to make them both more easily accessible when wearing gloves. Although the semi-enclosed nature of the Digital Crown required some getting used to on my part, I generally enjoyed the raised design of the hardware buttons in regular, mundane day-to-day usage.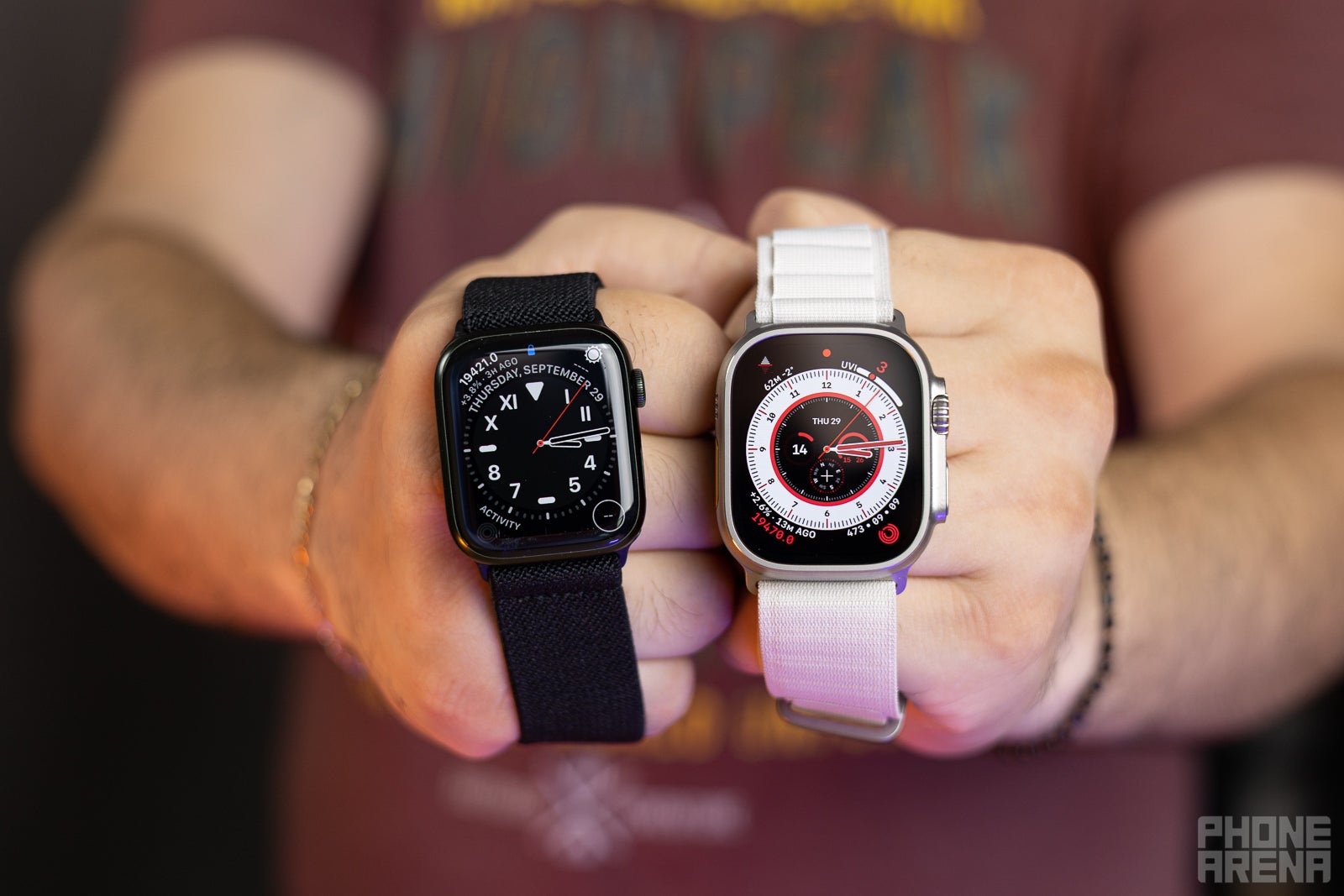 There's also a new Action Button on the left side of the case, which is customizable and can quickly start a workout, start backtracking your steps, turn on the flashlight, or enable the Apple Watch Ultra's super-loud emergency siren when double-pressed. The button is painted in International Orange, a color designed to be easily distinguishable from its immediate surroundings. Interestingly, a variation of said color graces San Francisco's Golden Gate bridge.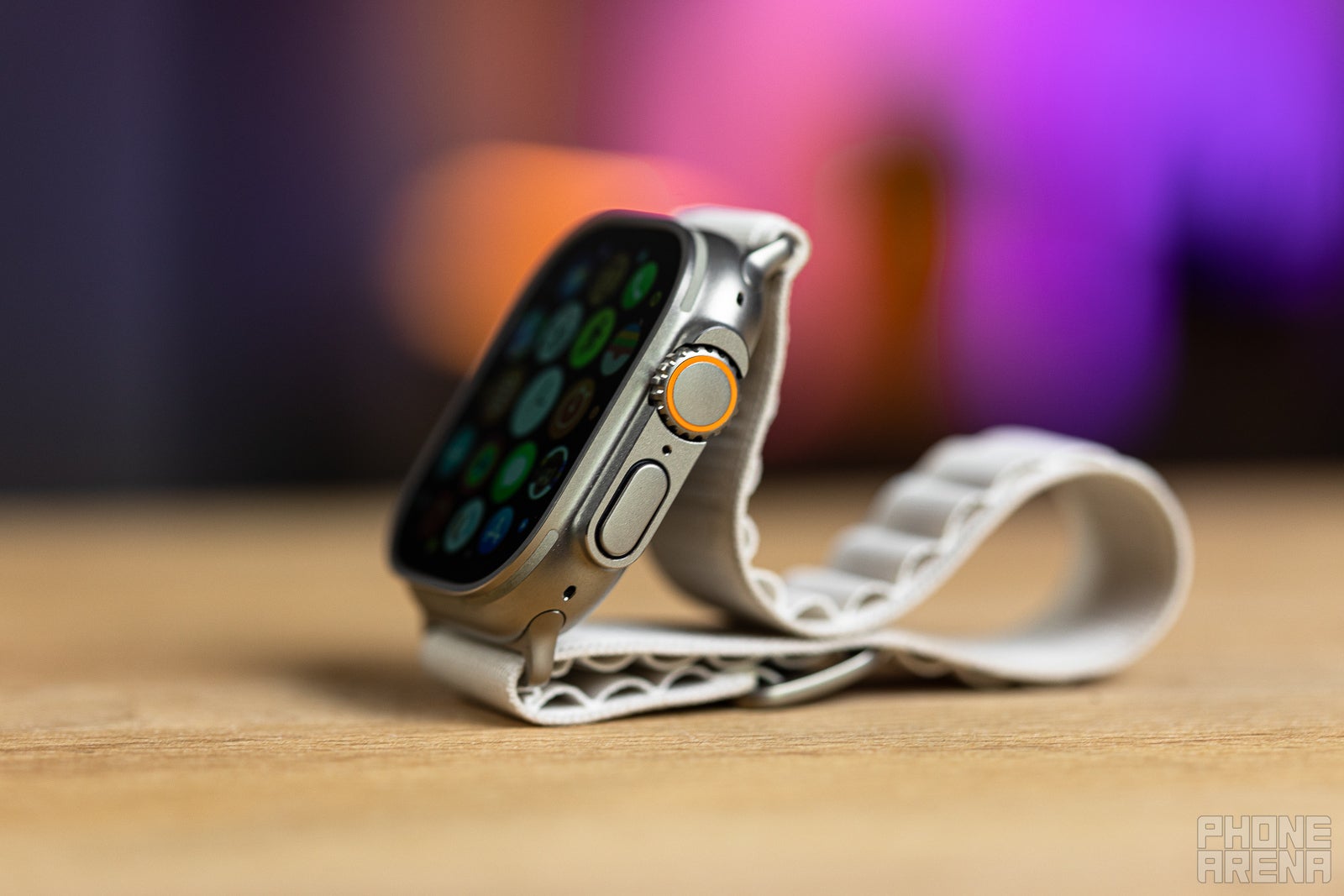 And overall, the Apple Watch Ultra is just built different, with lots of additional sensor openings all around the case and exposed screws at the bottom for easier access to the internals of the watch. The titanium case and sapphire glass create a reassuring feel of sturdiness and endurance, and has a nice heft to it. While wearing a regular Apple Watch is way more care-free, you will certainly feel that you have the Watch Ultra on your wrist. In my experience, however, it's not overbearingly heavy or uncomfortable, and I didn't really have any issues wearing it in bed for that sweet sleep tracking.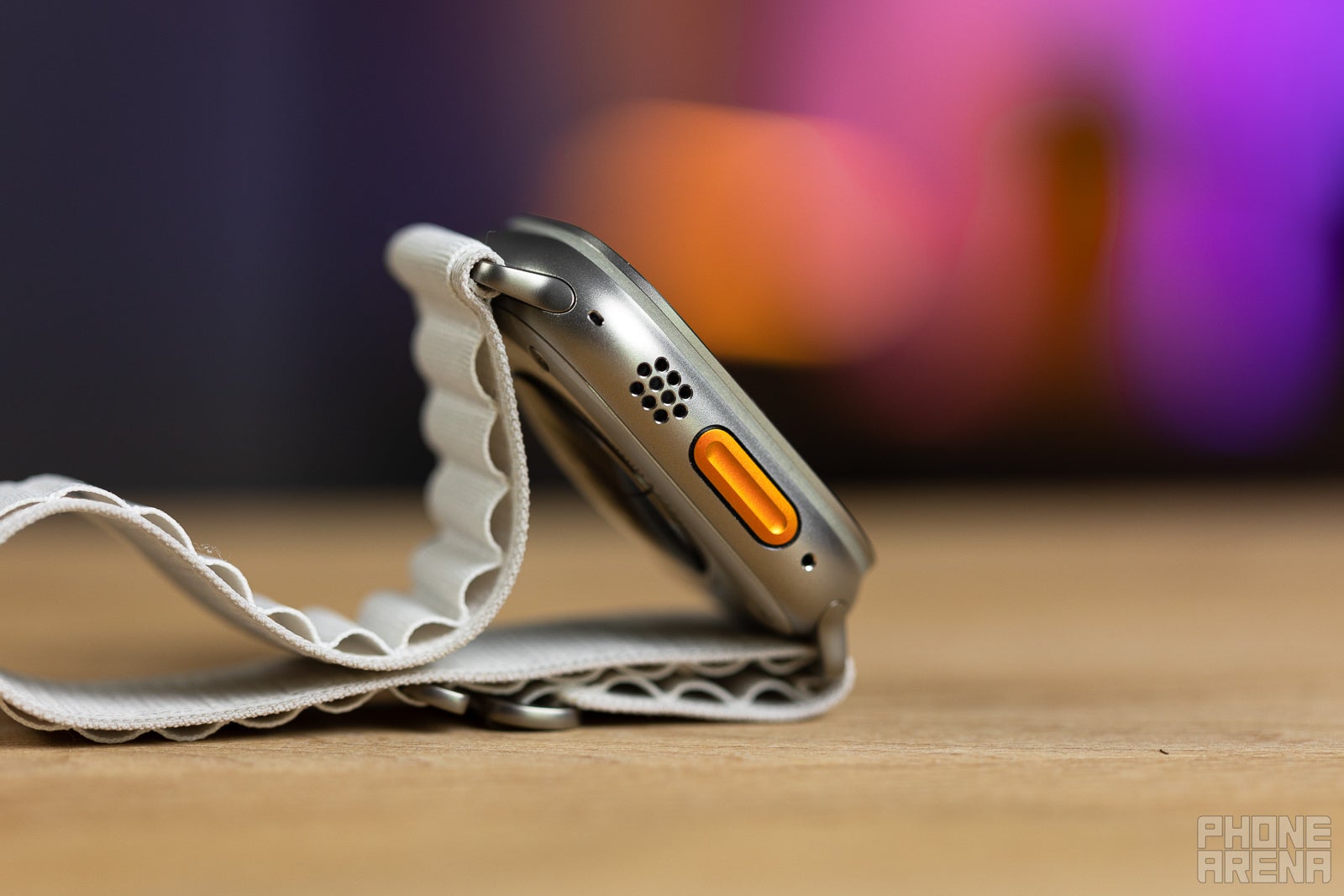 The display, now completely flat unlike other Apple Watch models, has been greatly improved. Aside from being protected by scratch-resistant sapphire, it can get super-bright, not to mention that thanks to its larger size, it fits so much content. Watch faces also look stunning on the OLED display and the viewing angles are satisfactory. Just like previous Apple wearables, the Apple Watch Ultra comes along with an always-on display functionality, which tones down the refresh rate of the display to 1Hz and goes easy on the wearable's battery.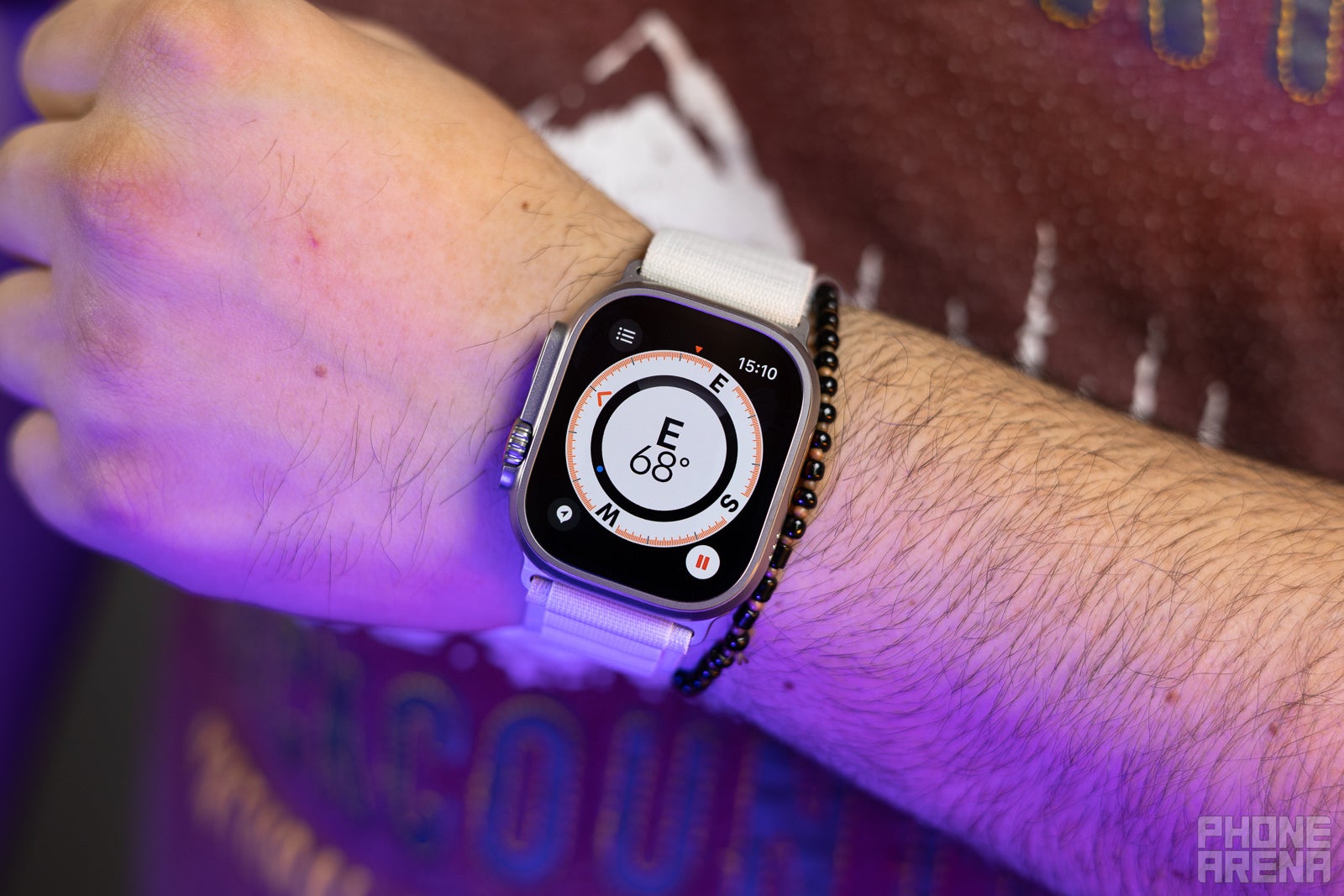 The Apple Watch Ultra comes in a single 49mm size, and only with cellular and GPS on board; unlike regular Apple Watch models, there's no GPS-only version. Disappointingly, there's only one color option as well, the standard titanium one, and while it looks super classy, I'd have loved for additional color options, at least as far as the case is concerned.
Apple has three new straps that match well with the Apple Watch Ultra: the Alpine Loop, a rugged canvas strap with secure G-hook fitting, the Ocean Band, which is suitable for divers, and finally, the Trail Loop, Apple's thinnest band yet. Rest assured that most wider bands compatible with Apple's other wearables also fit the Apple Watch Ultra. For example, I have a slew of custom straps for the Apple Watch Series 7 45mm that I normally use, and these match up perfectly with the Apple Watch Ultra.
Apple Watch Ultra Software & Features
The most complete Apple smartwatch so far
Surprise, surprise—the Watch Ultra is Apple's
best smartwatch
in terms of software and features. To sum it up, it has all the bells and whistles that the Series 8 comes with, and then adds some exclusive ones that are mostly hardware-dependent.
You get your regular roster of health-related functionalities, including: heart-rate monitoring, blood oxygen, ECG monitoring with AFib detection, improved cycle tracking that now takes into account your bodily temperature changes to predict ovulation, respiratory rate, finally granular sleep tracking, and more. Activity tracking has you covered with almost any physical activity you might partake in, and now comes with better heart rate zone visualization which shows you your activity intensity levels. There's even track detection that will provide useful pace, distance, and route map information.
While the sensors and functionality are top-notch, many might not necessarily be satisfied with the software itself, represented in this case by Apple's Health ad Fitness apps. While they should be more than enough for regular users, pro athletes and adventurers might find it lacking in tracking certain metrics, or wish for more history and context. The good news is that this being a proper smartwatch, you can download a suitable third-party app that will take care of the business.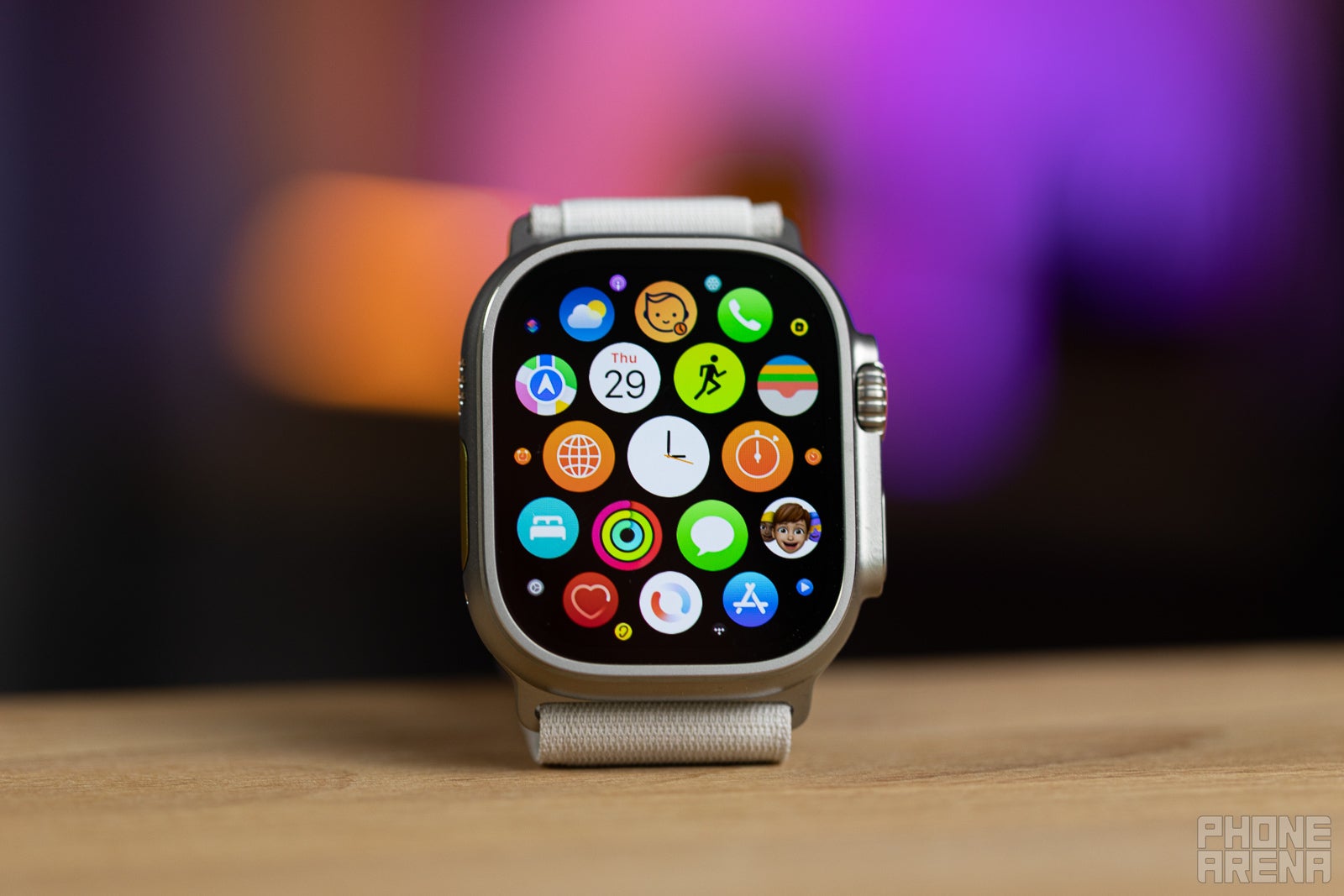 There is an exclusive new Apple Watch Ultra watch face, the Wayfinder, which is an utilitarian navigation focused one with tons of complication slots. Turning the crown on the watch face triggers a special Night Mode, which shifts all colors towards the red spectrum and is easy on the eyes in low-light situations and especially in complete darkness. Astro-photographers and people often using night vision would definitely approve of that rather niche feature, but even regular folks like me should appreciate the way it goes easy on your eyes during late-night snack escapades.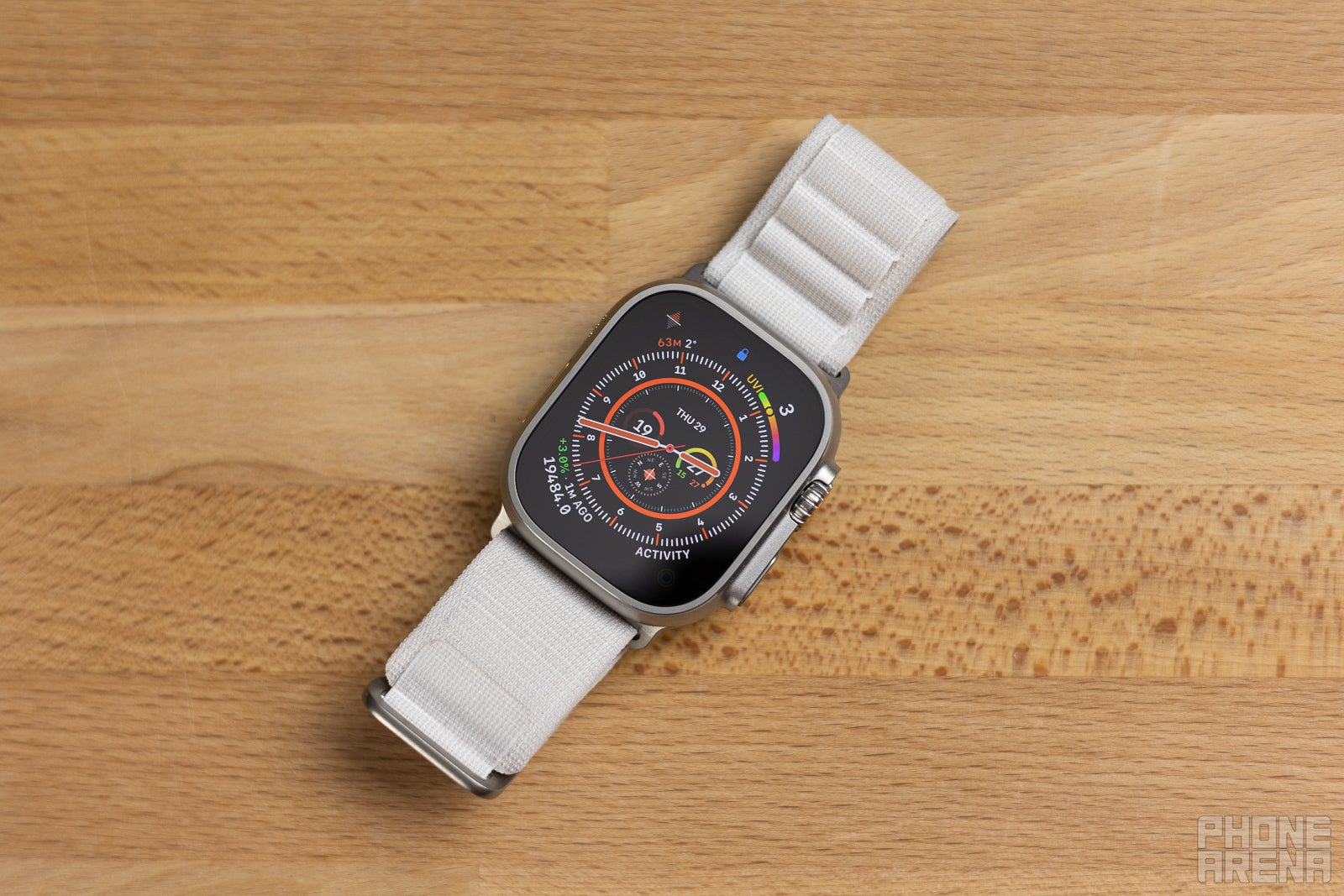 The revamped Compass app truly shines on the Apple Watch Ultra thanks to its dual-frequency GPS, which would fare better than regular single-frequency GPS when navigating through the thick of the city. In the great outdoors, you should rest assured that the Apple Watch Ultra will always provide you with an accurate positioning. In my experience, the GPS is mostly accurate in urban environments, with just slight deviations from the path I actually took.
When it comes to unique functionality, the Apple Watch Ultra has a few aces up the sleeve. Thanks to the pressure sensor next to the crown, it can act as a dive computer and provide recreational divers with basic, but important information like the current depth, water temperature, maximum depth, and duration under water. It will also tell you if you're ascending too quickly, which can lead to decompression sickness in the worst case scenario.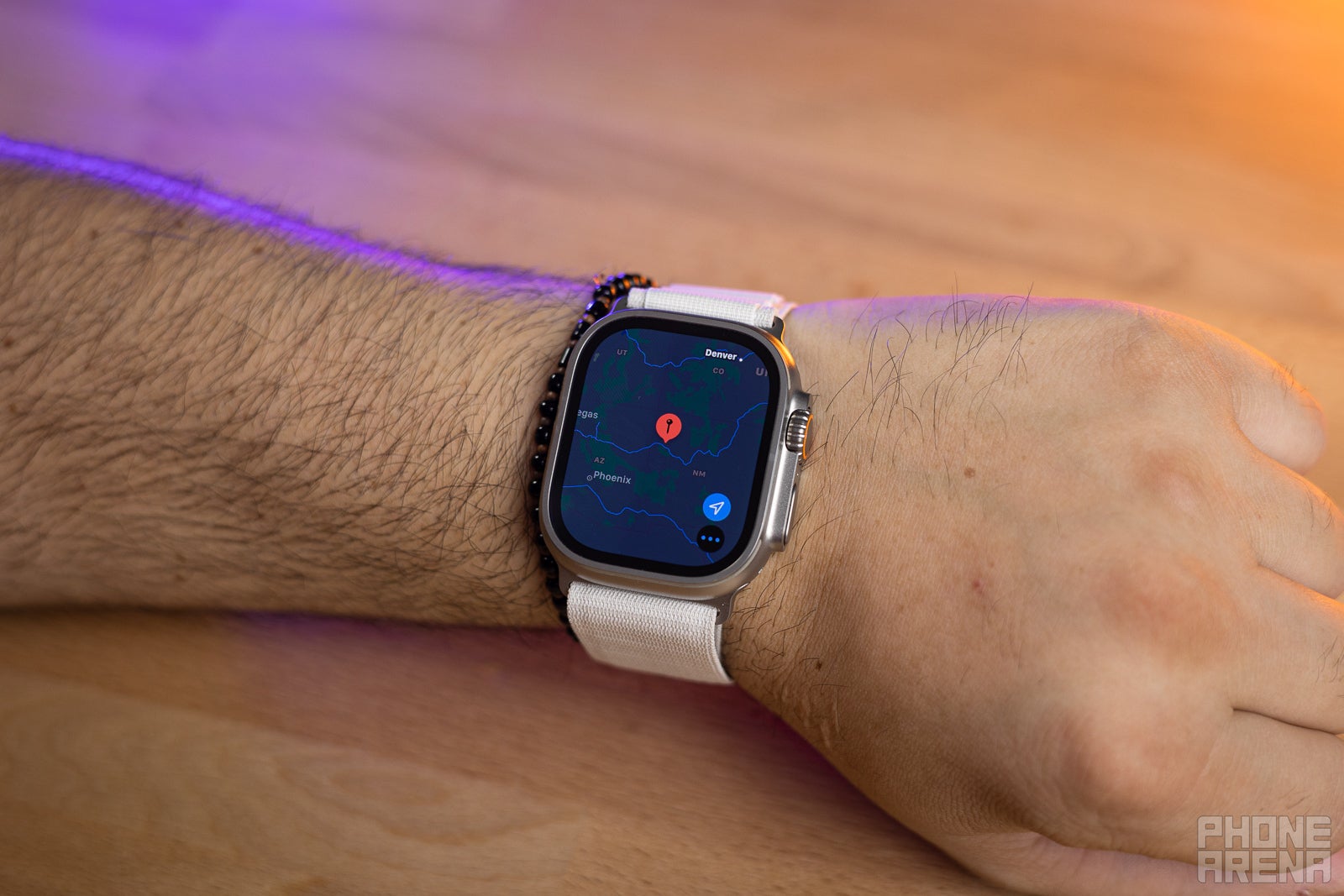 And finally, we've got a rather neat feature that I wish nobody has to use in real life—Emergency SOS with Crash Detection feature. Equipped with a high-dynamic range sensor that can record up to 256G and will call the emergency services if you happen to be in a car crash. Hopefully, you'll never have to find out this one works as advertised.

Apple Watch Ultra Battery and Charging
A two-day warrior
The Apple Watch Ultra has a 542mAh battery, the largest on any Apple Watch ever, roughly two times' more than the batteries inside the Apple Watch Series 8, which has a 282mAh or a 308mAh battery depending on the size.
Officially, Apple goes a bit conservative with its estimated battery life figures. 38 hours of normal usage is what Cupertino expects an Apple Watch to last with regular usage, which includes, and I quote,
"180 time checks, 180 notifications, 90 minutes of app use, and a 60-minute workout with music playback from Apple Watch via Bluetooth, over the course of 36 hours."
Apple also says the Apple Watch Ultra can last up to 18 hours of all-day LTE battery life.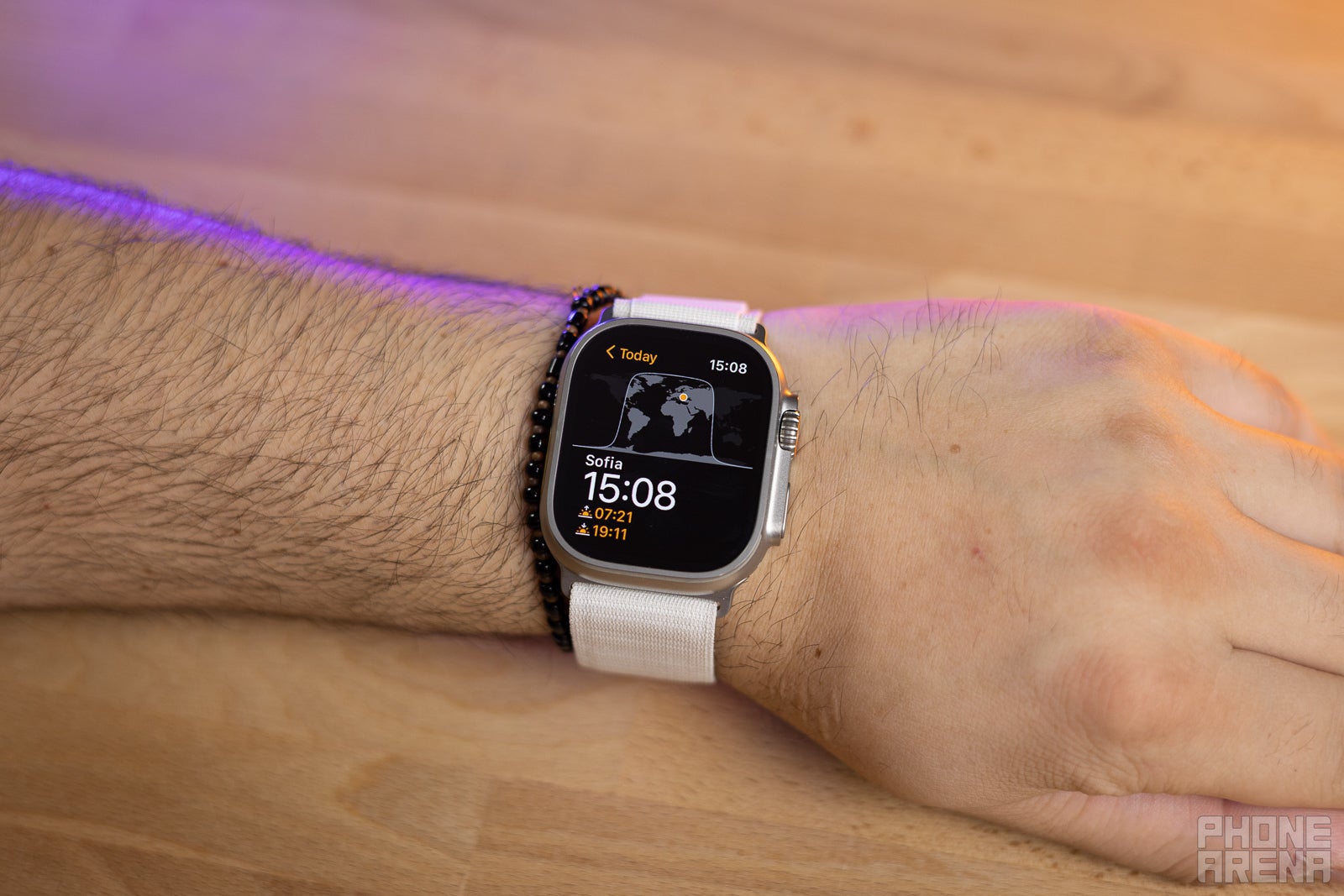 Well, in my personal experience, those figures are mostly accurate. In my personal experience and with mu regular Apple Watch usage taken into consideration, a full charge of the Apple Watch Ultra lasted me roughly
50 hours
of continuous use and a few brief urban workouts included, with a mostly default setup and always-on display disabled. That mostly includes the so-called
"honeymoon"
period where I was using it more than I normally would, and I imagine that in the very near future I would be using the watch more sparingly, so the battery life could potentially become even better, at least in my specific use case.
Surely, if you're out and about in the wild, you might get slightly lower battery life than me or what Apple advertises. Still, I'm more than confident that the wearable will last you at least a day and a half, even if you're using the smartwatch all the time.
Charging uses the standard USB-C fast-charging puck, though this one comes with a rather unique braided cable. A full charge usually takes around an hour and a half, though a completely usable 80% top-up takes just an hour.
Apple Watch Ultra Processor & Storage
The Apple Watch Ultra still uses the same Apple S8 SiP chipset that was used in the Apple Watch Series 8 an Apple Watch SE, a 1.8GHz dual-core 64-bit ordeal built on a 7nm manufacturing node. It's essentially the same chipset as the S7 and S6 ones that powered the Series 7 and Series 6, respectively. That's no biggie, as performance-wise we will hardly ever need anything much faster, but efficiency could probably be improved by a lot in the near future by shrinking the chip die.
Still, the S8 SiP of the Watch Ultra is easily the most adept mobile chipset on a smartwatch these days and is still super-responsive and chewing through apps with a gusto. No lag or any lack of responsiveness were experience during my time with the Apple Watch Ultra.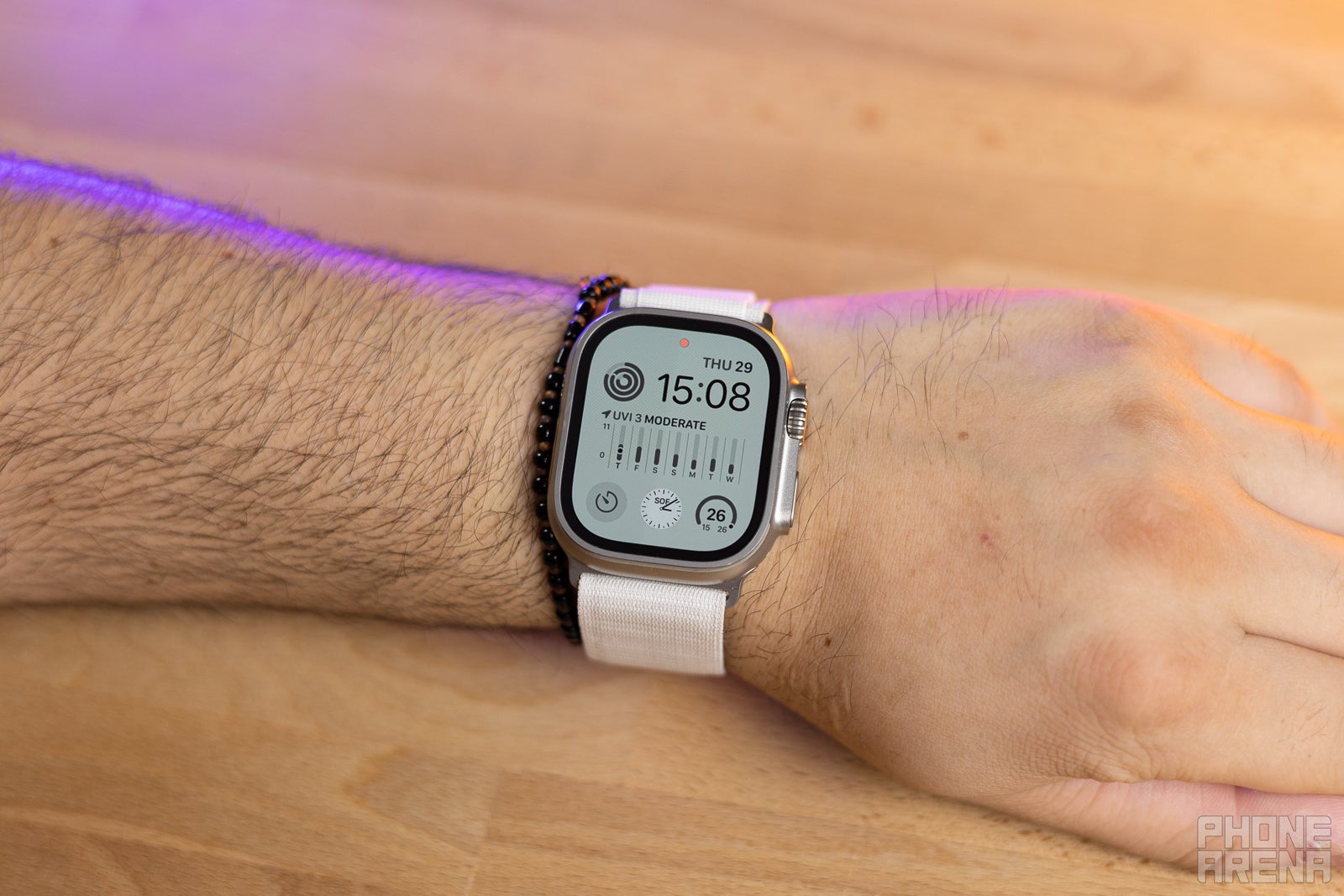 Apple Watch Ultra Connectivity
The Apple Watch Ultra is only available with cellular and GPS on board, a move away from regular Apple wearables that also come in a more affordable GPS-only version. Some additional connectivity features of the Apple Watch Ultra include dual-frequency L1 and L5 GPS, GLONASS, Galileo, QZSS, and BeiDou, Bluetooth 5.3, and Wi-Fi 802.11b/g/n 2.4GHz and 5GHz. That's a lot of raw specs, but the key takeaway is that the Apple Watch Ultra is a connectivity champ, possibly the best-in-class wearable.
Apple Watch Ultra Audio Quality and Haptics
With dual speakers, the Apple Watch Ultra really does sound louder—and better—than the Apple Watch Series 8. As a result, making phone calls and interacting with Siri are finally pleasant experiences. The three-mic array also means that the Apple Watch Ultra is capable of isolating your voice quite well, even in windy environments, so the other party wouldn't hear you as if you're talking from a 90s landline.
Haptic feedback has been improved a lot in comparison with other Apple Watch models, and it's no competition. See, regular Apple wearables still have excellent taptic engines that produce accurate and strong vibrations, but the Apple Watch Ultra takes things up by a few notches. Its taptic engine feels much stronger and more accurate, delivering excellent feedback. This would definitely come to good use for folks that use it on top of, say, a diving suit, and still need to feel the haptic feedback when ascending. Overall, deeply impressed by this secondary feature!
Apple Watch Ultra Competitors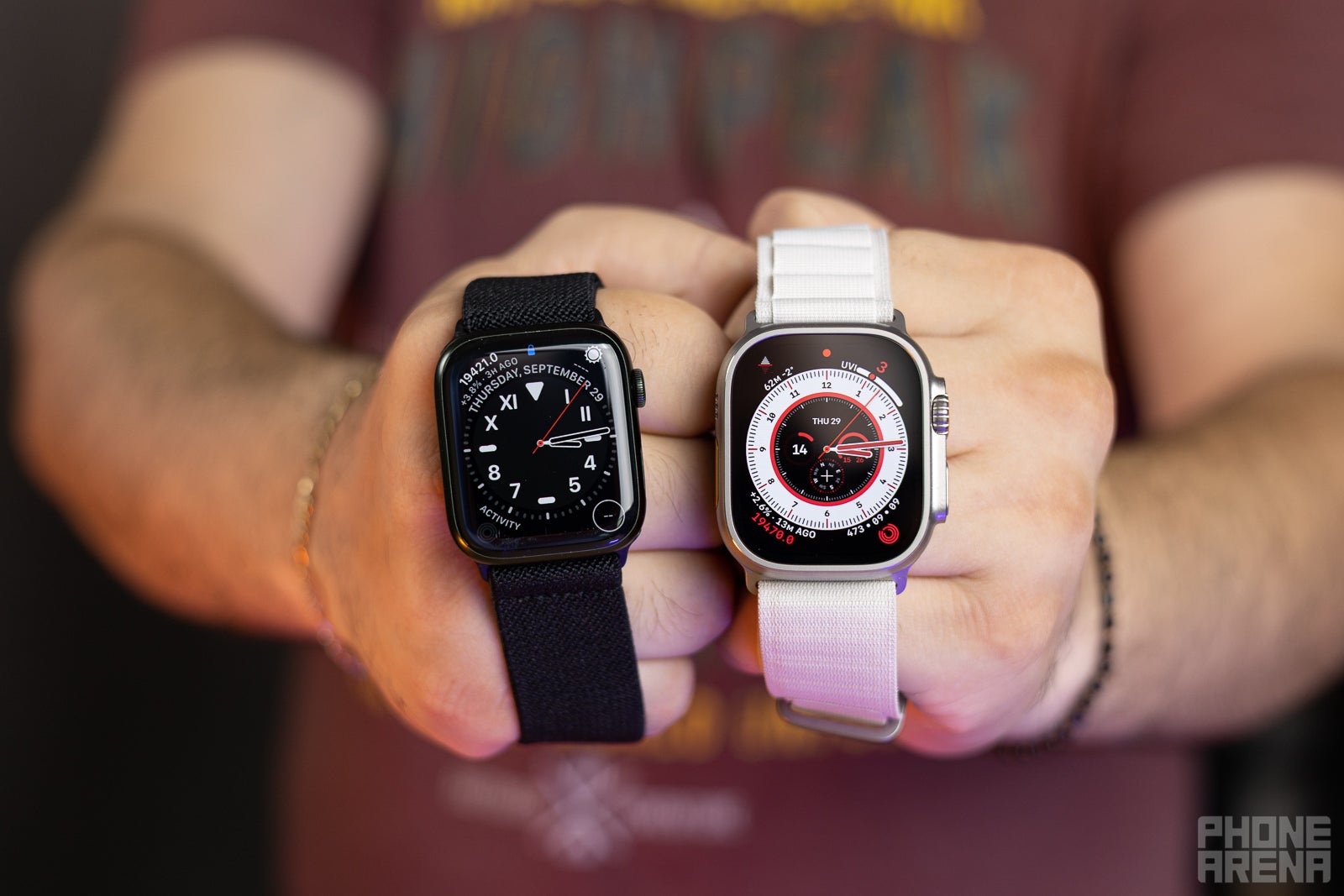 We definitely have to mention the $450
Samsung Galaxy Watch 5 Pro
, a smartwatch that is the equivalent to the Apple Watch Ultra but only works with Android devices. It's got mostly similar titanium/sapphire design, but in a more traditional circular case, and with a raised, interactive bezel.
The Galaxy Watch 5 Pro also has a rather impressive roster of health, fitness, and wellness sensors and features on board that definitely match the majority of functionalities that the Apple Watch Ultra has in tow. There's a backtrack feature, for example, and still non-functional skin temperature sensor functionality, but stuff like dive computing, the emergency siren, and dual-frequency GPS are only available on the Apple Watch Ultra.
Of course, the
Apple Watch Series 8
(and even
Apple Watch Series 7
, to some extent) passes as a notable Apple Watch Ultra competitor. Surely, it may lack the rugged and durable design of the 49mm monster, not to mention a smaller battery, but has most of the software features and functionalities on deck, sans the diving functionality. And from $400 for the GPS and $500 for the GPS+cellular versions, it's hard to justify
not
buying the Apple Watch Series 8.
Finally, if you don't really need a true smartwatch and could do just fine with a less impressive display, Garmin has the Fenix 7/7X series with tons of features and utilities that would suit the adventurous crowd. Battery life over there is measured in weeks rather than days, but the price could be slightly higher, especially if you go for the solar-chargable versions.
Apple Watch Ultra Summary and final verdict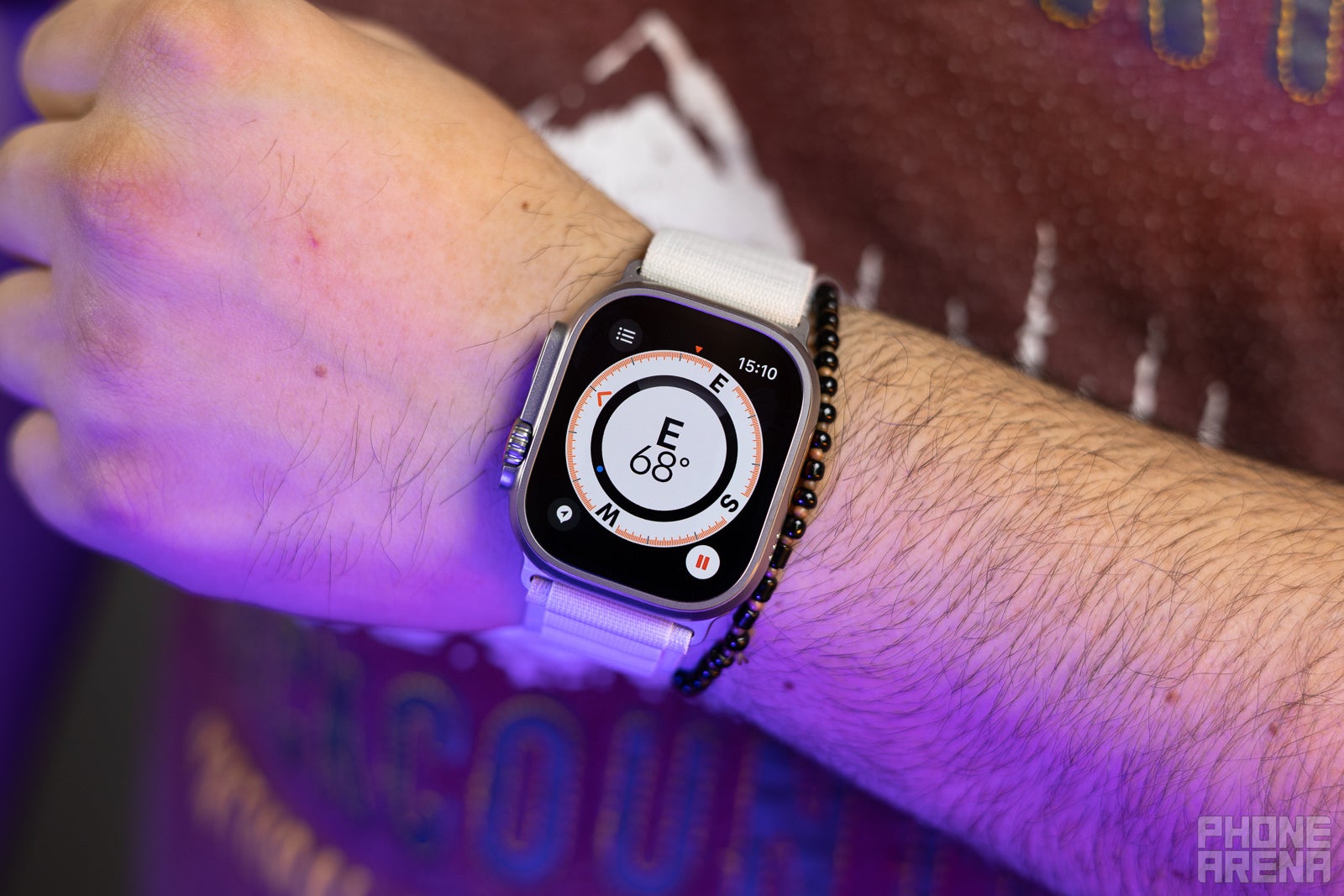 The Apple Watch Ultra is a definite win for Apple. It definitely sets the stage for future follow-ups that will build upon the super-solid hardware and software foundation laid by it. With its great battery life, feature-rich roster of features and utilities, and intuitive interface, this one shines extremely brightly and should at least be considered by anyone on the hunt for a new smartwatch, especially those dwelling in the vast Apple ecosystem.
Still, it's a large wearable that you absolutely shouldn't blind-buy. You will definitely feel it on your wrist at all times due to its heft, and might not necessarily be suitable for your wrist. While I personally had no issues with it, I will most certainly go back to a regular Apple Watch as its more compact size is more practical.
Another thing that irked me is the fact that the Apple Watch Ultra generally lacks enough features to get itself easily differentiated from the rest of Apple's smartwatch lineup. Don't get me wrong, having a larger battery and sturdier case is great, but a slightly more accurate GPS and a diving functionality that few would use aren't the best exclusive features of the wearable. I feel that the Apple Watch Ultra should have had more exclusive features that would better justify its $799 price tag.
Recommended Stories