Samsung Galaxy S23 vs Galaxy S23 Ultra: is the big one worth it?
4
We may earn a commission if you make a purchase from the links on this page.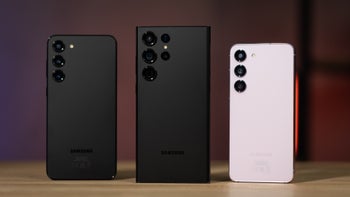 Intro
But what are the differences between the cheapest and the highest-tier Galaxy S23 versions? They are all considered Samsung's best, right? It's just that one is... the best but more? Here, we will explore the differences between the Galaxy S23 and Galaxy S23 Ultra — battery life, camera, performance, and general experience with the devices.
Galaxy S23 vs Galaxy S23 Ultra in a nutshell:

Ultra has an upgraded camera system
Ultra has an S Pen stylus
Galaxy S23 is more compact
Flat screen on Galaxy S23, slight curves on the Ultra's edges
Definite difference in battery sizes
More storage and RAM on the Ultra
Galaxy S23 vs Galaxy S23 Ultra design and display
Pocketable vs media beast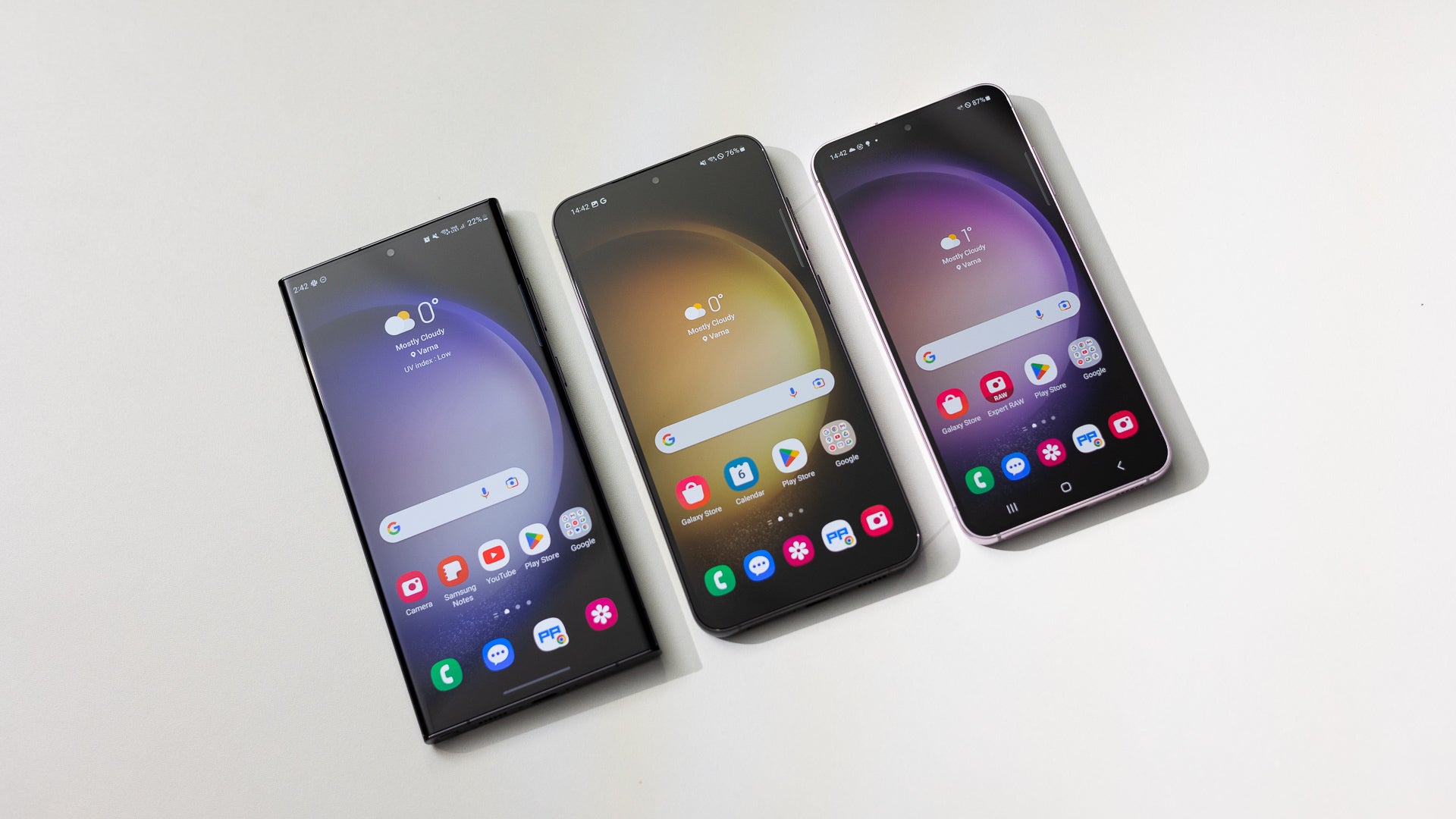 Galaxy S23 family (Image credit - PhoneArena)
The regular Galaxy S23 is — just like its predecessor — a compact and easy to handle device. Well, "compact" by 2023 standards — it's no iPhone mini, but it definitely feels comfortable to wield one-handed. Despite its power and camera capabilities, it's meant to be a phone for those that prefer their handset to stay out of the way when not needed.
There's a slight shift in the look of the Galaxy S23 — it has the flatter frame like the S22 and a new camera module that is no longer a slab on the back on the phone. That's replaced by simple camera lens rings protruding back there, same as on the Galaxy S22 Ultra (and now — S23 Ultra).
Speaking of the Ultra — the Galaxy S23 Ultra will look a lot like its predecessor. Same camera rings, rounded sides, and a huge 6.8-inch screen that's slightly curved at the edges. However, Samsung has pushed that curve even further, trying to squeeze as much flat area out of the display as possible. At this point, Samsung is doing its best to make it a flat-screened phone without offending the fans of the Edge Screen looks.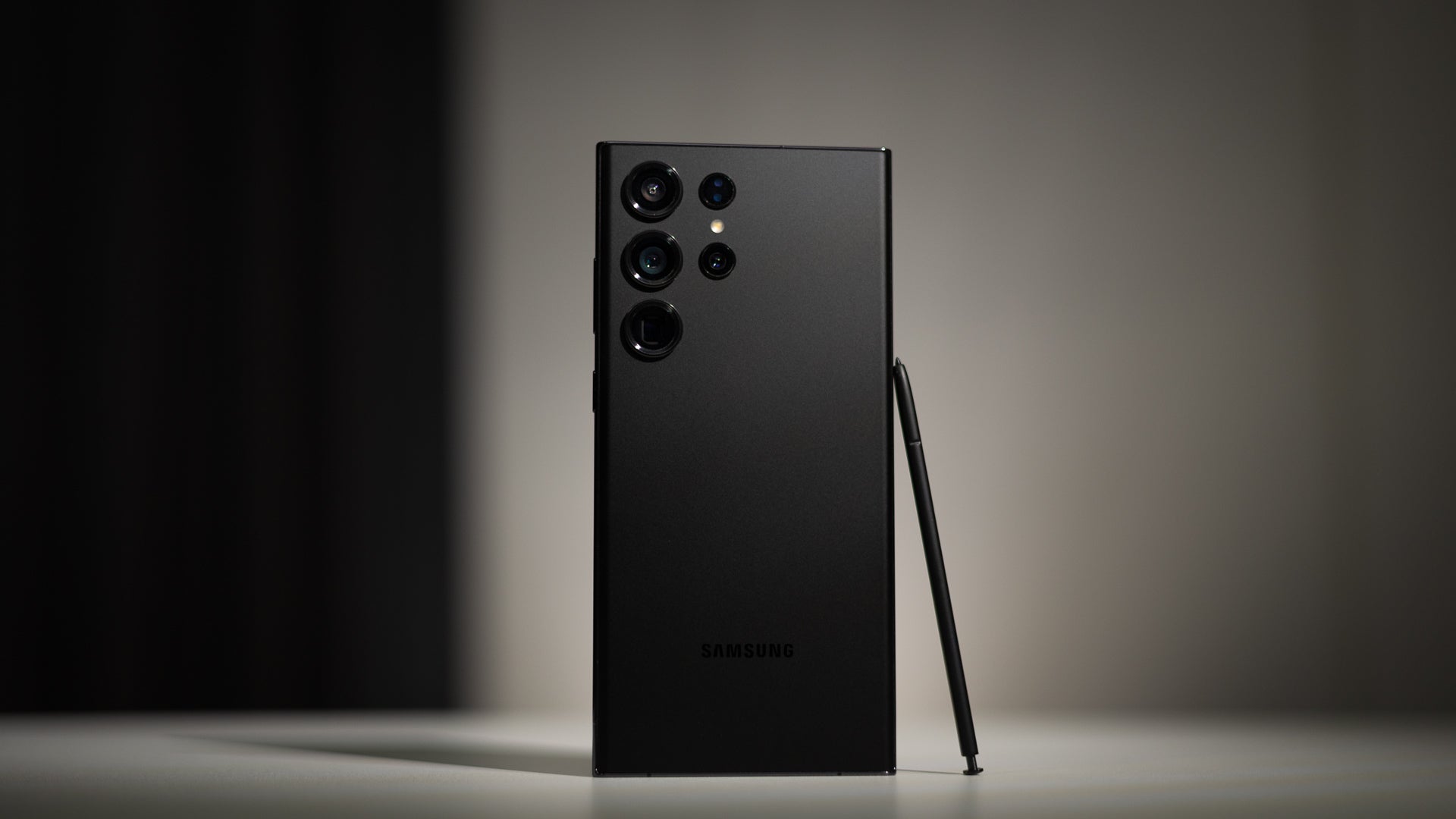 Galaxy S23 Ultra (Image credit - PhoneArena)
Both of these phones have Samsung's excellent Dynamic AMOLED screens (ahem - Dynamic AMOLED 2x Infinity-O) and both are capable of hitting an excellent peak brightness of 1,750 nits. There's also dynamic refresh rate so the screens can churn out 120 Hz when smoothness is needed and drop down when battery has to be conserved. For example — the Always On Screen doesn't really need that much of a refresh rate.
The Galaxy S23 Ultra gets a QHD (1440 x 3088 pixels) resolution for a pixel density of 500 PPI, while the S23 has the more modest FHD (1080 x 2340) but since it's on a smaller 6.1-inch screen, that's still a 425 PPI density. So both of these screens look very crisp in person, no worries there.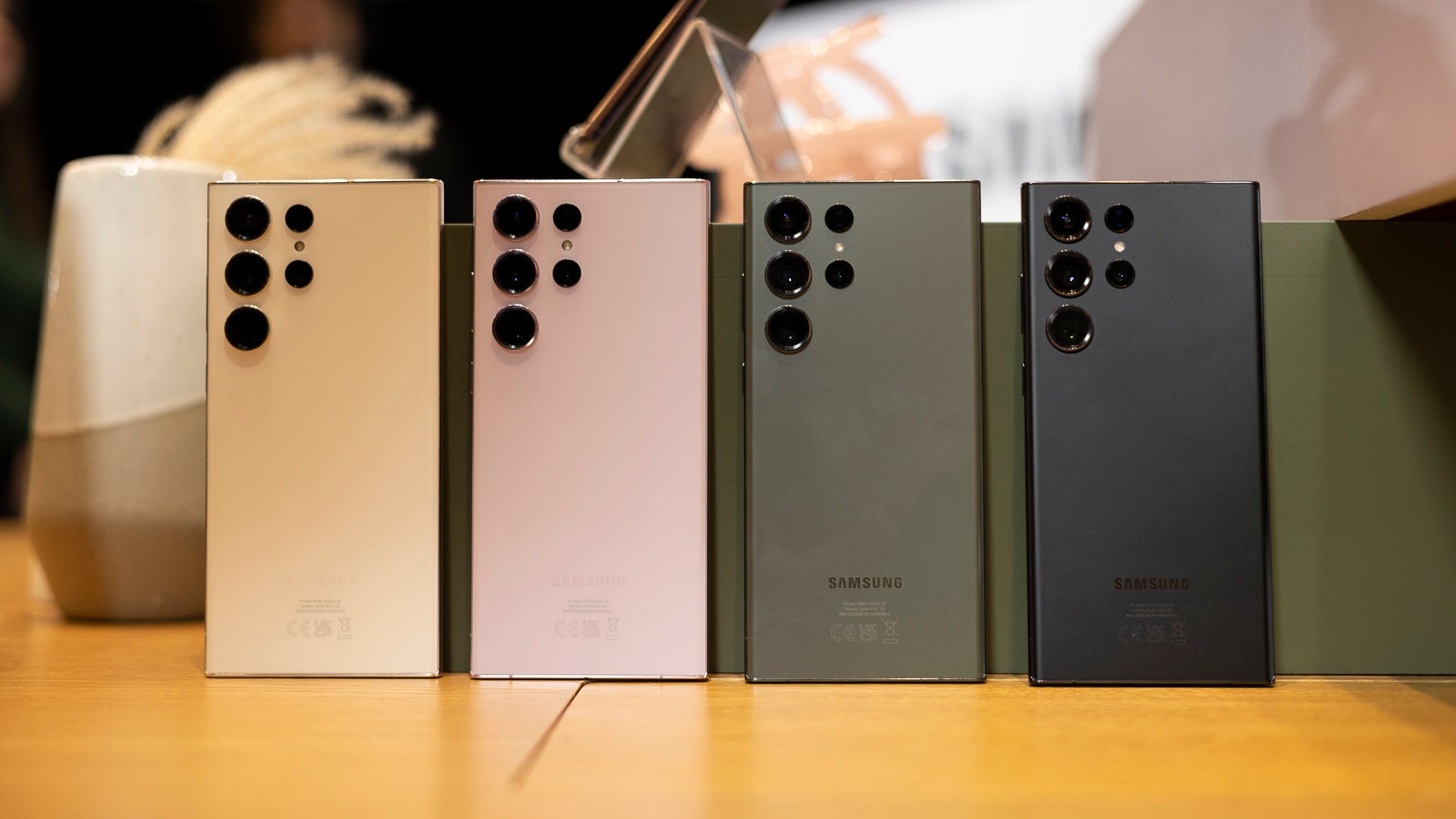 The base colors (Image credit - PhoneArena)
As for colors, surprisingly, we get the same choice across the entire Galaxy S23 range - Phantom Black, Cream, Green, and Lavender. That's curious, as some other companies will usually give the cheaper devices a more fun and vibrant palette, while the more expensive ones will have the mature and premium colors. With the Galaxy S23 series — you get to choose the same subdued and classy colors for all models. Meaning, Samsung doesn't differentiate much between an S23 and S23 Ultra — they are both considered premium phones. You love to see it!
Display Measurements:
Performance and software
No more Exynos, but Snapdragon Mobile Platform for Galaxy is a mouthful
With the Galaxy S23 series, Samsung finally unifies its flagship devices with one processor inside. The new Qualcomm Snapdragon 8 Gen 2 is excellent in its own right, but Samsung utilizes a special edition, which it brews in its own factories — the Qualcomm Snapdragon 8 Gen 2 Mobile Platform for Galaxy. Yes, that's the official branding, but we will make sure we shorten it to "Snapdragon for Galaxy" as often as we can.
So, what's spacial. For one, the processor is overclocked and the prime core will be able to hit 3.36 GHz. Secondly, the new "Semantic Segmentation" — the ability of the processor to better analyze a photo scene and the subjects — is now available on the selfie cameras as well.
The good news is that all S23 models have this same chipset inside.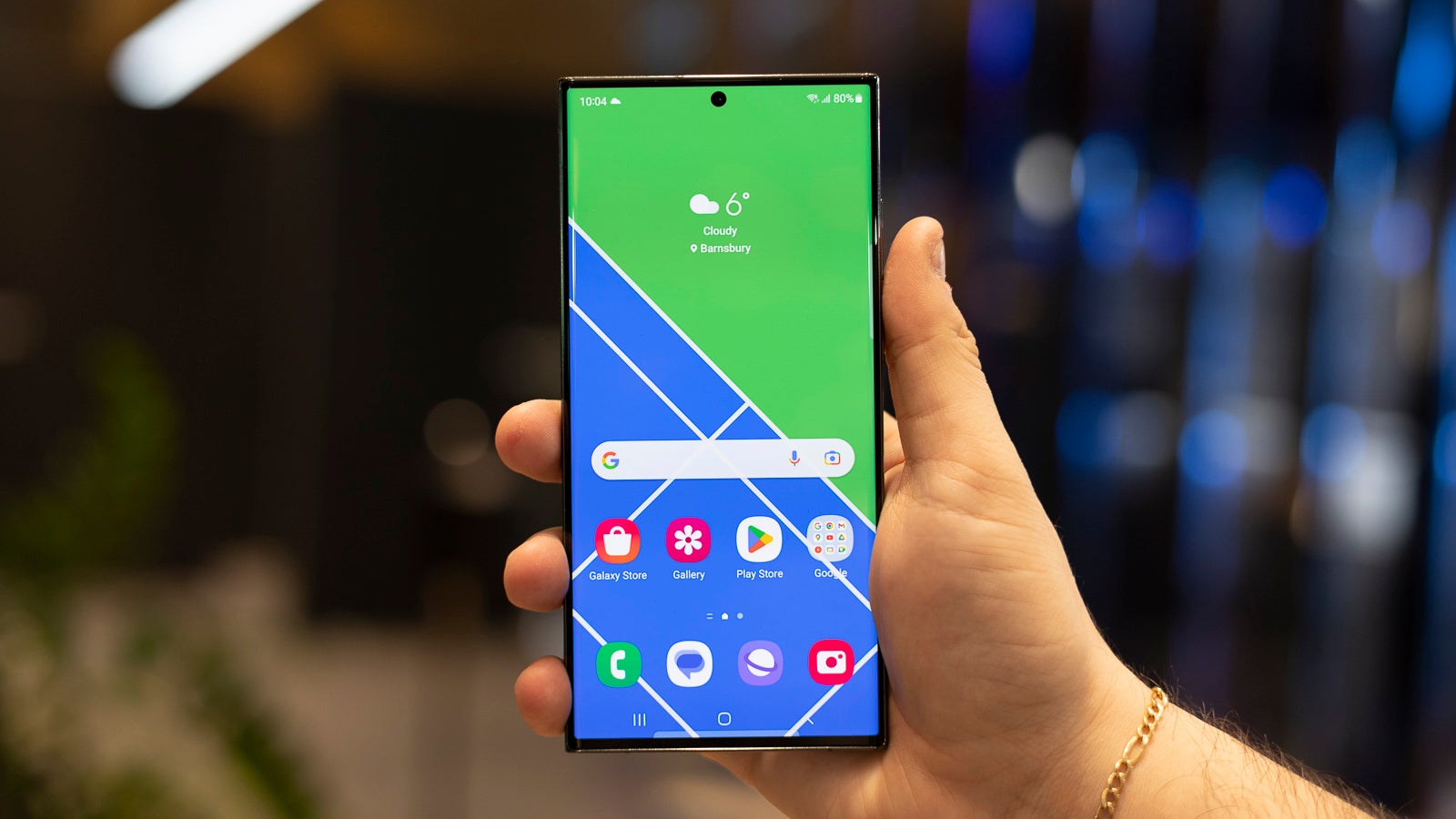 Galaxy S23 Ultra (Image credit - PhoneArena)
Samsung has also promised improved cooling with an even bigger vapor chamber. Naturally, this would be of bigger benefit in the S23 Ultra, where there's actual room. But the Galaxy S23 did pretty good on the stress tests, too!
As for the storage — we have a starting tier of 128 GB for the S23, then a 256 GB upgrade. The Galaxy S23 Ultra starts at 256, then has upgrade tiers to 512 GB and 1 TB. The Galaxy S23 is locked to 8 GB RAM, the Ultra starts at 8 GB but will get 12 GB if you go for more storage than the base unit.
Here's the important bit — the entire Galaxy S23 line has UFS 4.0 storage chips, which is more than two times faster than UFS 3.1. Save for the Galaxy S23 with 128 GB of storage — if you buy the cheapest version of the phone, you get UFS 3.1. Just something to keep in mind.
As for software — we have Samsung's One UI 5.1 on top of Android 13, which is the same bright, bold, customizable, and feature-rich interface we are acquainted with. It may be a spoonful for first-time users, but we feel like — even with its plethora of features — Samsung's interface has its way of easing you in and slowly teaching you all of its quirks.
But then, the Galaxy S23 Ultra has that S Pen inside, which opens it up to even more features, like handwriting, marking up easier, sketching, or using it as a mouse cursor on the phone.
Galaxy S23 vs Galaxy S23 Ultra cameras
Upgrades for the Ultra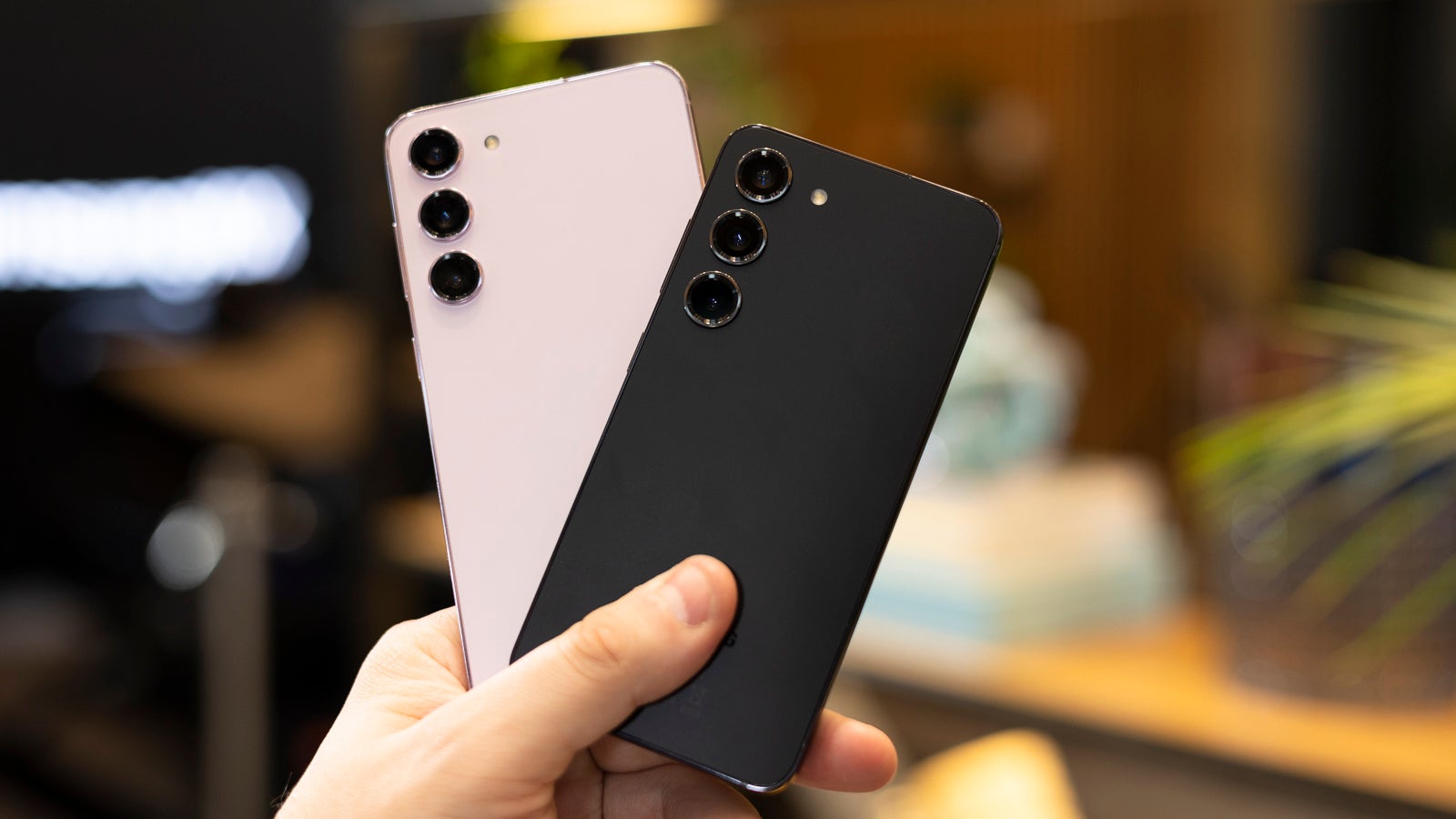 S23 and S23+ (Image credit - PhoneArena)
Since the Galaxy S23 Ultra is the "camera phone" that gets everything that Samsung can cram in it — it will be the one to feature the new 200 MP Samsung ISOCELL HP2 sensor. The new crazy resolution will not only give us access to highly-detailed photos, it also bins pixels in groups of up to 16 each for a... slightly improved Night Mode. However, the Galaxy S23 Ultra also has an improved optical image stabilization, covering double the jitter distance it did before.
The base Galaxy S23 doesn't have a 4th camera dedicated to zoom, it has a 3x telephoto lens and that's it — the rest of the magnification is handled digitally. So, the Galaxy S23 zoom taps out at 30x, it doesn't reach the 100x of the Ultra.
Zoom:
The Galaxy S23 keeps a 50MP main camera, which benefits from the new Snapdragon with its speed and processing. But physically, it seems to be the same camera module as before — which is fine, because it happened to be pretty good nonetheless. The S23 Ultra has a 200 MP main sensor. On both phones, you can choose to take high-res photos — the Galaxy S23 gives you a 50 MP option, the S23 Ultra gives you a 50 MP and 200 MP option.
50 MP photo (100% crop)
< S23 50 MP
S23 Ultra 50 MP >
50 MP (100%) vs 200 MP (downsized to match)
< S23 50 MP
S23 Ultra 200 MP >
For all intents and purposes, it seems like the Galaxy S23 Ultra is the one to get if you are interested in camera usage. It has the new sensor, it has more tricks, it has crazy amounts of zoom on tap.
The Galaxy S23 is no slouch, though — very vibrant and great handling of dynamics from its part. Details also look great on S23 photos. It's dependable at worst. But if you want over-the-top camera features, the Ultra is... well, ultra.
Audio quality and haptics
Samsung's stereo speakers have sounded pretty OK over the last few iterations of Galaxy phones. The Galaxy S23 series sees an upgrade in this field and we really quite like their sound. Due to physical size differences, the normal S23 can sound a bit tinnier, but it's still rich and detailed. The Galaxy S23 Ultra expands the soundstage and adds more bass.
As for haptics, we are very happy that Android manufacturers have been taking them seriously for half a decade now. The Galaxies click and clack with a pleasant feedback to each tap — and so do the S23 series.
Galaxy S23 vs Galaxy S23 Ultra Battery life and charging
It's in the size
The Galaxy S23 gets a slight bump in battery capacity, bringing it up to 3,900 mAh. Not huge by 2023 standards, but an impressive number considering the phone's small size. The Galaxy S23 Ultra will retain that 5,000 mAh cell.
We've ran the phones through our tests and we are quite pleased with the Galaxy S23 — not only does it do good in benchmarks, we found it to have a very reliable endurance in day-to-day use. The Galaxy S23 Ultra isn't bad per se — it just didn't surprise us in any way, as it performs similarly to the S22 Ultra. Which is to say, you can expect a full day of mixed use without much worry.
As for charging, we get 25 W Fast Charging on the Galaxy S23, and 45 W Fast Charging 2.0 on the Galaxy S23 Ultra. Not amazing... not even great, especially for the Galaxy S23. But hey, if Samsung wants to take it safe and easy with the batteries of its phones, we'd say "Go for it!".
As for wireless charging, these are marked as Wireless Fast Charge 2.0, which should mean 15 W of speed on a compatible Qi charger. However, Samsung is playing coy, claiming 10+ W wireless charging. We assume there's some sort of thermal regulation involved.
Galaxy S23 vs Galaxy S23 Ultra specs comparison
Being of the same family, these two phones share a lot of DNA. A full spec sheet comparison
can be viewed here
, but here are the cliff notes:
Specs
Galaxy S23
Galaxy S23 Ultra
Dimensions
5.76 x 2.79 x 0.30 inches (146.3 x 70.9 x 7.6mm)
6.43 x 3.07 x 0.35 inches (163.4 x 78.1 x 8.9 mm)
Weight
5.89 oz (167.0 g)
8.22 oz (233.0 g)
Screen
6.1", 1080 x 2340, 120 Hz, AMOLED
6.8", 1440 x 3088, 120 Hz, AMOLED
Processor
Qualcomm Snapdragon 8 Gen 2 (4 nm), 3.36 GHz
Qualcomm Snapdragon 8 Gen 2 (4 nm), 3.36 GHz
RAM
8 GB
8 GB / 12 GB
Rear Cameras
50 MP wide, F1.8
10 MP 3x telephoto, F2.4
12 MP ultra-wide, F2.2
200 MP wide, F1.7
10 MP 3x telephoto, F2.4
10 MP 10x telephoto, F4.9
12 MP ultra-wide, F2.2
Front Camera
12 MP
12 MP
Battery Size
3,900 mAh
5,000 mAh
Charging Speeds
25 W wired
15 W wireless
45 W wired
15 W wireless
Price
$799.99
$1199.99
Summary and Final Verdict
So there are plenty of considerable differences between these phones to be able to make a clear call. If you want the best mobile camera with tons of features, zoom on tap, and an upgraded 200 MP sensor — you will be drawn to the Ultra. You also get to enjoy a large screen and an S Pen stylus that fits right into the phone.
Then again, the Galaxy S23 is definitely not a bad phone. In fact, it will win the hearts of those looking for a more compact handset. It's still powerful but lacks some camera bells and whistles and a stylus. Don't care for that? Maybe you are better off saving some money...