Samsung Galaxy S23 Ultra vs S22 Ultra: a fresh coat of paint
10
We may earn a commission if you make a purchase from the links on this page.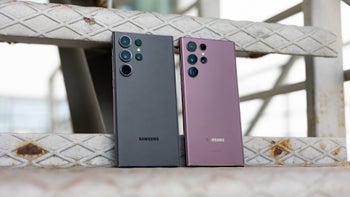 Intro
What new features does the
Galaxy S23 Ultra
bring compared to last year's
S22 Ultra
? And are they significant enough to upgrade?
The S23 Ultra marks a major shift in strategy as
Samsung
waves goodbye to the Exynos processors it used in international models and adopts the more powerful Snapdragon chips for all versions of its flagships.
You also have a brand new 200-megapixel main camera that delivers much better detail and improved night shots. Queue other improvements such as double the storage, better video quality, huge improvement in audio quality and some other tweaks, and the S23 Ultra is certainly a big step in the right direction (but don't forget that a new
Galaxy S24 Ultra
is coming in early 2024 too).
And just like before, the new S23 Ultra comes with an S Pen inside, giving it super-powers that other flagship phones don't have.
Galaxy S23 Ultra

vs Galaxy S22 Ultra differences in a nutshell:

Very similar design and size
More powerful Snapdragon 8 Gen 2 chip on all S23 models
256GB storage in base model (double than before)
New 200MP main camera
Improved video recording quality
Much improved loudspeaker quality
Same battery size, but longer battery life
Same charging speeds
Design and Display Quality
Why change what works?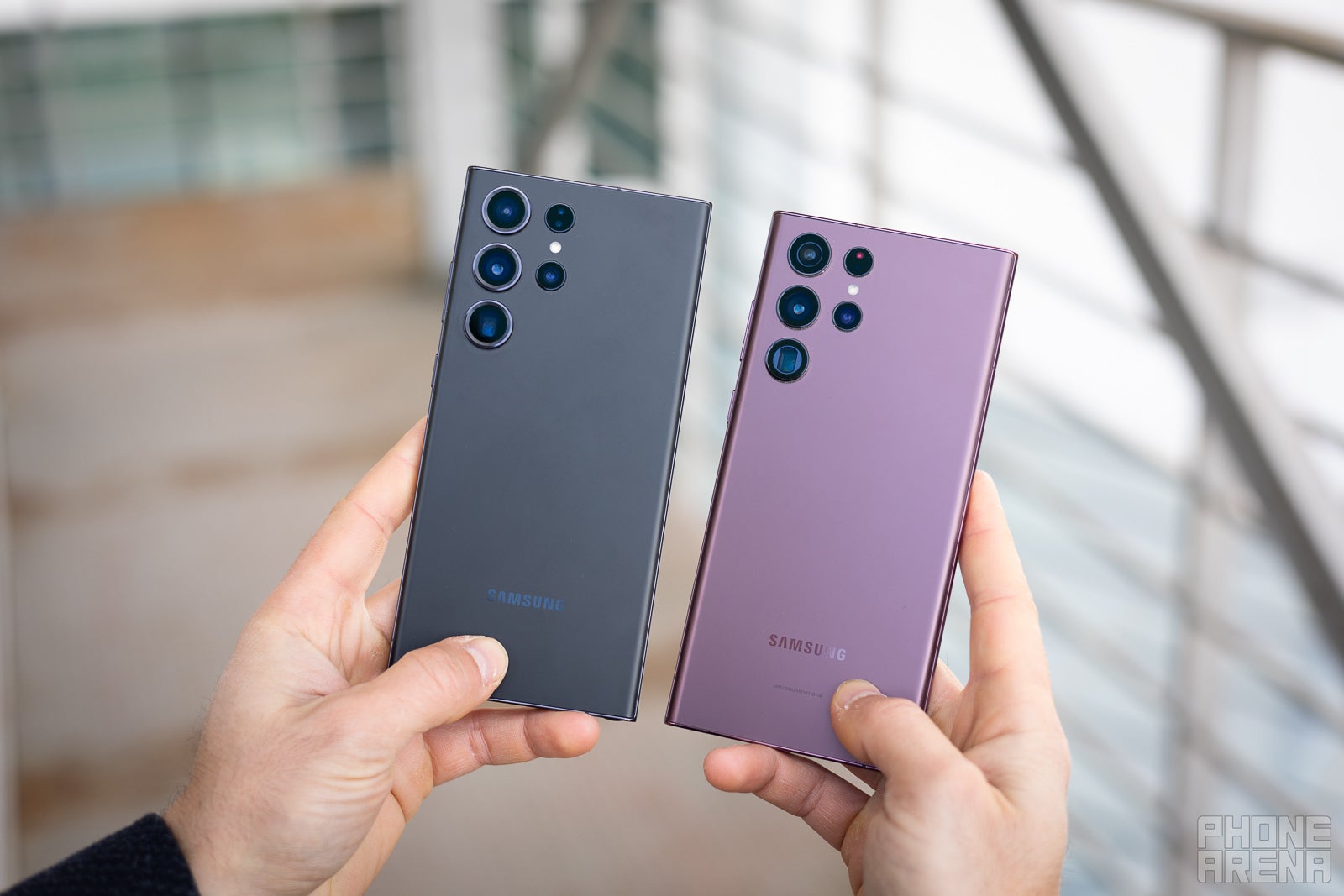 (Image Credit - PhoneArena) S23 Ultra on the left, S22 Ultra - right
The
Galaxy S23 Ultra
looks so similar to its predecessor that we would absolutely forgive you if you cannot tell the two apart!
There are some giveaways, but they are subtle and you need to look close. The biggest one has got to be the sides of the phone which are now flatter on the new model and make the phone feel much better in the hand. The mid-frame is also slightly thicker than before, and this design makes it easier to pick up the phone from a table. And if you care about tiny details, the power and volume buttons are slightly lower and ever so slightly bigger for comfort.
You still have sharp corners and an overall similar construction, but Samsung has upgraded the Gorilla Glass "Victus+" it used on the S22 Ultra to the more durable "Victus 2", which improves the resistance if you drop the phone.
Both phones have IP68 certification, which is the highest water and dust rating available in a common flagship. And on the bottom, you have a USB-C port on both, but no 3.5mm headphone jack.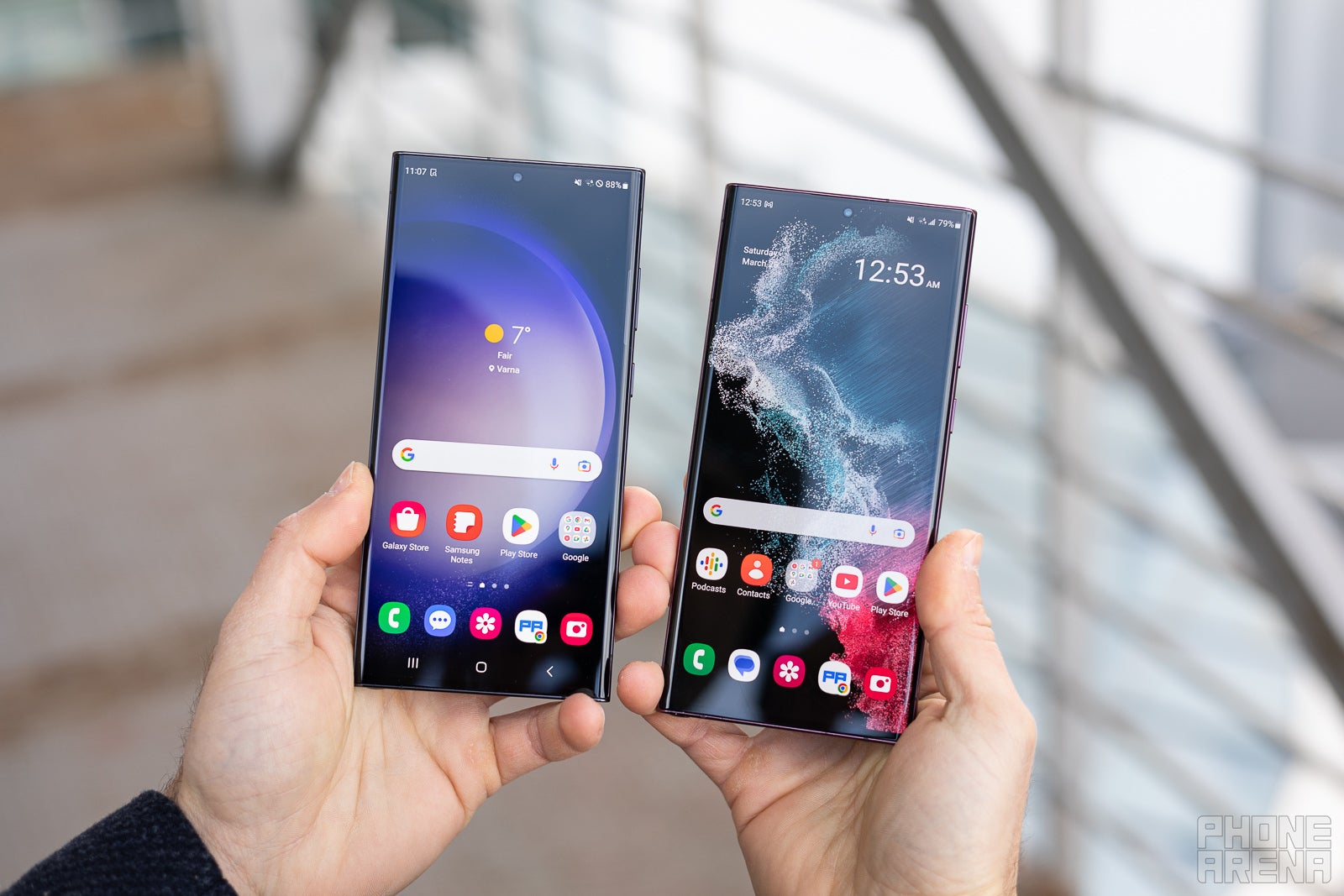 (Image Credit - PhoneArena) No big changes in screens
Both these come with a screen that is larger than on most other phones. It's a 6.8-inch screen size with wider dimensions than a typical phone.
However, these are not the same display panels. The one big change is a switch to the latest and most advanced E6 OLED panel on the S23 Ultra, which has slightly better characteristics. Peak brightness remains the same on both models at 1,750 nits, but the new model can get dimmer for more comfortable night time use.
Display Measurements:
Both use LTPO technology which gives you that automatic refresh rate. Samsung calls it Dynamic AMOLED, so you get a 1440p resolution and 1-120Hz refresh rate on both.
We don't have any significant changes in biometrics. The two phones rely on Qualcomm's ultrasonic fingerprint scanner built inside the screen and it has a reputation for being reliable and fast enough (even if not
the
fastest). Both also support image-based face recognition.
Performance and Software
The biggest leap in performance for a Galaxy flagship in recent years!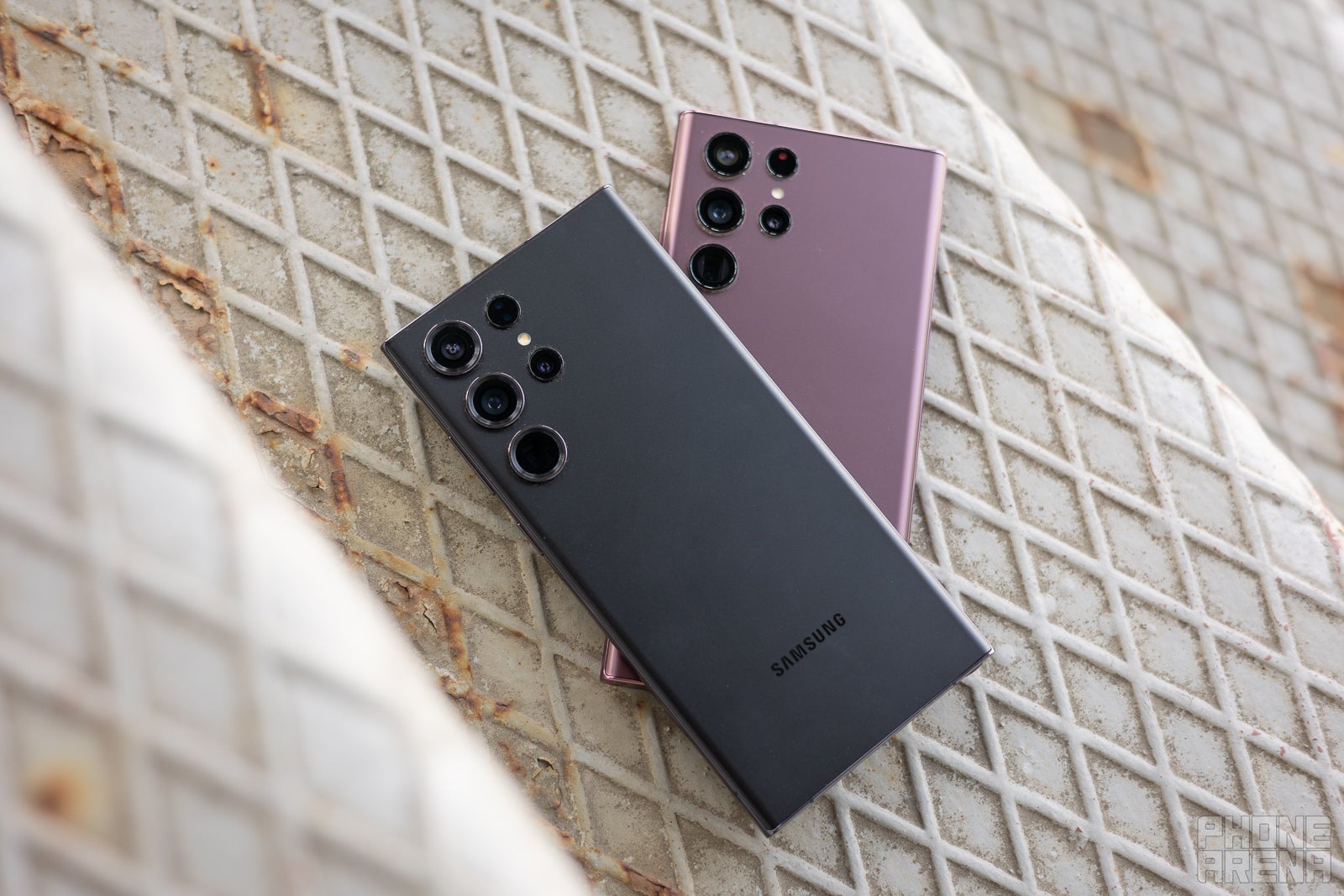 (Image Credit - PhoneArena) The new Snapdragon chip in the S23 Ultra is a big deal
The big change in the S23 Ultra has got to be the new Qualcomm Snapdragon 8 Gen 2 processor.
Samsung equips all S23 Ultra versions, regardless of the market, with this chip, waving goodbye to the slower and less efficient Exynos chip it used to ship in some markets previously.
So, what is the difference between the Snapdragon 8 Gen 2 on the S23 Ultra and the Gen 1 on the S22 Ultra? Both are made on 4nm technology, but the Gen 2 is manufactured at the TSMC foundry, while the previous chip was made at a Samsung foundry, and this alone seems to have a big role. You get improvements in power efficiency AND in performance, and gaming particularly is much faster with this chip. Win-win!
Performance Benchmark Results:
As you can see in the benchmark results above, the new Snapdragon 8 Gen 2 chip delivers a massive improvement in speeds.
We measured a 40% faster single-core CPU performance and a whopping 50% in multi-core performance in the GeekBench test. It's hard to understate how impressive these results are, we rarely get such massive improvements in just one year!
But the big gains actually come for gamers. As evidenced by the 3D Wildmark test that tests GPU performance over a 20-minute perioud, you can see the new phone on par or even faster than the current GPU champ, the
iPhone 14 Pro Max
, so you can play even the most demanding games at highest settings and with higher frame rates. Genshin Impact, here we go!
The S23 Ultra is offered in the following configurations:
8GB RAM + 256GB storage (base model)
12GB RAM + 512GB
12GB RAM + 1TB
Having a 1TB version might be exciting for select few, but it's the doubling of the storage in the base model which will affect most users in a very positive way.
Samsung also brings four years of major software updates and five years of security updates to all
Galaxy S23
phones. You get the same software support on the S22 series too. This is a big improvement from many
Android phones
and even Google's own Pixel phones, which offer just three years of OS updates.
The S23 Ultra launches with the new Samsung One UI 5.1 on top of Android 13, and the S22 Ultra model has also gotten that same version via a software update. One UI 5.1 is all about smaller tweaks so don't expect a huge visual overhaul, but that is what should happen with One UI 6.0 which will arrive to both these phones towards the end of 2023.
Camera
New 200MP main camera promises a big improvement
(Image Credit - PhoneArena) The 200MP main camera is better at night and you now finally get usable 8K video
A great camera is what makes or breaks a flagship, and so far, Samsung has had a unique camera system on the Ultra series with its impressive 10X zoom camera.
The S23 Ultra takes that same system and polishes it. You still have four rear cameras: a main + ultra-wide + 3X zoom + 10X zoom, but the most used main camera gets a big upgrade with a new 200-megapixel sensor.
200 megapixels sounds insane! But it's not just about the megapixels, so don't expect to go out shooting 200-megapixel photos all the time. Those files would be huge and actually not perfectly optimized. In fact, most people will still get 12-megapixel shots most of the time, which is the default mode. Samsung uses this new sensor to combine pixels (a process called pixel binning) and with the S23 Ultra it is combining 16 pixels into one super-pixel, so you get these default 12MP photos. Thanks to that pixel binning maneuver, Samsung is able to capture more light and deliver much cleaner night shots, so that's the main benefit.
Photo enthusiasts also finally get the ExpertRAW mode built right in the camera app. ExpertRAW is multi-frame capture that is better than the standard "Pro" mode and this year, you can shoot 50-megapixel RAW files. This is a great size as images will not be giant in size like a 200-megapixel photo would, yet still have a lot more detail than your typical 12-megapixel shot.
One other improvement you won't see on the specs sheet is... faster shutter speeds! The S22 Ultra used to take a few extra moments for every shot, while the S23 Ultra is really snappy.
| | Galaxy S23 Ultra | Galaxy S22 Ultra |
| --- | --- | --- |
| Main Camera | 200MP, 1X main camera, 23mm, f/1.7 | 108MP, 1X main camera, 23mm, f/1.8 |
| Ultra-wide | 12MP 0.6X ultra-wide camera, 13mm, f/2.2 | 12MP 0.6X ultra-wide camera, 13mm, f/2.2 |
| Telephoto 1 | 10MP, 3X zoom, f/2.4 | 10MP, 3X zoom, f/2.4 |
| Telephoto 2 | 10MP, 10X periscope zoom, f/4.9 | 10MP, 10X periscope zoom, f/4.9 |
| Front | 12MP | 40MP |
And here are the real-world photos:
Мain Camera - Standard Conditions
Images during the day typically have more definition and cleaner detail. Samsung has improved the processing and photos look less washed out and just more impressive.
In the second image with the bar stand, notice the sharper look of the S23 Ultra as well.
Main Camera - Low Light
Images in typical indoor or lower light conditions are also noticeably improved. The picture above looks overprocessed on the S22 Ultra, while the newer model captures a much more natural look and detail is cleaner with far less noise.
Main Camera - Night Photos


Here are a few shots captured with the main camera during the night. In these conditions, the S23 Ultra captures 12-megapixel photos, just like its predecessor.
Ultra-wide
In standard conditions, Samsung has made some appreciated changes to the color processing with the ultra-wide camera. In the first picture, the S23 Ultra captures warmer colors with less contrast for a less dramatic and more realistic photo, while the S22 Ultra captures a moody shot that almost looks as if it has an artistic filter applied to it.
In the second shot, the S22 Ultra looks overprocessed, notice the strangely dark color of the wall, while the S23 Ultra captures a much more realistic and pleasing photo.
The ultra-wide camera on the
Galaxy S23 Ultra
compared to the same shooter on the previous generation phone in difficult, night-time conditions with very little light.
Portrait Mode


Samsung was particularly proud of the new night mode portraits on the S23 Ultra, so here is how they look at the 3X mode.



And here are night-time portrait shots using the 1X main camera.
Selfies
Just like the rest of the photos, selfies are less contrast-y, with a slightly softer look which usually is flattering for shots of people.
Audio Quality and Haptics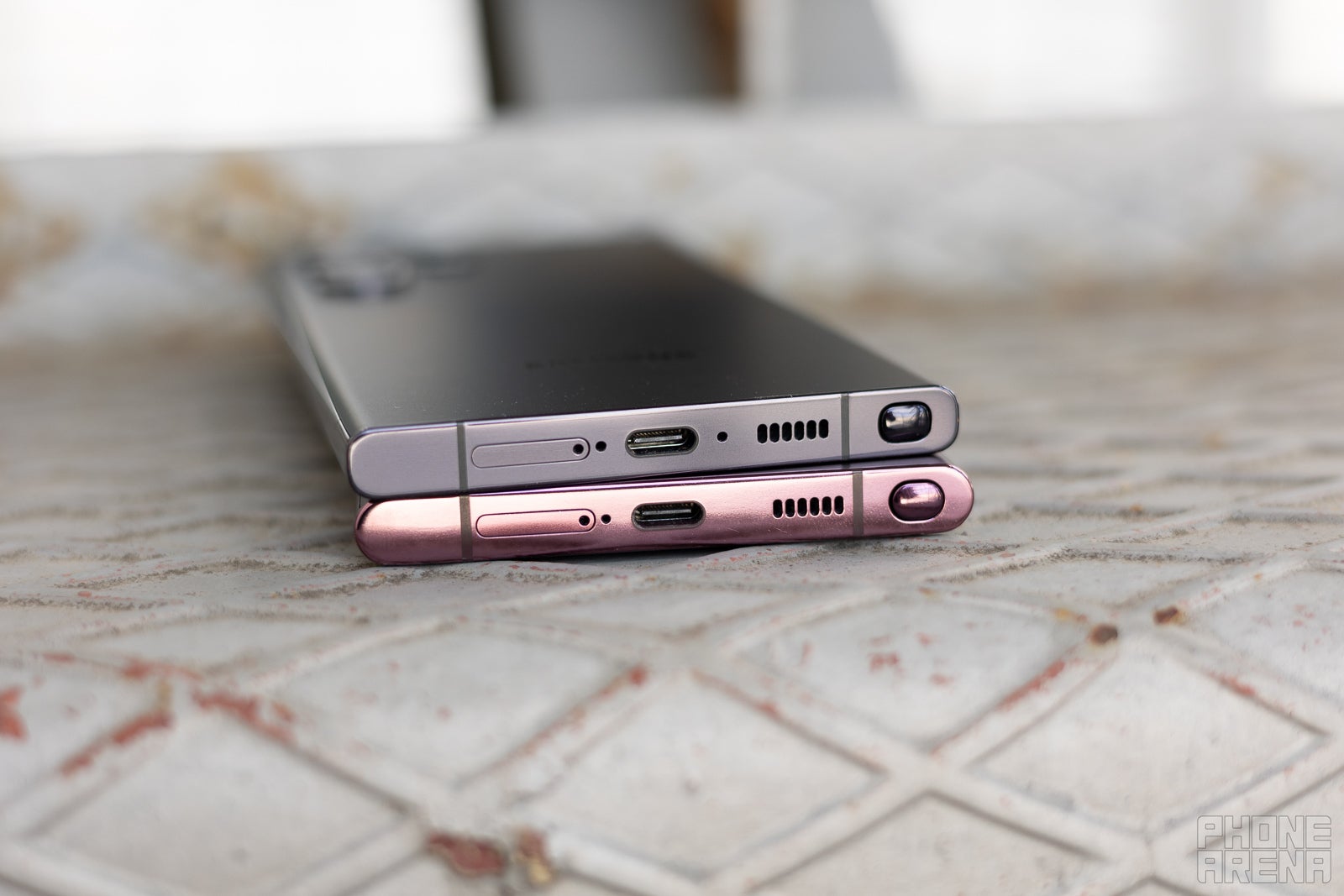 (Image Credit - PhoneArena) S23 Ultra has vastly improved the loudspeaker quality
The
Galaxy S23 Ultra
also brings a welcome improvement to audio quality. While the speaker grills look the same, the quality gets much better now.
It's not just about the volume and loudness. Sound from the S22 Ultra lacks in clarity and lows sound downright muffled and... bad, while the S23 Ultra is much cleaner, voices come through nice and clear with far less compression, and even at max volume there is not much distortion. And most importantly you can actually hear those lows for a much richer sound profile.
In terms of haptic feedback, we don't expect to see much of a change in haptics on the S23 Ultra.
Battery Life and Charging
Same battery size, but can actual battery life be improved?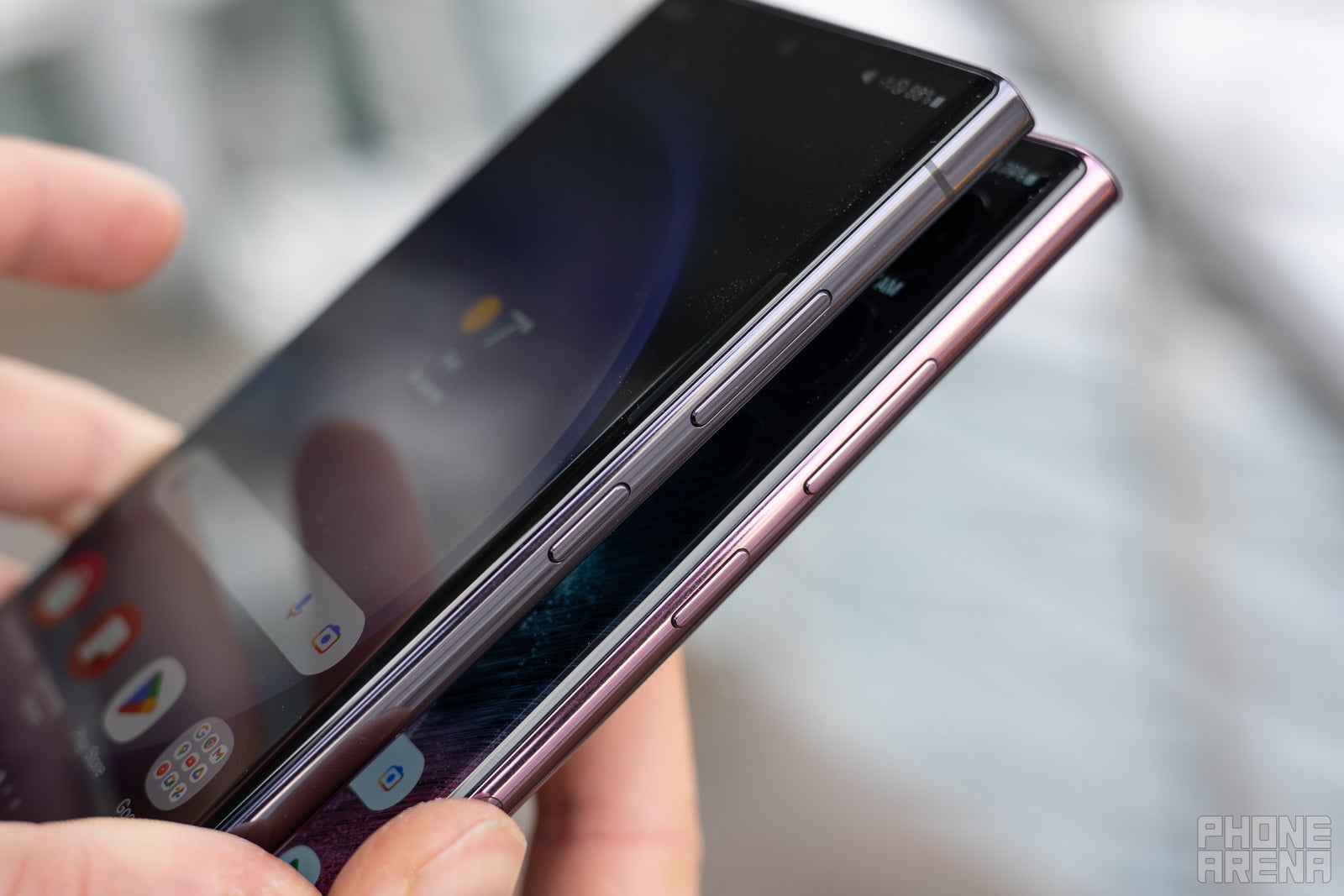 (Image Credit - PhoneArena) Big gains in battery life as well
Both the newer S23 Ultra and the S22 Ultra have the same, 5,000 mAh battery inside, but battery life has improved on the newer model.
Samsung estimates the S23 Ultra will last up to 27 hours of video playback, 30% longer than the S22 Ultra, and for audio playback time, Samsung estimates the S23 Ultra to last 99 hours, 22% longer than the previous version. These are some solid numbers, and they seem to come largely from the more efficient Snapdragon chip.
PhoneArena Battery Test Results
We were surprised to see some big changes in battery life despite the same battery size! The S23 Ultra is an absolute beast that can almost last you two days, while the S22 Ultra is a one-day affair that doesn't impress.
In our web browsing test where we have a script running the same set of webpages and scrolling around them, we can see the S23 Ultra score big gains. Next up, we have the video streaming test where we play the same YouTube playlist over a Wi-Fi connection, and again, a notable improvement for the new model.
Last but not least, we run an intense 3D game to test out the GPU performance and efficiency, and the S23 Ultra proves again much improved from its predecessor.
Unfortunately, we don't have any such improvements on the charging front. True to industry trends, there is no charger included in the box with either phone.
Wired charging speeds max out at 45W on both the S23 and S22 Ultra, Remember that to reach those speeds you would need not only a fast charger, but also a special 5A cable (Samsung sells both of those), and this whole package costs an additional $50. Even with those speeds, however, the phones take more than an hour for a full charge.
Interestingly, wireless charging speeds have seen a downgrade on the S23 Ultra. The S22 Ultra supports 15W wireless charging speeds, while the S23 Ultra only goes to 10W speeds.
We were curious so we tested both phones using Samsung's official 15W wireless charging pad. The results are quite interesting, take a look:


S23 Ultra
Wireless Charging
S22 Ultra
Wireless Charging
in 15 minutes
14%
14%
in 30 mins
24%
24%
in 45 mins
35%
37%
in 1 hour
45%
48%
Full Charge
(1-100% in hours and mins)
2 hours 37 mins
2 hours 15 mins
As you can see there is a very minimal difference in actual speeds, and you won't even notice it if you are plugging in for just half an hour during the day. And even if you charge for a full hour, there is still a very tiny speed advantage for the S22 Ultra, which is really negligible.
Specs Comparison
Finally, here is a quick overview of the specs of the S23 Ultra vs S22 Ultra:


Galaxy S23 Ultra
Galaxy S22 Ultra
Dimensions

163.4 x 78.1 x 8.9 mm
163.3 x 77.9 x 8.9 mm
Weight
233g (8.22 oz)
229g (8.08 oz)
Display
6.8-inch, 1440 x 3088 pixels
Dynamic AMOLED 2X 1-120Hz
6.8-inch, 1440 x 3088 pixels
Dynamic AMOLED 2X 1-120Hz

Processor
Snapdragon 8 Gen 2 everywhere
Snapdragon 8 Gen 1 in the US
Exynos 2200 in UK, Europe, RoW
RAM and storage
8GB + 256GB UFS 4.0
12GB + 512GB
12GB + 1TB
8GB + 128GB UFS 3.1
12GB + 256GB
12GB + 512GB
Cameras
200MP main camera, 23mm f/1.7
12MP ultra-wide, f/2.2
3X zoom (10MP)
10X periscope zoom (10MP)

12MP front camera
108MP main camera, 23mm
12MP ultra-wide
3X zoom (10MP)
10X periscope zoom (10MP)

40MP front camera
Battery
5,000 mAh
5,000 mAh
Charging speed
up to 45W wired
up to 10W wireless
supports reverse wireless charge
up to 45W wired
up to 15W wireless
supports reverse wireless charge
Price
from $1,200
from $1,200
Summary and Final Verdict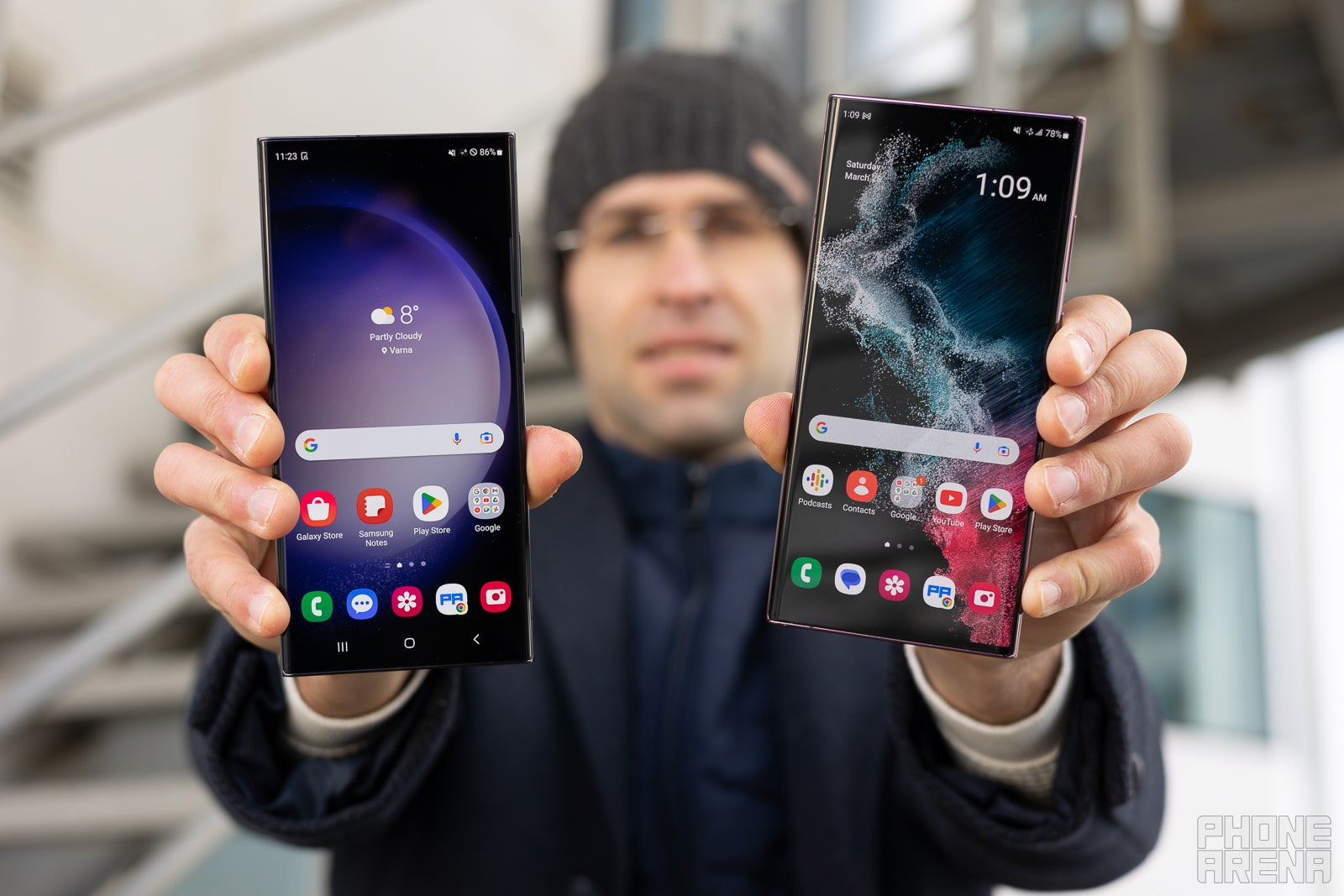 (Image Credit - PhoneArena) The S23 Ultra is a solid upgrade, but the S22 Ultra was already plenty good
At the end of the day, the
Galaxy S23 Ultra
does not have one huge new feature, but it improves in so many little ways that it is actually greater than the sum of its parts. The one bigger change is the processor, which is so much faster now, and also the longer battery life, but then you also have a more capable camera, boomier audio quality, more comfortable design.
There are some niche features like 50MP ExpertRAW capture that some enthusiasts will appreciate, but it's mostly about all those little changes to the fundamentals that make the S23 Ultra truly a great release.
Should you upgrade from the S22 Ultra? Well, the changes are not THAT big, but if you can score a good trade-in deal, then go for it. The new S23 Ultra is worth it.
But what's your opinion: has Samsung delivered enough improvements with
Galaxy S23 Ultra
? And is there a particular new feature you want to see Samsung improve in the future?
Recommended Stories