Samsung Galaxy S23 vs Galaxy S22: what's new, is it worth it?
8
We may earn a commission if you make a purchase from the links on this page.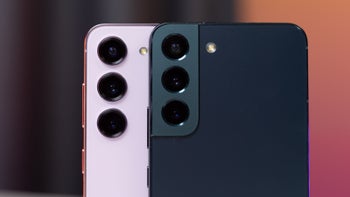 Intro
Well, let's examine the differences between the two phones and compare — design, display, camera, performance, and battery.
Design and Display Quality
Excellent Samsung AMOLED on both phones
There is, however, a noticeable shift in the design. The Galaxy S22 and the S22+ had a metal slab over the cameras on the back, fused to the phones' metal frame. It looked cool and fresh, but distinctly different to the Galaxy S22 Ultra, which had a cleaner look, with only metal rings around the camera lenses.
As for ergonomics, we have the same almost-flat metal frame around the sides, and a fully flat screen up front. The non-Ultra Galaxies have long dropped the Edge display and are much more angular.
As for biometrics — the ultrasonic fingerprint scanner makes a return, safely nested under the screen where it has been for the past 4 generations of Galaxies. It feels fast and accurate on both phones and ultrasonic tech makes it possible to scan your finger if your hands are wet or smudged up, too.
Performance and Software


This is huge because the difference in Exynos and Snapdragon was not just raw performance — the two chips also process camera imagery differently, leading to a ton of confusion online. "What Galaxy variant were these samples taken with, which processor was used for this battery test?". All of these questions will hopefully, maybe, become a thing of the past.
Camera
Not much improvement?
Camera samples
The zoom quality is kind of neck in neck. In fact, we kind of prefer the Galaxy S22's performance here in some portions of the photos, where the S23 seemed to smudge things up a bit. But these are quick little samples, so we need more extensive testing.
Good pictures from both phones, though the bokeh doesn't look convincing enough. We were hoping for a more realistic blur from the S23 here. Otherwise, the Galaxy S22 produced portraits that are more colorful and more contrasty, so we kind of lean towards them.
Audio Quality and Haptics
Battery Life and Charging
Can the Galaxy S23 shock us?
As for wireless charging — these two phones only support 25 W fast charging, as 45 W is reserved for the Plus and Ultra models.
Specs Comparison
Well, here's a good look at the data sheets of the two phones.
Summary and Final Verdict
Recommended Stories