Samsung Galaxy A54 5G vs Galaxy A53 5G
3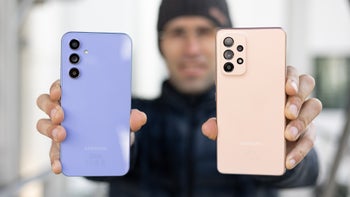 Intro
The new Galaxy A54 5G brings a faster processor, new design style and an improved camera system, but are the changes big enough compared to last year's Galaxy A53 5G? And... should you upgrade to the A54 5G?
The Galaxy A series are the go-to budget phone series not just for Samsung, but for Android in general, and especially the Galaxy A5X models have been the best sellers, so while the new Galaxy A54 5G is not the most advanced phone out there, it's a very important launch for Samsung.
This year, Samsung has bet on a faster chip, a more premium design and an improved cameras as the main new features, but the phone also has a slightly larger battery, a version with more RAM and storage, and keeps the microSD card slot alive. Let's explore all those differences and more!
Galaxy A54 5G vs A53 5G in a nutshell:

Much faster chip with 50% faster multi-core, 20% faster GPU
Improved camera system
Glass back vs plastic on the previous model
Same charging speeds, still no wireless charging
A54 5G is slightly more expensive
Design and Display Quality
New design style and a more premium feel
The Galaxy A54 5G changes the all-plastic build of the A53 5G for a glass back and front, but the mid-frame is still rumored to be made out of plastic.
We also like the new camera styling where each individual lens has its own enclosure, much like the Galaxy S flagship series.
Size-wise, these are similar, with the newer A54 5G being just a tad bit more compact, but really the difference is negligible.
We appreciate that despite being cheaper phones, both the A54 5G and A53 5G come with the same IP67 water and dust protection rating, and both also support a microSD card slot for expandable storage, which is a rarity nowadays.
You get flat screens on these two, the A54 5G has a slightly smaller 6.4-inch screen vs the 6.5-inch display on the previous model, but bezels are quite large on both of them, so that's one compromise.
The screens themselves look good, Super AMOLED, 1080p Full HD+ resolution and both supporting 120Hz fast refresh rate for smoother scrolling, these are all great things to see.
We will be updating you with more in-depth testing of the color accuracy and brightness level difference in the near future, so make sure to come back to this article in a couple of weeks to get a lot more information.
Nothing seems to have changed when it comes to biometrics. Both rely mainly on a fingerprint scanner built inside the screen, it's an optical type one, not an ultrasonic like the flagship series. However, it worked well on the A53 and we expect a similarly good performance on the A54 5G.
Both phones also support face identification with a 2D image scan. This is not as secure as a fingerprint scanner, but it can be convenient and we're glad it is supported.
Performance and Software
New Exynos chip brings the goods
One of the bigger improvements in the Galaxy A54 5G is actually under the hood and it's the new chip used on it. You get the Exynos 1380, a 5nm processor, that is an upgrade over the Exynos 1280 used in the A53.
There is a minimal difference in single-core CPU speeds, but when measuring multi-core speeds you see a nearly 50% boost, which is massive. We also expect up to a 20% improvement in GPU performance.
This should help address the occasional stutter we got on the A53 5G and will make the new A54 5G just a more pleasant experience, and one better suited for gamers.
The A54 5G launches with One UI 5 on top of Android 13, and the Galaxy A53 received an update to the very same version just weeks before the A54 unveiling.
So this is the thing about Samsung phones: Samsung goes above other Android phone makers with 4 years of major software update support, but those updates actually arrived months after the Pixel series, so you have to wait a very long while to get them.
Camera
New main camera sensor makes a difference
When looking at the A54 5G and the A53 5G side by side, you immediately notice that there are fewer cameras on the newer phone.
Indeed, Samsung drops the depth sensor it used on the A53 5G, but don't lament that as this barely added anything to the experience.
What you are left with is the following camera setup: a 50MP main camera with OIS (compared to a 64MP older sensor on the previous model), an 8MP ultra-wide camera (vs an older 12MP sensor before) and a 5MP macro camera (similar on both).
Samsung has already teased this new camera system is better at night and we expect to see big improvements all around with both photos and videos. Check back here in a couple of weeks when we will have a lot more detail about the actual camera performance.
Audio Quality and Haptics
Both phones have a pretty standard audio setup with a downward-facing main speaker and a secondary speaker located in the earpiece of the phone.
We found the speakers on the A53 5G okay for the price. There was distortion at the highest volume levels, but if you listened a few levels below that you get clear sound, but the lower frequencies were missing, so overall there was room for improvement. We will soon test the loudspeakers on the Galaxy A54 5G and will update you about their quality here, so check back in a couple of weeks for that.
One disadvantage of the A53 5G was its rather vague haptic feedback. It was not nearly as good as the sharp and precise feedback you get from the Taptic Engine on an iPhone, or some recent OnePlus phones. We are yet to test the A54 5G haptic motor and whether it's better, but so far we have not heard of an upcoming improvement.
Battery Life and Charging
A tiny bit larger battery, but same charging speeds
On the new Galaxy A54 5G, Samsung uses the same 5,000mAh battery as in the previous model.
We have seen the Galaxy S23 series score big improvements in battery life, so we cannot wait to also test out the A54, but so far we have no further specifics about the actual battery life on the phone.
Stay tuned for our battery test results that we will share here in this section in a couple of weeks time.
In terms of charging, first, you don't get a charger in the box with either of the phones, which has become the sad norm these days, and second, both support the same 25-watt charging speed.
Samsung is definitely playing it safe here as other rivals like OnePlus and Asus offer much faster charging, but yet others like the Pixel 6a actually charge slower.
There is unfortunately no wireless charging on either the A54 5G or A53 5G.
Specs Comparison
And here are the most important specs of the A54 5G and the A53 5G, check out the differences below:
Specs
Samsung Galaxy A54 5G
Samsung Galaxy A53 5G
Size and Weight
unknown
159.9 x 74.7 x 8.1 mm, 189 g
Display
6.4" Super AMOLED
120Hz refresh rate
Full HD resolution
6.5" Super AMOLED
120Hz refresh rate
Full HD resolution
Processor
Exynos 1380
Exynos 1280
RAM, Storage
6/128GB
8/256GB
*has microSD card support
6/128GB
*has microSD card support
Software
One UI 5.1 on Android 13
One UI 5.1 on Android 13
Cameras
50MP main cam with OIS
8MP ultra-wide
5MP macro
-

32MP front cam
64MP main cam with OIS (f/1.8)
12MP ultra-wide (f/2.2)
5MP macro cam (f/2.4)
5MP depth cam (f/2.4)

32MP front cam
Battery Size
5,000 mAh
5,000 mAh
Charging Speeds
25W wired charging
no wireless charging
25W wired charging
no wireless charging
Summary and Final Verdict
Samsung obviously realizes that the competition has come for its golden boy in the mid-range, the Galaxy A5X series, and has stepped it up with the Galaxy A54 5G.
It has a much faster chip, so it fares better than its occasionally stuttery predecessor, it also has an improved camera system to better compete with the incredibly capable Pixel A series camera, and it has an even longer battery life that the competition cannot match. You also get a microSD card slot, a cool feature that many people still want.
We think that this is one of the bigger upgrades in the Galaxy A series, but unfortunately it comes at a slightly higher price too. We don't see much reason for A53 5G users to upgrade, but if you have an older phone and want something new and affordable, the Galaxy A54 5G should not be overlooked.