Google Pixel 6 vs Samsung Galaxy S21
11
We may earn a commission if you make a purchase from the links on this page.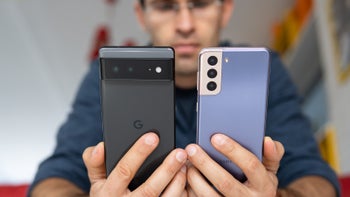 The
Pixel 6
is Google's flagship-level phone from 2021 that originally cam with a nice and affordable price – $599. After the Pixel 5 (which really wasn't a flagship phone for those of you who remember), the
Pixel 6
series brings back the premium performance, cameras, and features we have come to expect from flagship devices. Luckily for many Pixel fans, Google was ready to step up its game and to compete with the big boys again.
We also have the
Galaxy S21
, the smallest of 2021's flagship series by Samsung. Boasting a great and powerful processor and versatile cameras, the S21 retails at just $799, so yes, 200 bucks more expensive than the
Pixel 6
, but still, the 'vanilla' model.
Here, we are comparing these two phones in several important categories, key for your experience with them - are design, display, performance, camera, and battery life.
Without further ado, let's jump straight in!

Google Pixel 6 vs Galaxy S21: Design
Alright, let's discuss the design first, and the difference between the
Pixel 6
and the Galaxy S21 in terms of overall looks. First off, we have the
Pixel 6
new approach to design, sporting the instantly recognizable and new Google look that the company seems ready to stick with.
The phone's camera bump on the back stretches horizontally across the entire width of the rear panel, a design solution Google calls a 'camera bar' and the phone's back brags with not one, not two, but three different colors.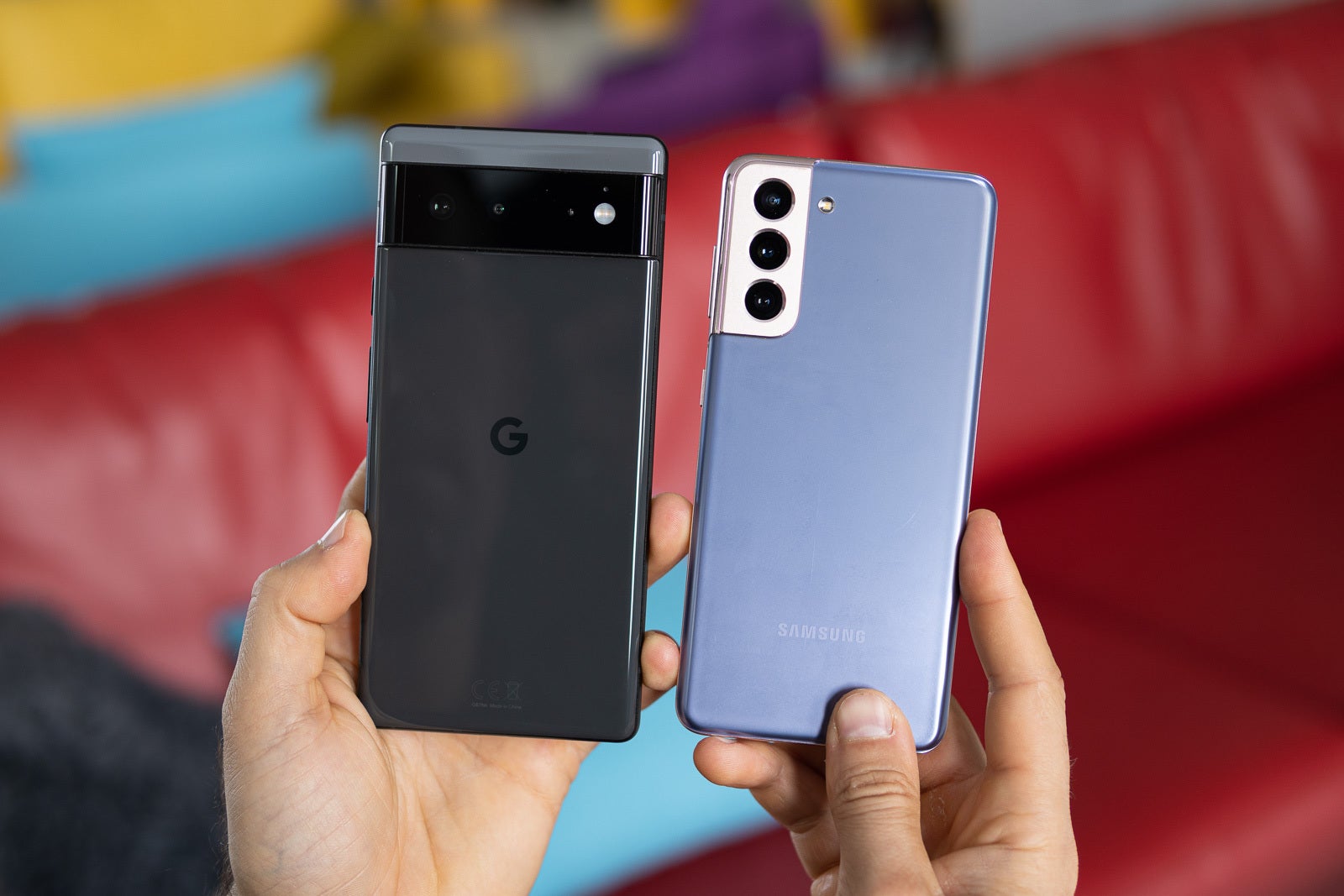 The
Pixel 6
sports three finishes: an orange-coral one, an all-black one, and a mint green one, and they are all matte. The front of the phone has slim bezels and a centered punch-hole camera.
The Galaxy S21's design is far from boring as well, and also, instantly recognizable. The phone comes in four colors: Phantom Violet, Phantom Pink, Phantom White, and Phantom Grey, and boasts an eye-catching approach to smartphone camera bump design.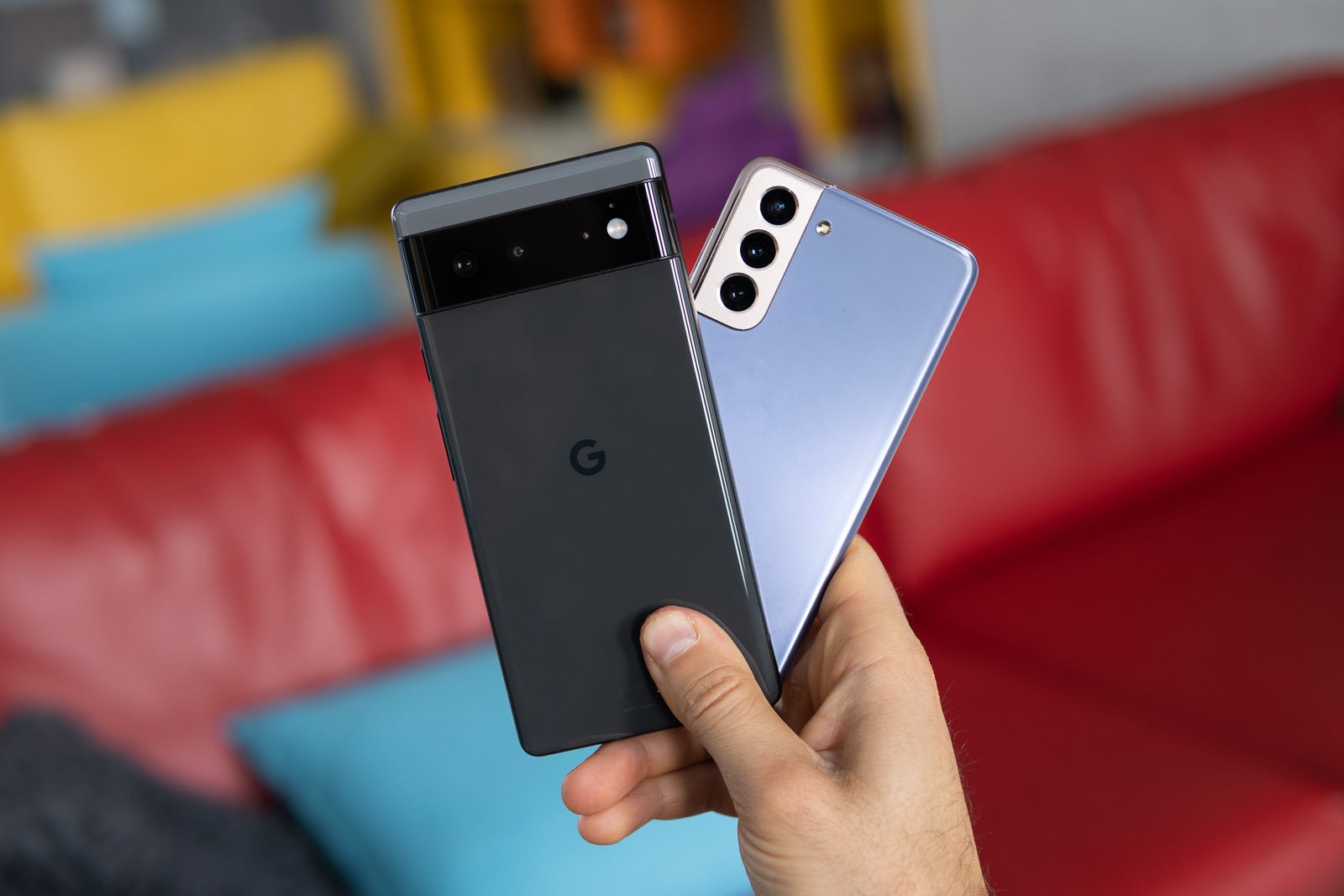 In terms of sizes, the
Pixel 6
sports a 6.4-inch display, and the overall sizes of the phone are 6.24 x 2.94 x 0.35 inches (158.6 x 74.8 x 8.9 mm). On the other hand, the Galaxy S21's size is 5.97 x 2.80 x 0.31 inches (151.7 x 71.2 x 7.9 mm), with a display size of 6.2 inches diagonally, so it's a tad smaller than the Pixel.
The
Pixel 6
comes with an under-display fingerprint sensor, something its predecessor did not have, but Galaxy phones have had that for a while.
Google Pixel 6 vs Galaxy S21: Display
The
Pixel 6
has slimmer bezels, compared to its predecessor. It sports a 6.4-inch flat AMOLED display with a 90Hz refresh rate, which ensures smooth animations and an overall great user experience.
The Galaxy, on the other hand, has a smooth 120Hz adaptive refresh rate for its beautiful 6.2-inch AMOLED screen. Its display is also flat, sports an FHD+ resolution, and offers a pleasant viewing experience with its crystal clear 424PPI pixel density.
As you can see by the numbers, the difference in display sizes for the two is not that dramatic. Another point to mention here is the refresh rates: Samsung has opted for a higher 120Hz refresh rate, while Google maintained here a 90Hz one. Despite that though, the difference between the two refresh rates is not that visible to the naked eye than, let's say, between 60 and 120Hz. That being said, both phones offer a smooth-enough scrolling experience for your daily life social media and reading.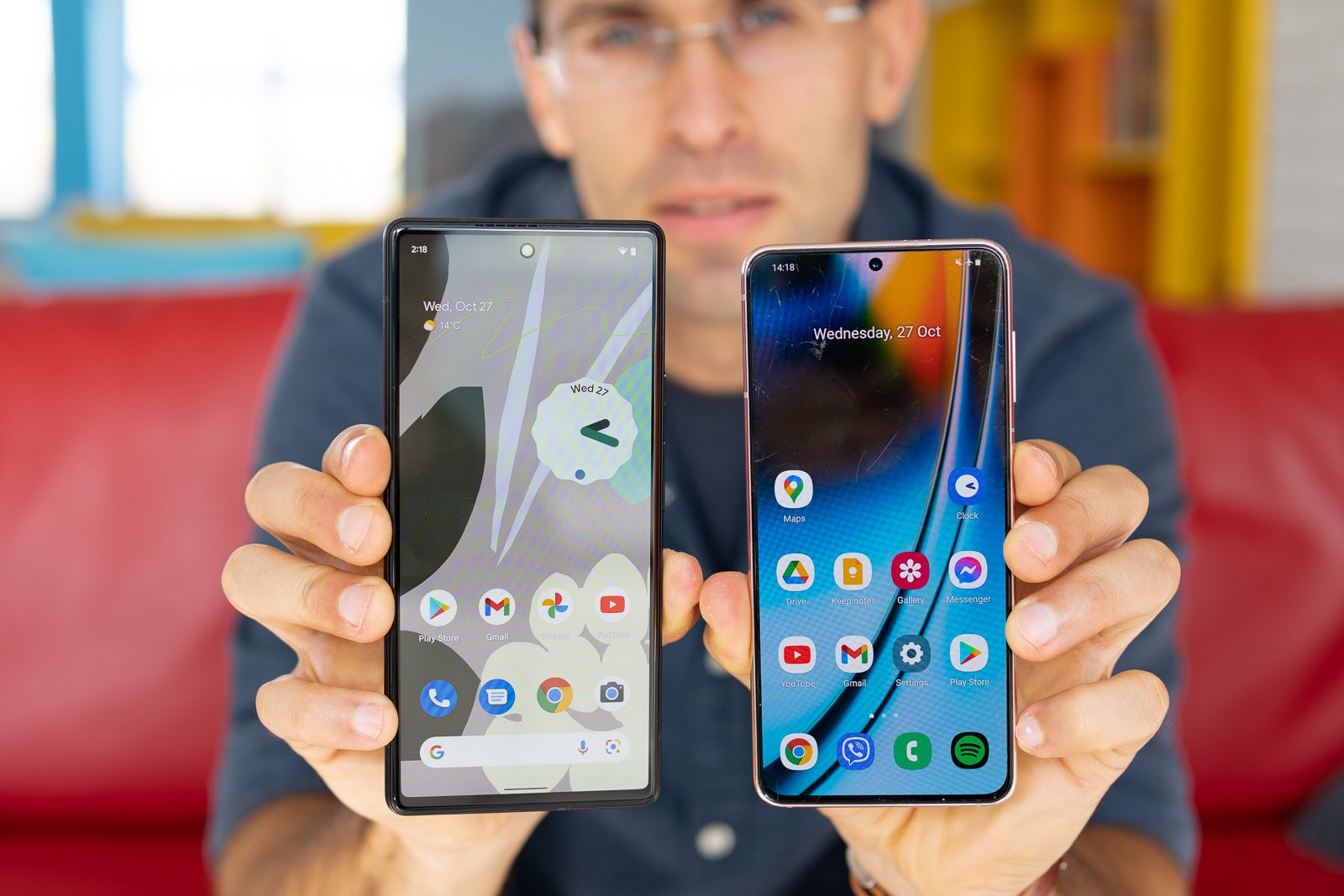 Here are the benchmarks of the
Pixel 6
vs Galaxy S21 in display quality:
Display measurements and quality


As you can see from the measurements, both phones rock great displays with accurate colors, and while the Galaxy does go a bit brighter under the direct sunlight, the displays on both phones perform similarly. However, peak brightness is quite important especially if you tend to go out a lot, so the Galaxy is a safer bet if you're an outgoing person.

Google Pixel 6 vs Galaxy S21: Hardware and performance
Here, we have a very interesting situation. Last year, we saw Google's first chipset, the Google Tensor, and its first generation equips the
Pixel 6
series.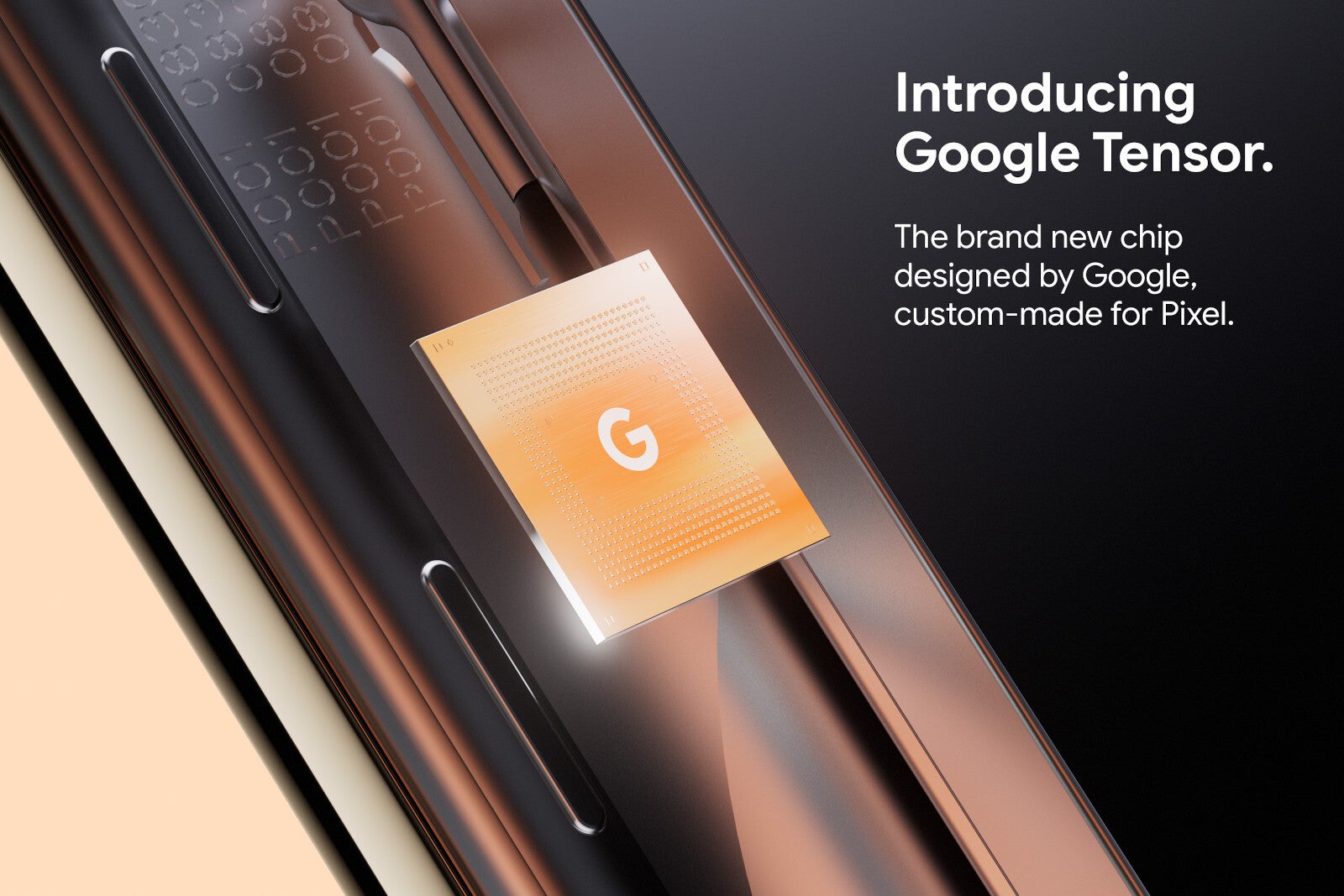 The Google Tensor chip is specifically made for Pixels
Google is aiming to bring a premium flagship experience to the
Pixel 6
series with the Tensor, but that's not all. The chip has a stellar integration with Google's AI, and because it is a first-party chip, its performing quite well.
This chip is made using a 5nm process, but as we mentioned above, its strength isn't necessarily how it performs on benchmarks, but more on the AI front. There are no stutters, and the Pixel is capable of running the top-tier 3rd part apps from the Play Store. The
Pixel 6
is a top-tier phone through and through and performs as such.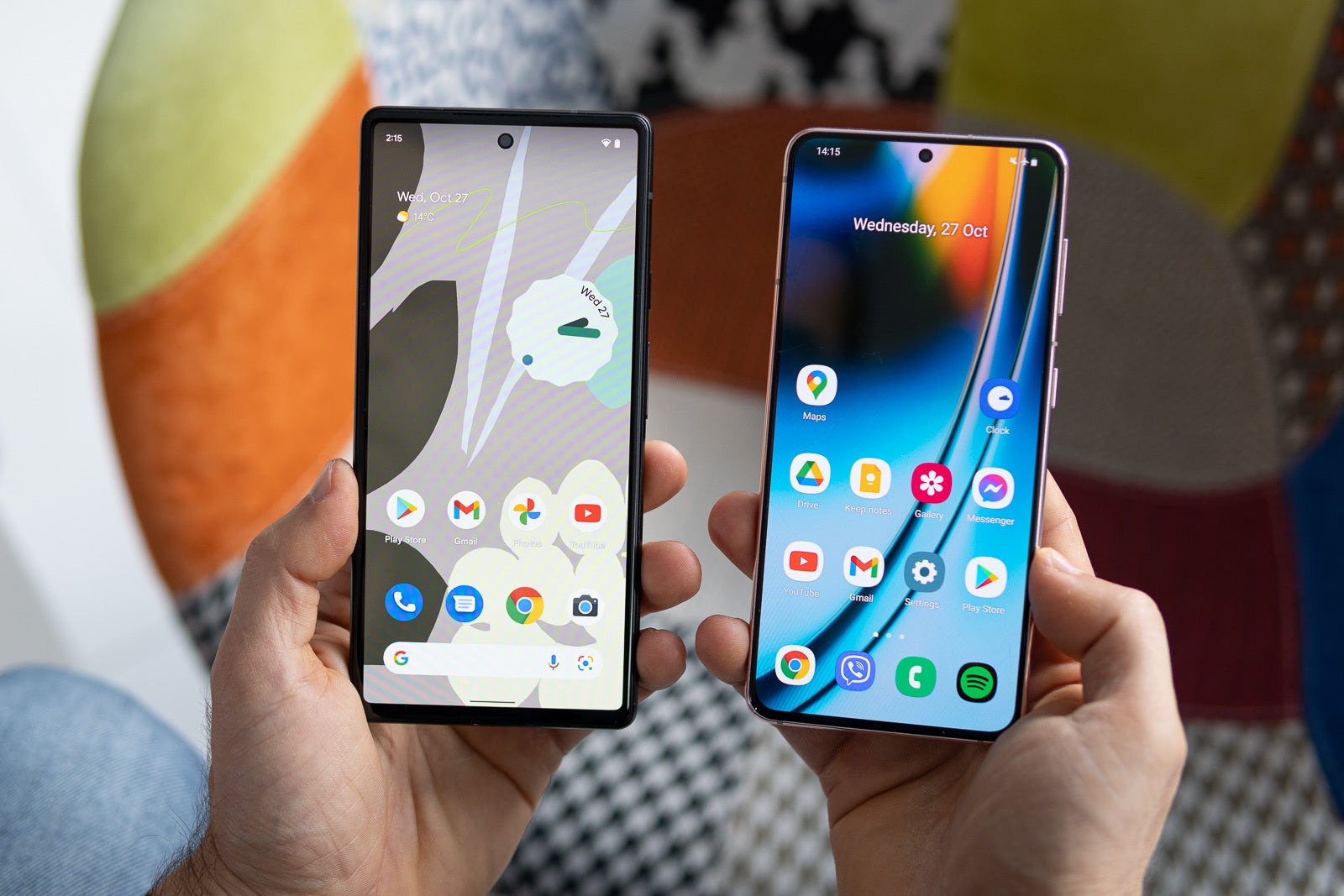 The Galaxy S21, on the other hand, features the strong and snappy Snapdragon 888 (or Exynos 2100 outside of the States and South Korea), which delivers premium, ultra-fast performance with no stutters whatsoever, capable of withstanding whatever it is you throw at it.
Here's how the
Pixel 6
and the Galaxy S21 perform in benchmarks.
Performance Benchmarks:
*Please note that we have the Exynos version of the Galaxy S21.
In terms of other specs, the
Pixel 6
comes with 8 gigs of RAM and 128/256 gigs of storage. The same as the Galaxy. Well, as many of you probably know, 8GB of RAM is plenty for everything you might need: from multitasking to gaming, so no worries here.
Google Pixel 6 vs Galaxy S21: Cameras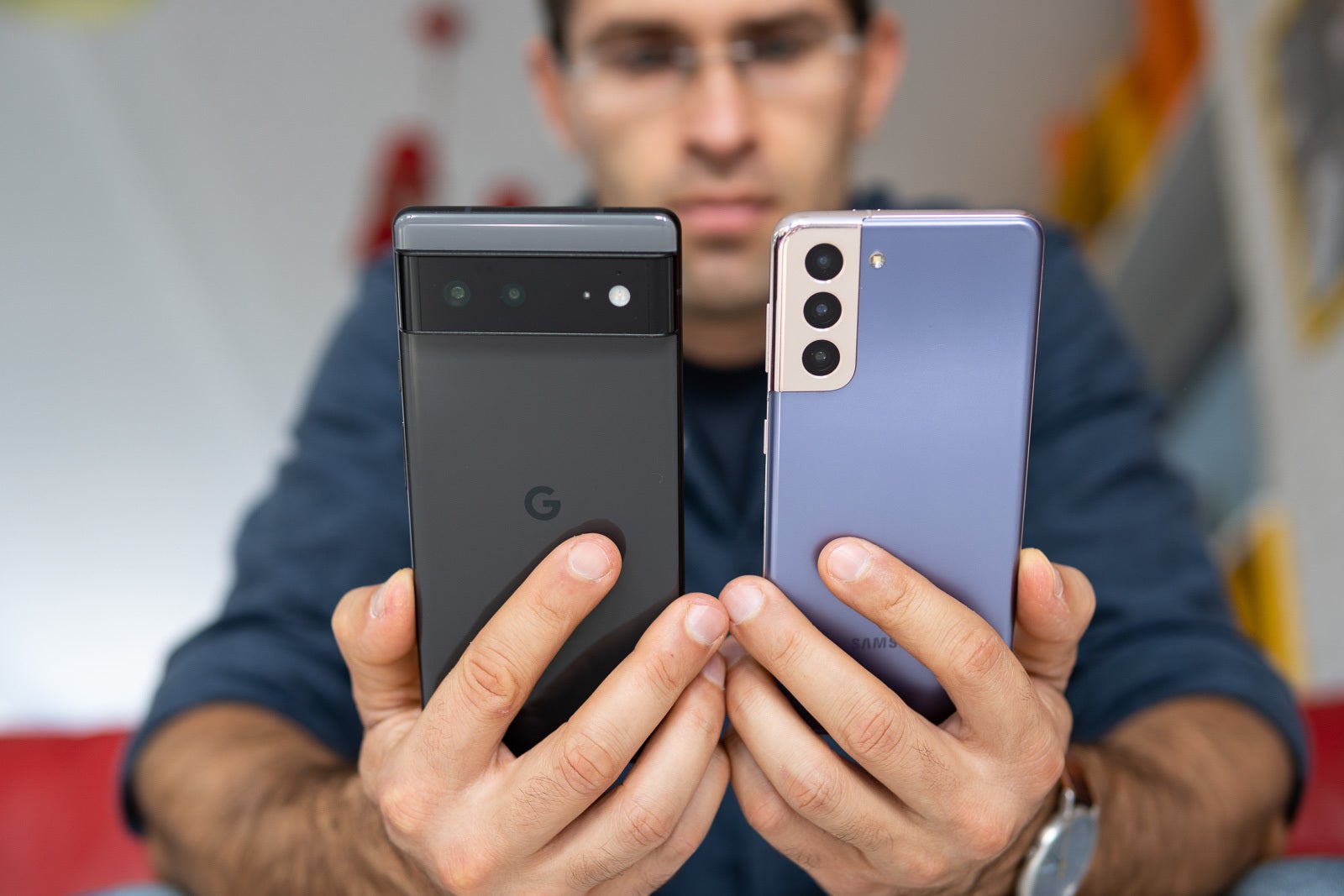 The camera department is again another aspect where these two phones are really close in performance.
Pixel phones
are famous for their gorgeous image processing capabilities, and despite usually having lower-resolution camera lenses, Pixels rarely struggle with coming up with great photos in every situation.
The
Pixel 6
's camera, coupled with the Tensor AI capabilities, features many new camera features and upgrades. The main camera rocks an upgraded 50MP sensor, complemented by a 12MP ultra-wide shooter. Yes, there's a big upgrade over Pixel 5's 12.2MP main shooter.
But the interesting thing about the
Pixel 6
's camera is not just in the specs. Actually, Google has gone out of its way to ensure the
Pixel 6
camera delivers great results with a few new software features that elevate the camera-taking experience to the next level. For example, the new Magic Eraser feature makes it possible to erase objects in the background that have been messing up your perfect photo (it works even on older photos, not just on the ones you just took), while Motion Mode brings more action to your photos.
Check out some images from Google's event, that showcase these two features: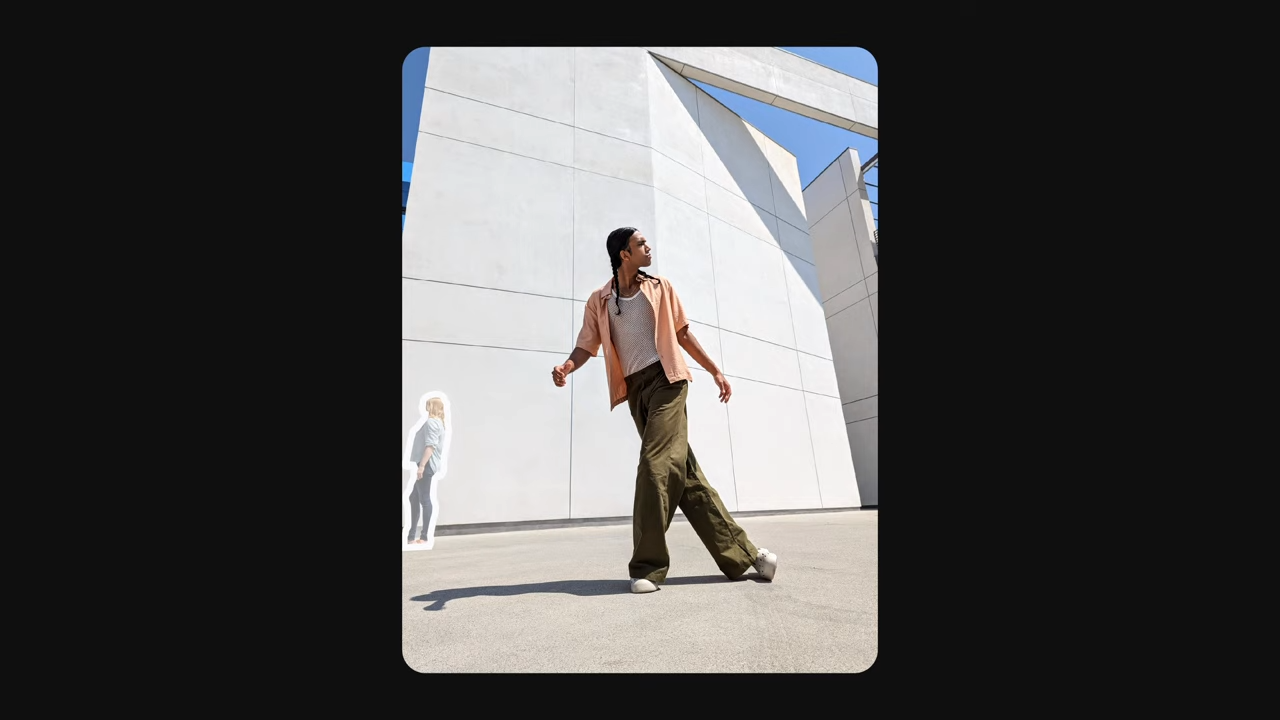 Magic Eraser can remove distractions from your photos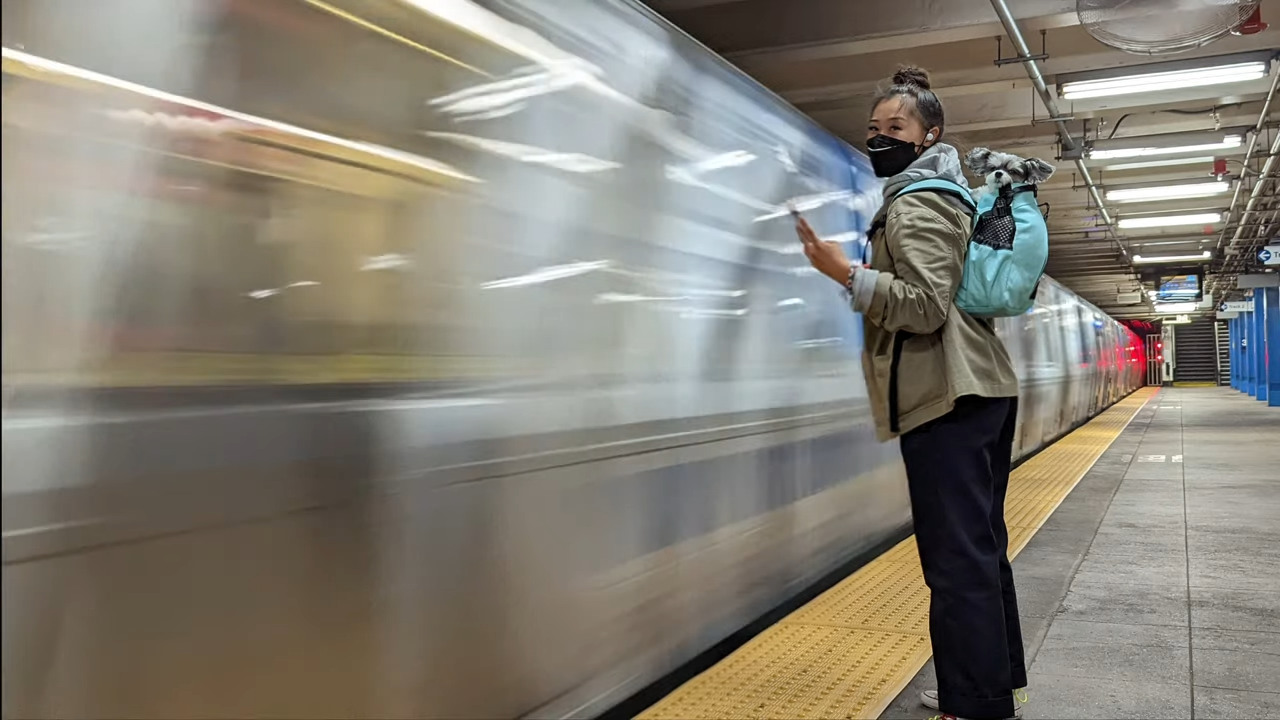 Motion Mode allows you to add motion to your photos for more attractive and interesting shots
The third feature that Google introduced with the new
Pixel 6
is called True Tone. With the help of professional photographers, the
Pixel 6
is able to render more accurately different skin tones so that photos of people from minority groups can be even more accurate and represent the natural beauty of different skin tones without making the images grey or dull, or washed out.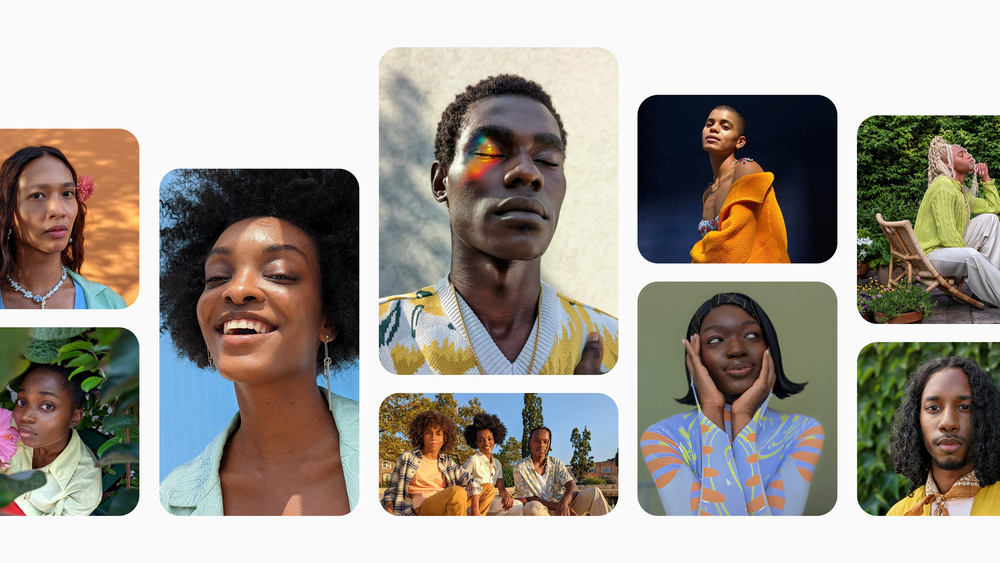 True Tone will allow for more accurate and realistic skin tones
The
Pixel 6
will use advanced AI, coupled with the Tensor chip, that will ensure better image quality as well.
On the other hand, the Galaxy S21 has a triple camera system with a main 12 MP sensor, a 64MP zoom camera (no telephoto lens though), and a 12 MP ultra-wide. The phone manages to deliver well-exposed images with great quality and a fantastic dynamic range. It is also sharp in detail.
Check out the samples we took with the
Pixel 6
and Galaxy S21.
As you can see, the photos from the Pixel appear on the warmer side, with more realistic colors and detail in every situation. The Galaxy S21 produces slightly cooler tones, but still the photos turn out good.

The situation with the zoom is a bit different:

The Galaxy S21 here clearly shows more details in the 7x zoom, and has a bit more realistic-looking colors. Overall, the zoomed-in photos with the Galaxy seem more detailed, sharp and clear.

In terms of selfies, the
Pixel 6
and the Galaxy S21 produce similar results with nice-looking skin tones and detail. However, a slight difference is visible in Portrait mode, where the
Pixel 6
separates the subject from the background in a more subtle, accurate, and realistic way:
For night samples, both phones come with a dedicated night mode. Overall, the photos look good, both phones deliver well enough job in most scenarios. The
Pixel 6
sometimes produces more details in certain images, but the Galaxy doesn't perform bad either.
Google Pixel 6 vs Galaxy S21: Battery life
The Pixel 6's battery size is 4,614mAh, again upgraded over its predecessor. The Pixel 5 and its 4,080mAh battery cell did deliver good performance for day-to-day usage. With moderate usage, it can go for a day and a half with room to spare, and it seems Google will improve on that battery performance with the
Pixel 6
.
The Galaxy S21 has a 4,000mAh battery cell, capable of lasting a day with moderate usage, so it did perform well in our battery tests, but, let's say, battery life is not its strongest selling point.
*Keep in mind we have tested only the Exynos-powered Galaxy S21.
Google Pixel 6 vs Galaxy S21: Price
From what it seems, Google has prepared the
Pixel 6
for the flagship scene, but is still keeping things affordable as the vanilla
Pixel 6
starts at $599. The first-gen Tensor processor and the new and unique design mean Google is ready to rejoin the battle in the flagship phone market.
The Galaxy S21 is slightly more expensive at $799. Of course, given the fact that both these phones are a couple years old already, prices are lower than what they retailed at, but coming across them to buy them has also become a bit harder.
Recommended Stories