Apple iPhone 12 Pro Max vs Samsung Galaxy Note 20 Ultra
78
We may earn a commission if you make a purchase from the links on this page.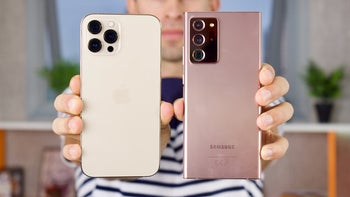 When Apple announces its iPhones, it simultaneously sets new trends and adopts features of the competition but done the Apple way. This general notion applies to the latest
iPhone 12 family
that Apple launched in 2020.
For the first time around, Apple released four different iPhones at the same time, ranging from the smallest
5.4" iPhone 12 mini
and going all the way up to the largest iPhone ever released, the 6.7"
iPhone 12 Pro Max
. That said, the
6.1" iPhone 12
and
iPhone 12 Pro
are quite intriguing on their own as well, but the biggest game in the 2020 iPhone town is the one that fully captured our attention to compare directly with the competition's finest, the
Galaxy Note 20 Ultra 5G
.
Samsung's pride and glory comes with an S Pen, high-end specs, and is probably the very best Android has to offer right now, so the iPhone 12 Pro Max vs Galaxy Note 20 Ultra is a boxing match made in heaven, and it's now time to ring the bell. Here we go!
Apple iPhone 12 Pro Max vs Galaxy Note 20 Ultra, the main specs differences
| | iPhone 12 Pro Max | Samsung Galaxy Note 20 Ultra |
| --- | --- | --- |
| Display | 6.7" Super Retina XDR, 2778 x 1284 pixels, 458ppi | 6.9" Dynamic AMOLED, 3088 x 1440 pixels, 496ppi, 120Hz |
| Dimensions | 6.33 x 3.07 x 0.29 inches (160.8 x 78.1 x 7.4 mm), 8.03 oz (228.0 g) | 6.49 x 3.04 x 0.32 inches (164.8 x 77.2 x 8.1 mm), 7.34 oz (208.0 g) |
| Processor | Apple A14 Bionic | Snapdragon 865+ / Exynos 990 |
| RAM & storage | 6 GB LPDDR5, 128/256/512GB | 12GB LPDDR5, 128GB/512GB + microSD slot |
| Camera | 12MP main + 12MP ultra-wide + 12MP 2.5X telephoto + 12MP front, LiDAR | 108MP + 12MP ultra-wide + 12MP telephoto + 10MP front, laser AF |
| Battery | 3687mAh | 4500mAh |
Apple iPhone 12 Pro Max vs Galaxy Note 20 Ultra price
Apple iPhone 12 Pro Max: $1099 (128GB), $1199 (256GB), $1399 (512GB)
Samsung Galaxy Note 20 Ultra: $1299 (128GB), $1449 (512GB)
We're soaring into high-end flagship land, so don't expect affordable pricing. The new top-end iPhone start at $1100 for the 128GB version, and charge you $1199 and $1399 for the 256 and 512GB versions, respectively, whereas the
Note 20 Ultra
will cost you $1,299 for the 128GB and $1,449 for the 512GB version.
Apple iPhone 12 Pro Max vs Galaxy Note 20 Ultra body colors and display
6.7" 60Hz OLED vs 6.9" 120Hz OLED
Blue, Graphite, Gold and Silver vs Black, Bronze and White
Ceramic Shield vs Gorilla Glass Victus display cover
Hearing that this is the first 6.7" iPhone release, you might be forgiven to worry how it would affect your palm, pocket or purse, but the 12 Pro Max is still a good deal more compact than the true juggernauts out there like the Galaxy Note 20 Ultra. It's just less comfortable to hold and handle thanks to the flat iPhone 4-esque sides, and the wider body.
If you can forgive it that, it will reward you with the best water-resistance on a general purpose phone - up to 20 feet - a well as with an improved version of the
Note 20 Ultra's Gorilla Glass Victus
, called
Ceramic Shield
which seems to be able to withstand higher drops in controlled tests.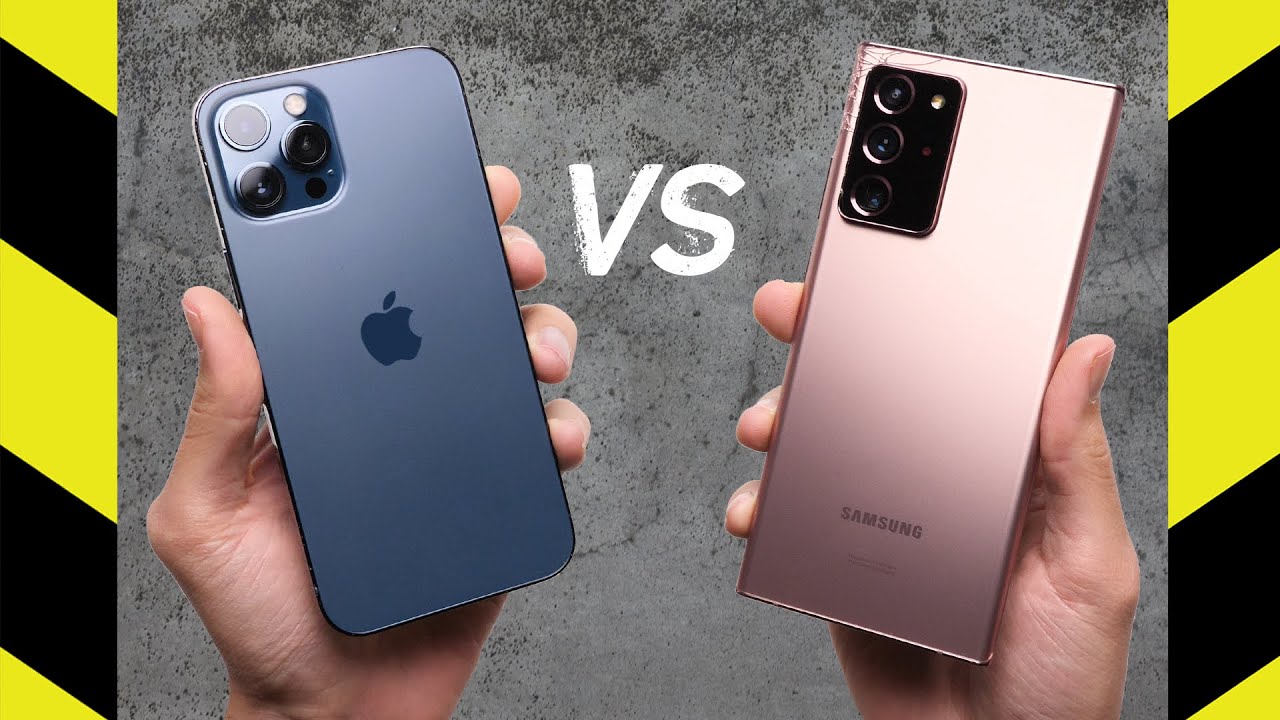 There's no high refresh rate on the iPhone 12 Pro Max, and that might be a bummer for tech geeks and regular users alike, and a missed opportunity for Apple, but that's how it is. Aside from its standard 60Hz refresh rate, the display ticks with a resolution of 2778 by 1284 pixels, which is sufficiently sharp.



At the same time, the Galaxy Note 20 Ultra is coming with a Dynamic AMOLED 120Hz display that comes along with a resolution of 1,440 by 3,088 pixels, a bit sharper than the iPhone 12 Pro Max's display. The 12 Pro Max comes out slightly on top in peak brightness and color credibility, as well as in display toughness thanks to the Ceramic Shield cover, but lacks the all-important high refresh rate so we are giving the display round to Samsung. Ultimately, though, neither device will disappoint when it comes to its overall display qualities.
Display measurements and quality
Apple iPhone 12 Pro Max vs Galaxy Note 20 Ultra specs performance
5nm Apple A14 Bionic, 6GB RAM vs Snapdragon 865+/Exynos 990, 8/12GB RAM
128GB/256GB/512GB storage
Inside the iPhone 12 Pro Max, Apple's A14 Bionic chipset that debuted on the Apple iPad Air 4 hums with superb performance thanks to the 5nm manufacturing process and optimized iOS 14. The latter also ensures better performance at a higher power efficiency, so there's that. The largest iPhone comes with 6GB RAM and either 128, 256, or 512GB storage variants.
In the meantime, the Galaxy Note 20 Ultra comes with the Qualcomm Snapdragon 865+ in the US and Korea, or Exynos 990 elsewhere. An octa-core beast, built on a 7 nm process — the 865+ is a slightly improved version of the regular Snapdragon 865 that powers the Galaxy S20 series. The Note 20 Ultra has variants with 8 GB of RAM and 12 GB of RAM, as well as storage tiers from 128 GB to 512 GB. Unfortunately, the base versions of both these phones start at "only" 128GB storage.
Apple iPhone 12 Pro Max vs Galaxy Note 20 Ultra camera comparison
Apple iPhone 12 Pro Max: 12MP main, 12MP zoom, 12MP ultra-wide; 12MP front camera
Galaxy Note 20 Ultra: 108 MP main, 12 MP zoom, 12 MP ultra-wide; 10 MP front camera
Both phones came with triple camera setups, consisting of a regular, ultra-wide angle, and telephoto snappers. The differences are in the megapixels and sensor sizes as well as the software features. It's too early to say which one has the better camera, but one thing is for sure: they'll be neck to neck. One thing that will likely be missing on either device is an advanced depth measuring sensor.
The iPhone 12 Pro Max comes with LiDAR on board, which allows for precise environment mapping and improved AR and XR capabilities. At the same time, the Galaxy Note 20 Ultra has no ToF sensor like the S20 Ultra, so it's a bit gimped in that regard and doesn't have advanced depth-sensing capabilities.
Another win exclusive for the iPhone 12 Pro Max amongst the 2020 crop is the sensor-shift image stabilization which is reportedly much better than conventional OIS solutions and would provide stable footage even when severe movement or vibrations are present. In general, the iPhone 12 Pro Max samples exhibit a tad truer colors than the warmish tones of the Note 20 Ultra, and lower exposure hence they don't overblow highlights. The dynamic range is also slightly better from the iPhone, while the Note 20 Ultra manages to capture a bit more detail which, however, is smeared by the higher default exposure settings.
The iPhone 12 Pro Max will definitely catch the attention of avid photographers and videographers with ProRAW support and is also the first smartphone to support Dolby Vision HDR capture. That means they can capture over 700 million colors, up to 60X times more than before. You also get a live preview of HDR as you shoot it, and you can edit Dolby Vision videos right in the Photos app. This is truly impressive stuff, possible thanks to the powerful A14 chip. For all else, the cameras on the Pro and Pro Max are identical: you have the new Smart HDR 3 on both, which brings out detail in faces when the sun is bright behind the person and captures better HDR shots overall. Night Mode on both also gets better: it is now available on all cameras, including the ultra-wide and front cameras.
Apple iPhone 12 Pro Max vs Galaxy Note 20 Ultra battery life and charging speeds
Apple iPhone 12 Pro Max: 3687mAh
Samsung Galaxy Note 20 Ultra: 4500mAh
20W vs 25W/45W charging
While the larger battery of the Note 20 Ultra might mislead you that it would have a significantly better battery life, we wouldn't be so quick to downplay the potential battery life of the iPhone 12 Pro Max as Apple's insane power optimizations play a very big role in the overall power efficiency of the phone. As a result, iPhone usually run circles around Android devices with larger batteries due to the tight control Apple has over both the software and hardware of its wares.
According to Apple, the 12 Pro Max battery life is identical to last year's iPhone 11 Pro Max
, but our tests returned mixed results, from surpassing it in the web browsing and scrolling test, to failing miserably at 3D game rendering with certain titles, compared to the A13 power draw on the 11 Pro Max, not to mention the Note 20 Ultra. The web browsing test is, needless to say, done at the iPhone's 60Hz display refresh, as it can't do more, which gives it a power draw advantage before all those high refresh rate peers like the Note 20 Ultra.
When it comes to charging, though, the Note 20 Ultra beats the 12 Pro Max by a mile, or, should we say, by 50 minutes, which is an eternity in this day and age. To add insult to injury, the 12 Pro Max doesn't even ship with charger in the box, so you'll have to shell out for Apple's 20W charger, if you don't have an older 18W one lying around that will charge the 12 Pro Max for the same almost two hours time as the new 20W brick. Bummer, as Samsung manages to pump the giant batteries for almost half that time with the stock 25W charger that is in the Note 20 Ultra box.
To recap, with the better screen, commensurate camera quality or battery endurance, and the S Pen support, the Note 20 Ultra seems to warrant its higher price but if you are firmly entrenched in the Apple ecosystem, the 12 Pro Max is the best you can get there, and iOS users are unlikely to switch for the aforementioned Note 20 Ultra virtues before the 12 Pro Max alone.
Recommended Stories