The best iPhone 12 Pro Max deals - updated September 2022
8
We may earn a commission if you make a purchase from the links on this page.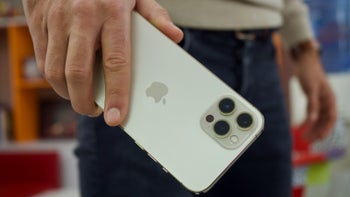 The iPhone 12 Pro Max is still one powerful beast of a phone, even though Apple already has released two successors, the
iPhone 13 Pro Max
and the
iPhone 14 Pro Max
. The release of the iPhone 12 series was quite remarkable in 2020 – the new phone brought 5G and an updated design that brings back memories to the iPhone 4 era.
Those who are not fully satisfied with 5.4"-6.1" iPhones would definitely want to go for the iPhone 12 Pro Max. Not only does it have a big and gorgeous screen, but it also has a large camera sensor for great photos.
What are the best deals on the iPhone 12 Pro Max live right now? Big retailers often offer discounts on the iPhone 12 Pro Max. In this article, we have the best deals out there on the iPhone 12 Pro Max in September, 2022.
Keep in mind the iPhone 12 Pro and Pro Max are no longer sold on Apple.com and major carriers, but retailers still have them.
iPhone 12 Pro Max deals on Verizon, T-Mobile, AT&T, and unlocked

Currently, Apple no longer sells the iPhone 12 Pro Max. Retailers still have it, but at the time of writing, this model is out of stock at the carriers. However, deals change often and stocks do get replenished, especially on retailers, so you might not have to wait for long before you can get your hands on the iPhone 12 Pro Max.
Right now, the phone is available at Best Buy for T-Mobile and Verizon. Only the 256GB is available now, but this storage option is best for those of you who take a lot of pictures and videos.

Alternatively, you can decide to go for a renewed model. Those are used iPhones that have been refurbished to work and look like new, and usually cost a bit less than an all-new model. One such option is at Amazon right now. The 256GB version (fully unlocked) is now available at the retailer:
If, after all, you decide to go for another iPhone, the newer iPhone 13 Pro Max has some great deals at carriers and retailers right now, so feel free to check out what the current deals are here:
Additionally, there are awesome deals on the iPhone 14 Pro Max as well. Check them here:
Are iPhone 12 Pro Max deals worth it?
As you can see, right now, iPhone 12 Pro Max deals are present only at Best Buy, for the carriers Verizon and T-Mobile. At Best Buy, you get the benefit of 6 months free Apple Music - this is not the most generous deal out there, but it's definitely good if you're looking for the iPhone 12 Pro Max right now, given the fact that many retailers and carriers don't have stock at all. On the other hand, going for a renewed model (if that's your thing though) can be a more worthwhile deal right now.

Also, don't forget to check out our iPhone 12 Pro Max cases and screen protectors selections once you have gotten your new iPhone 12 Pro Max: