The best iPhone 12 Pro Max deals in 2023
8
We may earn a commission if you make a purchase from the links on this page.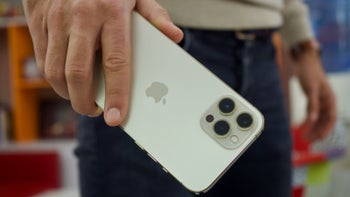 It's 2023, and the 2020 iPhone 12 Pro Max now has two successors, the
iPhone 13 Pro Max
and the
iPhone 14 Pro Max
. Despite that, the flagship phone still remains a powerhouse today (and will be supported with software updates until at least 2025, so it will remain fast and furious for at least two more years). The iPhone 12 Pro Max comes with a big and beautiful screen, a large camera sensor for great photos, and a very capable processor (and 5G support!).
However, Apple's discontinued the 12 Pro Max now, and because of this, it is becoming harder to find where to buy it. In this article, we have where to buy the 12 Pro Max and deals that you can get on it, to help you with your search.
If, after all, you decide to go for a newer iPhone, theiPhone 13 Pro Max or the 14 Pro Max regularly have great offers at carriers and retailers, so feel free to check out what the current deals on them are here:
iPhone 12 Pro Max deals and where to buy right now: Walmart, Best Buy, Amazon

Currently, Apple no longer sells the iPhone 12 Pro Max. Retailers still have it, but at the time of writing, this model is out of stock at the carriers (understandably, given the fact it's been discontinued from Apple for two years already) Here's where to buy the iPhone 12 Pro Max at the moment:
Right now, the phone is available at Best Buy as a pre-owned model, no longer available as new - but you can get it for a discounted price. Walmart also has the iPhone 12 Pro Max available with a generous discount (but keep in mind that it is carrier-locked and pre-paid).
Alternatively, you can decide to go for a renewed model:
Renewed iPhones are used iPhones that have been refurbished to work and look like new, and usually cost a bit less than an all-new model. One such option is available at Amazon right now.

Are iPhone 12 Pro Max deals worth it?
As you can see, right now, the iPhone 12 Pro Max phones is available only at Best Buy and Walmart, and as renewed from Amazon. At Best Buy, you get the benefit of 6 months free Apple Music - this is not the most generous deal out there, but it's definitely good if you're looking for the iPhone 12 Pro Max right now, given the fact that many retailers and carriers don't have stock at all.
Walmart's offers are also quite good, but keep in mind those are carrier-locked (find the 12 Pro Max for your carrier). On the other hand, going for a renewed model (if that's your thing though) can be a more worthwhile deal right now - especially as the model is now discounted at Amazon.

Also, don't forget to check out our iPhone 12 Pro Max cases and screen protectors selections once you have gotten your new iPhone 12 Pro Max:
Recommended Stories