The best Apple Watch you can buy in 2023 [Buyer's Guide]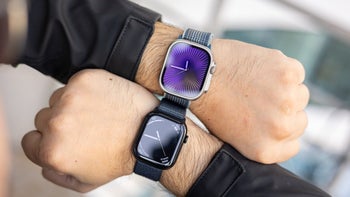 The Apple Watch is among the most popular smartwatches in recent years, despite its relatively high price tag. And there's a reason for this popularity! Not only that the Apple Watch seamlessly syncs with your iPhone, but it also brings a plethora of health-related features, ECG, safety features like fall detection, and other health emergency protections, and
even saves lives
.
You may be interested in getting an Apple Watch, either for its health and fitness features, or just to complete your
Apple
ecosystem with a wearable. Of course, you might also be wondering which Apple Watch is the best one to get right now. If that's the case, you've come to the right place! This article is just for you – we have explored all the available Apple Watch options and we have listed the best Apple Watch in every category for 2023.
Best Apple Watch in 2023, summarized list:
To get the best Apple Watch for you, you need to be aware of your specific needs. Do you really want to just monitor your workouts? Or, do you need a big battery life and a rugged design for hiking and other sporty activities? Do you have a set budget? Or do you just want the most recent high-quality Apple Watch that has all the features in 2023? Read on to find out which is the best Apple Watch for you!

Apple Watch Ultra – best battery life
Best battery life, rugged and epic smartwatch, the Ultimate Apple Watch right now

Although the Apple Watch Ultra is the best smartwatch that Apple has made so far. Despite it being geared towards active people that dive or hike, it could also be useful for regular Apple Watch users. The Apple Watch Ultra comes with a more rugged design, has a new customizable Action button and, what's most important, a better battery life than the other Apple Watches.
The Apple Watch Ultra has a lot of additional sensor openings all around the case. It features a titanium case and sapphire glass, making it feel sturdy. Although you won't forget it's there, we found the Apple Watch Ultra comfortable to wear every day and even during sleep for sleep tracking.
On top of that, it has a super-bright and large screen that can fit so much content. Watch faces look stunning on the Apple Watch Ultra's OLED display, and the viewing angles are great. By the way, this one is by far the biggest Apple Watch among Apple Watch models, featuring a 49mm case, so do keep that in mind if you have a smaller wrist. And of course, it comes with an Always-On display just like other new Apple Watch models.

Apple Watch Series 8 – the premium Apple Watch right now

The premium Apple Watch right now
Apple's newest Apple Watch model – the Apple Watch Series 8 – is now here. It brings a similar design to its predecessor with a few new features, like Crash Detection and temperature monitoring (which is for now reserved for women's health, and more notably, ovulation tracking). Sleep monitoring has evolved with the new watchOS 9 and can now track REM periods, Core and Deep sleep, and times awake.
Of course, the Series 8 also sports all the health and fitness-related benefits that the previous Apple Watch model (the Series 7) introduced, such as blood oxygen monitoring, a variety of workouts, and ECG. It also sports the big Always-on display that came with the Series 7. Check out our detailed comparison on the
Apple Watch Series 7 vs the Apple Watch Series 8
.
Battery life is an area where Apple didn't bring any hardware improvements this year; however, the new watchOS 9 brings Low Power mode (this is available for all Apple watch models supporting the new OS), which improves on this point the Series 8's performance.

The Series 7 is available in aluminum or stainless steel case variants.

Apple Watch SE

2 – a budget-friendly but still very capable Apple Watch model


An affordable and capable Apple Watch




The Apple Watch SE 2 was announced alongside the Apple Watch 8, and it brings the same gorgeous design and some of its features to more people, thanks to its more affordable price. Of course, some of the most advanced Series 7 and Series 8 features, such as Blood Oxygen Monitoring, are not present here. The Watch SE doesn't support Always-on display by the way. However, it has the new Crash Detection feature.

The Watch SE also has sleep monitoring, such as the Apple Watch Series 7 and 8, and safety features such as fall detection and emergency SOS.

The main thing about the Watch SE 2 is its price. For the cellular model (that you can make calls with without having your iPhone around) you pay $150 less than if you go for the Series 8 cellular model. The pricing is the Apple Watch SE's strongest selling point, making it on the list of the best Apple Watches in terms of affordability.

The Apple Watch SE is available only with an aluminum case.





Read more:

Apple Watch SE 2 review
Apple Watch Series 3

An entry-level Apple Watch model

The Apple Watch Series 3 is the cheapest Apple Watch on this list. It currently starts at $199, but the thing with it is that it's quite limited in terms of features. However, if you want the best Apple Watch but you're on a tight budget, this one will not disappoint you.
Like the two previous options, the Series 3 is waterproof and you can safely swim with it, you have a variety of workout metrics, you can listen to Apple Music from it, text people, and receive calls. These features are quite basic and present on all the smartwatches here, but the thing with the Series 3 is that it is very cheap for an Apple Watch. It doesn't have an Always-On display though, this is reserved for the premium Apple Watch Series 6.
Another important thing to mention about the Series 3: it is available only with GPS connectivity and it doesn't have a Cellular option. This means you will have to have your iPhone with you if you want to take calls with your Apple Watch.
The Apple Watch Series 3 is available only with aluminum as the case material, just like the Apple Watch SE.
Apple Watch Series 5: great value for price

Great features, the right price
The Apple Watch Series 5 has been discontinued from the Apple Store, but it can be found on other retailers, and it is the premium Apple Watch from 2019. The Series 5 is an older Apple Watch but nevertheless, quite a good smartwatch sporting the premium features from 2019 at a more reasonable price nowadays.
It comes with an Always-On Retina display, updated location features, and navigation, the Compass app can help you accurately track heading, incline, latitude, longitude, and current elevation. It also features International Emergency Calling and support for the new watchOS 8, which brings new Watch faces, Sleep tracking, and the redesigned Activity app, that is now called Fitness, with workouts and metrics.
The Apple Watch Series 5 is available in GPS only and Cellular connectivity options and has aluminum, stainless steel, ceramic, and titanium case variants with the titanium one being the most expensive of the four.
What is the best Apple Watch right now?
The Apple Watch with the most features right now is the Apple Watch Ultra. However, keep in mind that it has a more rugged design and is generally oriented towards people with more of an athletic focus. Otherwise, for the regular user, the best Apple Watch right now is the Apple Watch Series 8. It is the most recent premium model that Apple released in the fall of 2022. It has a variety of workouts, Crash Detection, advanced sleep monitoring and many other features. If you're on a budget though, the best budget Apple Watch is the Apple Watch SE 2, which has the new Crash Detection feature just like the 8, fall detection, and a variety of workouts.

What to consider when choosing an Apple Watch
Size and style:

There is a small and a large Apple Watch.
The Apple Watch Series 8, 7, SE, and 6, 5, 4 have a 41mm and 45mm version. And the Apple Watch Series 3 has a 38 and 42mm option.
Take into account your wrist size and whether you'll be comfortable wearing a big watch or a small one.
Styles include a casual look, sports look, Nike edition and a premium Hermès style.
Cellular or GPS-only:

Some Apple Watch models have cellular connectivity, allowing you to make calls and send texts without your iPhone nearby. Others are GPS-only and rely on your iPhone for connectivity.
Fitness and health features:

Consider what fitness and health features are important to you, whether it is as heart rate monitoring, sleep tracking, oxygen saturation monitoring, and water resistance for a swim in a pool.
Price

: Apple Watches can range in price from around $250 to over $1,000 (for some special editions) depending on the model, features, and style.
Case material and band:

Apple Watches come with an Aluminum, Stainless Steel, or Titanium case.
There are differences between the materials: the strongest and more expensive one being the titanium.
Also, the watch band materials include Leather, Stainless Steel, and Silicone.
Take into account what material for the band you'll be comfortable with, as you will (supposedly) be wearing this watch all-day long (or even at night).
Battery life:

Consider how long the battery lasts on a single charge, and whether that fits your needs. Also check the charging speeds, as a quick-top up before bed can make the difference between having info on your sleep in the morning or a black watch screen.