The big day has arrived for Samsung's entire Galaxy S10 family (aaaaand it's gone)
3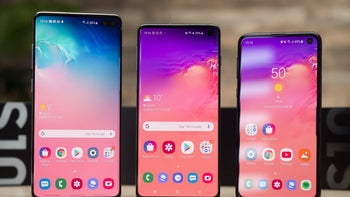 UPDATE
: Just in case you were wondering what's taking Samsung so long to expand the Android 11 promotion for the Galaxy S10 lineup around the world or why US carriers seem to be late adopting these particular updates, it turns out that
a number of very serious bugs have led to a rollout halt
in countries where said rollouts started earlier this month.
As of January 21, no new Galaxy S10, S10+, S10e, and S10 5G owners appear to be able to download and install the OTA goodie pack, while those who've managed to make the jump to the latest Android version are advised to tread carefully.
Although Samsung has yet to issue any kind of official statement confirming and detailing the problems that prompted the undoubtedly temporary freeze in updating operations, these seem to range from camera blur to device overheating, horrible battery drain, general system instability, various missing features, and even security flaws, according to a number of
Reddit reports
from
frustrated users
. On the bright side, there are also people who claim they haven't noticed any bugs after grabbing the OS promotion.
Either way, we're fairly certain a new update is currently in the pipeline, and it may even bring the
3.1 iteration of Samsung's proprietary UI
to the table to help patch things up. Our original story follows below.
##
As awesome of a job as Samsung has managed to do in
kicking off the Android 11 update
for its newest and greatest flagships and then
spreading the love
to several older and humbler smartphones late last year, one extremely popular high-end handset family was still left waiting until 2021.
Predictably enough, it didn't take long for the main Galaxy S10
trio
quartet to follow in the footsteps of
the surprising S10 Lite
, at least
in countries like Switzerland
and
Austria
. Curiously enough, we've only been able to confirm the Android 11-based One UI 3.0 rollout is underway for the "regular" S10 model, as well as the S10e and S10 5G variants by the time of publication, but that's obviously set to change in a matter of hours (tops).
Galaxy S10+
users in the two aforementioned European markets, as well as all across the old continent, should get the over-the-air update momentarily, while owners of all four S10-series devices on US carriers, for instance, may need to continue playing the waiting game for up to a few more weeks.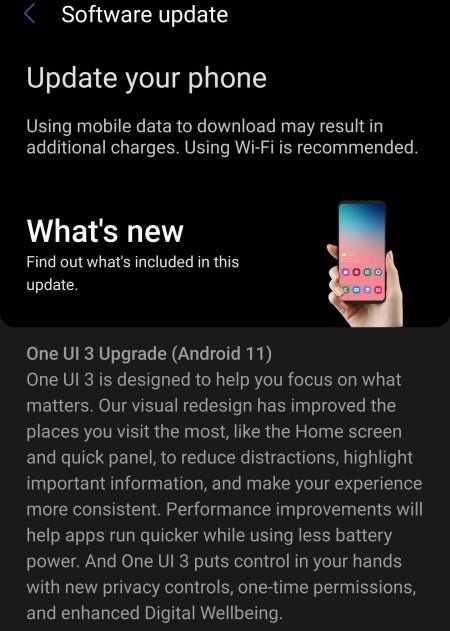 Of course,
if history is any indication
, at least one of the nation's top wireless service providers could well pull off a swift optimization process and closely follow today's global delivery start. Unfortunately, that doesn't seem to have been the case for the slightly newer
Galaxy Note 10 lineup
, which began receiving its official collection of fresh software goodies internationally around a week ago, with no movement reported on the US carrier front since then.
Don't forget to free up north of 2 gigs of internal storage space in anticipation of this latest major OTA rollout and, just to be on the safe side of things, back up all your precious personal data in the unlikely case
Samsung
will botch up the update. That doesn't happen very often, but it
can
happen, so it's wise to be prepared for anything.