Nokia might be preparing not one, but two 5G smartphones, including a 'value flagship'
6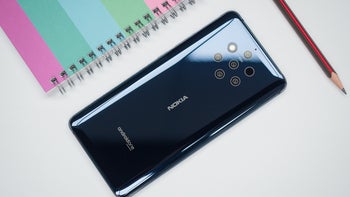 The lack of 5G support is the least of the Nokia 9 PureView's problems
Even though
5G network deployment
continues to
move at a snail's pace
, market analysts expect the groundbreaking new cellular technology to make a difference for global smartphone sales
as early as the second half of 2019
. It's thus no wonder that essentially every single major vendor out there (with the
notable exception of Apple
) is widely predicted to have at least one 5G-enabled mobile device available by the end of the year.
Following in the footsteps of a high-end
Nokia 9 PureView
that's still pretty fresh (and
rough around the edges
), the resurrected Finnish brand is
reportedly eyeing
a late Q3 or early Q4 announcement for a 5G flagship with a Snapdragon 855 processor under the hood. This more or less aligns with
a rumor from a number of months ago
that called for such a device to be unveiled in August. We're now expecting a slightly more distant launch (sometime in September or October), but the general idea stands - a Nokia-branded mobile powerhouse with 5G speeds is likely to hit stores in time for the holidays. Probably not US stores, though.
Perhaps the juiciest, most unexpected part of the latest report trying to anticipate Nokia's smartphone release plans this year concerns a so-called "5G value flagship." There aren't many of those on the market right now, but eventually, mid-range handsets are obviously expected to adopt 5G connectivity as well. Apparently, Nokia wants to be a pioneer in that particular field, possibly preparing a follow-up model for the
Snapdragon 710-powered 8.1
with a mystery Snapdragon 7xx SoC in tow and 5G support.
This could be named Nokia 8.2 and break cover alongside the brand's first 5G flagship (Nokia 10?) at some point in the fall. We wouldn't hold our breath for US availability as far as this model is concerned either, but you obviously never know.