Apple will launch a 5G iPhone in 2021, and only in China says one analyst
14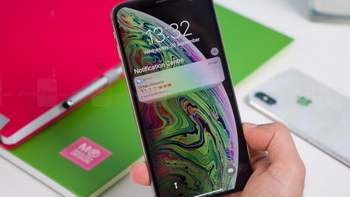 Lynx Equity Strategies is a research firm that sells its services to funds that are heavy into technology stocks. So naturally, one of the companies that it follows religiously is Apple, which will report its fiscal second-quarter earnings tomorrow (Tuesday) after the stock markets close in the U.S. According to Seeking Alpha, a Lynx analyst doesn't have what you would call a bullish report on the company.
Despite the wholesale and retail price cuts made by Apple in China, and the global trade-in deal that discounted the price of the 2018 iPhones, Lynx says that Apple has had trouble selling out its inventory. As a result, the research firm now sees Apple selling 173 million iPhones for the year, an 8% cut from its previous estimate of 188 million units. At the same time, the firm cut its forecast of 2019 iPhone revenue by 10.1% from $143.5 billion to $129 billion. Apple no longer releases the number of iPhones it sells each quarter but does announce the change in revenue generated from such sales. For example, during the fiscal first quarter covering October through December,
Apple said that the iPhone brought in 15% less revenue
than what the company collected during the fiscal first quarter of 2018.
And Lynx also isn't terribly impressed by the recent settlement that gives Apple access to Qualcomm's 5G modems. While many in the industry now expect Apple to launch a 5G iPhone next year, the equity research outfit still doesn't see a 5G iPhone being unveiled until 2021. And even then, Lynx believes that such a device will be offered only in China; the firm says that U.S. interest in 5G is focused on enterprise and smart city apps rather than consumer devices. That might be a stretch since it appears that Apple was desperate to find a source of 5G modem chips. With several Android handsets expected to be released this year with support for the next-generation of wireless connectivity, Apple surely doesn't want to fall too far behind. And if Apple was thinking about waiting until 2021 to sell a 5G iPhone only in China, why did it push Intel so hard to develop its component in time for a 2020 launch? Lastly, Lynx says that Apple's shares should be valued at $185. Considering that Apple is currently trading at about $205, the research firm believes that the iPhone manufacturer is currently overvalued by nearly 10%.
Consumers are now buying lower-priced Apple iPhone models

Yahoo notes that other analysts have various opinions. Raymond James' Chris Caso says that he believes that Apple sold 42 million iPhones from January through March, down 19.6% year over year. He also sees consumers moving toward the lower end of the iPhone spectrum with the Average Selling Price (ASP) dropping 15% year-over-year by the end of the calendar year. This, he says, will hurt margins and even Apple Care revenue. Angelo Zino, an analyst with Investment research firm CFRA, says that consumers are waiting longer before upgrading to a new iPhone. This, she says, will end once the 5G iPhone is launched, something she expects to see next year. Bank of America analyst Wamsi Mohan has a different focus. He is looking at the company's margins. He says that despite the cuts in iPhone pricing, things would be looking up for Apple if it can report gross margins of 37%-38%. Bank of America has a target of $220 on Apple's shares, a 7% pop from the current price. UBS analyst Timothy Arcuri is among the most positive on Apple. He agrees that consumers are purchasing lower-priced iPhone models and expects that the ASP for the second fiscal quarter will be $687, down from the $745 reported last year. Still, he remains bullish on the stock and sees Apple rising 15% to $235.