I'm excited about LG's next flagship and I don't really know why
19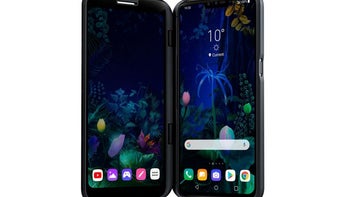 It's no big secret that LG's mobile division is not performing as well as it used to, falling from third place in global shipments less than a decade ago all the way down to eight in
Q2 2019
. Making matters worse, the company's modest 8 million quarterly smartphone sales generated an
operating loss of close to $270 million
, which is just the latest in a long line of poor financial results reported over the last few years.
Naturally, many different contributing factors to LG Mobile's seemingly endless financial and creative crisis can be identified, from
sluggish software updates
to a largely uncompetitive
mid-range product portfolio
and a confusing high-end lineup that tends to constantly overpromise and underdeliver. At the risk of being disappointed yet again, I'm (cautiously) excited about what's coming to the IFA trade show in Berlin on September 6 and I almost can't explain why. But let's try to figure this one out together.
The Dual Screen "technology" is rudimentary but practical
LG made the key selling point of its next flagship clear right off the bat,
starting the IFA 2019 teasing games
with a short video focused on a specific improvement enabled by the "Dual Screen" accessory. If you don't know what that is, I can't really blame you, as the feature made its debut last spring on the
V50 ThinQ 5G
but only in select Asian and European markets.
The hope is the Dual Screen attachment will expand to the US sometime this fall, pairing to the
V60 ThinQ
(or V50S ThinQ or whatever) to add a second display into the equation. To be perfectly clear, we're essentially talking about a folio case here with a built-in screen enhancing the multitasking experience in a number of ways. LG boldly dubbed this its "next-gen folding design", which attracted quite a bit of mockery at first. But if Samsung doesn't pull off a perfect
Galaxy Fold re-release
, its domestic arch-rival may have the last laugh.
I'm not saying this is something that will rival true foldable devices in the long run, but for the time being, it's practical and functional. It's not very seamless, of course, and it didn't look particularly polished back in February, but LG is likely to vastly improve the multitasking experience and expand the use cases of the Dual Screen accessory. Right now, the backup display can take on gamepad duties, as well as enhance your video calls with a full dual view, offer larger photo previews, and perhaps most usefully, allow you to open two apps side by side for maximum productivity.
We already know
LG has "omnitasking" browsing optimizations
in the pipeline, which is just a fancy way of saying the company's next high-end phones plan to take online multitasking to the next level. It's also a fairly vague way of teasing Dual Screen upgrades, but maybe LG has finally learned from past mistakes and experiments and for once we'll get a polished, powerful, aggressively priced new device... or two.
LG V20 nostalgia kicking in
Speaking of experiments, LG also appeared to suggest about a month ago that a third display... of sorts would be supported by the mysterious handset set to be made official at IFA 2019. We're talking about a small external screen that could be used to show alerts, notifications, and other simple stuff (like the time and date) without you having to flip open the Dual Screen case.
If the concept of a "ticker" display sounds familiar, that might be because 2015's
LG V10
and 2016's
V20
integrated such a secondary screen at the top of the normal, full-sized panel. For some reason, the
V30
scrapped that feature instead of trying to further refine it. While the
LG V20
was by no means a perfect phone, that secondary display helped it stand out from the pack, showing great potential.
It's never too late to right a wrong, and it's certainly not a bad idea to reuse a technology that was starting to work three years ago to stand out in a crowded and competitive 2019 high-end scene.
Following up the G8 ThinQ wouldn't be so bad
Even though we're just a few days away from LG's IFA event, it's not quite clear what will be on display at the company's Berlin booth. A vastly upgraded
V60 ThinQ
is a possibility, but so is a minimally
revised "S" version of the V50 ThinQ 5G
. And let's not forget about the
G8X ThinQ
, which was
rumored at one point
as a marginal upgrade of the
G8 ThinQ
. For its part, LG has hinted at multiple Dual Screen announcements, so you shouldn't rule out the possibility of seeing both a
G8X ThinQ
and V50S ThinQ released this fall.
As usual, it sounds like LG could be unnecessarily complicating its flagship lineup (not to mention those dreadful names), but if you ask me, a G8X ThinQ with a refined design and Dual Screen support would be perfect. Okay, perhaps "perfect" is a bit of an exaggeration. Let's just say the
G8 ThinQ
did many things right, getting a bad rap for its uninspired looks and a few failed experiments of its own (the Air Motion gesture controls were terribly gimmicky and impractical).
If real, the LG G8X ThinQ needs to start at a competitive price point, lose the gimmicks, go big on memory and storage, as well as work with the Dual Screen attachment to provide a functional and affordable alternative for those prohibitive and
deeply flawed foldable devices
from the competition. The same pretty much goes for the V50S ThinQ or V60 ThinQ, which also need to fix the carrier and 5G connectivity exclusivity mistake of the V50 ThinQ. Having a 5G-enabled variant is okay, but for the love of all that is holy, please understand that 4G-only flagships have to exist as long as
5G networks are not ubiquitous
.