Samsung gets its mojo back and Huawei defies the odds in Q2 2019 smartphone market reports
23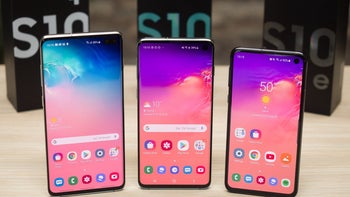 Strategy Analytics
,
Counterpoint Research
, and
Canalys
have all released their latest global smartphone market reports, and although the three totals differ slightly, the overarching trend is the same. Shipments are down for the
seventh consecutive quarter
, and it remains unclear when or if the mobile industry will be able to bounce back to a healthy growth pace.
While
5G adoption
is widely expected to boost demand for high-end devices... eventually,
Huawei's uncertain situation
and Apple's inability to crack two key value-focused markets are likely to hold the industry back in the short run. Then again, Samsung's mid-range product lineup overhaul seems to have come at an opportune time, helping the market leader take advantage of the political tensions that essentially
blocked Huawei's path to the number one spot
in the global vendor ranks.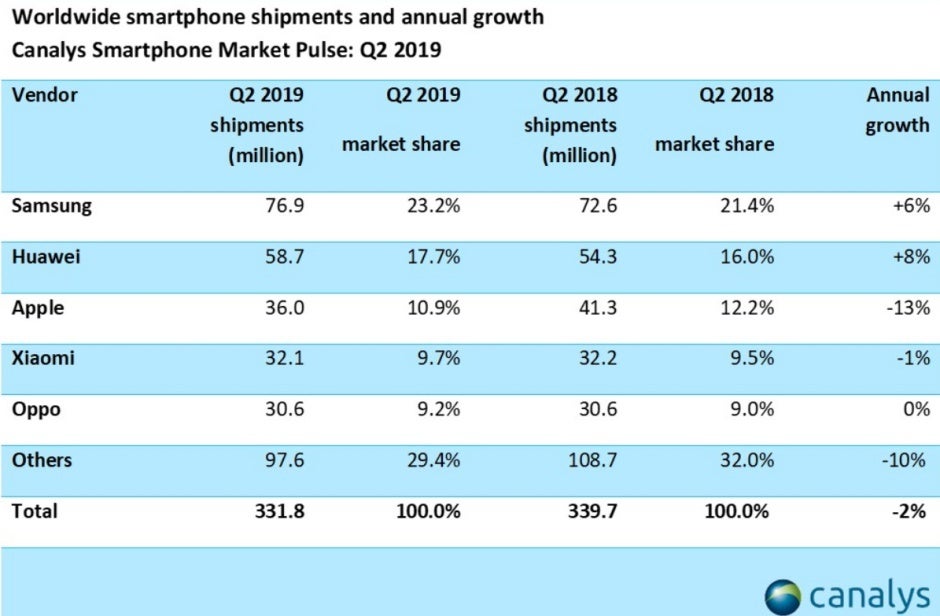 All in all, the year's second calendar quarter saw between 331.8 and 360 million smartphones shipped worldwide, down from a Q2 2018 count that ranged from 339.7 to 364.3 million units. That marks a year-on-year decline of between 1.2 and 2.6 percent, which is obviously not ideal but actually represents an improvement from drops reported over the last year or so. Otherwise put, the global market is slowly stabilizing, and at least according to Strategy Analytics, the "outlook for the second half of this year is improving."
No changes in the top five vendors
It's definitely not shocking to see Samsung, Huawei, and Apple ranked in the exact same order as the previous couple of quarters, but while there's no stopping the recent free fall of
iPhone sales
, the two largest handset manufacturers have both been able to boost their Q2 figures. In first place, Samsung gained 6 or 7 percent compared to 2018, jumping to more than 76 million unit shipments and a market share of between 21 and 23 percent, with Huawei up as much as 8 percent to almost 59 million sales and a 17 percent or so slice of the pie.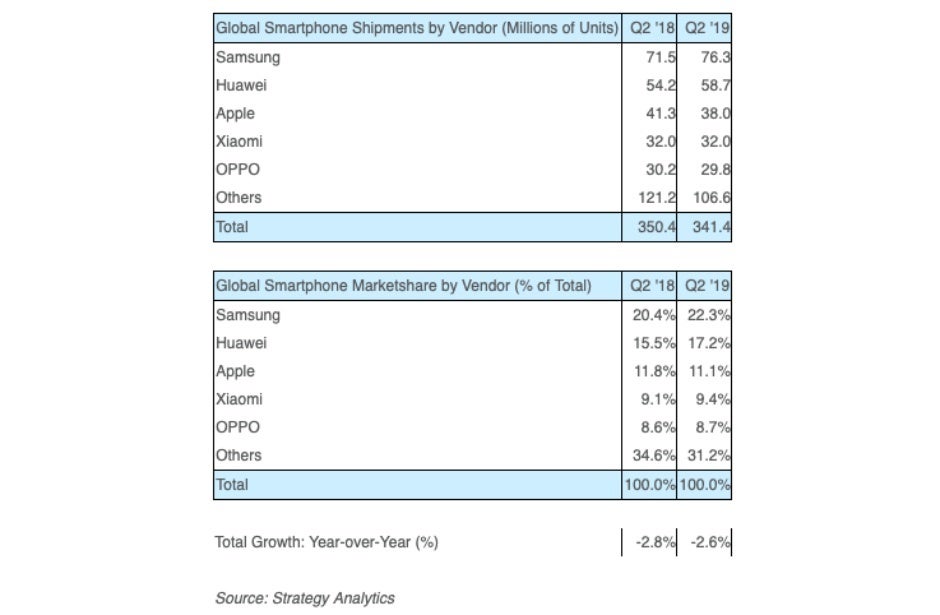 It's perhaps needless to point out once again that Huawei managed to defy all odds and bleak predictions thanks largely to its
strong domestic performance
, but Counterpoint Research warns the "real effect" of the US sanctions will be reflected in the company's Q3 results. Hence, you can expect Samsung to grow even further, supported by a wider than ever flagship portfolio and a revised Galaxy A family that's already proving a smash hit.
Meanwhile, Apple was by far the worst performer among the big five players, declining from around 12 to a little over 10 percent share, and although iPhone "sales trends" are improving, you shouldn't expect a spectacular reversal of fortunes anytime soon. In fourth and fifth place, Xiaomi and Oppo more or less remained in the same position as last year, facing intensifying domestic competition and/or international slowdowns.
A top ten newcomer and another big drop for an industry veteran
While companies like Sony, OnePlus, or Google are nowhere to be found in Counterpoint's top ten list for Q2 2019, Realme incredibly managed to sell 4.7 million smartphones this quarter with virtually no Western presence. The 2018-founded brand is owned by Chinese tech giant BBK, along with Oppo, Vivo, and OnePlus, which technically makes this wildly successful group the world's second-largest smartphone manufacturer, well ahead of Huawei.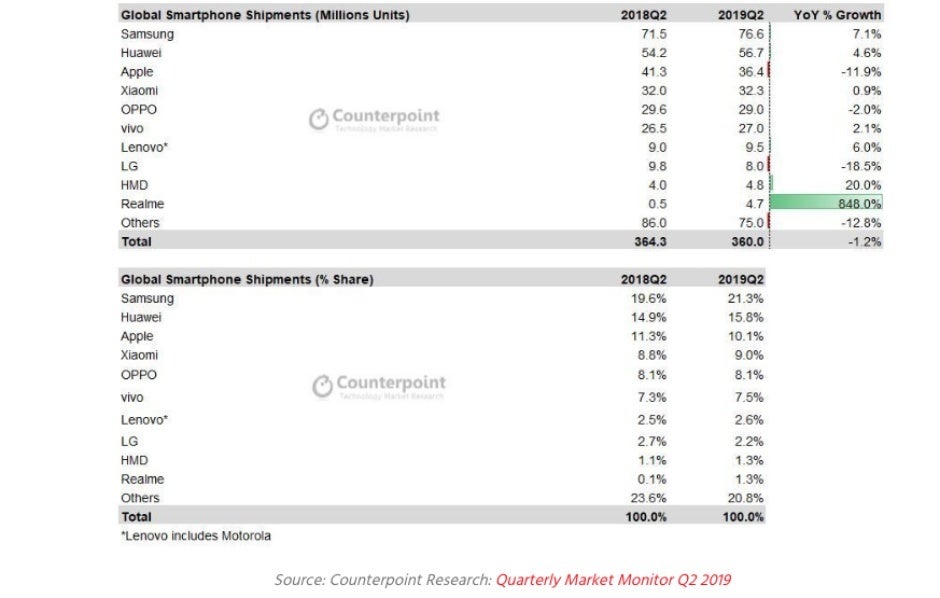 Analyzed individually, Realme was narrowly surpassed by exclusive Nokia brand licensee HMD, while LG sat in eight place after falling no less than 18.5 percent from 9.8 to 8 million units, enough for a modest 2.2 percent market share. In seventh place, Lenovo continues to ride
Motorola's US rebound
, growing from 9 to 9.5 million global sales, with Vivo looking like the same thorn in sister brand Oppo's side as always, at 27 million unit shipments, or just 2 mil behind the world's fifth largest player.