Huawei Mate 10 Pro won't be released via AT&T, new report claims
9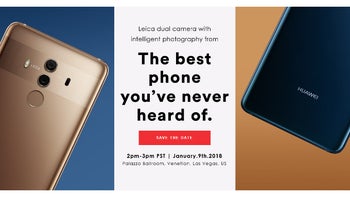 Tomorrow, January 9, Huawei will officially announce itsMate 10 Pro smartphone in the US,during a CES 2018 press event. Previous reports had it that the Mate 10 Pro wouldbe released via AT&T, in an effort from Huawei to make its brandbetter known stateside, where the company's phones are far from being popular. However,The Wall Street Journal is now reporting that, according to people familiarwith the matter, AT&T is backing away from the deal, and won't sell any Huawei handsets (or at least not in the near future).
The Wall Street Journal mentions that, at the moment, AT&T'sreasons for not going through with the deal are unknown. Anyway, in the lightof this, the "Best phone you've never heard of" tagline that Huaweiis using for the Mate 10 Pro's upcoming announcement makes more sense. It wouldbe relatively easy for Huawei to promote the device with the help of a major UScarrier like AT&T, but, without its support, things will be far morecomplicated.
It remains to be seen if the Mate 10 Pro will be sold onlyunlocked, or if Huawei finds another carrier partner for the phone's US release.
source: The Wall Street Journal