This might be your last chance to get Google's Pixel 6 Pro at a huge discount (new and unlocked)
We may earn a commission if you make a purchase from the links on this page.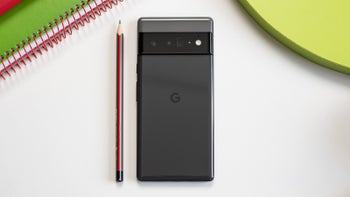 Released back in the fall of 2021 with a first-of-its-kind Google Tensor processor, exceptional cameras, and an outstanding screen in tow, the 6.7-inch
Pixel 6 Pro
was predictably discontinued along its little non-Pro brother when the
Pixel 7
and
Pixel 7 Pro
saw daylight a few months ago.
Of course, a number of third-party retailers and major carriers continued to sell the Pixel 6 and 6 Pro in the US even after their manufacturer pulled the plug, and the coolest thing about that was
the killer deals
and
hefty discounts
that started coming from every direction around the holidays.
While the discounting spree is not technically over yet, many retailers are beginning to run out of inventory for both 2021-released
Google
mobile powerhouses, so it may be a good idea to claim your bargain before it's too late.
The jumbo-sized
Pixel 6 Pro
, for one, is priced at $569.99 brand-new at Woot for the next nine days (or while supplies last), comfortably beating
the latest Amazon offer
for the same handset, which technically comes from a third-party seller that's not quite as reputable and as experienced as the aforementioned Amazon daughter company.
Amazon itself no longer appears to sell the Pixel 6 Pro (or Pixel 6) directly, and the same goes for Best Buy, which seems to have even run out of "open box" stock after holding a number of amazing sales in recent weeks.
There's one more option you could consider as an alternative to Woot, as Amazon (in partnership with another third-party seller) currently charges less than 350 bucks (!!!) for "renewed" Pixel 6 Pro units backed by a 90-day guarantee allowing you to get a refund or device replacement within three months of your purchase if you have any functionality issue whatsoever.
But unless you have some sort of history with Woot, our advice is to cough up the 570 bucks and get yourself a new, unused, unopened, and undamaged Google Pixel 6 Pro with "fully" unlocked 5G support and a standard 1-year manufacturer warranty.
The phone is not perfect by any measure (especially
from a software stability standpoint
), but the cameras alone make this bad boy worth considering. The battery life is also pretty great (by flagship standards), and in case you're wondering, the Pixel 7 Pro is not
that
much better to make the 6 Pro seem outdated and undeserving of your attention.