The best tablets to buy in 2022 and Cyber Monday deals
We may earn a commission if you make a purchase from the links on this page.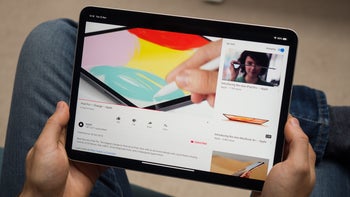 Android tablets have been a bit on their backfoot over the past few years, letting the iPad reign supreme in that market segment. But it seems we are seeing a revival in 2022. There are plenty of midrange slates to pick from, yes, but Samsung also came back strong with a robust
Galaxy Tab S8
line, Google has committed to releasing a Pixel tablet some time in early 2023, and talks of a Nothing Tablet (1) are growing.
But still... the iPad is hard to take on, especially now that we have so much choice between the cheapest iPad 9th gen and the gargantuan iPad Pro 12.9.
Yes, it's hectic out there, but let's try to make sense of it. What are the best tablets out there right now?
The best Cyber Monday deals available now
No matter which side you're on, the list below surely contains a tablet that would serve you well.
Apple iPad Pro 11- and 12.9-inch (2021)
Apple just launched a new pair of iPad Pros — same designs, they still come in 11-inch and 12.9-inch flavors. Same screens, too, meaning only the iPad Pro 12.9 gets the mini-LED technology still. The difference? The new ones have the M2 chip.
Here's a hot take — there isn't much reason to go for the M2 models. The iPad Pros from 2021 are still at the top of their game. And, with
Black Friday
coming up soon, followed by
Cyber Monday
— it will be an amazing time to shop for these models, as we predict they will see some price drops.
Treat yourself and use the saved cash towards a Magic Keyboard. Thank us later!
Samsung Galaxy Tab S8 Ultra
With the most powerful hardware for Android, Samsung's own OneUI interface, an included S Pen, and the ability to sync with Windows and your other Samsung devices, these tablets are built for work and multi-tasking — split screen, multiple windows, quick app switching. DeX mode specifically makes it feel like an Android-powered laptop, as it switches to a desktop UI. Slap a Bluetooth keyboard on and you are ready to write articles on the go — I rarely go out of DeX mode when using a Samsung tablet. It's just so convenient.
If the Tab S8 Ultra is a bit expensive, do check out the more affordable Tab S8 Plus and Tab S8. They don't cut out on a lot of features and are great for both work and play!
The Galaxy Tab S8+ is slightly smaller than the S8 Ultra, which means slightly more manageable. Plus, it's not crazy expensive, though it's still up there at $700. Still, you get the S Pen, DeX, beautiful 120 Hz AMOLED screen, stereo speakers, and powerful internals. It's probably the best balance between price, size, and features in the Tab S8 trio.
The smallest Galaxy Tab S8 is still a pretty good canvas with its 11-inch screen. Plus, its $500 price-tag makes it the sanest choice. The corners cut here involve the screen — it's still 120 Hz, but it's not an LCD panel. Fine, it's still great to look at, plus the S8 still comes with the S Pen, stereo speakers, and same processor as the big boys. Great way to save money and still get the best of the core Samsung experience.
iPad Air (2022)
Real talk — the iPad Pro is overkill. Both in terms of features and price. If you want that high-productivity Apple tablet, but aren't willing to pay as much for an iPad Pro 11 or iPad Pro 12.9, check out the
iPad Air 5th gen
(a.k.a. 2022 model).
It has the same form factor as the iPad Pro 11, so it fits the Apple Magic Keyboard. It also supports the 2nd gen Apple Pencil. And, now, it's powered by the same M1 chip that hums inside the chassis of the iPad Pro models!
Where does it cut corners? For one, the iPad Air 5 does not have quad speakers — it has two drivers, which are positioned on its top and bottom (Apple calls this "landscape stereo"). Basically, this is fine, because you will get true stereo whenever your tablet is in landscape mode (95% of the time you are watching media on it). The bigger setback is the screen refresh rate — the iPad Air 5's screen caps off at 60 Hz. You can definitely feel this if you are downgrading from a Pro, but you should otherwise be fine with the Air.
But hey, the iPad Air is available in a bunch of fun colors, unlike the "boring" Pro models, and it starts at $600, leaving some budget for an Apple Pencil or Magic Keyboard, if you are eyeing those.
Apple iPad mini (2021)
The iPad mini 6 has been launched and, boy, it's a cute little monster. For all intents and purposes, it's an iPad Air 4th gen, but smaller. Touch ID in the power button, landscape stereo speakers, an all-screen redesign, and support for Apple Pencil gen 2. No Magic Keyboard or Smart Keyboard support here — this tablet is too small for that.
Starting at $500 it's a bit steep and definitely a device geared only towards those that are looking for a compact tablet experience. Bargain hunters should look elsewhere.
Samsung Galaxy Tab S7 series
If you want a 5G-connected tablet with an S Pen, the Galaxy Tab S7 FE is a good budget solution. It's got a massive screen, though — admittedly — it's a 60 Hz LCD, instead of a vibrant OLED. But it's not a bad screen in its own right, just not the best.

Otherwise, you get a Snapdragon 750G and starts at 64 GB of storage and 4 GB RAM, though we would suggest at least upgrading to the 128 GB + 6 GB tier for the modern world.

It's a great tablet that comes packaged with the awesome S Pen, so it provides a functional canvas for anyone who wishes to dabble with drawing on an Android device.
The Galaxy Tab S7+ is getting long in the tooth now and its hardware is certainly not top-tier. However, it has a huge 12.6" OLED screen that is sharp and vibrant. Nowadays, it can be found discounted down to about $500-$600, and it's a great choice if you want a multimedia device and also something to draw on. Has quad speakers, comes with an S Pen, and it features Samsung's split-screen and multi-app multitasking, plus the DeX desktop mode. Might be worth a look!
Amazon Fire HD 10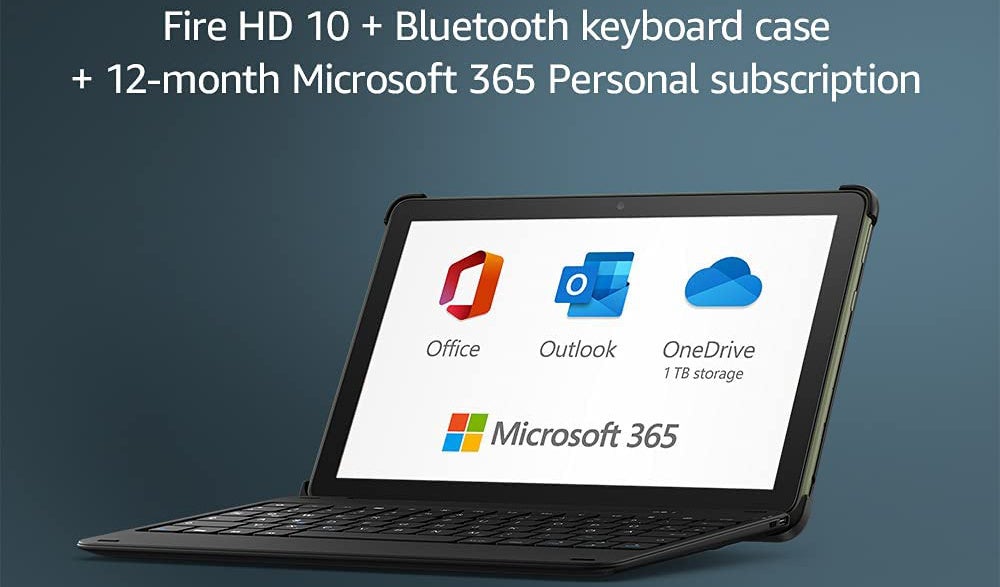 "Best" can mean a lot of things and while Amazon's Fire HD 10 can't keep up with the rest of the tablets on this list when it comes to specs, it has them all beat in one department: the price. Costing between 2 and 5 times less than the rest, the Fire HD 10 offers incredible value.
Amazon even confidently bundles the new Fire HD 10 with a Bluetooth keyboard, giving you a tablet/laptop hybrid at an incredibly low price.
While the Fire HD 10 is technically an Android tablet, it's running on a heavily modified Amazon-centered software and doesn't come with Google's Play Store (there are ways to install it, if you insist). Still, Amazon's own app store offers enough variety to fit the relatively narrow focus of this tablet, so for most people this won't be an issue. The new Fire HD 10 tablet comes with 12 months of Microsoft 365, too, as to underline its new aim at productivity features.
Keep in mind that the Amazon Fire HD tablets have historically not had the best performance. They are great as simple slates to enjoy some media on, but don't expect a laptop replacement unit here.
Microsoft Surface Pro 8
Microsoft recently launched the new Surface Pro tablets to coincide with their Windows 11 release. And yeah, the philosophy is still the same — Surface Pro tablets are meant to deliver a full desktop experience in the hybrid form factor.
Certain configurations of the Surface Pro 8 even meet the standards for the Intel Evo platform and it's clear that Microsoft is still going all-out with the Surfaces. They are marketed strictly for professionals and gaming is probably not the best idea for them. But getting the job done on the go? Certainly!
Microsoft Surface Pro 7
The Surface Pro 7 served proudly as Microsoft's top-tier tablet for two years. Now, it has been retired to the back row as a midrange pick, lighter and more portable than the Surface Pro 8. Considering these tablets are treated more like PCs than actual tablets, you will probably do fine if you pick up a 2019 Surface Pro 7 — its hardware is not top-of-the-line, but still fresh.
It also supports a free upgrade to Windows 11, so you have that.
Conclusion
So, what are the best tablets around? Apple's iPads are pretty hard to beat as they offer tons of value on every price tier. Well, maybe the large Pros are past a certain price-value threshold.
Samsung's Galaxy Tab S8 line was a pleasant surprise this year — it has been a while since any Android manufacturer took a hard swing at making an actual premium tablet experience, and we do believe that it can draw customers away from the iPad.
And Microsoft's Surface Pro line has a devout following of fans who simply enjoy having a full-fledged Windows on a portable slab. Admittedly, it's a device for the ones that are feeling a bit more adventurous, but it has definitely proven its worth as a professional's work tool.