Best iPhone 12 mini cases
9
We may earn a commission if you make a purchase from the links on this page.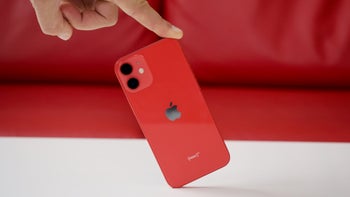 Apple
fulfilled your compact cravings with the new
iPhone 12 mini
model, unveiled on
October 13th
. It is a powerful little phone, and you can check out how it stacks against the current Apple compact champion - the
iPhone SE (2020)
. The hype around the
iPhone 12
mini is absolutely massive, and many people already own this little gem. The next step in your iPhone journey is to find a nice case for your new tiny miracle and make sure that it'll last.
The online space is packed full of
iPhone 12
mini cases, so you can embark on that journey right now. Take care of your iPhone 12 mini's protection and check out our list of iPhone 12 mini cases.
iPhone 12 mini cases:
Best iPhone 12 mini MagSafe cases
This year Apple changed things up a bit and introduced MagSafe for iPhones. The magnets around the
wireless charging
bobbin help better align wireless chargers for maximum efficiency. But there's another angle to the MagSafe technology - the magnets allow you to snap all sorts of accessories to your phone that have nothing to do with charging. From cases to credit-card holders, Apple is opening the door to a whole new ecosystem of accessories. It's time to check the official MagSafe cases for the iPhone 12 mini.
iPhone 12 mini Clear Case with MagSafe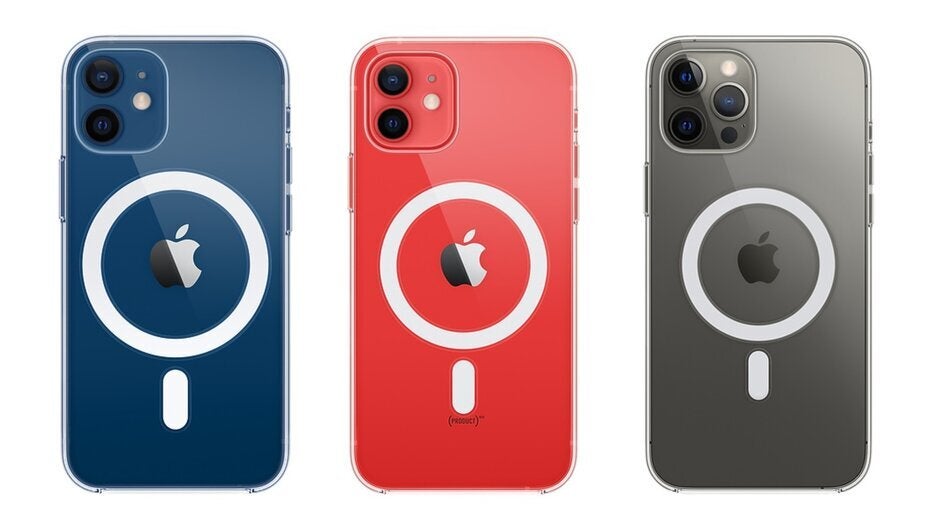 The Clear Case isn't quite clear this year, which might not be everyone's cup of tea. MagSafe needs something to stick to and you can't have a transparent metal, apparently. The next best thing is a metal ring embedded in the case. There's also an oval-shaped metal element, perhaps to help with orientation if other accessories are attached to the phone. Either way, the new cases aren't as clean-looking as before but they offer quite distinctive looks.
Best iPhone 12 mini thin cases
totallee Super Thin iPhone 12 mini case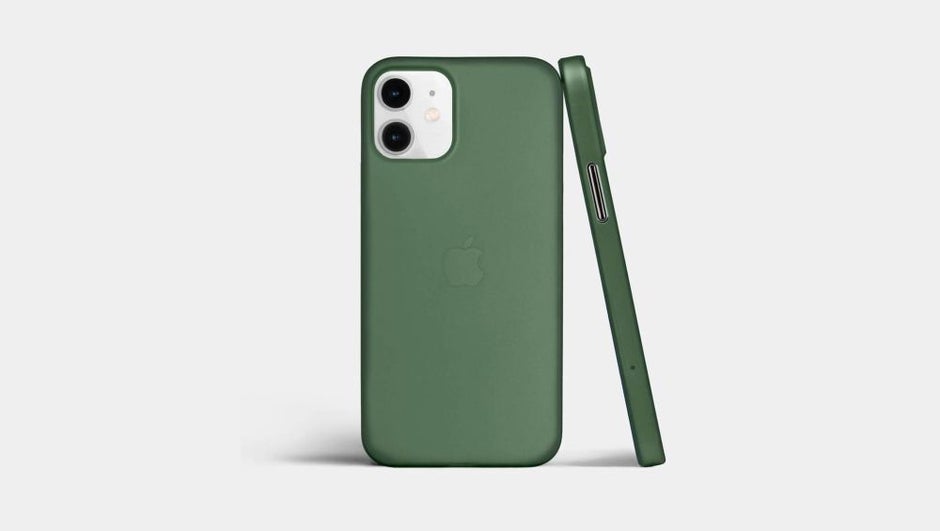 The totallee Super Thin iPhone 12 mini case will let you show off your new little gem. This case is extremely thin - just 0.02" for the Matte version and 0.03" for the transparent one. Don't get fooled, though. You'll get enough protection and at the same time keep things clean and stylish - the totallee case is free of brand names and logos.
It comes in four great colors - Frosted Clear, Frosted Black, Navy Blue, and Green. The green one is really classy but if you want to show your iPhone 12 mini real color, you can always go with the transparent option. This case has a raised lip to protect the camera and display of the device, weighs just 0.1 oz, and works flawlessly with wireless chargers.
PEEL Ultra Thin iPhone 12 Mini Case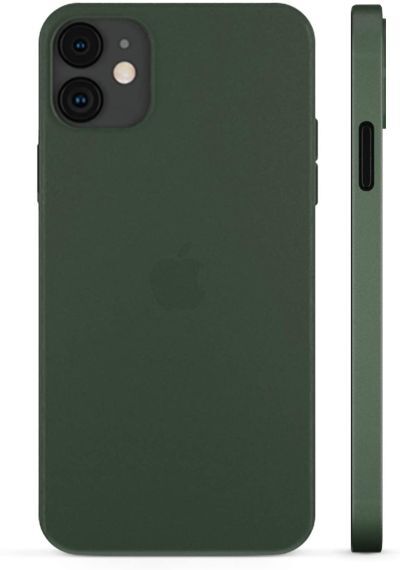 PEEL sort of pioneered iPhone ultra thin cases. The thickness of this particular model is just 0.01 inches. If you get this case, your iPhone 12 mini will stay compact - with no added bulk. At the same time, there's an ample level of protection baked in the case - it is designed to prevent scratches, dents, and there's even a subtle lip to protect the phone's camera lens. As an added bonus for all fans of minimalistic design out there, there are no logos or branding on the case - it blends with the phone perfectly.
tech21 Evo Slim for Apple iPhone 12 Mini 5G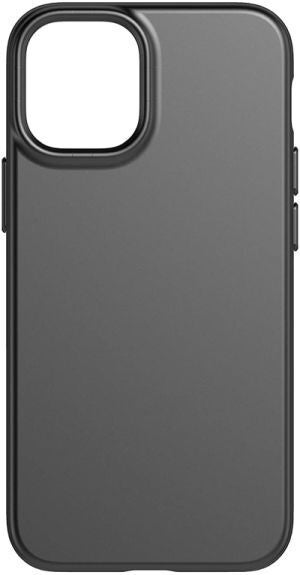 This case combines a slim profile with some amazing features. Like the microbial coating, built into the case itself - it repels microbes and won't wear off with time. The case is made from a clever self-healing material that will make scratches slowly disappear over time. The Evo Slim iPhone 12 mini case doesn't skip on protection, too. The patented ribs and high-performing impact material work together to absorb impact energy in drops up to 8ft.
Best iPhone 12 mini clear cases
Spigen Ultra Hybrid iPhone 12 Mini case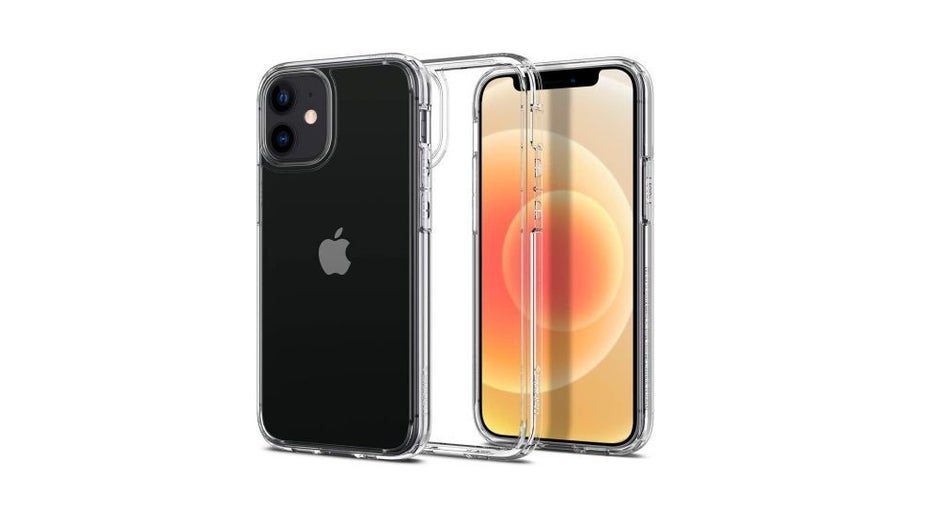 This option from Spigen gives you the style and design of a clear case but with the added protection of a hard armored one. The Spigen Ultra Hybrid iPhone 12 mini case is made with hybrid technology that uses a TPU bumper with a durable PC back. The raised bezels lift screen and camera off flat surfaces, protecting them from scratches shattering during potential falls. Show the beauty of your new iPhone 12 mini while keeping it safe with this hybrid case.
OtterBox Symmetry Clear Series Case for iPhone 12 Mini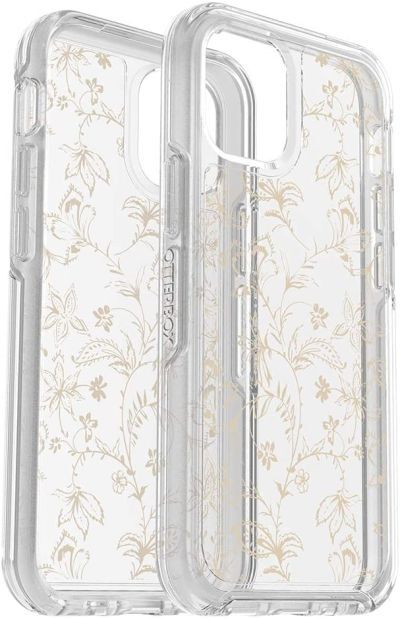 OtterBox is a well-known brand when it comes to phone cases and this Symmetry Clear iPhone 12 mini case doesn't disappoint. It shields your phone against drops, bumps and fumbles and has raised, beveled edges to help protect the touchscreen and cameras. You can get the case completely transparent but there's also a really cool option with floral graphics on the back. It is a bit pricey but with the limited lifetime warranty it might be totally worth it.
Survivor Clear Case Compatible with iPhone 12 Mini

Griffin makes clear cases too. The company is famous for its rugged Survivor series but you can get the best of both worlds in this Clear Case for the iPhone 12 mini. It offers 6 ft. of drop protection tested to military standards (MIL-STD 810G) and a special side protection - Sidewall tech - that takes care of those side impacts that are bound to happen sooner or later. It also features raised-edge bezels and comes with a lifetime warranty.
Mous Clarity iPhone 12 mini case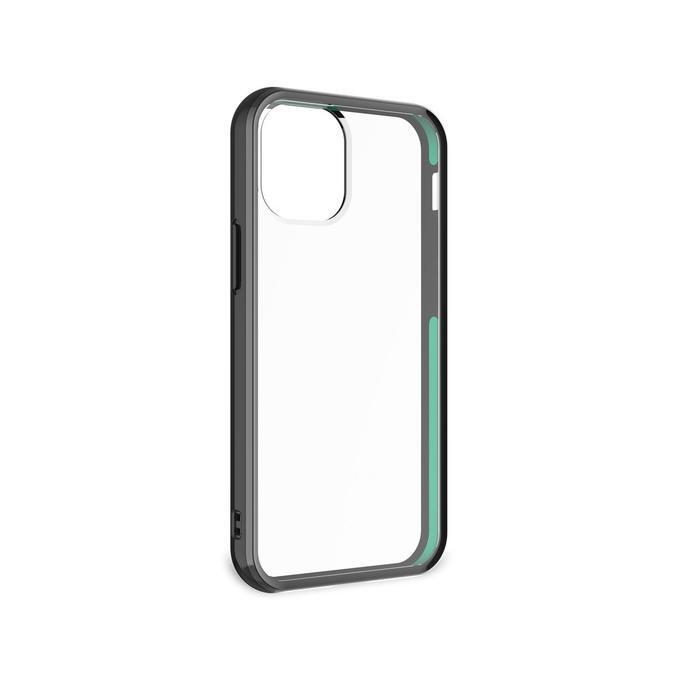 Mous is a great company that built its business around passion. These guys started throwing phones out of helicopters to test cases' durability. The Mous Clarity iPhone 12 mini case utilizes all the technology innovations of the company while keeping your device on display. The backplate is made from solid polycarbonate wrapped in a sophisticated scratch-resistant coating. There's a Built in anti-yellowing UV-resistance that ensures the case will stay crystal clear for longer, and the AiroShock material provides great impact absorption.
tech21 EvoClear for Apple iPhone 12 Mini 5G
The same bells and whistles from tech21's thin case are available in a transparent package, too. The EvoClear sports the same BioShield technology that fights germs and doesn't wear off over time, plus the self-healing tech that hides scratches from the surface of the case. This case is a little bit thicker but offers a better protection, too - up to 10ft impact resistance. And, of course, it is totally transparent, putting your phone's original colors on display.
Best iPhone 12 mini rugged cases
Spigen Tough Armor iPhone 12 Mini case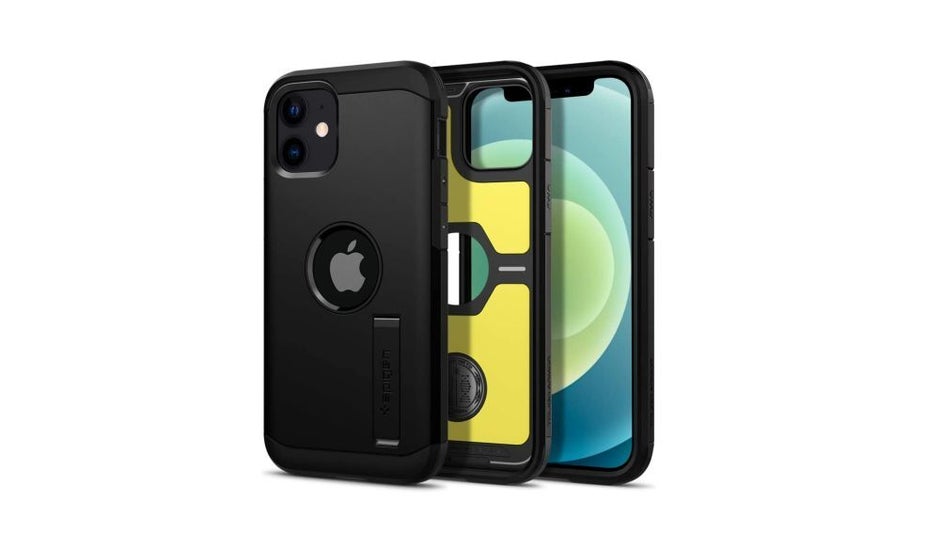 The Spigen Tough Armor case model is at the top of the company's portfolio and for a good reason. It offers the ultimate protection for your phone, in this case - the gorgeous iPhone 12 mini. In addition to the well known and tested dual-layer design (hard polycarbonate and flexible TPU) Spigen has added a new foam technology for an extra layer of shock resistance. There's also a reinforced kickstand for binge-watching your favorite movies and TV series, as well as a raised lip to protect the screen and camera, and Air Cushion Technology for anti-shock protection.
Survivor Extreme iPhone 12 mini case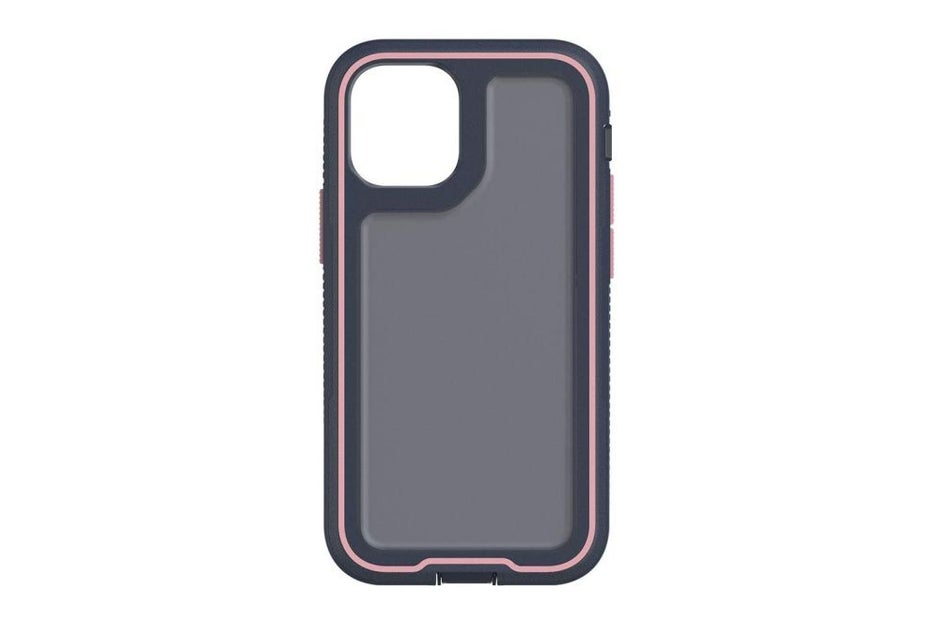 Another great rugged iPhone 12 mini case comes from Griffin - it's the Survivor Extreme model. This case guards against harsh impacts, scrapes and scratches, dust and dirt, and microbes that lead to stains, odors and degradation. The four-layer FortiCore shock absorption technology ensures 16 ft. of drop protection tested to military standards. Encapsulated design plus raised-edge bezel provides screen protection while the antimicrobial treatement eliminates 99.9% of surface bacteria and germs.
OtterBox Defender Series iPhone 12 mini case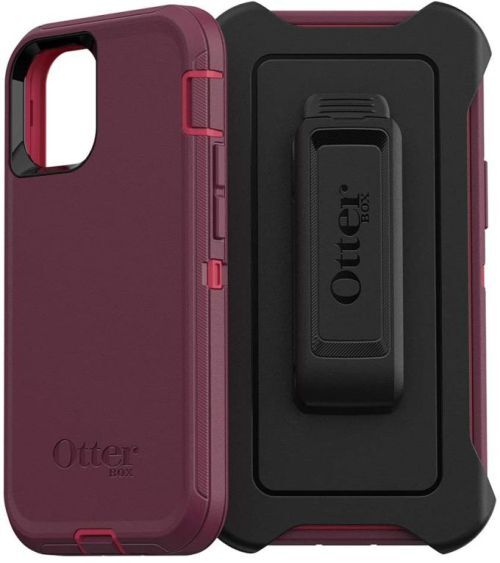 This OtterBox Defender iPhone 12 mini case is focused primarily on protection. It features a multi-layer construction that guards your iPhone 12 mini from serious drops, dirt, scrapes and bumps. The port covers prevent dirt, dust and lint from clogging jacks and ports, while the raised edges protect the camera and screen. The holster on the back is a bonus that can work as a belt clip and a hands-free kickstand. Last but not least, the OtterBox Defender iPhone 12 mini case comes in a cool Raspberry Wine color.
Rokform - iPhone 12 Mini Magnetic Protective Case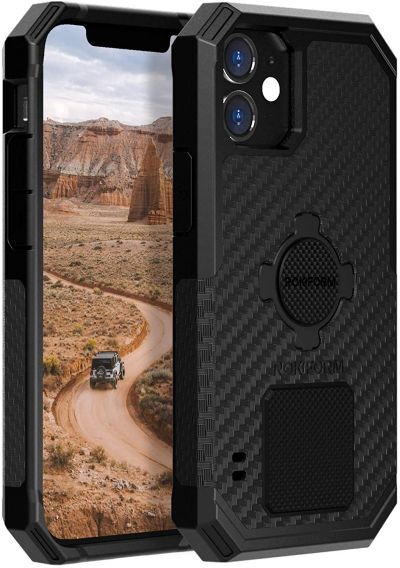 The Rokform magnetic case is an interesting MagSafe alternative. Of course, you can just remove the powerful industrial-grade magnet and use this case with MagSafe chargers and accessories but if you decide to keep it on, the case will stick firmly to any magnetic surface. The design is bold and industrial with the added bonus of military-grade protection. There's a built-in RokLock mechanism, which enables you to mount this iPhone 12 Mini Case to your motorcycle, UTV/ATV, bicycle or stroller but you need to buy the appropriate stand separately.
Best iPhone 12 mini leather cases
OtterBox Strada Series iPhone 12 mini case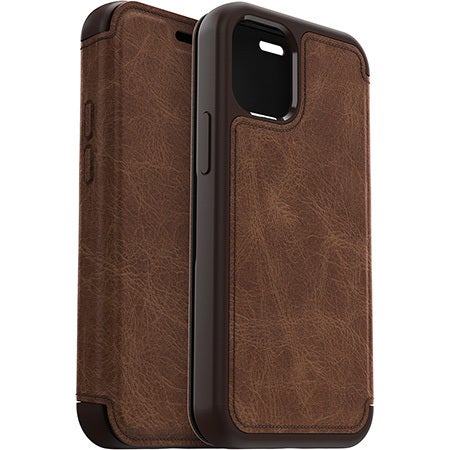 Another take on the
leather case
styling comes from OtterBox. The Strada Series Case for iPhone 12 Mini is everything you expect from a brand such as OtterBox. It features a functional, fashionable folio design that protects your little gem - the iPhone 12 mini. There is a card holder for cash or cards and a classic worn leather look combined with a modern aesthetic. The Strada series don't skip on protection either - its dual-materials design provides maximum protection against drops, bumps, scratches and scrapes. This case will last long and it will also add style to your iPhone 12 mini experience.
Mujjo Full Leather iPhone 12 mini case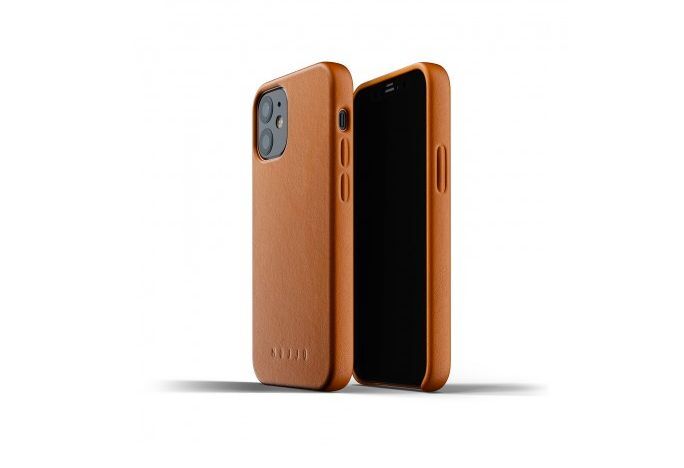 Moving to leather as we all know how classy this material is. When talking about style and class, you can't go wrong with a tan leather case from Mujjo. It combines the durability of full-grain material with the unmistakable warm feel and cozy smells of leather. What's more, this case will only get classier with time as leather tends to age and wear exceptionally well. Get your iPhone 12 mini the vintage treatment it deserves.
Belemay iPhone 12 Mini Wallet Case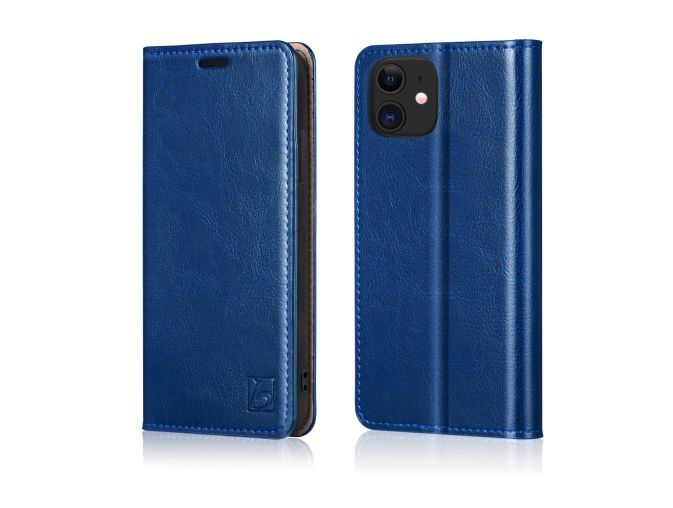 Of course, $50 for a case is not cheap by any standard. There are other options available - for around half the price you can get a real leather wallet iPhone 12 mini case. That's right, the Belemay iPhone 12 Mini Wallet Case has Cowhide Leather Folio and is waterproof, anti-stain, and wear-resistant. The kickstand feature allows you to easily fold the case and free your hands while watching videos. There's also 3 cardholder slots and 1 bill compartment for essential credit cards, ID cards, business cards, and folded bills anywhere you go, with RFID shielding technology which can block RFID signals and protect your cards information from unauthorized scanners.
ESR Premium Real Leather Case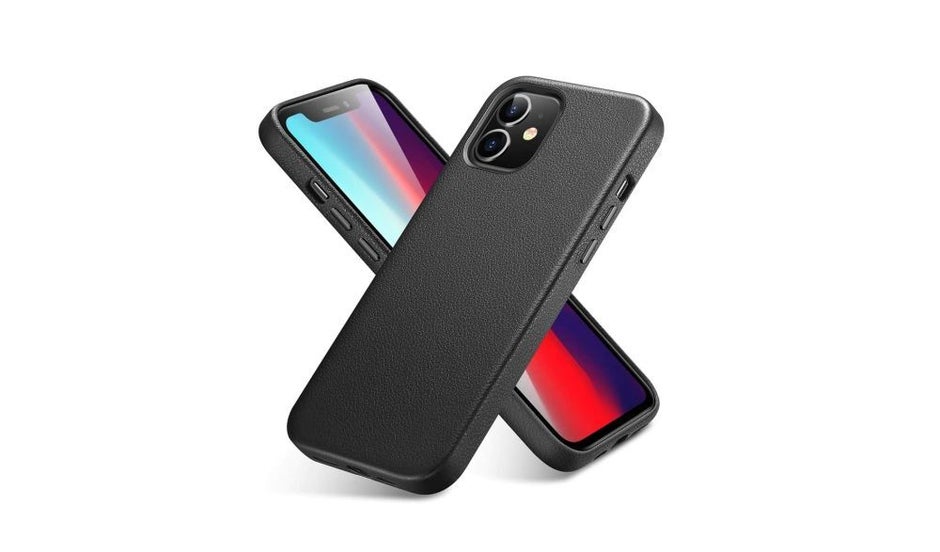 Here's another premium real leather option for your iPhone 12 mini at a great price. The ESR ESR Premium Real Leather Case is crafted with high-quality leather that's soft to the touch but it's at the same time Ultra-thin & lightweight for protection without the bulk. The Microfiber lining will keep your phone looking pristine, while the raised lip will protect the screen.
Best iPhone 12 mini stylish cases
Mous Limitless 3.0 iPhone 12 mini case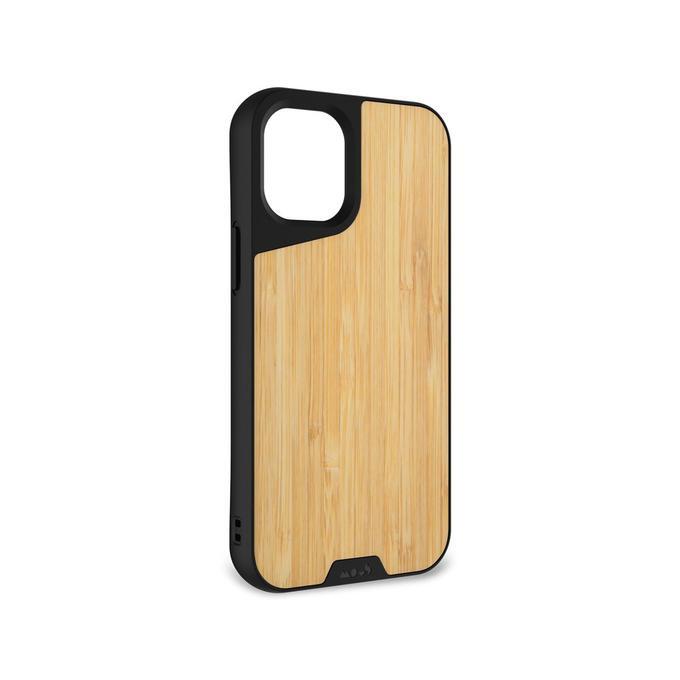 The Limitless 3.0 iPhone 12 mini case adds premium materials to the table, as well as a hidden functionality. This technology employs powerful magnets to allow the case to work with other Limitless accessories like a car stand or a magnet card wallet. Furthermore, it features the same protection as the Clarity case with the addition of different styling for the backplate. You can choose a carbon-fiber, leather, or wood for a truly unique design. The Bamboo variant is our favorite one as it evokes thoughts of little pandas and little pandas suit well little phones. But really, you can choose whichever you prefer.
Clckr iPhone 12 mini stand case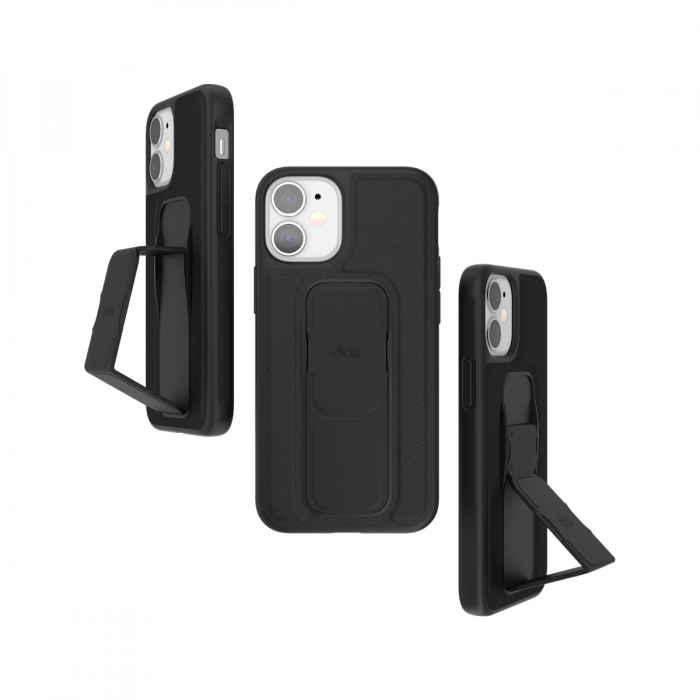 This CLCKR iPhone 12 mini case uses a patented universal and multi-functional stand that doubles as a grip. It enables a firmer hold and safer use of your iPhone 12 mini and its stylish ultra-strong design is compatible with most wireless chargers. The case is made using a PU Saffiano material, the crosshatch effect gives this case a sleek, smart and classy feel. Be sure to snatch one quickly as most of these cases are go out of stock pretty quickly.
OtterBox Symmetry Clear Series iPhone 12 mini case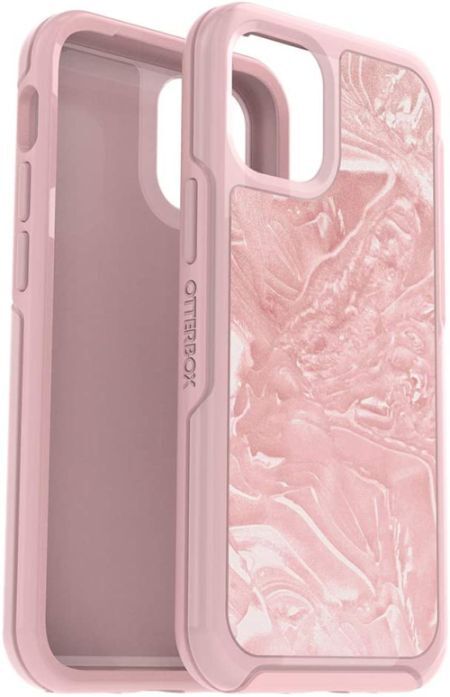 Here's an iPhone 12 mini case for the ladies. The OtterBox Symmetry case is clear, thin, sleek, stylish, pocket-friendly, and adds a unique styling to your everyday smartphone experience. The Pink Interference color option with Shellshock graphics on the back is a total looker, and this case offers protection as well. The Symmetry iPhone 12 mini case shields against drops, bumps and fumbles and has a raised, beveled edge that helps protect the screen.
LuMee Halo by Case-Mate iPhone 12 mini case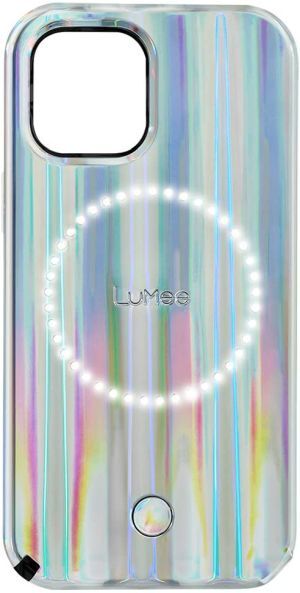 The LuMee Halo case has a strong iridescent effect with the addition of Halo lighting technology. The bright, high-quality lights on the front and back of the LuMee Halo balances out uneven, unflattering back-light making selfies a breeze. The variable dimmer with tapering light technology allows you to adjust the LuMee brightness. This is one flashy iPhone 12 mini case that will stand out. It's endorsed by Paris Hilton and you don't just get protection for your iPhone 12 mini, you get a fashion statement. The LuMee Halo case comes with a wrist strap and USB charging cable.
Sonix Coffee Case for iPhone 12 mini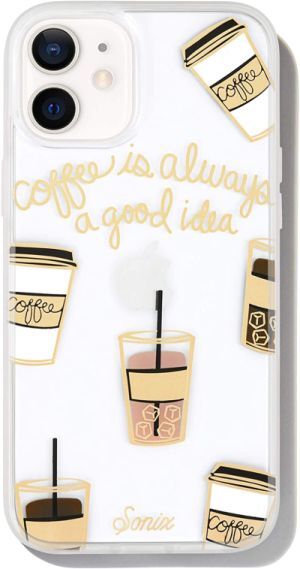 Coffee addicts around the world now have a special iPhone 12 mini case. The Sonix Coffee Case will show your obsession to the world and let's be honest - coffee is always a good idea. Besides the cool graphics on the back this case comes with a 10 foot Military Drop Test Certification. It is slim and lightweight with raised shock absorbent sides, beveled camera hole design for lens protection, anti-scratch UV coating, and easy-press protected buttons. Match your beve