Best iPhone 12 Pro Max cases
1
We may earn a commission if you make a purchase from the links on this page.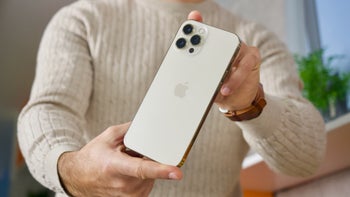 Apple
officially introduced the new
iPhone 12 series
on October 13th 2020 and there are a total of four models in the portfolio - the hot compact
iPhone 12 mini
, the regular
iPhone 12
, and the big guys -
iPhone 12 Pro
and 12 Pro Max. The latter two models come with greatly improved cameras (LiDAR sensors and everything), the fastest smartphone chipset, and most importantly, the widest and most complete 5G support on any phone.
The
iPhone 12 Pro Max
has a 6.7-inch screen, and its base price is set at $1,100. It's available in four different colors: silver, graphite, gold and the new blue option, and it is also offered in three storage capacities: 128GB, 256GB, and 512GB.
Chances are you're already rocking one of these top-tier iPhone devices, so the next logical step is to buy a nice case to protect your new investment. Here's our list of best
iPhone 12 Pro Max
cases you can get right now.
Best iPhone 12 Pro Max thin cases
Totallee Super Thin iPhone 12 Pro Max case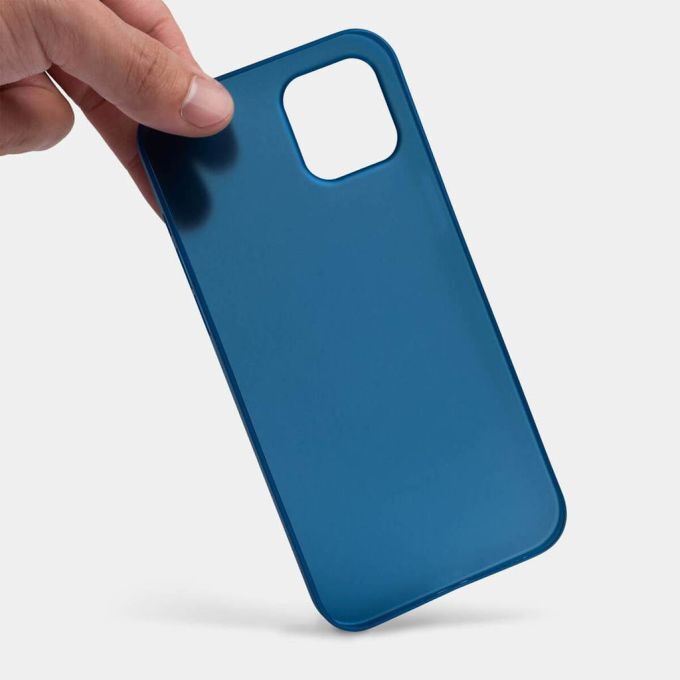 The basic level of protection sometimes is the classiest one and you don't necessarily need to sacrifice durability for looks. The totallee super thin iPhone 12 Pro Max case is a pocket-friendly, ultra-thin solution for an extra layer of protection. This case maintains the original look of your iPhone 12 Pro Max with two design options - Matter and Transparent. The matte case is made with hard, yet flexible, plastic and offers the thinnest option, best suited for the ultimate minimalist.
There are four great colors to choose from - Frosted Clear, Frosted Black, Navy Blue, and Green, while if you opt for the transparent option, you'll get a soft, grippy material that is great for shock absorption. Both variants offer a raised "lip" around the camera to prevent damage to the lenses.
Spigen Thin Fit iPhone 12 Pro Max case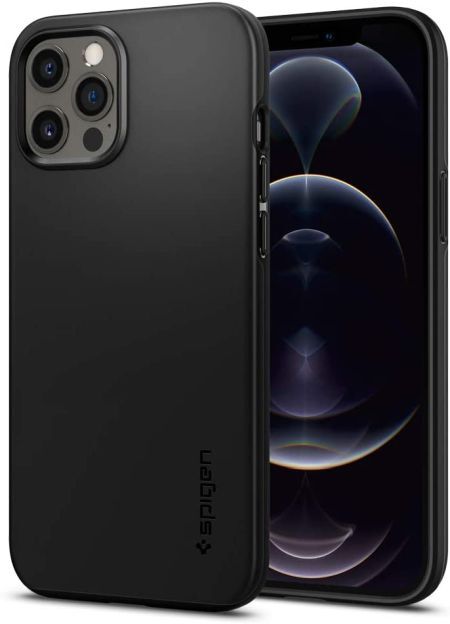 Another classic take on the thin fit case comes from Spigen. This Thin Fit iPhone 12 Pro Max case is made to fit like a glove around the phone without adding bulk. The scratch resistant polycarbonate material keeps the phone lightweight and pocket-friendly, while the open buttons offer original click response and quick accessibility. Raised edges protect the screen and camera of you iPhone 12 Pro Max so despite the ultra-thin design you still have some protection going on.
PITAKA Ultra Slim Phone Cover for iPhone 12 Pro Max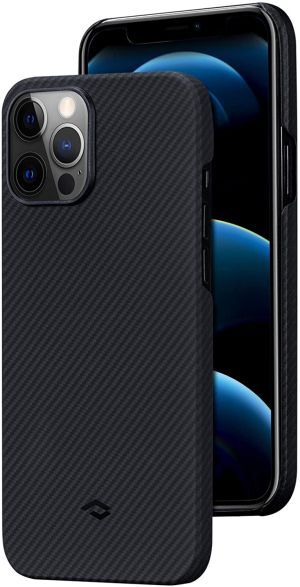 PITAKA offers one of the thinnest and lightest iPhone 12 Pro Max cases out there. With a thickness of only 0.025in and a weight of 0.35oz, you won't notice it's there. But don't think that protection is sacrificed, quite on the contrary. The case is made from aerospace-grade material, known as 600D aramid fiber, which makes it really, really tough. The aesthetics are also quite cool, as the material features carbon-fiber-like texture. The raised camera bump protects the lens without affecting the form-fitting design and there's a special 3D Grip technology that leaves a textured pattern on the surface to help with grip.
Peel Super Thin iPhone 12 Pro Max Case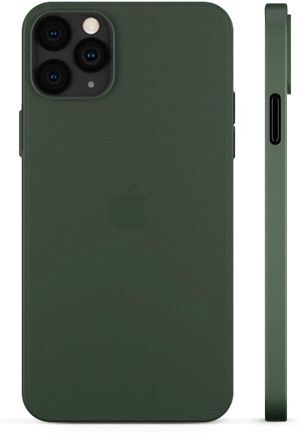 Peel is the pioneer in super thin case technology. It's really super thin at 0.01 inches and it's also free of branding for a nice and clean looks. Don't think that a case this thin doesn't offer protection, though. This thing is designed to prevent scratches, dents, and has a subtle lip that protects your camera lens. The Peel Super Thin iPhone 12 Pro Max Case is
wireless charging
friendly, while the color options match the colors of your iPhone for the perfect visual experience. This case is also MagSafe compatible and last but not least - it's not crazy expensive.
Best iPhone 12 Pro Max clear cases
Mous Clarity iPhone 12 Pro Max case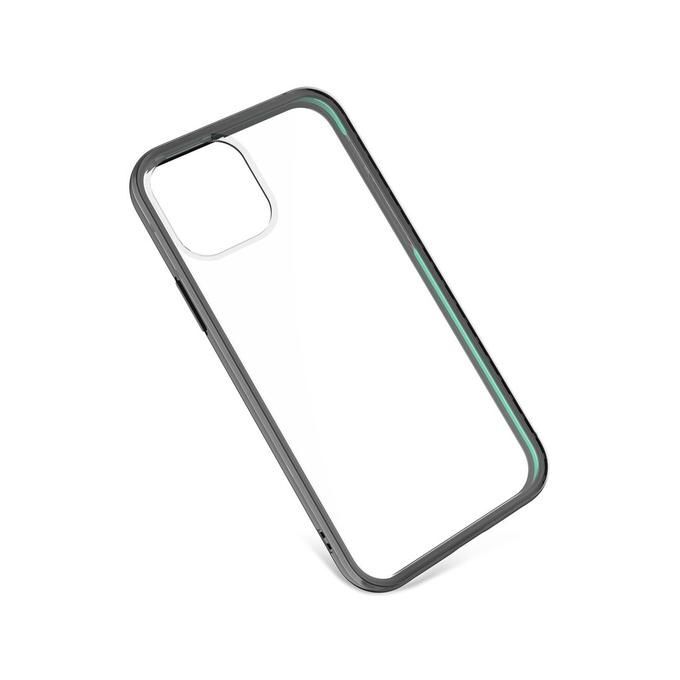 If you want to show the beauty of your new iPhone 12 Pro Max but still get a good level of protection, the Mous Clarity iPhone 12 Pro Max case is a good option. We've said it countless times but Mous started its business with some crazy phone case tests, including throwing phones out of helicopters.
All these transformed into a proprietary technology that protects your phone's most vulnerable areas. The ArioShock material will take care of side-bumps and help with drops, while the raised lips will make sure your phone's display and camera stay intact. The Clarity case is transparent on the back and will stay crystal clear thanks to the UV-resistance incorporated in the material. All Mous cases are wireless charging friendly, so you don't have to worry about taking the case off when you charge your phone wirelessly.
tech21 Evo Clear for Apple iPhone 12 Pro Max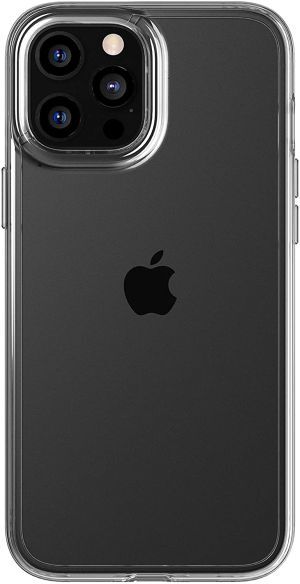 This case has it all - it's slim, offers up to 10ft impact protection, and comes with a BioShiled coating. The latter kills 99.9% of the microbes on your case and unlike other self-cleaning phone cases this coating is thick enough so it won't wear off over time. And to make things even more futuristic, the tech21 Evo Clear is a self-healing case - scratches and other imperfection will fade over time, while the case itself will stay perfectly transparent, without yellow tinting.
Spigen Ultra Hybrid iPhone 12 Pro Max case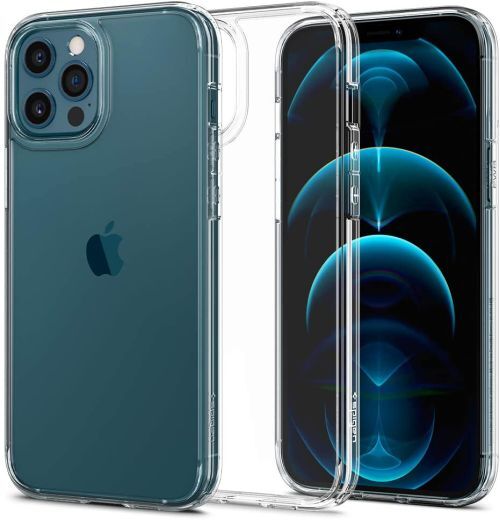 You can still get a good protection and put your new iPhone 12 Pro Max on display at the same time. The Spigen Ultra Hybrid case uses hybrid technology that packs advanced drop protection in a single layer while keeping the case crystal clear. The Ultra Hybrid combines a shock-absorbing flexible bumper with a rigid back to maximize defensive features. The crystal clear back is designed to preserve the original look of your iPhone 12 Pro Max without yellowing over time. The corners of the phone are protected thanks to the Air Cushion Technology that mitigates all the shock from everyday impacts.
Best iPhone 12 Pro Max rugged cases
UAG Limited Edition iPhone 12 Pro Max case by EGO Tactical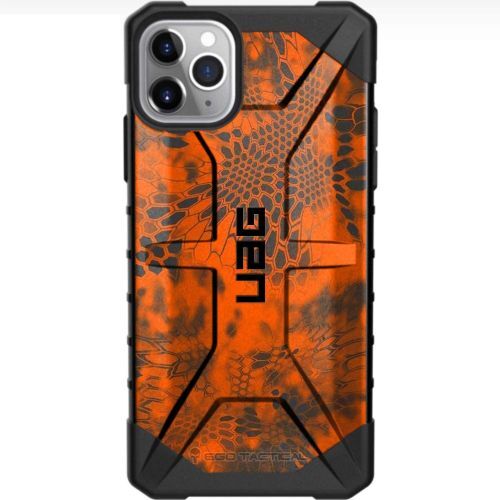 Time to add some tactical advantage to your new iPhone 12 Pro Max. This case offers great protection and at the same time it's leather-light due to its composite construction. The outer Armor shell guarantees the toughness of the case while the impact resistant soft core takes care of your phone. Oversized tactile buttons and non-slip ruggedized grip help with handling the big device. There are tons of customization options with this one, so be sure to check them out. Our favorite is the Kryptek Octane Camouflage, it's just sick!
Spigen Tough Armor iPhone 12 Pro Max case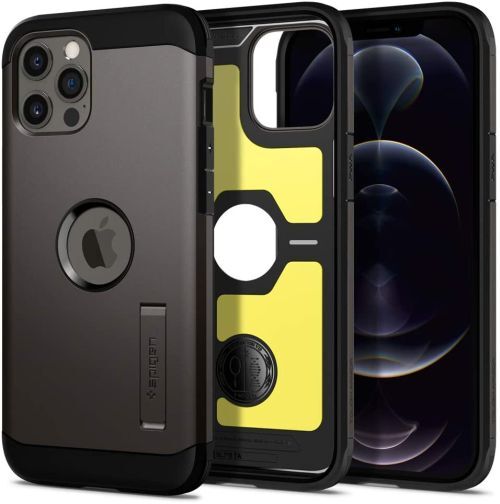 The Tough Armor series is a classic when it comes to rugged cases. Spigen has brought its expertise in making tough cases to the iPhone 12 Pro Max. You get the whole package - a combination of TPU and Polycarbonate for dual protection from drops and scratches, plus a brand-new foam technology for an extra layer of shock resistance. There's a kickstand to free your hands when watching video, while the Air Cushion Technology protects the corners of your iPhone 12 Pro Max during potential drops.
OtterBox Defender Series iPhone 12 Pro Max case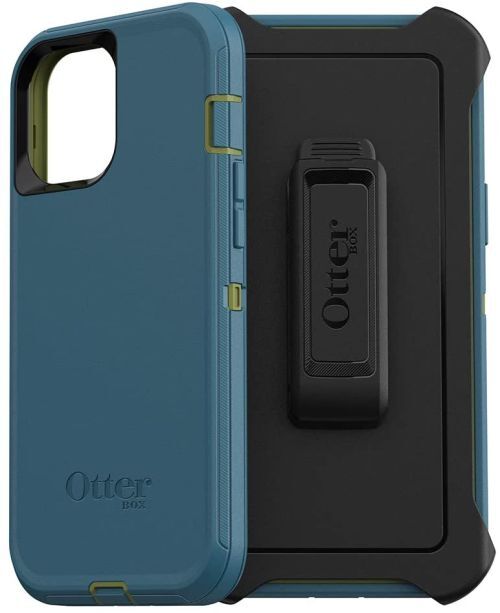 OtterBox takes protection to a new level with its Defender series. Along with the multi-layer design - solid inner shell and soft outer cover - this case also offers port covers to keep out dust and debris. There's a belt-clip holster included that doubles as a kickstand for hands-free media consumption and you get to choose from several cool colors, including a classy Realtree
Edge
Graphic back.
Rokform - iPhone 12 Pro Max Magnetic Protective Phone Case with Twist Lock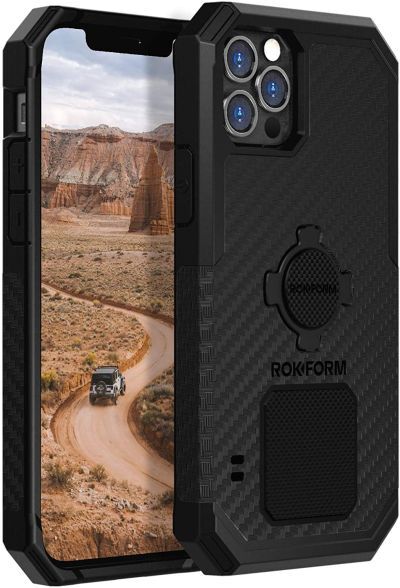 This Rokform case offers military grade protection for your iPhone 12 Pro Max with some extras on top. It's features a powerful industrial-grade magnet that sticks to any magnetic surface and will not affect Credit Cards, Wi-Fi, GPS, or Bluetooth. You can use MagSafe chargers and accessories with this case but you'll need to remove the magnet first. As for protection, this case provides a dual layer of protection that exceeds Military Grade Drop Test Standards, MIL-STD 801G-516.6. There's also a twist-lock mount that allows you to mount your phone to your motorcycle, UTV/ATV, bicycle or stroller.
Speck Products Presidio2 Armor Cloud iPhone 12 Pro Max Case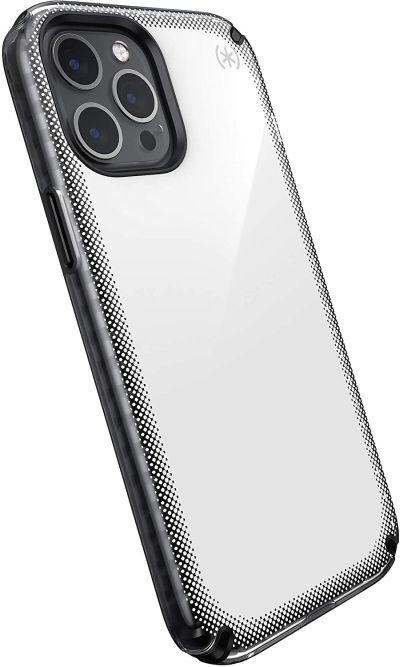 Another great take on high-protection cases, this time with added style. The Armor Cloud iPhone 12 Pro Max case features air capsules that compress and suspend your phone on a protective cushion of air if a potential drop occurs. It's just like an airbag. This technology allowed Speck to rate the case drop-resistant for up to 16 feet drops. There's also the Microban antimicrobial protection that gives a 99% reduction in bacteria on the case as well as a special film that provides increased scratch protection.
Best iPhone 12 Pro Max leather cases
Case-Mate - Tough Leather Wallet Folio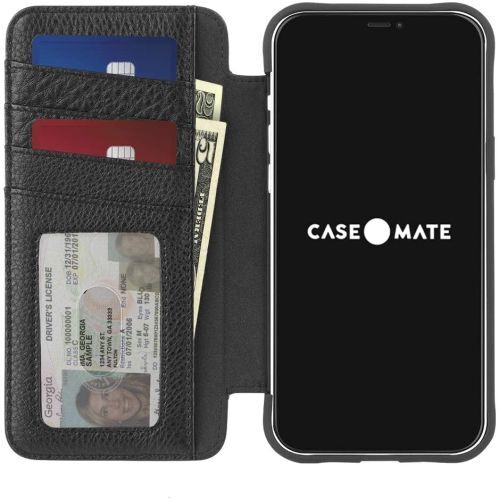 Leather is super classy and stylish, hence what better material for your new iPhone 12 Pro Max? This case is handcrafted using genuine leather while the wallet design lets you store up to four cards, plus some cash. The case also doubles as a stand when open, so you can enjoy hands-free viewing of your favorite shows and YouTube channels. The case is compatible with wireless chargers, so you don't have to worry about that one, too.
Mujjo Full Leather iPhone 12 Pro Max Wallet case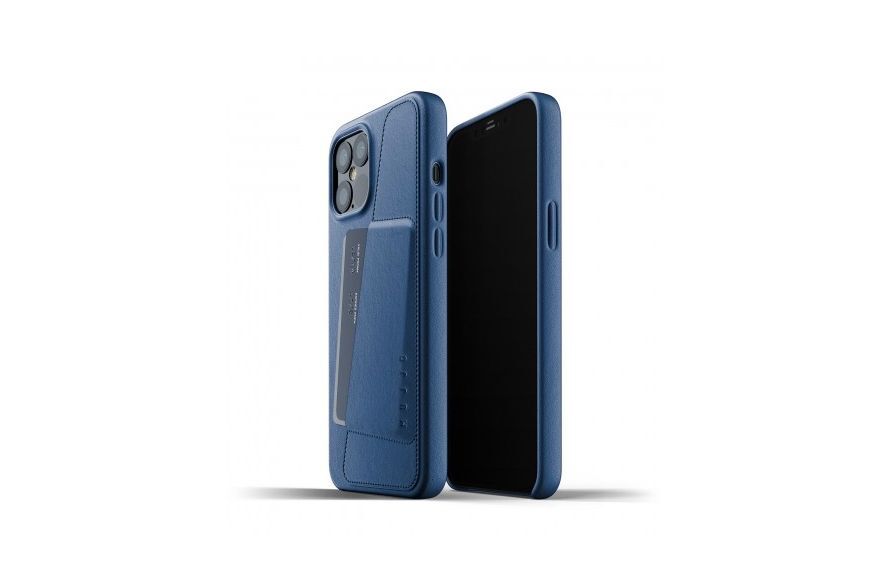 Mujjo offers a really cool option to integrate your wallet into your phone case and this option makes even more sense when we talk about the iPhone 12 Pro Max. You'll have the comfort of carrying around only your phone and keys, as this Full Leather Wallet case offers a pouch on the back where you can store your credit card and cash.
Needless to say, Mujjo delivers all the class it's known for in this case, offering full-grain leather that looks amazing and also takes wear and tear exceptionally well. There are also different color options to perfectly match your style.
Nomad Rugged Leather iPhone 12 Pro Max Case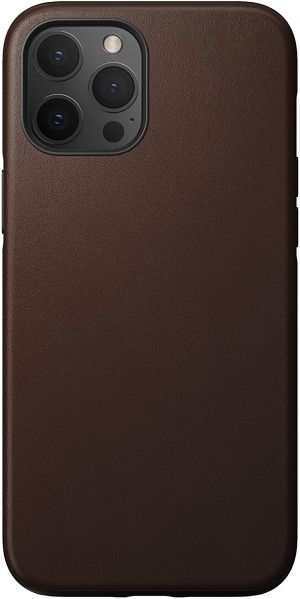 Nomad's leather cases are pure just pure style. They source the leather from one of America's oldest tanneries - Horween Leather Co. of Chicago. The leather will age beautifully, making your iPhone 12 Pro Max case unique and special. On the inside, the case offers rubber bumpers and polycarbonate shell, so protection is not compromised. Style meets protection - it doesn't get much better than this.
Piel Frama iPhone 12 Pro Max case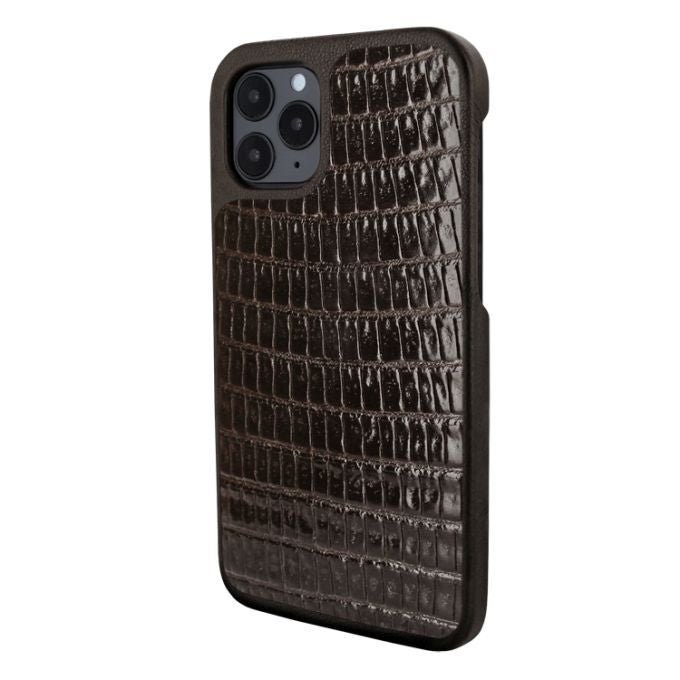 Piel Frama cases are hand-made in Spain and offer something unique - every case is different and there are no two that are the same. If you want exclusiveness, this is your chance to get it for your iPhone 12 Pro Max. There are various options available, including Wild Crocodile and Lizard, taking the iPhone 12 Pro Max to new levels of luxury.


Best iPhone 12 Pro Max stylish cases
Mous Limitless 3.0 iPhone Pro Max case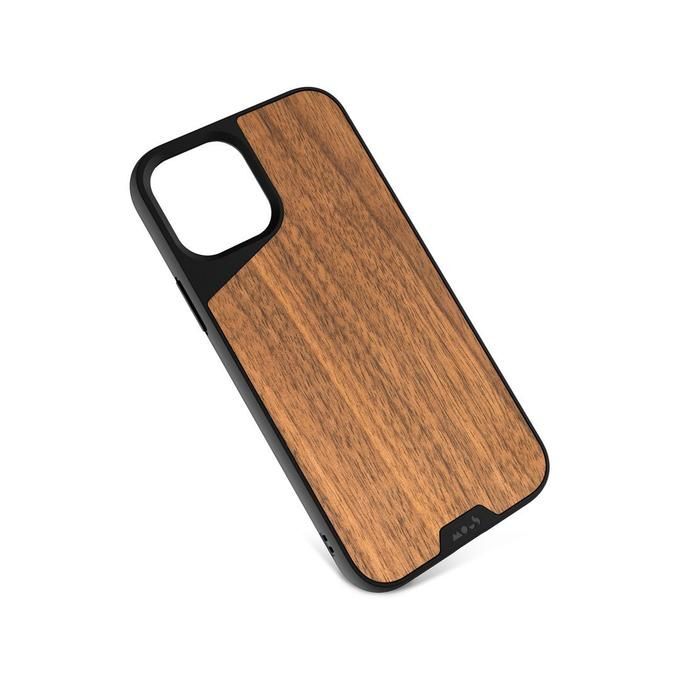 The cool Mous Limitless 3.0 case is also available for the iPhone 12 Pro Max. You get all the premium materials - aramid fiber, bamboo and walnut, black leather, and the dreamy speckled fabric. This case will add some panage to your iPhone 12 Pro Max and still protect it from falls thanks to the AiroShock material and Mous' extensive and quite crazy drop testing procedures.
Mous offers its Limitless 3.0 magnetic compatible accessories that will make life easier for you, allowing you to seamlessly attach your phone to a car stand or add a card wallet to the back of the phone. Despite featuring strong magnets, this case is absolutely safe and can be used with QI wireless chargers.
LuMee Halo iPhone 12 Pro Max case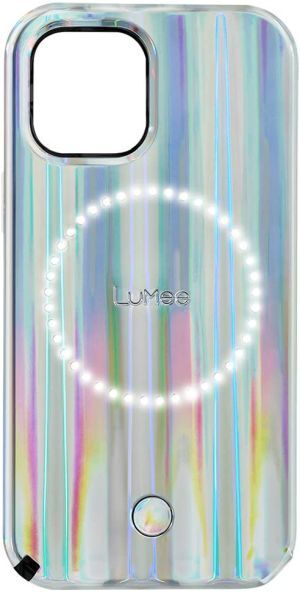 Sometimes you need something extra to shine bright. This extra thing is the LuMee Halo Studio case. It offers Halo lighting on the front and back of the case for perfect lighting no matter the focus of your photos, a variable dimmer that lets you adjust the lighting of that selfie perfectly, and a rechargeable battery for up to 30 minutes of professional lighting at full brightness. This case is a pure fashion statement that also offers a strong device protection. Wireless charging friendly and Paris Hilton approved.

Case-Mate- Brilliance - Case for iPhone 12 Pro Max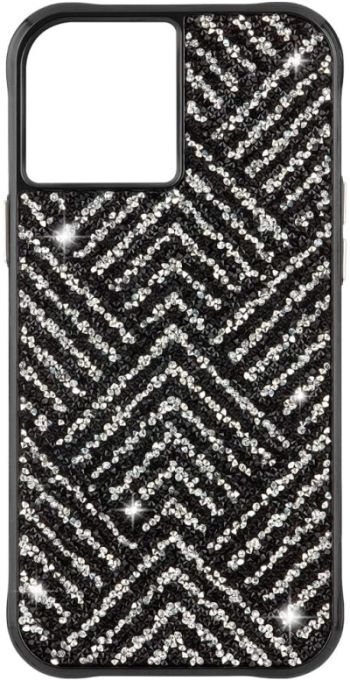 How about some genuine crystals on your iPhone 12 Pro Max case? You're in? Great, Case-Mate has prepared a unique stylistic solution that will make you iPhone shine like a diamond. This cool case features 800+ genuine crystals on the back, arranged in a cool herringbone pattern. Equipped with 10 foot drop protection, shock absorbing materials and tactile buttons, Brilliance is perfect combination of fashion and function. There are various options, including a gold foil one, but this one happens to be our favorite!
Clckr iPhone 12 Pro Max stand case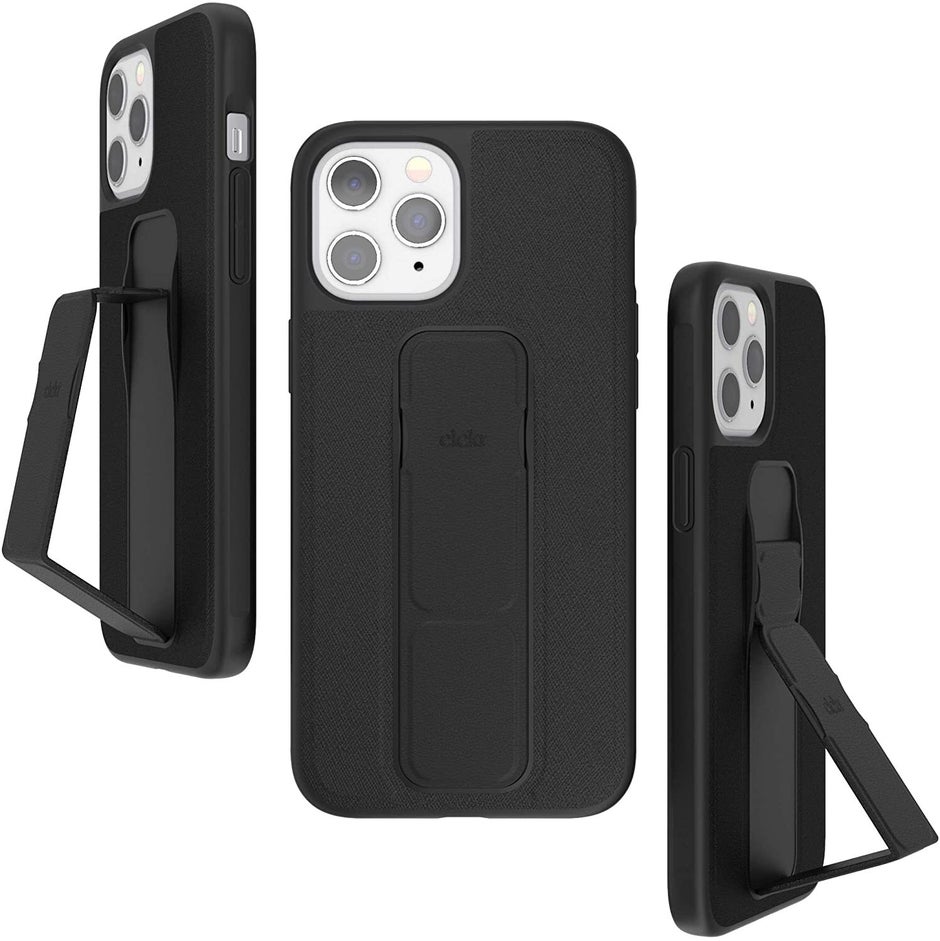 CLCKR offers the first line of defense for your iPhone 12 Pro Max 6.7. The cool stand mechanism doubles as a grip and acts as an extra hand when you juggle your luggage, and a tool for added security against drops. With CLCKR's stand function, you can have your hands free while you follow a recipe, watch your favourite show, or read content on your phone.
Looking for great iPhone 12 pro max deals? Well, Black Friday is the biggest shopping event of the year outside of Christmas, so go ahead and save our Best
iPhone 12 pro max Black Friday deals
page ahead of time.