Google Pixel Black Friday 2022 deals: the event is over, some deals are still left
We may earn a commission if you make a purchase from the links on this page.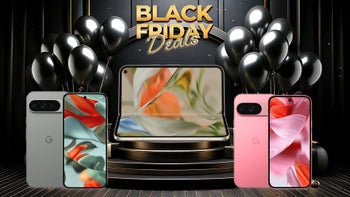 Black Friday is now officially over. There are still some deals that are lingering on that we've left here for you to take advantage of while they last. If your device is not within the list of discounted products or the deal has expired, fret not - there are always other shopping events coming soon.
Google Pixel phones deals [curated list]
Below we have for you the best remaining Black Friday deals on Pixel phones that are still ongoing. If you missed your chance, don't hesitate to catch them, before they also expire! Also, you can go to our
Cyber Monday 2022 Google Pixel deals
page and start preparing yourself for that shopping event now!
What Google Pixel phone should you pick up during Black Friday 2022?
In case you are out of the Pixel loop, here's a quick rundown of which models are which:
Google's latest Pixel 7 Pro and Pixel 7 flagships
These are the latest models. Continuing the footsteps of the Pixel 6-series, the new
Pixel 7 Pro
and
Pixel 7
deliver an excellent user experience with a focus on a mastery of artificial intelligence. What's more, these two also bring the signature Pixel camera look to a whole new level thanks to quite a few new camera features.
Google's Pixel 6 Pro and Pixel 6 aren't the newest, but are a good pick
While the
Pixel 6 series
is already discontinued and not officially sold by Google, most large retailers still have them in stock. They still get major software updates by Google, and they still have awesome cameras. You just save some cash due to the fact they are not the newest, shiniest gadget!
Google's Pixel 6a is a budget phone done right
The Pixel 6a looks like the flagship series in terms of design, with only a few small compromises like a 60Hz screen, but for all else this budget phone is quite incredible. It has a top notch camera, solid battery life and a beautiful screen.
Best of all, we have some truly incredible deals that you just cannot miss. While usually it costs $450 for the base 128GB model, we are seeing it drop to merely $300! There is no other way to describe this deal as... an absolute steal!
Other Black Friday 2022 deals to check out: