iPhone 13 size comparison: how does it fare against competition and older iPhones?
4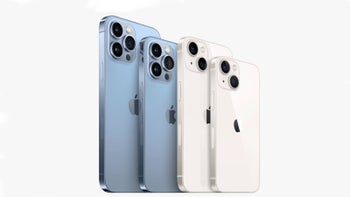 Apple's long-awaited newest generation of iPhones is here, and we've got all sorts of reviews and comparisons to help you make the best purchase decision. With the new
iPhone 13 line
out, there's no lack of new material to work with, and here in particular we will be looking at the various sizes and how they stand up against competing smartphones.
To many, size definitely matters when it comes to their mobiles, and the diversity of sizes on the market can make it difficult to choose what's best for you. Some care about a snug jeans pocket fit, while for others, the larger the screen, the better. We want to give you the best possible context for an informed decision by putting various competing handsets side by side for a proper visual comparison.
You may also want to read:
iPhone 13 and 13 Pro colors announced
iPhone 13 series battery life revealed: big increase over previous iPhones!
iPhone 13 mini is official: the redux of the cute monster
Before we start pitting the iPhone 13 family against competitors, it seems only natural that we compare the "siblings" to each other first with a nice visual.


iPhone 13 Mini vs iPhone 13 vs iPhone 13 Pro vs. iPhone 13 Pro Max: size comparison
As you probably expected, the iPhone 13 and 13 Pro are the exact same dimensions, following previous years' trends. The Pro Max is almost nearly a phablet, on the other hand, and users would be hard-pressed to fit it into any regular-sized pants pocket. The iPhone 13 mini would slip right in and stay snug in nearly any pocket, as the name implies.
If you don't like to carry around a bag or clothes with oversized pockets, and value compactness over screen size, then you may find the miniature version more convenient than the others.
iPhone 13 vs iPhone 12 / iPhone 13 Pro Max vs iPhone 12 Pro Max
As you can see,
Apple
kept last year's and this year's Pro Max models exactly the same in size; the only difference is in the design and specs. The base models' dimensions also remain identical in size, as do the iPhone 12 mini and iPhone 13 mini—so if you own any of the iPhone 12 series, you already know what you're working with even if you choose to upgrade.
iPhone 13 vs. iPhone XS vs. iPhone 8 vs. iPhone 7
In all honesty, you'd be more likely to upgrade from an earlier generation if you're like most people. Not everyone who went all out to splurge on the flagship series last year is ready to do it again this year, so we thought you'd like to see how the iPhone 13 looks alongside some of the older models models from Apple.
Although identical to the iPhone 12 in size, the iPhone 13 has decidedly grown in comparison to previous years. Interestingly, although it's quite a bit bigger than the iPhone XS, it also appears a few grams lighter. Screen real estate has definitely seen a significant increase since 2017, though, that's for sure.
iPhone 13 mini vs. iPhone XS vs. Pixel 5 vs. Galaxy S10E
If you were eyeing the iPhone 13 mini in particular and haven't experienced an Apple mini before, but may perhaps have owned one of the few small-sized alternatives on the market, here is the perfect place to compare the size difference between some of the top choices that are out there.
These three are some of the smallest competing alternatives to Apple's most recent tiny-sized handset, the iPhone 13 mini. The Samsung Galaxy S10E comes second,
the iPhone XS clocks in slightly bigger than the iPhone mini, while the Google Pixel 5 manages to be both somehow bigger
and
much lighter than the XS at the same time.
Clearly, the 13 mini is still the smallest of the bunch, although it packs the power of one of the top flagships on the market in its slender 4.97-oz frame.
iPhone 13 vs. Galaxy S21 vs. Pixel 5 vs. OnePlus 9
Let's be honest, the middle-ground iPhone 13 is going to be much more widely sold than the mini variant—so we're going to need some decent visual comparisons of that one as well. It's just barely over the size of the Pixel 5 (we'll have to make do with comparing to that model while we wait for the
Pixel 6
to come out next month).
It's definitely more compact than the OnePlus 9, however, and has visibly significantly less screen real estate than this potential
Samsung
counterpart (one generation-ish behind), the Galaxy S21.
iPhone 13 Pro Max vs. Galaxy S21 Ultra vs. Galaxy Note 20 Ultra vs. OnePlus 9 Pro
iPhone 13 Pro Max vs. iPhone XS Max vs. Galaxy Note 10 Plus vs. Pixel 4 XL
Finally, the monster of the bunch, the iPhone 13 Pro Max—it certainly dwarfs some other phones with its 6.7-inch OLED screen, same as its predecessor.
However, it isn't king of the hill by far when we take other oversized handsets in the market to compare in size. Perhaps one of the most striking things in this comparison is that, even though the iPhone 13 Pro Max sits just under or about equal to some of the phones compared here, it is significantly heavier than all of them, clocking in at a whopping 8.47 oz.
It's not the biggest, but definitely the most dense when it comes to packing in maximum power in the thinnest frame possible. This could in part be due to its upgraded battery; in fact, this phone sports the longest battery seen on an iPhone to date! The battery could last a day and half on a single charge despite the large screen, with its capacity estimated at 4,352 mAh.
Let us know in the comments if you'd like to see any member of the iPhone 13 family compared against additional mainstream smartphones that we may have missed, if that might be helpful towards deciding which size to go with.
Remember, of course, that there is more than size to compare between the four of them, so make sure you read our other review material and make a well-informed decision.