iPhone 11 demand is beating expectations in the US, while the Note 10 had a 'soft' launch
20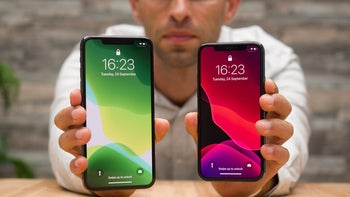 The expectations of most industry analysts and market research firms for iPhone 11 series sales numbers were not exactly lofty ahead of Apple's big September 10 announcement event, but following the
September 13 pre-order start
and the
actual September 20 release
, several
reports have come in
to
describe early demand as strong
, particularly
in the US
.
Counterpoint Research seems to agree
with that general assessment today, although the US smartphone market as a whole remained weak in Q3. Apple apparently managed to defy that trend somehow with "higher than expected" iPhone 11 sales during the handset family's first weeks of commercial availability. Unsurprisingly, no specific box-office results are shared by Counterpoint to support and substantiate the claim, but what's interesting to note is that the iPhone 11 trio reportedly got off to a better start than the iPhone XS/XS Max/XR lineup last year.
While Apple prepared a larger inventory of the entry-level,
non-Pro model
at launch, it was actually the top-of-the-line
iPhone 11 Pro Max
that unexpectedly proved the most popular of the three main variants. The smaller
iPhone 11 Pro
followed with the second-highest demand, whereas the affordable iPhone 11 got off to the slowest start. But things are bound to change in the near future, just like they did back in 2018, when the iPhone XR crept up on its higher-end siblings and ultimately overtook them after the XS and XS Max took the bulk of the family's early sales.
Elsewhere, Samsung apparently had a "lot of activity" stateside, including the Galaxy Note 10's first full month of sales. But even though the Note 10 and Note 10+ reportedly crushed a number of
records in other key markets
, their US launch was "softer" than that of the lone Note 9 variant in the fall of 2018. It's also worth pointing out that the larger (and arguably better)
model
exceeded the popularity of the "regular"
Note 10
"out the gate", while the Galaxy S10 remained the "top seller of Android flagship smartphones within the major US carriers" during the year's third quarter, despite reporting slowly declining volumes.
Overall, combined July and August 2019 smartphone sales were down almost 10 percent compared to the same timeframe last year, while the September figures are not finalized but they're unlikely to radically change things for the full quarter scores.