OnePlus 7T versus Samsung Galaxy S10+ and Apple iPhone 11 Pro
4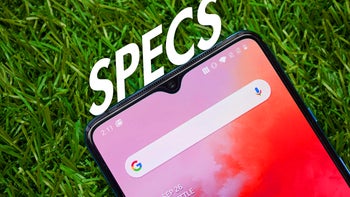 OnePlus 7T is now out, refreshing the OnePlus portfolio and strengthening its affordable flagship.
Some could argue that the new OnePlus 7T is basically a OnePlus 6T, or a 7, with an altered rear camera setup, but that's very far from the truth. The brand new OnePlus 7T comes along with the same super-smooth 90Hz FHD+ 6.55" display that was first introduced with the OnePlus 7 Pro.
You also get a super-fast Snapdragon 855+ chipset inside and, as we mentioned, a redesigned camera bump at the rear. The OnePlus 7T scores a camera setup that is very similar to the OnePlus 7 Pro, with a few distinct differences: there's a 2X telephoto lens instead of the more useful 3X one. An unfortunate loss, but a loss indeed.
How does the new phone stack up against the iPhone 11 Pro and Galaxy S10+? Let's find out.
Dynamic AMOLED
Super AMOLED
OLED
HDR support, Scratch-resistant glass, Ambient light sensor, Proximity sensor
HDR support, Scratch-resistant glass, Ambient light sensor, Proximity sensor
HDR support, Oleophobic coating, Scratch-resistant glass, Ambient light sensor, Proximity sensor
Triple camera
Triple camera
Triple camera
12 MP (Sapphire crystal lens cover, OIS, PDAF)
Aperture size: F1.5/F2.4; Focal length: 26 mm; Sensor size: 1/2.55"; Pixel size: 1.4 μm
Aperture size: F1.6; Focal length: 26 mm; Sensor size: 1/2"; Pixel size: 0.8 μm
Aperture size: F1.8; Focal length: 26 mm; Sensor size: 1/2.55"; Pixel size: 1.4 μm
12 MP (Telephoto, OIS, PDAF)
12 MP (Telephoto, PDAF)
12 MP (Telephoto, Sapphire crystal lens cover, OIS, PDAF)
Optical zoom: 2.0x; Aperture size: F2.4; Focal Length: 52 mm; Sensor size: 1/3.6"; Pixel size: 1 μm
Optical zoom: 2.0x; Aperture size: F2.2; Focal Length: 51 mm; Pixel size: 1 μm
Optical zoom: 2.0x; Aperture size: F2.0; Focal Length: 52 mm; Sensor size: 1/3.4"; Pixel size: 1 μm
16 MP (Ultra-wide)
16 MP (Ultra-wide, Autofocus)
12 MP (Ultra-wide)
Aperture size: F2.2; Focal Length: 12 mm; Sensor size: 1/3.1"; Pixel size: 1 μm
Aperture size: F2.2; Focal Length: 17 mm
Aperture size: F2.4; Focal Length: 13 mm
3840x2160 (4K UHD) (60 fps), 1920x1080 (Full HD) (240 fps), 1280x720 (HD) (960 fps)
3840x2160 (4K UHD) (60 fps), 1920x1080 (Full HD) (240 fps), 1280x720 (HD) (960 fps)
3840x2160 (4K UHD) (60 fps), 1920x1080 (Full HD) (240 fps), 1280x720 (HD)
HDR, Time-lapse video, Hyperlapse, EIS, Video calling, Video sharing
HDR, Time-lapse video, EIS
OIS, Time-lapse video, Continuous autofocus, Picture-taking during video recording
10 MP
16 MP
12 MP
3840x2160 (4K UHD)
1920x1080 (Full HD) (30 fps)
3840x2160 (4K UHD) (60 fps)
6.20 x 2.92 x 0.31 inches (157.6 x 74.1 x 7.8 mm)
6.34 x 2.93 x 0.32 inches (160.94 x 74.44 x 8.13 mm)
5.67 x 2.81 x 0.32 inches (144 x 71.4 x 8.1 mm)
6.17 oz (175.0 g)
the

average

is 6.5 oz (184 g)
6.70 oz (190.0 g)
the

average

is 6.5 oz (184 g)
6.63 oz (188.0 g)
the

average

is 6.5 oz (184 g)
Back: Glass (Corning Gorilla Glass 5); Frame: Aluminum
Back: Glass (Corning Gorilla Glass 5); Frame: Aluminum
Back: Glass; Frame: Stainless steel
Water, Dust; IP68
Water, Dust; IP68
2D Face unlock, Ultrasonic in-screen fingerprint
2D Face unlock, In-screen fingerprint
3D Face unlock
Qualcomm Snapdragon 855 (7 nm)
Qualcomm Snapdragon 855+ SM8150-AC (7 nm)
Apple A13 Bionic APL1W85 (7 nm)
Octa-core, 2800 MHz, Kryo 485, 64-bit
Octa-core, 2960 MHz, Kryo 485, 64-bit
Hexa-core, 2650 MHz, Lightning and Thunder, 64-bit
Adreno 640
Adreno 640
Apple-designed 4 core
128GB
128GB, not expandable
64GB, not expandable
Android (11, 10, 9.0 Pie), Samsung One UI
Android (11, 10), OxygenOS UI
iOS (15.x, 14.x, 13.x)
Qualcomm Quick Charge 2.0, USB Power Delivery, Samsung Adaptive Fast Charging
OnePlus Warp Charge
USB Power Delivery