You can now get Apple's iPhone 11 Pro for free with an eligible trade-in and new T-Mobile line
1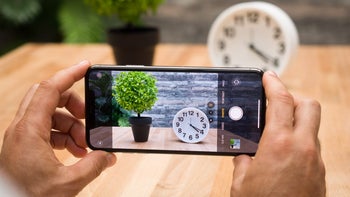 All signs point
to
early iPhone 11 family sales
exceeding expectations from both market analysts and Apple itself, but in today's incredibly competitive and
largely stagnant mobile industry
, there's always room for improvement. And there's no better and easier way to secure said improvement of a handset's mass appeal nowadays than cutting list prices or offering deal sweeteners of various types.
For its part, Apple doesn't exactly offer the highest discounts on the market on the
iPhone 11
,
11 Pro
, and
11 Pro Max
, letting buyers save up to $600 by trading in select pre-owned devices. That may sound pretty compelling at first, but
T-Mobile's newest trade-in deals
are much better. Until today, "Magenta" provided discounts of only $550 max via monthly credits, but now you can shave up to $1,000 off the regular price of the iPhone 11 Pro.
That means you can basically get the 5.8-inch powerhouse with a triple rear-facing camera setup for free... after meeting several very specific requirements. First of all, you'll need to bring an existing number from an "eligible" carrier and activate a new line of T-Mo service. Second, you'll have to trade in an
iPhone XS
or
XS Max
in good condition to lower the $1,000 price of the iPhone 11 Pro all the way down to $0. Third, you must buy said iPhone 11 Pro on a monthly payment plan, and lastly, you'll see your promo credits applied to your account every 30 days for two years.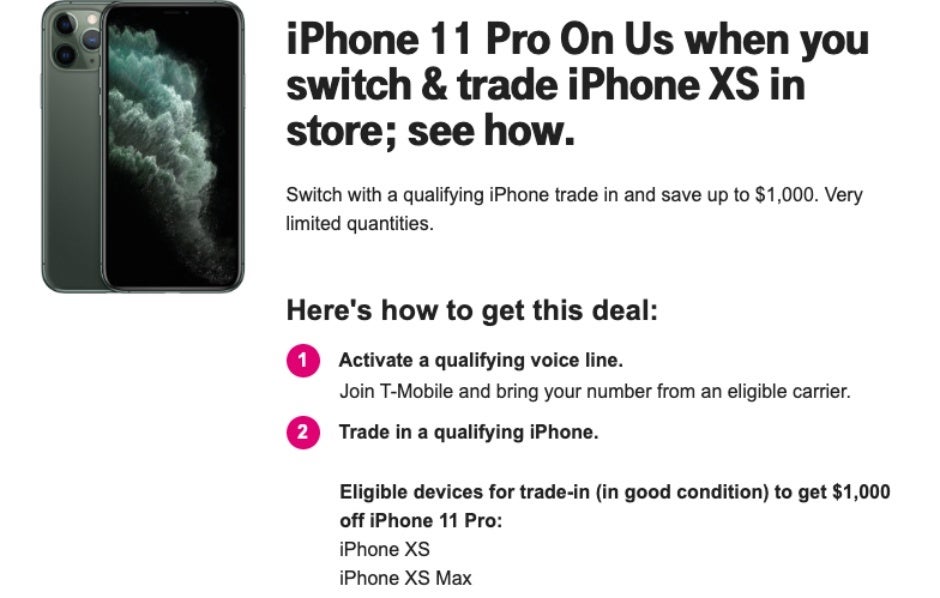 T-Mobile's iPhone 11 Pro, of course, typically requires a $250 upfront payment on installment plans, but with an in-store trade-in, said payment can be easily dodged with the help of the credit you'll receive. What's perhaps even cooler about this promotion is that T-Mobile also accepts older iPhones. And get this, you'll receive a $700 credit with trade-ins of really old and really modest devices like the iPhone 6s, 6s Plus, 7, and 7 Plus in addition to the newer iPhone 8, 8 Plus, iPhone X, and XR. Unless we're looking at a typo and T-Mobile means you'll be getting
up to
$700 off the iPhone 11 Pro with a trade-in from this group.
If that's not the case, being able to ditch an ancient iPhone 6s in exchange for a whopping $700 discount on the hot new
iPhone 11 Pro
makes for an absolutely mind-blowing bargain regardless of all the other conditions and strings attached. Too bad the deal seems to exclude the jumbo-sized iPhone 11 Pro Max. Obviously, this is also unlikely to last long, as T-Mobile highlights in the special offer's terms and conditions that "very limited quantities" are on sale here.