How to shoot night mode photos on your iPhone 11, iPhone 11 Pro, and iPhone 11 Pro Max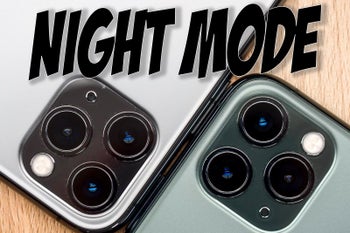 Among the new features that graced the
iPhone 11
series is the Night Mode inside the camera app. As we mentioned in our full review of the new iPhones,
which is available right here
, Apple is the last one to the game with Night Mode, but after using it for a while, we can say that it gets the complexity out of the way. .
While on other phones you have to remember to turn on Night Mode, switch to a different mode and wait for quite a long time for a photo to be captured, here, it's all automatic and quicker than most of the Android rivals.
You have the option to customize Night Mode (select a longer exposure) and if you place the phone on a tripod, it will understand that and take an even longer exposure of up to 30 seconds, so you can even do astrophotography on your new iPhone
So, how do you enable that night mode we speak of, and what's the big deal about it?
How to enable night mode on the iPhone 11 series?

As we said, enabling night mode on the new iPhones is incredibly easy.




First of all, you have to know that you can't force-enable the iPhones' night mode in the incorrect ambient lighting conditions. For example, you can't use night mode in bright sunny-day conditions, which most Android phones can do.

To utilize the new dark mode on the iPhone 11,

iPhone 11 Pro

, and iPhone 11 Pro Max, you need to be in the dark, literally speaking. You can only use night mode when the iPhone decides the conditions are right.




Once the iPhone detects that it could use some extra exposure, an orange icon will pop up at the top bar of the interface.







You can take the picture right now, and it would most certainly turn out great, but if you want to get even better results, you can manually crank up the exposure timer near the camera shutter to shoot even longer. In most scenarios, exposure times up to 4s are most prevalent. As we mentioned, however, putting the phone on a tripod or placing it somewhere stable would unlock even longer shutter times for night photography.







Of course, if you for some reason want to disable night mode in order to take more artistic shots, you can do that by toning the night mode exposure timer to OFF. This will take a regular photo. Have in mind it might not turn out that great in comparison with a night mode photo.







Here's how to switch between process