Apple continues to dominate global wearable market, but Huawei and Samsung are getting closer
2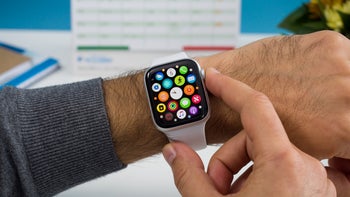 Apple may not have many reasons to be happy about the recent
sales performance of its iPhones
in
key global markets like China
and
India
, but when it comes to wearable devices, the Cupertino-based tech giant remains unchallenged in first place around the world in terms of shipment numbers.
At the same time, it's definitely worth pointing out that three other companies actually boosted their figures by a significantly higher degree than Apple during the first three months of 2019, according to the
latest report from the International Data Corporation (IDC)
. That obviously means Xiaomi, Huawei, and Samsung all narrowed their respective gaps to the world-leading vendor, although at least one of those brands will probably struggle to maintain that trend in the future for
fairly obvious reasons
.
Intriguingly, Huawei dominated the industry in terms of growth, tripling its sales and doubling its share compared to Q1 2018. With 282.2 percent growth (!!!), the Chinese company reached 5 million global unit shipments, ranking third overall, behind Apple's 12.8 million and Xiaomi's 6.6 million sales, but ahead of Samsung's 4.3 and Fitbit's 2.9 million totals.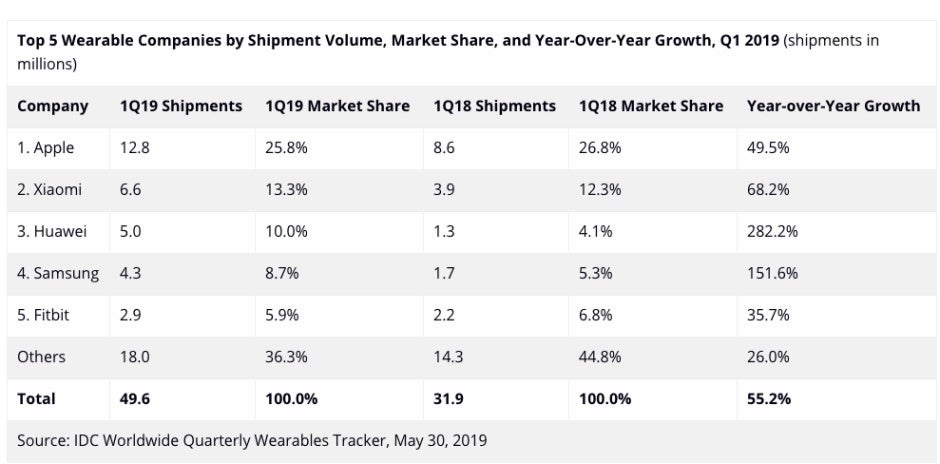 Unsurprisingly, all five wearable device manufacturers recorded year-on-year growth, contributing to a grand total of 49.6 million unit shipments, up 55.2 percent from the first 90 days of last year. Also unsurprisingly, Fitbit reported the lowest surge of the top five vendors (35.7 percent), although Apple's growth rate wasn't exactly earth-shattering either, at 49.5 percent.
What's perhaps even more notable is that the company's wrist-worn devices (aka Apple Watches) only grew 14.8 percent year-on-year, which helped Xiaomi rule that particular chart, thanks to an incredibly popular (especially in China) low-cost Mi Band family. Of course, Apple is still the king of the castle when talking about profit margins, as the average selling price of its smartwatches continues to increase. The same goes for the
AirPods lineup
, although the IDC does not specifically tackle the sales numbers of the world's most popular wireless earbuds.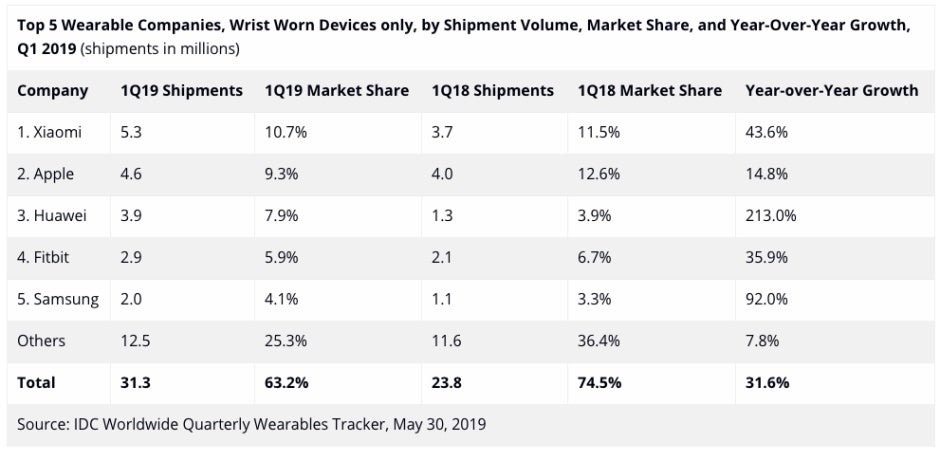 Speaking of, it's also interesting to note that smart ear-worn devices like the AirPods,
Samsung Galaxy Buds
, and other headphones with integrated voice assistant functionality are now growing at a faster pace than wrist-worn wearables. The latter category continues to make up a larger portion of the market's overall sales, but if recent trends are any indication, things could change in the not too distant future.