Android Messages is officially receiving Google Assistant integration
3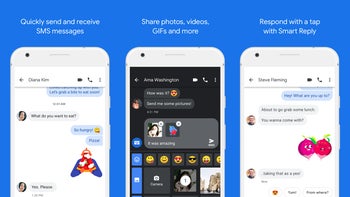 Allo is the app where Google Assistant began its life as a short-lived Pixel exclusive. The two, however, couldn't be more different. Allo is just another failed messaging app that Google is killing off at the end of March, while Assistant is arguably the company's most prospective service to launch in recent years.
Well, that's not entirely fair. Allo may have failed at becoming a viable alternative to other popular messaging services, but it served well as a playground for new ideas and concepts that are now being translated to the stock Android Messages app. In fact, Google Assistant is the latest ex-Allo feature to make it into the app. This is the next big step toward delivering a unified, iMessages-like experience on stock Android, Google announced at MWC.
While texting, information and actions relevant to your conversation will appear above the text field. For example, Assistant will be able to scan your messages for information on restaurants, movie theaters, and other venues, to surface relevant data about working hours, traffic, weather conditions, and other. Tapping the suggestions sends a card to the other person.
Since you're probably already wondering how this work's from a privacy standpoint, Google says that message data is scanned locally, while some of it is shared with Google when taking a suggested Assistant action in Messages. For example, if you're planning to go out with a friend and Assistant pulls up a favorite restaurant in your chat, Google will know if you decide to send the restaurant to the other person, but not receive any other information about your conversation.
Google Assistant is expected to roll out to Android Messages in English-speaking regions in the coming months. The update is also bringing the long-awaited dark mode to the stock messaging app.