Report calls out Huawei's 5G modem chip for its size and inefficiency
13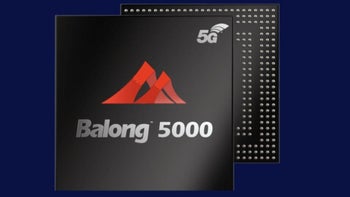 A new report from analytical firm IHS Markit
(via
Venture Beat
) reveals that Huawei's 5G modem chip, like the one it is employing on the Huawei Mate 20 X 5G, is inefficient and too large. This has resulted in the production of a device that is bigger and less energy efficient than it could have been. The phone, the manufacturer's first to support the next generation of wireless connectivity, is powered by the company's own Kirin 980 SoC and also is equipped with its in-house Balong 5000 5G modem chip. Both were designed by Huawei's Hi-Silicon unit but manufactured by foundry TSMC.
One issue is that the Balong 5000 5G modem chip is the first commercially available smartphone modem chip to support 5G/4G/3G/2G. That normally would be considered a good thing. However, the Kirin 980 SoC features its own integrated 4G/3G/2G modem chip which the report calls "unused and unnecessary" on the Mate 20 X. The Balong 5G modem chip also has a 50% larger die size (the part of the silicon wafer used for one chip) than the Qualcomm X50 5G modem and the Samsung Exynos 5100 5G modem. The Baloong 5G modem chip also requires 3GB of RAM and does not support mmWave 5G spectrum.
But this inefficiency won't last too long. The report says that by next year, smartphone processors will have integrated 5G/4G/3G/2G multimode modems. This could lead to lower prices for 5G handsets since a separate modem won't be necessary. This will also eliminate the need for memory and power management chips that were being used just for the 5G modem chip. And lower prices will lead to more widespread adoption of 5G.
Huawei did some things right, says the report. Even though there is some duplication between the Balong 5G modem chip and the integrated modem inside the Kirin 980, the Mate 20 X 5G relies on just one modem (the Balong 5G modem chip). However, it does have separate 4G and 5G radio tuners, something IHS Markit expects to be integrated into one radio in the future.