Best Note 10+ carrier deals and preorder gifts at Verizon, T-Mobile, AT&T and Best Buy
1
If you are worried about the
Galaxy Note 10+
price, just remember that for the first time in the modern Note line history, Samsung is outing a smaller Note 10 model that goes for less, and there are always good carrier and Best Buy deals to soothe the price tag.
The Note 10 duo offers a lot more to early adopters than the
Note 9
did at launch. While the camera kits are still the great ones from the
Galaxy S10 5G
or
S10+
, the algorithms have been changed and new shooting modes like live focus audio zoom for video have been added. Here the similarities end, as the Note 10 has a much more refined design than the S10 family which was not the case when the S9 and Note 9 came around.
The two new Note handsets sport the highest screen-to-body ratios in their class, and fulfill the needs of both big display and compact phone lovers that drool over Samsung's new S Pen abilities. If you are bent on having Android's latest and greatest, here's where you can grab a Note 10 and 10+ from in the US.
The Galaxy Note 10 and 10+ will be available both directly from Samsung unlocked, or on carriers like Verizon, AT&T, Sprint, T-Mobile, U.S. Cellular, and Xfinity or Straight Talk Wireless. The 256GB model of the Note 10 starts from $949.99, which is less than the Note 9 at launch. The phones will be on sale from Amazon, Best Buy, Costco, Sam's Club, Target, Walmart, and other retailers.
In addition to T-Mobile, AT&T and Verizon's BOGO deals, you can obtain up to extra $150 off directly from Samsung,. With the second phone free, and at least a Benjamin off, you will essentially be snatching the best thing on Android at just $300, not bad for signing up your soul with America's largest carriers. Without further ado, here are the best deals on the Note 10 and 10+ for you early adopters:
Best Note 10 and 10+ carrier deals
Verizon Note 10 and 10+ price and BOGO
Verizon is the first that will carry the Note 10+ 5G model, and has a drastic BOGO deal on the Note 10 with it. Not that we didn't
expect it
, but it's still crazy to know that Verizon will be giving away a thousand dollar phone for free. The Samsung Galaxy Note 10, 10+ and 10+ 5G will be available for preorder on Verizon on 8/23 at the following prices:
Galaxy Note10+ 5G (6.8") gives you access to Verizon's 5G Ultra Wideband network for unparalleled speeds and connectivity. It starts at $36.11 a month for 36 months on Verizon Device Payment (0% APR; $1,299.99 retail; 24 mo. Verizon Device Payment also available).
Galaxy Note10+ (6.8") has the largest screen on a Galaxy Note and the power and performance to match. It starts at $45.83 a month for 24 months (0% APR; $1,099.99 retail).
Galaxy Note10 (6.3") is the Galaxy Note for those looking for a slim and compact form factor. It starts at $39.58 a month for 24 months on Verizon Device Payment (0% APR; $949.99 retail).

What you need to do is purchase a Galaxy Note 10+ 5G from Verizon with an eligible plan on 24-month installments, and get a Note 10 on the same bill. The bad part is that you will also be paying Verizon's $30 activation fee, plus all taxes are due on both phones at the time of signing. Should you cancel before the installment period ends, you are in for the remaining of the Note 10's $949.99 balance, too. The discounts will start arriving in the form of bill credits after up to three billing periods have passed, but it's still a great deal for an even greater handset, and on the largest network in America to boot. Here are all of Verizon's Note 10 perks:
Consumer and business customers that buy a Galaxy Note10+ 5G can get a Galaxy Note10 free when they switch to Verizon or add a new Verizon Unlimited line1.
New and existing customers can trade in an eligible smartphone and save up to $450. What's more, they can get an additional $200 prepaid MasterCard if they switch to Verizon, purchase a Galaxy Note10 on device payment and sign up for Verizon Unlimited2.
Preorder a Galaxy Note10 today and receive a gift voucher worth up to $150 from Samsung.com.
Finally, all Galaxy Note10 cases and screen protectors will be 25% off during the preorder period.
AT&T Note 10 and 10+ price and BOGO
It's raining Note 10 BOGO deals from America's largest carriers at launch. After T-Mobile announced the free Note 10 deal for anyone who gets, well, another Note 10,
AT&T follows
in its footsteps, too. The carrier is offering the Note 10 online and in stores on Aug. 23 for $33.34 for 30 months on an AT&T Next installment plan.
For a limited time, AT&T customers can also get a Samsung Galaxy Note 10 for free when they buy another Note 10 or 10+ from AT&T, basically a similar deal to what T-Mobile is running. The difference is that AT&T requires you to get it on a 30-month Next installment plan, not a two-year endeavor. A $30 activation fee will be applied to the new line as well, plus all the due taxes. Here's the finer print:
Buy two elig. Samsung Galaxy Note10 256GB, Note10+ 256GB or Note10+ 512GB (priced up to $1200) on a qualifying 0% APR installment agmt (30 mos. at up to $40/mo.) w/ postpaid AT&T unlimited voice & data svc.

T-Mobile Note 10 and 10+ price and BOGO
T-Mo has the better
BOGO deal
on the Note 10, as it's valid with a purchase of both Samsung Note 10 or Note 10+:
Starting August 7 at 9:01pm, pre-order a Samsung Galaxy Note10 or Note10+ and get up to $300 off via a one-time bill credit and Virtual Express Prepaid Mastercard when you get the device on T-Mobile's interest-free Equipment Installment Plan (EIP) and trade-in an eligible device. If you don't want to pre-order, you can get the same deal when the Note10 or Note10+ are available in stores and online on August 23.


Starting August 23, pick up a Samsung Galaxy Note10 or Note10+ and get a Note10 for FREE or up to $950 off a Note10+ via 24 monthly bill credits when you get the devices on an EIP and activate one (existing customers) or two (new customers) new lines on Magenta Plus or T-Mobile ONE Plus for families.


Plus, you can also combine those deals with an offer from Samsung.com to "create your own Galaxy Kit," with up to $150 Samsung credit, plus a six month free-trial of Spotify Premium.
The Samsung Galaxy Note10 256GB model starts at $0 down, $39.59/month (full retail price: $949.99), the Note10+ 256GB model starts at $149.99 down and $39.59/month (FRP: $1099.99) and the Note10+ 512GB model starts at $249.99 down, $39.59/month (FRP: $1,199.99) all for 24 months for well-qualified customers on T-Mobile's no-interest Equipment Installment Plan.
Best Note 10+ deals from Samsung, Best Buy, Sam's Club and Amazon
Samsung's free Note 10 preorder gifts

Nothing beats free, and when it comes to Samsung, it always sweetens the pot (or cushions the blow) for its flagship phone prices. The Note 10 is no exception, and Samsung is leaving you a choice here.




Customers who
pre-order the Samsung Galaxy Note 10
between August 8, 2018 at 9:01 pm PT and August 23, 2018 at 8:59 pm PT, will all be eligible to receive a gift voucher worth up to $150 from Samsung.com.

To receive your free Note 10 gift bundle, you have to download the Shop Samsung app in the Google Play store, go the My Inbox from the menu, and tap on the Work Smarter, Play Harder offer. The "SEE IF I'M ELIGIBLE" option will let Samsung get access to make and manage phone calls and access your contacts, checking your device, and then you can tap in "REGISTER NOW" for the offer. Redeeming it is as simple as signing in to your Samsung Account, and selecting one of the three gift options.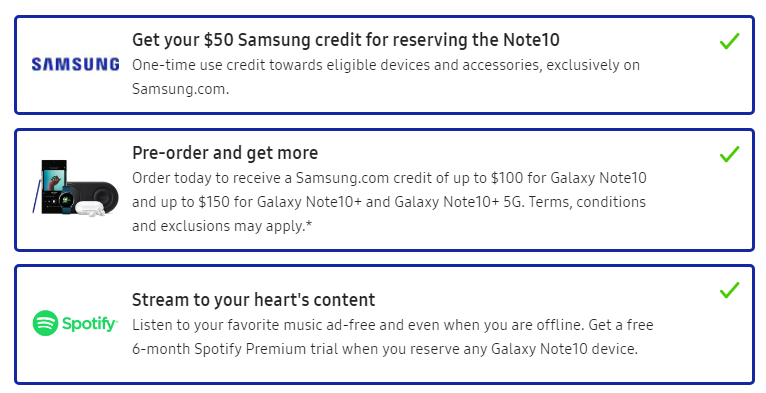 Best Buy Note 10 and 10+ deals - exclusive Aura Blue
While Best Buy is offering no BOGO of its own, just savings of up to $700 with a qualified trade-in, plus Samsung's own gifts and discounts, it does carry an exclusive Aura Blue color for the Galaxy Note 10+ that you can get only at Best Buy.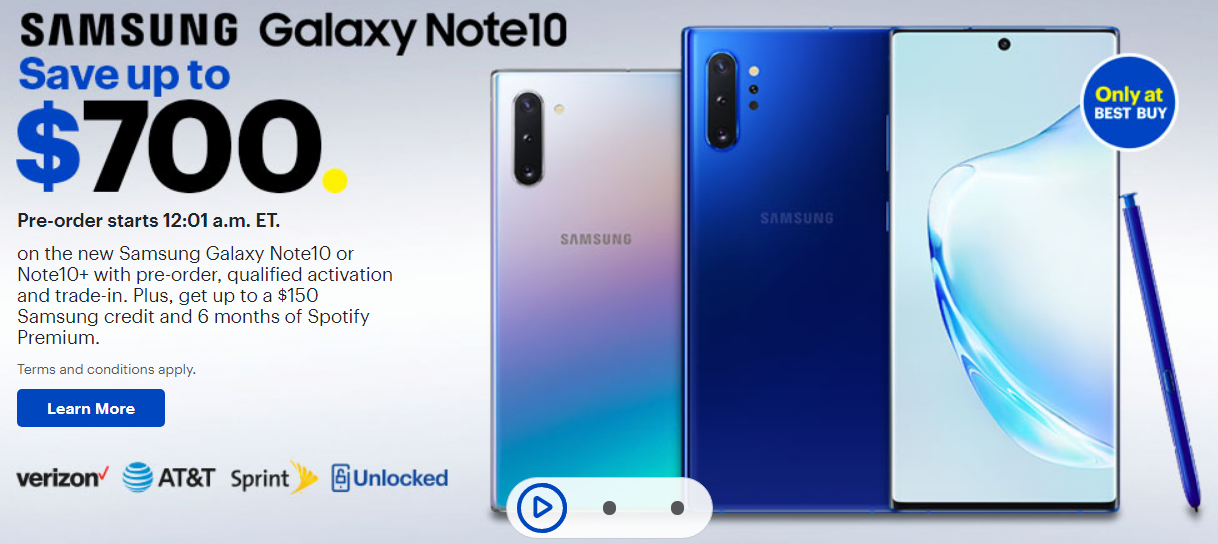 Best Note 10 and 10+ deal goes to Sam's Club
While Costco is taking a pass on a good Note 10 or 10+ deal this time, another membership discounter swooped in to take its place. Sam's Club will give you a $200 gift card to stack on top of whatever other promos you may take on Samsung's newest flagship.

Thus, if you get, say, two Verizon Note 10s for the price of one, you can tack on the up to $150 worth of Samsung gifts, plus the $200 Sam's Club gift card, a pretty sweet one. The usual restrictions apply - you can't use the gift card to pay your membership fees or use it to slash the price of the Note 10 bill even further. Bummer, but there's plenty of other things to get at a discount at Sam's Club with two Benjamins.