Did Sanjay Jha say that Motorola will ship a 2GHz phone in 2010?
This article contains unofficial information.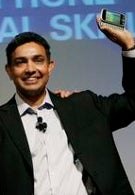 Motorola CEO Sanjay Jha made a speech yesterday at the Executives Club in Chicago. While some of the major news agencies like Reuters failed to mention it in their report of the event, web site Conceivably Tech posted that Jha had not only confirmed that a slew of Motorola branded Android phones will be launched by the end of the year, but that a device sporting a 2GHz processor will be amongst them. Current top of the line smartphones use a 1GHz processor. An anonymous Motorola executive said that this phone will have everything that is technologically possible in today's handsets. Included with the 2GHz processor will be a gyroscope, an Nvidia built Tegra graphics processor and full 10.1 Flash support. It will be powered by Android (2.2?) and take aim at the new iPhone 4 just introduced by Apple. If a tree that falls in an empty forest doesn't make a sound, did a CEO who allegedly made a comment not reported on Reuters actually make the comment? Future events will let us know.
source:
ConceivablyTech