Google Nexus S vs Apple iPhone 4
30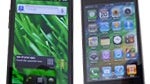 Introduction:
Apple iPhone 4
and
Google Nexus S
aim to strive for glory as these two phones are quintessentially considered to be the cream of the crop in the industry. In fact, they're no slouches in any way as they pack on intricate hardware under the hood to establish themselves as worthy devices that will intrigue and capture the attention of consumers. As we place these two smartphones on a collision course with one another, it's going to be interesting to find which one will have the heart and performance to stand tall once the dust settles.
Design:
If you stop and think about it for a second, it's undeniably telling that the Apple iPhone 4 presents itself as the more premium feeling device between the two. That's because it employs durable feeling materials, like its brushed stainless steel band and glass like exterior, which undoubtedly is capped off with its striking industrial design. Whereas the Google Nexus S sticks to having a minimalistic appearance with its all plastic body – which unquestionably happens to be a bit more prone to scratches. The Nexus S is slightly lighter in weight, despite its blatantly larger sized dimensions. Naturally, both are considerably more streamlined over other smartphones as the iPhone 4 sizes up at 0.37" thick and the Nexus S measures in at a healthy 0.43" thick. Thankfully, the Contour Display of the Nexus S discretely sprinkles a dash of personality to its typical looking form factor.
In terms of
displays
, these two smartphones feature the latest and greatest that have their own unique strengths to instantly wow anyone. Even to this day, there isn't anything else out there in the market that produces better looking colors than Samsung's Super AMOLED panels. In fact, the 4" capacitive touchscreen of the Nexus S hits the perfect sweet spot with its WVGA (480 x 800) resolution and support for 16.7 million colors. Needless to say that its output is stunning as colors magnificently jump out – while still retaining plenty of details. Conversely, the 3.5" Retina Display of the iPhone 4 takes the cake in pixel density since it packs a resolution of 640 x 960 pixels. Granted that it's smaller, its high resolution makes even the tiniest of details jump out with sharp corners to make it easy on the eyes to view. But honestly, it's going to take a keen eye to distinguish any difference in detail between the two displays as they both offer great
viewing angles
and shine brightly.
One of the most frustrating parts about the Google Nexus S has to be its four capacitive
buttons
beneath the display because they're not all that distinguishable. Even with its back lighting on, it's still extremely weak and makes for some difficulty even in low lighting conditions – not to mention the occasional accidental press. In contrast, the single home button of the iPhone 4 is instantly visible and offers a springy feel when pressed – meaning it's the preferred method between the two.
On the
left sides
of both phones, we find their decently sized and pronounced volume rockers – a thin looking one with the Nexus S and separated ones with the iPhone 4. And when they're pressed, they do offer a substantial amount of feedback to make sure you hit them. With the iPhone 4, we also find a latch that conveniently places the phone in vibrate/silence mode.
Between the two, we actually prefer the feel and placement of the dedicated
power button
of the iPhone 4 as it's located on the top edge and is accompanied with a springy feel. Even though it's an improvement over other Samsung Galaxy S devices out there, the power button of the Nexus S isn't as prominent – but luckily manages to offer a decent response when pressed.
Apple iPhone 4 360-degree View: Google Nexus S 360-degree View: