Weekly Round-Up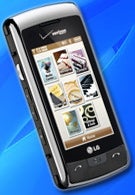 AT&T:
This week will remain in history as the one with the most massive AT&T leaks ever. Right from the start, there were numerous presentation slides of upcoming AT&T phones flying around the web. Of course, rumors about a new iPhone are always in the vogue, so we had some of these too. To top it off, the word has it the Palm Pre will go to the formerly largest carrier once Sprint's exclusivity has ended.
Related links:
BlackBerry Magnum, Onyx, Gemini and Pearl 3G coming to AT&T
AT&T to introduce several smartphones
Nokia also has something for AT&T
The Motorola Heron and Sawgrass are QWERTY sliders
Samsung Pivot and Trinity, Pantech Aladdin and some data cards for AT&T
LG Monaco to be a Windows Mobile projector-enabled side-slider
LG HQ heading to AT&T with Windows Mobile and a 20 key design?
More phones for AT&T
New iPhone to come in 6 different variations?
16 GB iPhone 3G now classified as EOL (End of Life) by Vodafone's supplier?
AT&T to sell Palm Pre when Sprint's exclusivity ends?
Verizon:
No doubt, the most important event for Verizon subscribers this week is the announcement of the LG enV3, enV Touch and the Glance. Two other phones are also rumored to come out through the carrier soon enough – the Motorola Rival A455 and the Casio Exilim. However, it seems everyone is after the Pre right now, as there was info about Big Red getting the Pre in 6 months. The HTC Touch Pro2 couldn´t make it unnoticed and is now rumored to become available through Verizon not that far into the future.
Related links:
Verizon announces the LG enV 3, enV Touch and Glance
Motorola Rival A455 coming soon to Verizon Wireless
Casio Exilim 5MP camera phone's price revealed
Palm Pre and BlackBerry Storm 2 to be for sale at Verizon in 6 months?
HTC Touch Pro2 gets pictured wearing Verizon brand?
Other U.S. carriers:
Fortunately for Instinct fans, its successor - the Samsung Dash was mentioned this week again. On the Android front, some speculations were made whether the notorious Cupcake update had been released to the general public or not. Ladies can now enjoy the Samsung Gloss on U.S. Cellular – a stylish phone with a full QWERTY keyboard. There was a little something for iDEN users too. The Motorola Clutch i465 has been made available with Boost Mobile.
Related links:
Samsung Dash in a new photo, to get a new name?
Is T-Mobile really sending out the Cupcake upgrade for the G1?
Samsung Gloss now available with U.S. Cellular
Motorola Clutch i465 is now available with Boost
Non-carrier:
Sony Ericsson dropped the bomb today with its announcement of three super-cool phones: the Satio, the Aino and the Yari, with the first one being the 12MP handset, codenamed Idou. By the way, LG's transparent phone, the GD900 is expected really soon, so keep an eye on it too. Cupcake has just come out, and Donut is already getting its features leaked. That's the spirit, Android developers! HTC Hero appeared in video again in a number of color varieties. Version 1.0 of the hottest mobile browser was released for Windows Mobile and S60, pushing web experience even further. And you thought SurePress was surely gone, right? Guess what – RIM's CEO Lazaridis said the opposite. Finally, fashion phone users might soon get a new toy, as it is now expected that Samsung will host an event to announce the next Giorgio Armani phone and… Microsoft will be there too.
Related links:
Sony Ericsson renames the Idou to Satio, announces the Aino and the Yari
LG Crystal GD900 to be released soon
Donut features displayed at Google I/O
HTC Hero appears in a promo video
Skyfire releases version 1.0 of its mobile browser for Windows Mobile and S60
RIM CEO Lazaridis says SurePress is not going away
Samsung to announce the new Giorgio Armani… WM smartphone?
Next week:
Now, we would like to remind you what we think will make all of us happy next week. There are four forthcoming official releases - of the
Palm Pre
, the
LG enV Touch
, the
Glance
and the
Motorola Evoke QA4
.
The unofficially expected events are the launches of the
HTC Willow
, the
Samsung Exclaim
and the
Nokia Mako
.
Have a great weekend!