Want to make your iPhone look like a blown up Note 7? There's now a case for that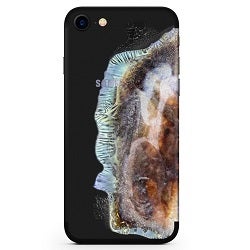 Poor Sammy just can't get a break. Their flagship phone for the latter half of 2016 has been axed, the company is now facing
potential layoffs
on a massive scale, someone made a
Halloween costume
made out of smoking Note 7 boxes, and the never-ending supply of
memes
continues to bombard the Internet. However, in the latest hit against Samsung, someone has created an iPhone skin and case that makes your device look like an exploded Note 7.
This has to be one of the saltiest knocks against the Note 7 we've seen so far, and call me cynical for saying this, but I actually find it quite hilarious. The skin is made by the company UNIQFIND, and it's being called the "Explo-sung iPhone Skin" (get it?). The explosive design warps around both the front and back of your iPhone, and UNIQFIND is also offering a hard case with the same design in addition to the skin.
The company is absolutely shameless in calling this their "
hottest
skin yet.", and they've got both skins and cases available for the iPhone 5, 5C, 5S, SE, 6, 6 Plus, 6S, 6S Plus, 7, and
7 Plus
. The skin alone will set you back $24.99, whereas the skin and the hard case costs $34.99. It's unnecessary, tasteless, but undeniably funny at the same time.
If you've got $25 burning a hole in your pocket and want to outfit your iPhone with some burned threads, you can purchase the skin
here
.