Two new T-Mobile prepaid options coming soon
This article contains unofficial information.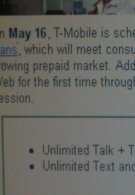 The outpouring competition seen in the prepaid market is ferocious and constantly changing, but the big four wireless carriers have begun to take notice as they also attempt to rigorously disrupt their flow.
T-Mobile has been the biggest advocate
in revamping their plan offerings to attract customers with their competitive postpaid plans, but they're about to really shake things up in the prepaid department. Setting their eyes on May 16, T-Mobile plans to introduce two new prepaid offerings to make those prepaid wireless carriers cringe as they move into their turf. Heavy talk and texting users will be happy to see that they're somewhat becoming more competitive with a $50/month unlimited talk & text plan. On the other hand, those who readily rely on texting as their sole form of communication will be glad to see a $15/month unlimited texting plan with the option of calling for $0.10/minute. As far as data is concerned, the only option is a new 1 hour pass that's going for $0.99/hour which allows users to feast upon as much data as possible for that short hour. There's still no denying how some consumers are gravitating towards prepaid as opposed to postpaid offerings, but T-Mobile clearly knows the threat it poses to their business.
source:
TmoNews