Top new mobile devices in June 2017: here's all you should know about
6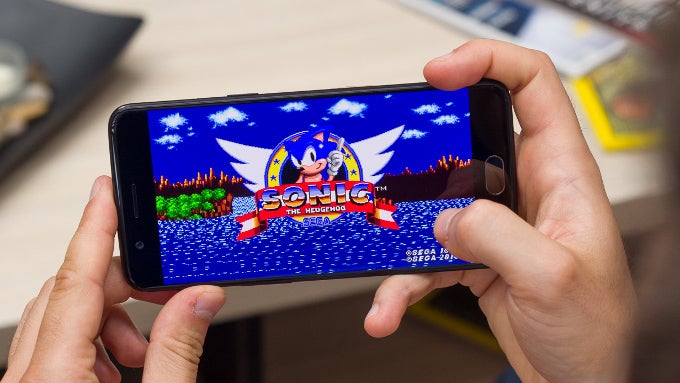 June 2017 is about to go down in history, but before we wave it one final goodbye, let's take a look at all the cool new phones, tablets and other neat little stuff that became available in the beginning of the summer season.
These are the coolest new things in July 2017
We start by looking at all the new phones that went on sale this month: the OnePlus 5 managed to steal a lot of the hype, but it was far from the only new phone worth checking out.




And let's not forget we had WWDC 2017 this month and Apple dropped the new 10.5" iPad Pro, its most advanced yet, but more specifically: the first tablet ever with a 120Hz variable refresh rate, a feature that allows it to feel more fluid than ever before.




What else was new in June 2017? Let's take a look right below.



Phones:
After countless leaks and rumors, the OnePlus 5 has finally launched. Its the most expensive OnePlus phone ever made, but it's also the cheapest phone to run on the Snapdragon 835 system chip. Advertized for its dual camera and capability to capture DSLR-like portraits with blurred backgrounds, we've reviewed the OnePlus 5 and here is our conclusion:
"The OnePlus 5 is a very, very good phone for a very, very good price.

Interestingly enough, it is also a victim of its own high aspirations to compete with the very best out there. It lacks just a bit to fully match them: it does not have the wow-inducing design of the S8, nor the fluidity of an iPhone or a Pixel.

Its best two features are a great price and fast performance, plus an impressively quick and accurate fingerprint scanner. The dual camera, however, falls short of expectations and is not quite great."
The HTC U11 went on sale a bit earlier in late May 2017, but it reached most people in June, so we count it in. There are a few interesting things about the HTC U11: one is it's got a truly impressive and shiny design, and second, it has one amazing camera. It also has a mostly useless gimmick: squeezing the phone as a shortcut. You will probably forget about that shortcut the moment you get the phone, so it's really unfortunate that HTC's marketing focused so much on something of little value rather than on the speedy interface, camera prowess and overall great experience that the U11 is. The one thing that the HTC U11 does lack is a modern bezel-less design and the larger size that comes with such a feature missing.
The BlackBerry KeyOne is a full QWERTY keyboard in 2017. It's a bit absurd. But also, it's a curiously great BlackBerry, so there you have it. You really should not be using a full QWERTY keyboard in 2017: it just does not make much sense to, but for a second the KeyOne had us thinking with all those shortcuts that you can assign to every key and the option to use the keyboard as a touchpad of sorts.
Interesting fact: the BlackBerry KeyOne is not really a BlackBerry. Okay, what do we mean with that, you wonder? It's simply not made by the same company. Chinese giant TCL bought the rights to use the BlackBerry name and some software with it and crafted this phone. That's cool, they were not the only one to try to resurrect a legend (read on for the much sadder Nokia 3310).
Here is the conclusion we reached in our review about the KeyOne:
"The KEYone still isn't a phone for everyone. And at just about $550, it's still a little more expensive than we'd like it to be. But for the right user, it's just such an extremely satisfying phone to operate that all its missteps and eccentricities don't seem to really matter."
The Sony Xperia XZ Premium is not really a mainstream phone. It's a phone with a ridiculous $800 price, an overkill of a display with 4K resolution (we are still not convinced there is much benefit in having Quad HD displays on phones), and a big and blocky design with bezels so big they almost seem bigger than its screen. It's clearly a case of Sony showing off and saying: "we have a phone with a 4K display and nobody else has such a thing". But this is not a practical pitch, but one aimed at those who love the Sony brand and are looking for bragging rights rather than the general consumer. Why do we think so? Well, the Xperia XZ Premium is not really competing at the same level: it's hard to find at the major carriers and it even lacks essential features like a fingerprint scanner in the U.S.
Sequels are sometimes good, more often not, but always feel a bit strange. Especially if they come in the form of a sequel to a 17-year-old phone. Yes, the Nokia 3310 2017 edition is just that: a dumb phone in an era of smartphones. It sounded cool at first: Nokia bringing back the legendary 3310 with its extreme durability and battery life, but - oh my god - just try using this thing! The Nokia 3310 is good for nothing but calls and a game of Snake. It's a great device for those seeking therapy from smartphone overdose. But as a phone in its own right? It's simply irrelevant in 2017.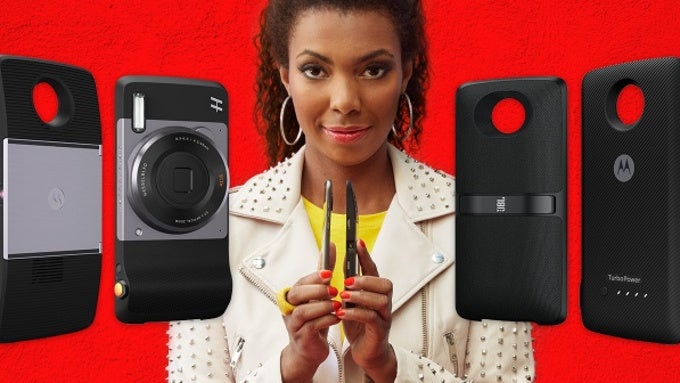 The Moto Z2 Play is the successor to one of the most under-appreciated phones of 2016: the Z Play. The original was one of very few phones with a true 2-day battery life. Unheard of, right? But it delivered. So what did Motorola / Lenovo do in 2017? Release an even longer-lasting sequel, right?
Erm... not really. It actually took the best feature of the Moto Z Play and made it worse. The Z2 Play is more powerful, has a slightly better camera, but also no longer has that 2-day battery life. It's still a good and more affordable option to mainstream flagships, but it's no longer that unique phone that really stood out.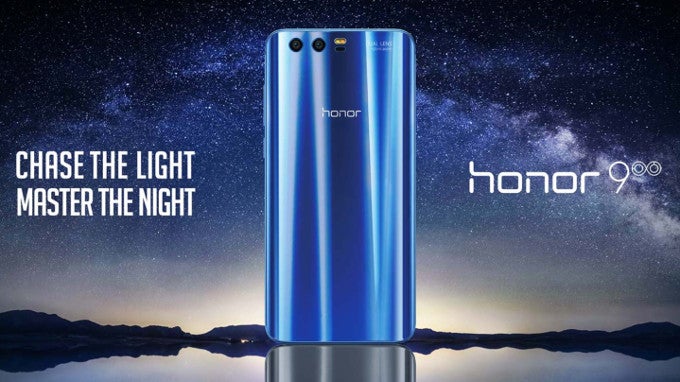 Honor is a sub-brand of Huawei, and yes, we are saying this fully aware that the general consumer in the United States has not heard of either. But here is what these companies do: both use a custom EMUI Android interface that is a big change from the stock look and drifts in the direction of iOS, but not too much. It also runs impressively smoothly. Both companies also do dual cameras and decent ones at that. And they sell phones at great value for the money. So... Honor is a bit like OnePlus, but without the hype and the loud promises.
The Honor 9 is the newest Honor and a great one at that. The phone is on the big side, but features a sleek design and great performance for just €430 in Europe, about half the cost of the Galaxy S8 and iPhone 7.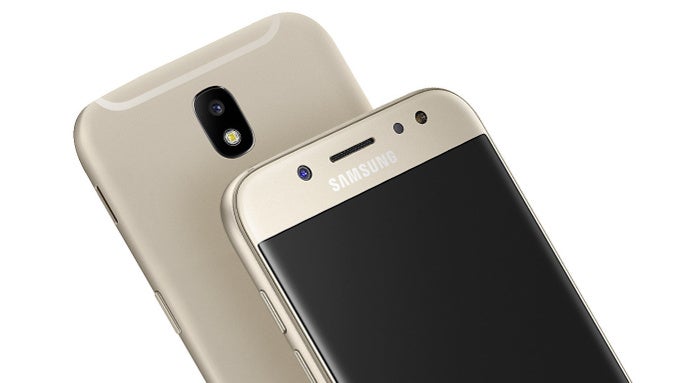 The Galaxy J series are some of the most popular affordable phones in the world, and in June 2017, they got upgraded. The new phones are the Galaxy J3 (2017), the J5 (2017) and the J7 (2017). All of them get metal elements instead of boring plastic, and all of them get a slight price hike from a year before. They've got fingerprint scanners, run on Android 7 Nougat, and people will buy millions of them.
Asus Zenfones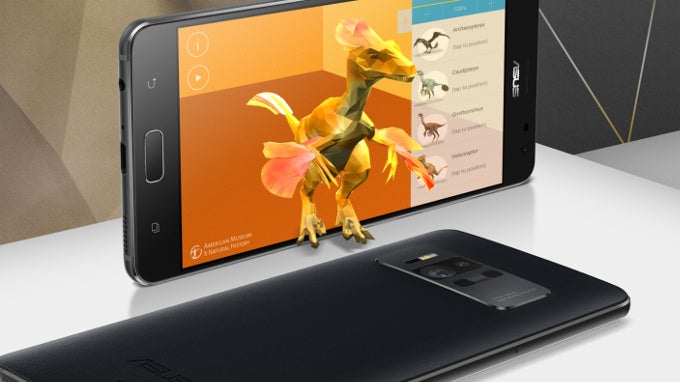 There is a ton of new Asus Zenfones that were released in June 2017. So let's just list them all here with all of their peculiarities:
Asus Zenfone AR
Asus Zenfone Zoom S
Asus Zenfone Live
The bad thing about these new phones is that all of them run on Android 6.0. The most expensive and fancy one in the bunch is the Zenfone AR, a €900 phone with a tri-cam system and Google Tango support for augmented reality. The others are more pedestrian: the Zenfone Zoom S has got a dual camera system with 2.3 optical zoom, while the rest feature good-looking design and good prices, but hardly any other notable thing.
Tablets:
The new 10.5-inch iPad Pro comes to replace earlier iPads at the top of tablet mountain. Apple has occupied the throne there for a while thanks to its superior app ecosystem and excellent devices, and the new 10.5 incher solidifies that place. It adds a new 120Hz variable refresh rate that allows the whole experience to feel much smoother, and it adds further precision to Apple Pencil drawings. The new iPad is also more powerful and has just a tad bit larger display that allows for a keyboard that is slightly larger, but much more comfrotable. Do not make any mistakes, though: while this is the best tablet around, it is not a true laptop replacement, especially if you are a power user.
Other cool gadgets:
DJI Spark
Price: $500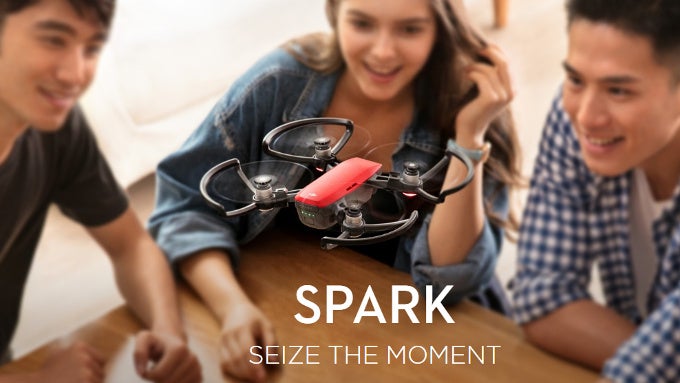 The world's smallest serious drone, the DJI Spark, just launched in June 2017 and it does not technically require a phone to operate. Instead, you just use your hands as magic controllers to move it around. Hold a hand right in front of the Spark and it will recognize it, and go up and down with the motions of your hand. It will also follow you around like a cute robot-puppy, and it will take drone selfies of you and your buddies. The Spark, however, does not quite feel as a tool for the photo- and videographers out there. Its limited 15-minute battery life is the biggest hurdle, but so is the rather mediocre control options. Nonetheless, the Spark is a cool tech toy and not as pricey as other drones out there.
Amazon Echo Show
Price: $230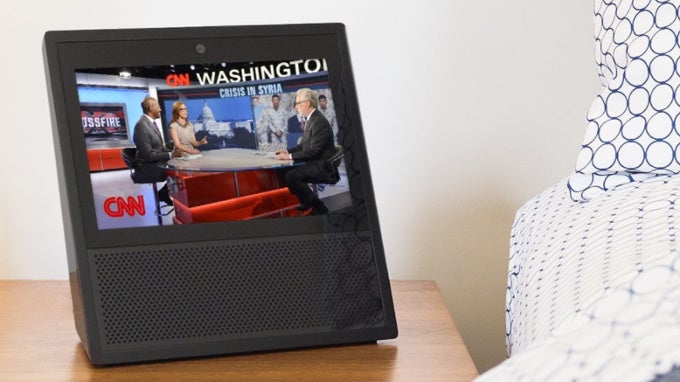 Amazon's Alexa might have quickly invaded our homes, but the Echo Show takes things a step further in creepy territory. The screen-equipped home helper costs $230, comes with all traditional Alexa functionality, plus the option to watch video briefings and YouTube, as well as see your music lyrics. It also makes video calls between Echo Shows so effort-less that you will probably find yourself communicating with all sorts of family members more than ever before.
Samsung DeX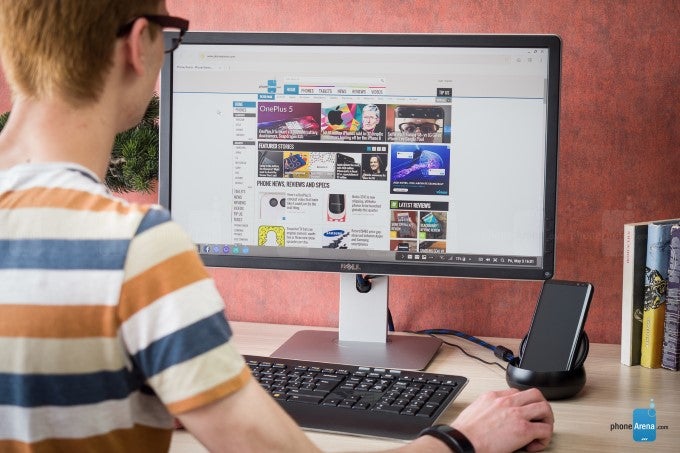 The idea of the smartphone replacing all other computing devices has been around for a while. The Samsung DeX dock brings it back from the dusty shelves of previously failed similar products and offers the Galaxy S8 as the powerful vehicle driving that dream. Unfortunately, it's not all that great: it does not handle even moderate load well enough, so it would only make sense for the very basic users who browse the web lightly.
Sony Xperia Touch Projector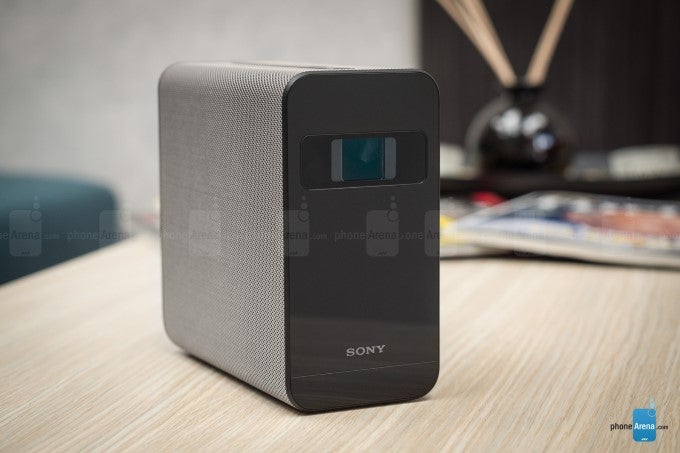 Summarized in one sentence, the Xperia Touch is essentially a portable, Android-powered short-throw projector which can also detect a user's touch (hence the name). It can project a virtual screen on both horizontal and vertical surfaces, which really is a great idea – every desk, floor, or wall can, in theory, be turned into a display. That is all cool and futuristic, but the €1,500 price tag is prohibitive and we found the 1-hour battery life absurd. Check out our full review at the link above for even more disappointments.
Ecobee4 Smart Thermostat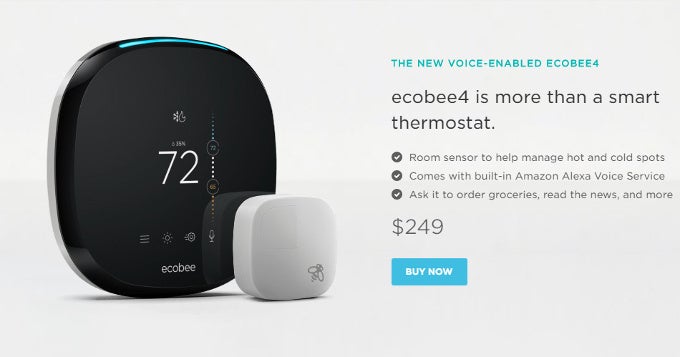 If you want the smartest thermostat that connects to your phone and has a full-on touch display, the Ecobee4 is the new kid on the block. And it might just be the next best thing after the Nest thermostat. It's even got an Alexa speaker built right in, not to mention Apple HomeKit, Samsung SmartThings and IFTTT support. The things also features a remote temperature and proximity sensor, which allow it to know when you are home or not and make the necessary temperature adjustments automatically. Did we say it has great apps and a responsive touchscreen with proper interface?
Little things:
Anker Bluetooth Keyboard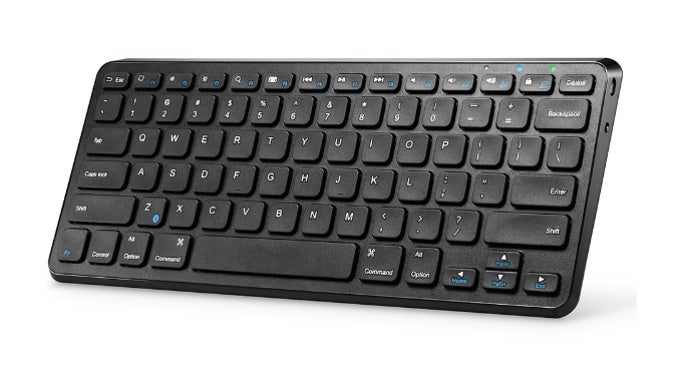 Anker's new Bluetooth keyboard draws inspiration from Apple's one, but it's much cheaper.
8bitdo SNES30 Bluetooth Game Controller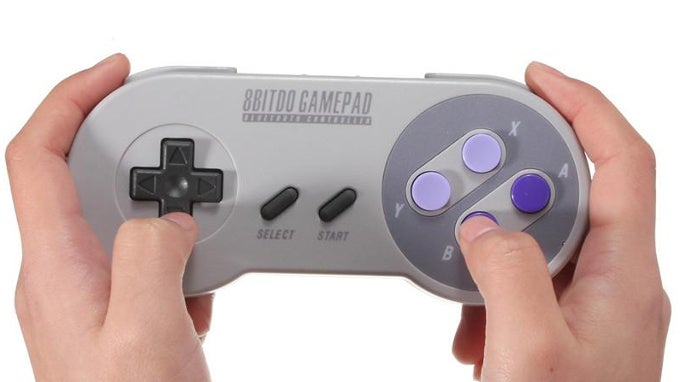 This retro-styled Bluetooth game controller will give your smartphone super-powers. If you're a 90s kids that has grown up playing video games, you will also feel a bit younger every time you touch it.
Ottim Keyring / Apple Watch Charger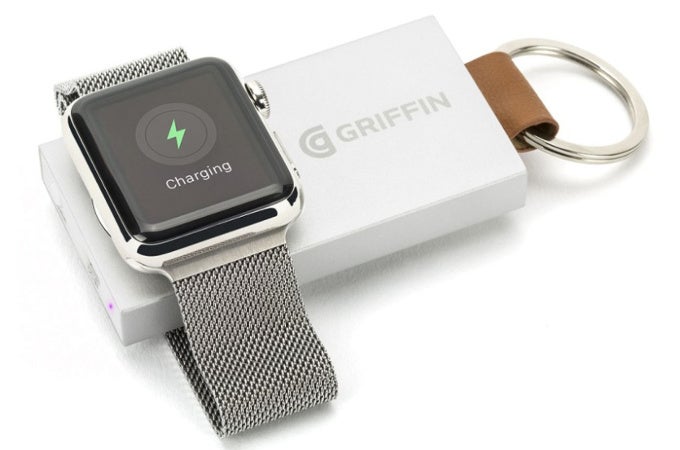 The Apple Watch is the most popular smartwatch around, but its battery life is not as solid as one would wish for. Especially if you use it a lot, it might not be enough to last you a full day. And this here Ottim charger that doubles as a keyring will give you a bit of extra juice to get through the day.
elago W3 Retro Apple Watch Stand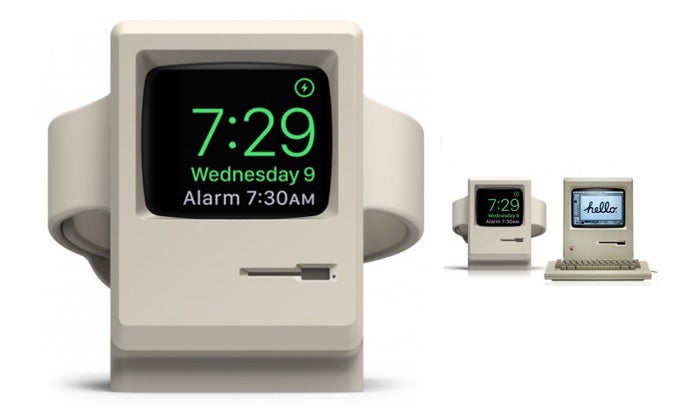 This retro Apple Watch stand looks like a little piece of art, and just screams 'geek pride'.