Sony Xperia Touch Android projector Review
11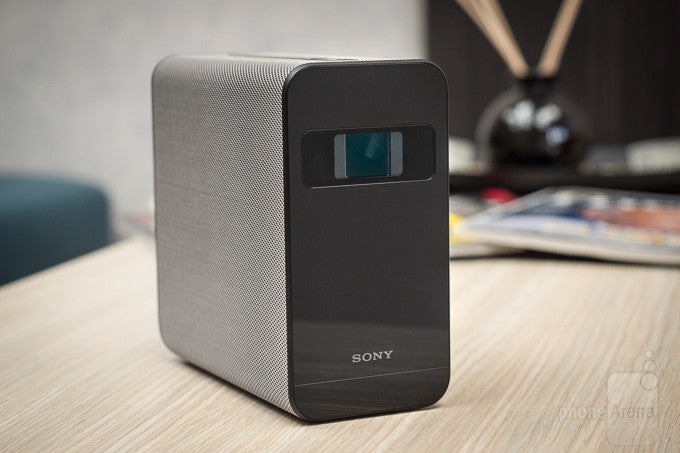 The sunk cost fallacy dictates that the more someone has invested in a given thing, the less likely they are to give up on it, even when all rational thought would suggest otherwise. And while one would think a big corporation such as Sony wouldn't fall victim to this phenomenon, what we have in front of us is a whizzing and buzzing proof this isn't entirely the case.
The Sony Xperia Touch is, by all accounts, a device that shouldn't have seen the light of day: it feels like a poorly thought-out, unfinished prototype, and its purpose seems to be unclear even to Sony itself.
Summarized in one sentence, the Xperia Touch is essentially a portable, Android-powered short-throw projector which can also detect a user's touch (hence the name). It can project a virtual screen on both horizontal and vertical surfaces, which really is a great idea – every desk, floor, or wall can, in theory, be turned into a display.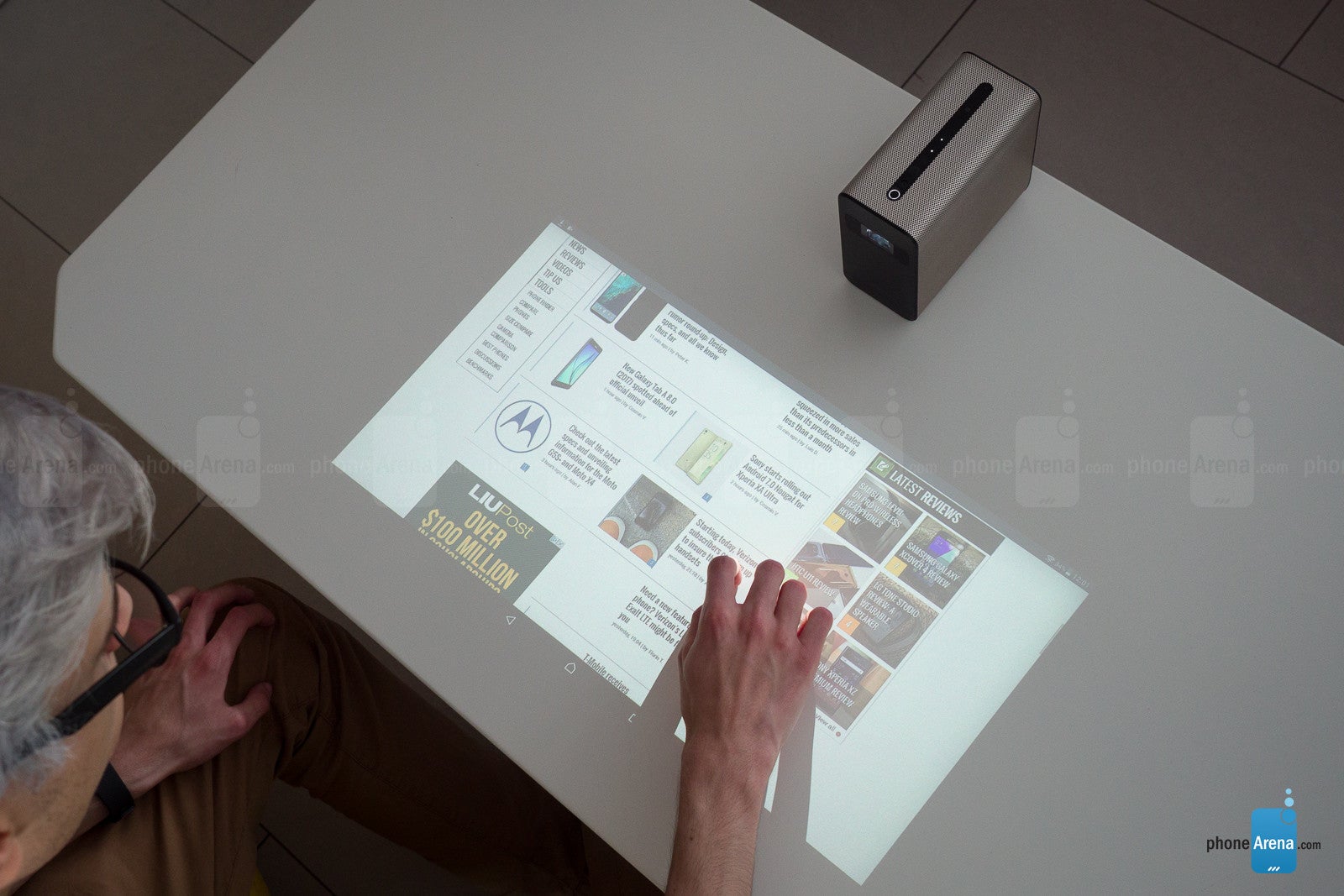 And since the Touch has Android baked right into its design, its intended use is as a standalone device that only requires a flat surface in order to work. Thus, its body houses much of what you'd expect from an Android smartphone or tablet, including a camera, a loudspeaker, and an SD card tray (but no SIM slot – phone functionality isn't included). Its projection works in two separate modes: a 23-inch desk projection mode with touch functionality, and wall projection one that can be scaled up to 80 inches in diagonal.
And even though projectors aren't exactly a home appliance, Sony seems to insist the Xperia Touch, which at the very least will cost you €1499 (~$1670), was, in fact, built for domestic use. Proposed use cases include playing touch-based games, watching movies, or using it
"as a message board by the front door to keep everyone informed."
The Xperia Touch, however, isn't entirely suitable for either of those use cases, due to its wide variety of problems. The touch capabilities, for example, aren't anything to write home about – mis-taps happen with disappointing frequency even when the device is properly calibrated.
This is where a remote control, or a regular USB input for connecting a mouse and keyboard would have been appreciated, but alas, a USB-C and a micro HDMI ports are the only connectors to be found on the Xperia Touch. And this is much more of a problem when you take into account the device's 1-hour battery life, which necessitates the almost constant use of the USB connector. Also, there's no 3.5 mm audio jack, so you'll be forced to either use the device's built-in speaker, or pair it to a Bluetooth-enabled external one.
But here's where the "unfinished prototype" theory comes in play: the software on the Xperia Touch is nearly identical to what you would find in a Sony phone. And believe us, this does not make for a fun experience at all, particularly when you have to fight with an interface designed for a device with a fifth of the display size. The perfect example is the built-in keyboard, which gets stretched across the whole length of the 23-inch screen, making it wildly uncomfortable to use (a problem further amplified by touch input inaccuracy).
And even basic projector functionality like brightness levels and picture quality suffer on the Xperia Touch. The screen resolution is 1366x768, while brightness peaks at a measly 100 nits, making it all but impossible to use in even mildly well-lit environments. Also, a particularly noticeable color smudging effect can be seen in the lower parts of the display, while the bad touch latency makes most gaming an unpleasant experience.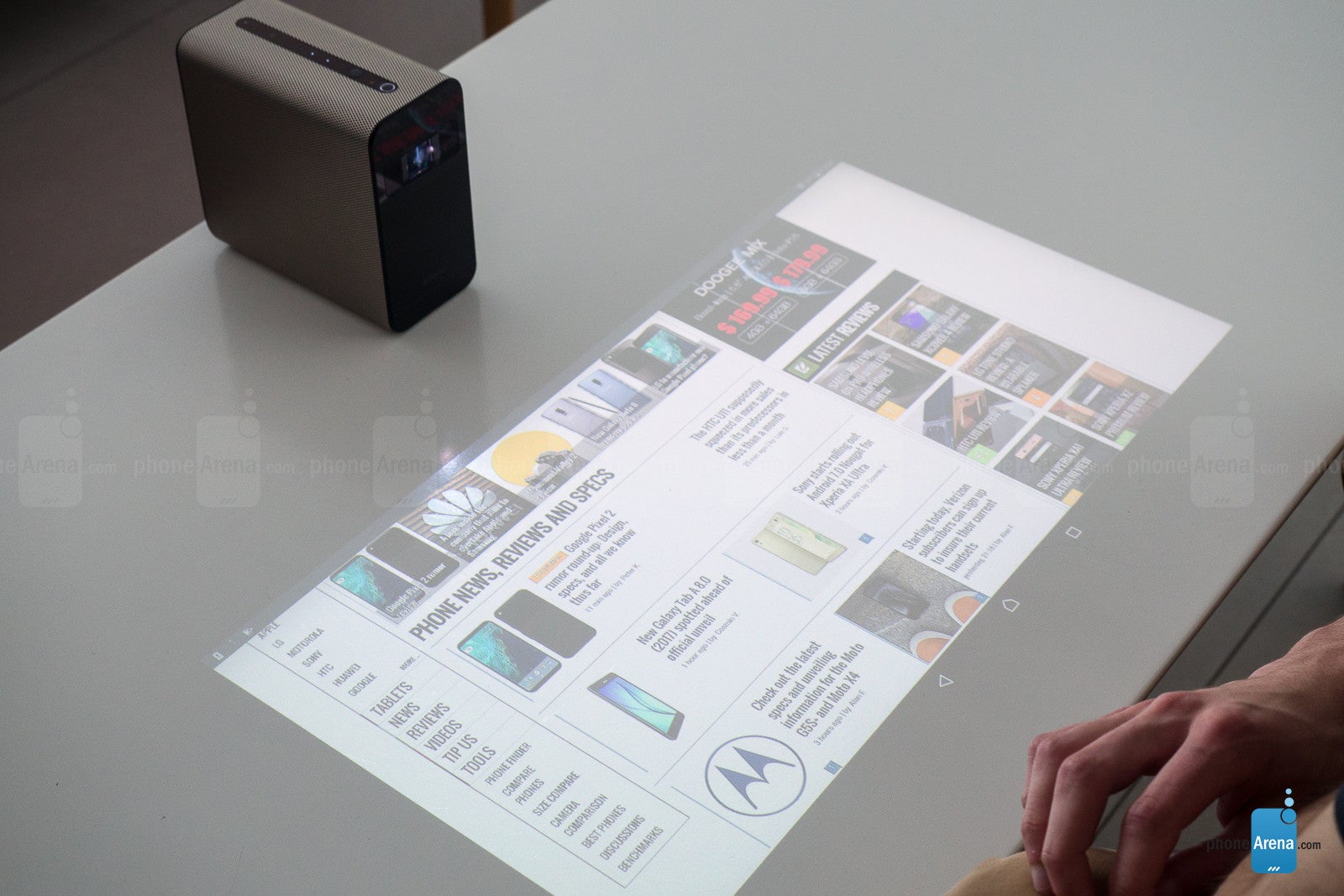 The Xperia Touch is a device with potential, but it just has way too many kinks to be worked out before it can actually be even close to useful. Besides the aforementioned problems, there's also stuff like the useless voice input app which doesn't even offer hotword activation. Short-throw projectors as a whole are innately expensive right now, we get it, but in its current state, the Xperia Touch is simply not a device that justifies such an investment.
For all its faults, the Xperia Touch does do a couple of things right: it supports screen sharing, both wireless (via Miracast) and wired (via the micro HDMI connector on the back). Its software, non-optimized as it is, is based on Android 7.0 Nougat with the minimal clutter we've come to expect from Sony. Its speaker is of reasonable loudness and quality, and wall projection offers hassle-free focusing, thanks to the built-in laser autofocus.
But all in all, the Xperia Touch fails to convince us its existence is necessary: while the combination of a short-throw projector and Android is a cute gimmick, you'll have a much better experience just buying a regular wall projector and connecting it to your smartphone – it'll be cheaper, brighter, and overall a better experience. Sure, you won't be getting the magic of a touch interface, but that's probably for the better right now. The Xperia Touch sounds like a cool idea on paper, but the end product is definitely not worth its asking price.