Still waiting for Marshmallow on your Galaxy? Grab this theme if you want to check out the new "squircle" icons!
38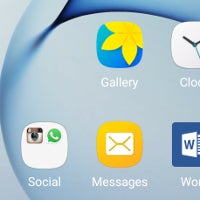 Last month, Samsung started pushing the long-awaited Android 6 Marshmallow update to
Galaxy S6
and
S6 edge
units
in South Korea
. It's only reasonable to expect a global rollout any moment now, but if you happen to have a carrier-issued device, it may take a bit longer for you, sadly.
Truth be told, Marshmallow doesn't bring that much to the table for Samsung's flagships, since almost every feature that's new to Android with this build already has a TouchWiz analog. Fingerprint scanner support? Of course it's there. Doze mode? Samsung has the
Smart Manager
, which is supposed to work for a similar effect.
Granular app permissions
and
Google Now on Tap
are, however, going to be new features for the older Galaxies, and we do hope that Android 6 will work towards making Samsung's phones more stable and snappy. And, of course, there's a small visual update to the interface, transofming the system icons and changing the color of the notifications drawer.
So, while you may have to wait a bit more to get the actual Marshmallow update, you are now able to check out the aesthetics of Sammy's new interface thanks to a theme by developer Lucas Kendi. Naturally, you need to own a Sammy handset that supports themes – a model dating from Galaxy S6 and up. All you need to do is go to Settings -> Themes -> Theme Store and look for TouchWiz 6.0. You will also get a couple of the new Galaxy S7 wallpapers to go along with it. Alternatively, if you don't like all the blinding whites in the theme, you can check out TouchWiz 6.0 Dark for a more subdued experience.
TouchWiz 6.0